Day 10: DO NOTHING DAY
It was 6am when the whole family awoke together. Tahia had been crying in the middle of the night so we actually let her co-sleep with us to calm her down.
One look outside and I could tell that today was going to be a wet day. There were dark clouds everywhere. So this opened up the concern that perhaps there might be complications with our flight tonight if the weather be foul and remain that way. And with the Tahiti to Moorea flight still on our minds, we certainly didn't want our international flight back to LAX be impacted by bad weather.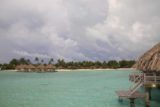 We had spent most of the morning just doing the usual routine of changing Tahia's diaper and feeding her milk. We also spent some time putting on bug repellant before finally going to breakfast at around 8am.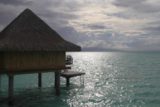 As we were walking to the brekkie area, we were greeted with warm sunshine. Despite the dark clouds surrounding us, we could see that there was a pocket of blue sky that let the sun provide some awesome colors in the lagoon.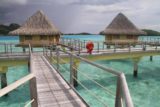 While doing the familiar long walk from our bungalow to the brekkie area, I disclosed to Julie that our upgrade to the nice overwater bungalow we got on this trip wouldn't have been possible if it were not during the Wet Season. I couldn't see any way they could've let us have this OWB in the Dry Season where we'd be more likely to have much better weather.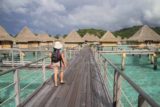 I guess that was the silver lining between what we were able to get away with on this trip (especially considering how deeply discounted our trip was) and the restrictions that Mother Nature placed upon us. Indeed, it was very difficult to both have our cake and eat it too, so to speak.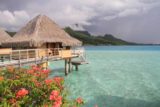 I knew this bit of nice weather would be a fleeting moment though, and sure enough while we were in the middle of our brekkie, the sun went away again and the skies looked like they were threatening rain.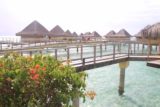 As we had our buffet breakfast, Tahia was actually willing to sit in her high chair for the first time in several days! We brought along her buttons so she could be preoccupied which would allow Julie and I to both get food and eat. Plus, she seemed willing to take some of the breakfast food that I fed her.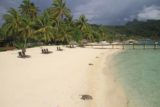 Not surprisingly, the brekkie food here was nothing compared to the Thalasso brekkie from yesterday. There was no mangos, no poisson cru, and they even ran out of crepes and pain perdu (French Toast) until much later in the breakfast.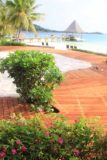 As much as Julie and I wanted to go back to the Thalasso, the shuttle schedule was so limited that we could only catch the 7:45am shuttle going there and the 9:15am shuttle back. Failure to catch that 9:15am shuttle would've meant we'd be stuck in the Thalasso until at least 12:15pm. Plus, we'd only be left with less than an hour of eating brekkie given all the logistics involved.
The plan after breakfast was to walk over to the Bounty while also seeing Le Maitai and Sofitel Bora Bora. We figured that might be the thing to do in the morning before returning to our room and doing final preparations before leaving for home.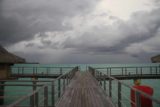 We were back in our room at 9:30am. We had the intention of walking back outside to do the walk towards Bounty along some familiar roads from our last time here, but it wasn't going to happen when we let our room at 10:20am and the nasty weather caught up to us. So both of us just decided to make this a do-nothing day and just chill for the remainder of this day.
I guess another benefit of this do-nothing mentality was to let Tahia have her nap routine and feeding routine honored. Plus, I was still not feeling great from the residual effects of food poisoning as I was in and out of napping while I was getting caught up on photos and blogging. So maybe it was just meant to be to play it low key.
By about 12:45pm, Tahia woke up from her nap. It was still raining but it was a light rain. So we walked in the light rain back towards Fare Manuia due to the convenience. We had the usual fare of pizza plus a fish burger where they were pretty generous with the fish quantity. But we hastily retreated from the restaurant when many folks showed up with lit up cigarettes and we wanted Tahia's exposure to the second hand smoke to be limited.
After the lunch, we went walking up the road past some stray dogs and puddles towards Le Maitai and in the direction of Sofitel Bora Bora (formerly Sofitel Marara). We saw the La Bounty restaurant, which was closed, but from looking at the menu, it seemed like we didn't miss much by not walking all the way there in the rain to have the lunch here.
La Bounty was our turnaround point and we were running out of time to wrap up our packing before our 4pm checkout time limit. So we were back in our room at 2:30pm. We took one last shower, brushed and flossed one last time, and changed Tahia's diaper one last time as well.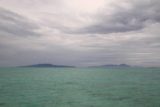 By about 3:45pm, we had our large bags portered while we started to amble along towards the reception to make our checkout official. I started to notice that despite the heavy cloud cover above us, I could see both Raiatea and Tahaa in the distance with a clarity not seen before on this entire trip! Even Mt Otemanu was showing itself!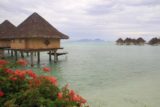 Since the boat shuttle didn't take off until 5:50pm, we killed some time lounging around the beach lounge chairs under a pandanus shelter. It was a good thing that shelter was there because it was starting to rain again. It was also windy so it was also surprisingly chilly and we even needed our jackets at one point!
Tahia managed to get her afternoon nap during this time. When it came time to catch up to the boat shuttle, she woke up in a pretty good mood. So it was a good thing we snuck in this nap because we knew all the chaos of airport transfers would wreak havoc on her sleep schedule.
The boat shuttle to the Thalasso and then the airport went by pretty uneventfully. When we got to the airport, we saw the sun was setting beneath the heavy cloud cover. I guess this was my last chance at catching a sunset in Bora Bora, which I promptly took advantage of!
After checking in our luggage, we patiently waited in the airport for our flight back to Papeete to connect with our international flight back to Los Angeles. Unfortunately, the flight was reported to be 50 minutes late, which meant that our connection with the LAX flight would be very tight.
No doubt this was due to bad weather. And now I started to fear that Tahiti Island might pull the same stunt it did to us a few days ago when it wouldn't let us go! Only this time, the consequence might be unwanted extra nights in Papeete until we'd be able to fly back to LAX!
Fortunately, the plane from Bora Bora to Papeete did show up and we boarded at around 8:15am. By the time we made it to Papeete, we had to collect our bags, get our boarded passes, check-in our luggage, and then go through security again.
It was rather stuffy in Papeete as expected as there was no sea breeze like we were getting in Bora Bora. Julie ended up having Tahia's fork confiscated at security since it was an item that wasn't allowed as a carry on. So I guess that meant we'll have to buy a new one.
By the time we made it to the boarding area, it was already about 9:55pm and boarding was at 10:05pm. And even though Julie noticed that the waiting area past security was completely renovated and quite fancy, the one thing they were missing was air conditioning. So it was stuffy and sweaty like crazy and that put Tahia in a very cranky mood.
While there, I noticed a big sign showing a tall waterfall that looked very much like the Cascade de Fautaua that I had seen on the first day of this trip. However, this photograph was from a different, more top down spot showing the entire waterfall. I looked upon it with mixed feelings as I now started to doubt myself as to whether I should've completed the hike to the Fachoda Fort and the top of the falls to get this view. It was either that or that photo came from a helicopter (which I somehow doubt). Oh rats, I thought to myself!
Eventually, we'd board the plane and the flight took off as scheduled. Once again, they put us in one of those seats where it was possible to have a baby bassinet. However, that bassinet came rather late and well into the flight (to the point that Julie had to ask for it).
By the time the in-flight dinner came out, that was when they finally got us the bassinet. But that meant arousing Tahia from her sleep as we put her in, and from that point on, she was crying intensely for what seemed to be forever!
We had to rock her and walk her over to where the stewards were working to try to calm her down, but nothing seemed to work. Eventually, it got to a point where Tahia threw up. We weren't sure if that was because she was crying so hard or if it was because she was sick for some reason.
Eventually, she managed to calm down though I wasn't sure what did it. Perhaps it was stroking her hair to assure her or something. But whatever the case was, we were able to put her in the baby bassinet, and she managed to sleep for at least half the flight.
However, when there was at least two hours to go in the flight, she woke up again. And once again, we couldn't stop her from crying regardless of whether we walked her around, rocked her, showed her the iPad, or whatever. And once again, she threw up, which now led us to believe that indeed she was somehow uncomfortable or sick.
We weren't sure what was different between the flight on the way to Papeete where there were no dramas, but on the way back, something changed and it wasn't for the better. Maybe it was because it was now a crowded flight? Or because she didn't fall asleep on me? Who knows? But whatever the case, we were back to that familiar guilt-ridden feeling of keeping everyone in the plane awake because of our little daughter.
Eventually what did the trick this time was when a lady next to Julie was doing some stretching and hitting her limbs to loosen them up. That seemed to have gotten Tahia's attention and it eventually allowed us to put her on me so she could sleep on my chest. She didn't want to baby bassinet anymore.
Ultimately, Tahia conked out and so did Julie and I. From that point the flight eventually ended with a rough but safe landing with some surprising bit of light rain at LAX.
After the grueling passport control formalities, we were collecting our bags when an American-French lady next to us assured us that we (i.e. parents flying with young infants or children) had all been there before. It was probably that Tahia wasn't used to the popping in her ears or something. But now that we were back on terra firma, Julie and I would evaluate whether to bring Tahia on another one of these trips or wait until she would be old enough to start remembering and cherishing them.
In a way, this trip to paradise ended up being much more of an adventure than we bargained for. But there were lots of lessons learned so perhaps we might get wiser with each time we try to bring Tahia into our world…