Day 1: WILD RASPBERRIES
Julie and I started the trip with a fair bit of trepidation knowing that we were alone with Tahia. While I knew that when the word Tahiti is mentioned, everyone thinks of paradise. However, having been more-or-less Tahiti veterans (it was my second time and Julie's third time), I was realistic that we were in the height of the Wet Season and that traveling with an almost two-year-old wasn't going to be relaxing in the least bit. Nonetheless, this was supposed to be a test trip for us to see what we could do with Tahia as well as take advantage of the fact that Tahia essentially flew free. Couple that with a nearly impossible price to return to paradise and it was just one of those things we had to take advantage of regardless of the timing of the trip.
After all, if you had to choose between Tahiti and Hawaii, which would you choose?
So first off, we had to bring our larger than normal luggages since we had to bring Tahia's diapers, non-refrigerated milk, bottles, clothes, flotation devices, and a whole host of other things that only a mother or a very involved dad could appreciate. Then, we took one of those LAX shuttles (annoying since there was no mass transit to go from home to the airport like in many places around the world), and then we had to deal with a very long security line after checking in our large luggages.
That ergo that we decided to brin along instead of the frame pack that Tahia could sit in was probably a good call by Julie since that ergo was reduced in size and could be a carry on or we could let Tahia ride with us wearing the ergo.
After security, we had to do a long hike to gate 111 and then to gate 144 when they changed the gate on us. We could see that Tahia wasn't sleeping at all this whole time so we were nervous that she might not sleep well on the plane and thereby preventing us from sleeping on the red-eye flight.
But after patiently waiting for our boarding, we then rode a bus that led us to the tarmac where we then boarded a remote gate on the outskirts of the airport tarmac where we then finally boarded our Air Tahiti Nui flight.
Once we were on the plane there seemed to be quite a few things that fell into place for us even before we arrived in Tahiti. For starters, the 8-hour red-eye flight we took from LAX to Papeete happened to be a fairly empty flight. So that allowed Julie and I to spread out somewhat on the row that we got. On top of that, we were given seats facing the front of one of the economy sections so we were able to allow Tahia to sleep on one of those hanging bassinets once we managed to take off.
While Tahia managed to sleep for some 5 hours (which was not bad considering it was on an airplane), the rest of the time, Julie and I had to keep her occupied with some colorful shaped toy buttons that allowed the little girl to identify colors and shapes. We were amazed at how quickly our little daughter was progressing with her learning. Plus, it was one of those Q-times that seemed to be lacking at home since both Julie and I were always busy juggling spending time with our daughter while also tending to other distractions like work.
Anyways, we arrived at the Faa'a Airport in Papeete, Tahiti at 6am. Just like I remembered from 10 years ago (Julie from 5 years ago), we went down the steps and onto the tarmac as we all made our way to the mandatory customs and immigration lines.
While no one looks forward to these immigration formalities no matter where you go to travel, I always smile to myself that at least in Tahiti, they give you a Polynesian welcoming crew complete with ukelele-playing band. However, this time, they also had a vahine (lady) do one of those familiar hula dances (though I'm sure they're not called hula in Tahiti) where she told a welcoming story through her graceful body movements.
Getting our luggage (always fearful that something would get misdirected or lost) turned out to be a non-issue, but then we had to pick up the rental car from Avis. We were a bit concerned that desk clerk told us that Julie's on-line reservation didn't show up on their records (despite Julie's printout), but I guess since we were in low season (i.e. the muggy wet season) and there were few visitors who self drive let alone spend time in Tahiti island, there was no further drama in picking up our car.
After all the CDW plus a car with working A/C, our rental ended up with something like a ridiculous $160 USD (according to my off-the-top-of-my-head calculations) per day rate. Had we gone with an automatic car, it would've costed another $100 USD on top of that! Needless to say we stuck with manual, but after my personal stick shift car died this year and that it seemed stick shifts are no longer commonly sold in the US these days (unless it was one of those sporty rice boy cars), I was kind of happy to be re-acquainted with driving a stick shift anyways.
It wasn't until around 7:15am or so that we finally left the airport with the rental car after getting the car seat installed and all our luggage into the car. The A/C from the car was weak, but it did work, and it felt like such a relief as we were all a bit of a sweaty mess thanks to the humidity.
After getting lost a little bit (plus feeling a bit naked without a GPS navigation scheme this time) and finding a Banque de Polynesie to exchange some cash for polynesian francs (now with an exchange rate on the order of 88 CFPs to 1 USD instead of around 100 CFPs to 1 USD ten years ago), we eventually made it to the Manava Suite at 8:10am. We were fortunate that they let us check-in early so that eliminated one source of concern – that we would have to carry around our bags until the official check-in time of 2pm.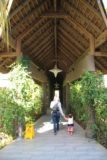 While we were waiting to check-in and while letting Tahia roam around the lobby for a bit, I was talking with a polynesian lady who said she ran tours of the island. As usual, Tahia was the conversation starter as she was happily getting her hands in places she shouldn't and then opened up the door to sucking her thumb or fingers after having done so (this time it was the fountain in the middle of the lobby).
When I mentioned that I was planning on visiting Fautaua Valley from Bain Loti, she mentioned that that place wasn't what it used to be (an ominous sign). Instead, she recommended Tefaarumai, which we had done 10 years ago though we only saw one of the three waterfalls. At least, she assured me that I didn't need to pay for permission to hike to Fautaua Valley, which was also another logistic issue weighing on my mind prior to the hike.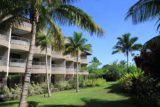 So with the check-in business out of the way, we spent the next 90 minutes getting settled and discovering how weak the room A/C was. Plus, the refrigerator didn't seem to work, and that posed a bit of a concern to us as we knew we had to keep Tahia's milk refrigerated once it was opened up. Meanwhile, little Tahia was quite a handful as she frequently messed with the microwave, climbed on the bed to try to unscrew the lights, and even made it difficult for us to try to feed her milk (as she would spit it out after sucking on the straw).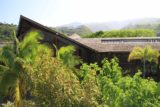 Nonetheless, there was more business to tend to (like grocery shopping), so at 9:40am we left the Manava Suite and about 20 minutes later (getting a little lost again), we went to a large Carrefour (something we learned to look for while touring in France back in May) and proceeded to start doing our shopping. We didn't have any coins so we couldn't put down 100 CFPs to grab one of those shopping carts, and we proceeded to walk in carrying Tahia thinking we probably weren't going to buy that much water, milk, and other foods.
Suddenly when we were inside the store, a lady said to me, "Monsieur…" and before I could even get in a word, she gave me a shopping cart that she was done using. I made a surprised "Merci…" reply, and with that she was already off.
One of the main reasons why I asked Julie to spend more time in Tahiti island this time around (besides seeing more waterfalls) was to get a better feel for how the locals lived and to get a glimpse of the real modern-day Tahiti. And it's generous acts like these in our direction that really stick with you.
Anyways, we spent the next 90 minutes or so stressing out a little about trying to find enough milk so Tahia could get her calcium needs plus weighing that against the weight and volume restrictions of inter-island flights since we'd be hopping to Moorea and Bora Bora later on in this trip. Plus, time was starting to work against me as I knew that hiking in the afternoon (for Fautaua Valley; seeing how the weather seemed to be quite nice today) would increase the likelihood of afternoon thunderstorms and flash floods. I knew how fickle island weather could be and I didn't want to let an opportunity like today slip by.
Eventually after spending a long time shopping, then having a lunch at a couple of the food stands here (with some 540 CFP for 1.5 baguettes and a rip-off 1690 CFP for a plate of duck and rice), we returned to the Manava Suite at 11:50am. I dropped off both Julie and Tahia as well as the groceries, and then I was off on my own to do the Fautaua Valley hike at 12pm.
As anticipated, the traffic was a bit horrendous on the way to Bain Loti (Loti's Bath – near the trailhead for Fautaua Valley) as Papeete Centre, was jammed as I inched my way along Boulevard Pomare (along the waterfront) and then hanging a right at the large roundabout at Avenue du Prince Hinoi. I suspected that this particular roundabout was the source of Central Papeete's traffic jams as it also caused many locals to find alternate routes thereby clogging all the side streets as well.
The whole time I was driving, I was not sure which street I was supposed to turn right on to get to Bain Loti. So as I was studying the map in the Moon book during the traffic jam, I could see that getting onto Ave du Prince Hinoi was one part of the puzzle, but the next street I was to pay attention to was Cours de L'Union Sacree.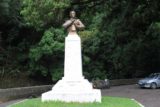 Fortunately, the turnoff for that street was at a traffic light so I had time to study the sign, which was hard to read, especially when moving. Anyways, that got me up the road out the backside of Papeete and up into the mountains backing the city. The road was pretty much either 30km/h or 50km/h the whole way with heaps of large speed bumps en route. It wasn't until I saw the statue of Pierre Loti by a car park at 12:45pm, but I wasn't sure if this was where I was supposed to park or not.
With a lot of polynesians hanging out here (and some blaring loud music with base), I approached one of the intimidating-looking guys to ask if I was at the right place. All that fear and wariness went away when I tried speaking French to the guy and he told me in limited English that I should keep going up the road as there was some signage telling me where to start the hike.
So I thanked him and did just that. After crossing through an open gate with intercom (it looked like I was entering some company property called Polynesie des Eaux or something like that; I think it meant Polynesian Waters or Polynesia of the Waters), I went up a pretty beat up road into a large area full of parked cars plus some discouraging "interdit" (forbidden? restricted?) signs.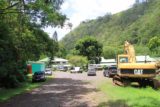 I wondered if I was allowed to park here and start the hike so after I walked around looking for someone to talk to, one guy told me to park closer to the trailhead (so as to not take any of the employee spots perhaps) and I guess that was my "permission" to go do the hike? I had read you're supposed to seek permission with the landowners here, but it wasn't at all obvious how that was supposed to work.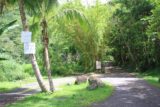 In any case, at 12:55pm I parked the car (no permit and no local cash in hand), and proceeded to do the hike.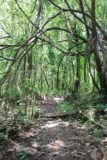 At first, I noticed some obvious foot trails that seemed to weave through the jungle between the Fautaua River and the 4×4 road I was on. Not sure which trail I was supposed to take, I went ahead and walked on the trail, which was not at all signed though they did have some red-white ribbons to help direct the walking. But after a few minutes of sweating profusely and walking through this maze of false trails and hidden waterfalls, I eventually got to some kind of hydro infrastructure flanking the rushing Fautaua River with what seemed to be a dead-end as far as the foot trail was concerned.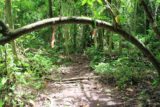 At that point, I backtracked to where I saw the foot trail rejoin the main road and then I followed that main road for what seemed like a very long time (it was already some 45 minutes or so on the trail by this time).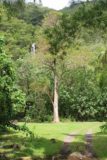 It felt strange hiking on the road as there were frequent areas where signs encouraged you to keep going due to mudslide or rockfall danger. And during this whole time, I still wasn't sure if I was going the right way or not. So that made the hike seem even longer.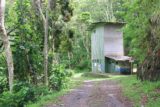 I also noticed there were some structures where I was pretty sure they were hydro related. Judging by the noise that was made in these buildings, I'd imagine there was a lot of water rushing through there. And judging from the graffiti plastering these buildings, I'd imagine they were also targets for practicing ones urban artistry with spraypaint as the brush.
Eventually, I met up with some local Polynesian young dudes chilling out in a group next to the trail. There had to be at least a dozen of them and it was a bit intimidating as I could easily envision getting mugged or something and no one would know about it.
I used this opportunity to ask them, "La cascade, c'est loin d'ici?" (is the falls far from here?) The guys said that it was another 5km away (10km round trip), which seemed to be contrary to the four-hour round trip hike that I thought I had read about in the Moon book or other literature. I also recalled someone saying this hike was "easy." So I was a bit discouraged at this point.
One of the guys took the initiative to approach me and speak more to me (in French) so at first I couldn't totally understand what he was saying, but he walked alongside with me and offered to pick out something in the bush for me. I kept thinking to myself that I also had to keep going to finish the hike and not keep Julie and Tahia waiting back at the hotel, and I was not quite sure if what he was doing had something to do with the joint he had in his hand and then carried in his mouth.
After a few minutes of him rummaging bearfoot in the bush, he showed me a handful of what appeared to be wild raspberries. I asked him "Qu'est-que c'est?" (what is it?), and he told me "framboises".
Eventually I finally recalled that that was the word for raspberries, and then I proceeded to let him have the first raspberry (not sure if he was playing some kind of joke that might get me sick). I told him in French that I was afraid to take one, but after he gladly took one, I then took three.
At that point, my guard was down and I appreciated his act of generosity showing me some of the local edibles growing in the wild and letting me try it. I guess I should know better since the locals here would know best what's poisonous and what's edible. It was a moment that let me appreciate how nothing beats the greatest teacher of all no matter which circumstance you're in – experience!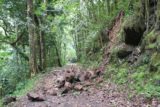 Anyways, I was then all alone on my hike again. Now with an understanding that perhaps this chase for the Fautaua Waterfall might turn out to be a failure given how late it was getting in the day and how much further I had to hike.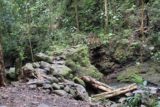 Eventually, I reached what appeared to be the end of the 4×4 road. There was a bridge that crossed the Fautaua River and looked to continue up the mountain. From my pre-trip readings, I assumed that that must be the path to the Fachoda Fort at the top of the falls.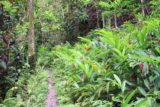 But experience has always told me that falls are best experienced from the bottom so I continued forward on the suddenly narrow and overgrown trail that hugged the river.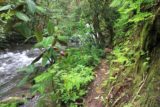 The trail got rougher and required more scrambling along the river's banks, which also conspired to make me want to abort today's hike. I could totally see this part of the hike getting flooded and impassable if the river levels rose due to flash flood or just heavy rains in general.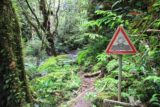 After a few more minutes of walking, I made it to the first official river crossing. I knew it was official thanks to a sign indicating as such.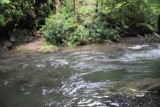 Unfortunately, it looked ridiculously fast and deep (it looked at least waist to chest high). Plus, I felt some rain through the thick jungle canopy and I knew that there was no way I was going to take a chance and cross this river knowing that there would be more of them further up the stream!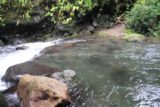 So I turned back and worried that indeed my Fautaua Waterfall chase would be a dud.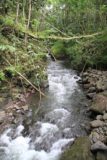 So to salvage this hike from jaws of defeat, I decided to go back and cross that bridge over Fautaua River, then go up the grueling ascent on slippery exposed roots and mud up towards what I believed was the Fachoda Fort.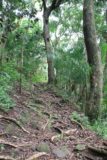 Now instincts told me that views of waterfalls from the top were usually poor, but now that I had nothing to lose (other than worrying about getting locked in at the gate for being out too long), I just kept going to see if fortune might smile upon me before I turn back.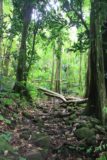 Indeed, the ascent wasn't easy. It was relentlessly uphill and my heart was beating pretty hard (much like Les Stroud's near-death experience going down a mountain in Norway). Some progress on the trail involved crawling under some fallen trees and finding ways to go up and over others.
I didn't realize it at the time but I was a pretty disgusting and smelly mess as I'm sure I reeked of BO plus there was mud on my Keens (and hence my feet and toenails) and my pack seemed to have picked up some of the mud and other squishy things growing on the undersides of trees I had to crawl under.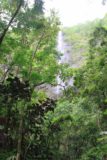 There was a hidden waterfall en route, but I knew it was too wimpy to be the main waterfall that I was looking for. So I kept going.
And just when I was the most discouraged, I finally saw there was a slight opening just past a switchback (fortunately the trails remained mostly obvious throughout), and there it was! La Cascade de Fautaua or Fachoda, or whatever you want to call it.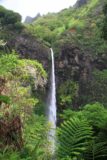 The view was through an opening in the jungle canopy where I could see some sharp peaks silhouetted against the scene with a very tall plunge of the waterfall disappearing below into the thick jungle bush below. The falls looked like it went on forever, but I could see from the spreading of the spray below in the foliage that the base of the falls was definitely down there (though it couldn't be communicated well with photos). I didn't know how tall this waterfall was (I'd later find out from a brochure it was 443ft tall), but those height figures of 1200ft or whatever that was reported in the literature might be gross exaggerations.
I didn't have measuring equipment (I never have so far) so I couldn't say for sure how tall this one was, but it looked a lot taller than 100m but I had doubts about whether it was 300m tall.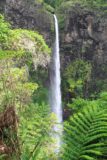 I spent a few minutes here taking what photos and movies that I could (letting mosquitos take pot shots at me in the process), and I managed to get a second wind to continue on the trail to see if the views would improve or if I would finally see remnants of the Fachoda Fort, which was said to be a strategic lookout post during war times.
Given how hard this hike was, it made me realize just how hardy or adept military folks could be and that it's definitely something to respect.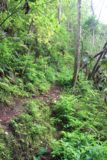 Anyways, seeing this waterfall gave me a lift in spirits and a sort of second wind to keep going just to see what else I might find up here.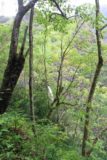 However, when I saw that the views of the falls got progressively worse, and I still wasn't sure if the fort itself was worth continuing on for, I finally turned back (near some wires to hold onto to keep from slipping into the dropoffs below). I'm sure I might regret not seeing the fort and the view from the top of the falls, but at this point, I wanted to go back to the Manava Suite and rejoin Julie and Tahia.
The way back was a slippery affair as I now had to descend the same steep trail I took on the way up. I slipped a couple of times, but fortunately nothing was hurt. However, I knew my arthritic knees would remind me that I was no spring chicken anymore.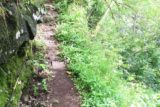 After crossing the bridge and returning to the main 4×4 road, I was now on the fast track back to the trailhead. Along the way, I saw the same group of polynesian guys doing work, and they were curious to see whether I made it to the falls or not. I showed them the photos on my camera and told me (and each other) and I made it to the "belle vue." I told them that I was turned back by the high water (since I told them initially that I was taking the lower approach) but I didn't make it all the way to the top of the falls.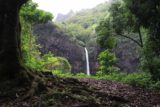 I then asked if they close the gates (always fearing that I might get locked in here if I didn't leave soon enough), but they assured me that they won't close the gate.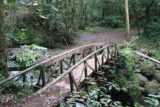 And with that, I let them resume their work while we exchanged handshakes and thumbs up gestures. I told them "merci" then "maruru" for their help. The hike on the 4×4 road went a lot faster than on the way up (probably because I now had confidence in my steps since I knew the way now), and I was relieved to hear loud blaring music as I approached the trailhead again. There were some locals here playing some kind of ball toss game so I went around them so as to not mess up their game.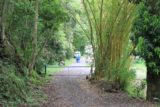 It was 4:25pm when I finally made it back to the car. The A/C from the car was a welcome relief. The skies now went from mostly sunny to overcast and threatening.
It was now time to face the Papeete traffic again as I headed back to the Manava Suite. I thought I might make a quick detour to the visitor center, but it was closed. So anyways, I eventually made it back to our suite at 5:10pm and rejoined the ladies of my life.
I knew I was a disgusting mess, and I could tell from Julie's reaction that I badly needed a shower.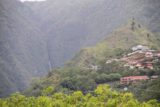 We then spent the next hour or so getting cleaned up, trying to get Tahia to drink her full cream milk (it was New Zealand milk so we had confidence that it was grass-fed and organic), and letting the staff know about our non-working refrigerator. I used this time to also check out a waterfall that we had just noticed in a gulch that we could see out the back of our hotel room. And when all was said and done, we then headed out to the waterfront in downtown Papeete (Tahua Vaiete, I believe it was called) for some more reasonably priced food and atmosphere.
The biggest stress of going back into town was finding parking. After some 15 minutes of fighting traffic, driving alleyways, and making U-turns, we got lucky finding a spot on a sidewalk between two cars. Julie had to help me a little with the parallel parking, but the bottom line was that it was 7:20pm when we finally stopped the car and could walk.
We had to cross the busy Boulevard Pomare twice at the roundabout before finally getting to the roulottes. Roulottes were roach coaches like those gourmet trucks that seem to be all the rage back home though roulottes have been around for quite some time, but I knew that these roulottes were around 10 years ago when we were last here together, and that they provided a pretty economical way to enjoy local food without the exhorbitant prices found at restaurants or especially the resorts.
We could see right away that there were a couple of cruise ships docked at the port here, and so that meant there was probably going to be a bit of a crowd at the roulottes. Julie, being the Tahiti travel agent, identified one of those cruise ships as the Paul Gaugin, which looked much smaller than the Holland America cruise we took last year in Alaska.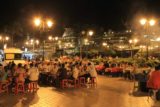 Anyways, we followed the rule of going with the most crowded roulottes, and we ended up with the delicate affair of trying to eat while making sure Tahia doesn't hurt herself falling over the stools or somehow putting our food on the floor. We ended up with some reasonably priced (especially in comparison to that duck and rice plate we had earlier in the day) poisson cru in coconut milk plus some steak and rice. Tahia was pretty much eating what we were eating on this trip so this was her first introduction to a steak (none of the raw fish though).
We then took a trip back down memory lane from our France trip back in May this year by having ourselves some northern France apple cider (the bottle said it was from Normandy) with a delicious crepe filled with grand marnier topped with Tahitian vanilla ice cream. Yum!
We could see that Tahia was getting tired by the end of it all and so were we. It had been a very busy first day (especially considering we had just arrived here by plane), and when we returned to our room at 9:10pm, all we could do was crash.