Day 2: CIRCLING TAHITI NUI
I awoke at 5am probably due to the 2-hour time difference between LA and Tahiti (we're in the same time zone as Hawaii). While both Tahia and Julie were asleep, I used the time to compose the travel entry from yesterday. They eventually woke up at 6:15am.
We all took our time getting ready as we slowly drifted into Tahiti time. It wasn't until 7:45am that we had breakfast, and as we took our time feeding Tahia the American-style brekkie, we'd eventually leave the Manava Suite at 9:05am, which was far later than I would've liked.
I noticed that as the morning wore on, the number of clouds increased. The morning started off with some sun, but by the time we left the hotel, it was now really threatening rain.
Julie mentioned that we should change money again as we realized that we were already running out of cash. So we went next door to the Banque de Polynesie, but we saw immediately that the line was very long! Still, the bank wouldn't be open on Sunday (tomorrow) plus the bank was closed at 11:00am today. Thus, Julie patiently waited in the long line while I tried to keep Tahia occupied in the car (still running with the A/C on). And during that time, it started to pour on and off. Indeed, the Wet Season was being true to its reputation – wet!
It wasn't until 9:55am that Julie finally returned to the car, but seeing how wet it became, she had us go back to the Manava Suite to get an umbrella and Tahia's parka. And only after that did we finally start leaving towards Papeete.
Julie then had to pick up some maps from the visitor center on the waterfront in Papeete. I illegally parked and stayed in the car with Tahia seeing how chaotic parking always was in the city center. And it wasn't until 10:30am that Julie returned to the car and that we were finally off to see the rest of the island.
The ultra late start to the day (despite our desires to be on island time) kind forced our hand and punt our intentions to visit the less-visited Tahiti Iti tomorrow. In the mean time, we were intending to see the major waterfalls that we could reasonably access on our own in Tahiti Nui today.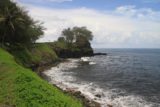 So after taking a bit of time to fight the traffic and get out of the city (being careful to follow the slower cars and not get caught in the speed traps where we saw a group of non-Polynesian-looking cops in a group of four looking at the cars go by), it wasn't until about 11:05am when we were finally out of the chaos and into the countryside.
During the drive, a good deal of the scene seemed familiar to us. It was like going back to the days when we took the bus ourselves and looked out the window seeing the Pacific Ocean along the northeast coast. We even saw a pretty busy mart on the inland side of the road that I recalled our guide stopped momentarily to pick up some liquids during the 4×4 tour through Papenoo. Indeed, it was like a trip down memory lane.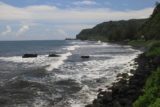 We made one stop to try to take in the scene of locals surfing while cars whizzed on by the main road (something we couldn't do while riding the bus). The presence of clouds definitely muted the turquoise colors of the reefs surrounding the island so we didn't linger for too long.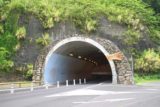 Afterwards, we continued the drive and then passed through a rather unfamiliar-looking tunnel. I didn't recall that tunnel being there from our 2002 trip and it turned out that it bypassed a hairpin turn over the Arahoho Blowhole where the bus dropped us off the last time. Now, after leaving the tunnel, the little car park for the blowhole was hidden just to the left of the tunnel and there was no way to access it the direction we were going and we'd have to U-turn at some point.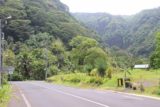 Since the blowhole wasn't a priority on today's excursions, we continued driving and then encountered large signs indicating "Les Trois Cascades." We knew that that meant we were approaching the familiar Faarumai Waterfalls, and just before the turnoff to our right leading into the small valley, we saw a pretty view of the top part of one of the large waterfalls from the main road. I didn't recall last time this view of the falls from this far away, but then again, maybe we didn't know to look or maybe less land was cleared by the main road back then (so it was harder to see).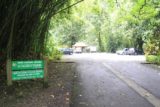 In any case, we proceeded to drive the 1.3km inland towards the car park for Les Trois Cascades de Tefaarumai. En route, we noticed that we could see a second tall waterfall that definitely wasn't the main one (thought it was hard to photo while moving in the car). Could it be the Haamaremare Iti or Haamaremare Rahi (the falls that I missed the last time around)?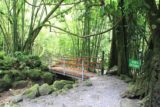 By about 11:20am, we made it to the familiar car park. There were a handful of cars already here and the car park seemed a bit bigger than I recalled ten years ago. There was even a mini-shelter where the roof was standing on a pair of large tree trunks.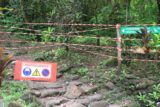 After getting out of the car, putting on the bug repellant (seeing there were plenty of mozzies), getting Tahia onto Julie's ergo, and finally embarking on the familiar short walk to the base of Vaimahutu Falls (the first and largest of the three waterfalls), I was a bit disappointed at seeing the red-white ribbons blocking access to the other 2 of the 3 waterfalls just like last time.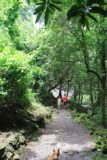 This time, I was determined to see them since it was such a short path. There was no way I was going to wait ten years and be denied another shot at seeing these falls. Who knows when I'd be back? So I kept a mental note to come back here when Julie and Tahia got back to the car so they can chill in relative comfort in the A/C of the car.
At the Vaimahutu Falls, we saw there were some locals filming. They had some fancy camera equipment and there was at least one attractive-looking polynesian lady who was the film subject. I wasn't sure if this was for a magazine, commercial, or billboard, but we let them go about their work and didn't ask.
As for the falls itself, it was definitely much more swollen this time than the thin twisting waterfall we encounted back in September 2002. Some of the light mist was drifting in our direction so I had to wipe the lens a few times while also trying to wipe off the fog on the lens a few more times due to the condensation from the humidity.
The lighting on the falls vacillated between bright and intense sun and muted brightness from the everpresent clouds. At last we were finally able to re-photograph the falls plus take movies. We noticed there were now a handful more smaller strands of cascades flanking the main waterfall which was also something we didn't recall seeing the last time.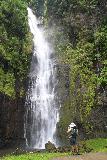 For a short period of time, Julie and Tahia posed for photos in front of the cascade though it was always a challenge to get Tahia to look at the camera as I snapped away. I don't think any of the photos turned out very well, but at least we now have a personal pictoral record of this place and time where we were together as a family in one of the most exotic places on earth.
It didn't take us long to check out this falls and then leave as we saw a lot more people coming to the falls. We even heard some American voices, which was an indication that we weren't the only Americans willing to do the self-drive through the mean streets of Papeete and out to this part of the island.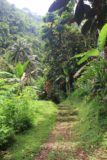 Anyways, Julie and Tahia headed straight back to the car as planned. Meanwhile, I did my planned act of defiance and ducked the tape to immediately go briefly uphill onto the walk to the other two waterfalls.
I was at least determined to see where I should be turning back, but as I proceeded further along the somewhat longer path along the alternate stream responsible for the two waterfalls, the more I became aware that it seemed like this trail didn't really need to be closed (at least my confidence in that assessment grew with each step I took).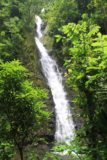 Eventually after another 10 minutes or so, I arrived near a footbridge fronting the first of the remaining two waterfalls, which was a very tall cascading waterfall tumbling at an angle as it reached a shallow pool at its base. Meanwhile, I could see part of the other waterfall though it was partially blocked by a lot of foliage so it was hard to photograph well in one shot. The falls were also tumbling at angles away from each other so a very wide angle lens would need to be used so both falls wouldn't prematurely disappear from the field of view of the camera.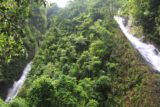 So despite my unsuccessful attempts at capturing the two falls in one shot, I then focused on the immediate falls at hand (trying to use the bridge to steady the camera as a pseudo tripod (which I forgot to bring today), and then I continued walking towards the last of the three waterfalls.
I wasn't sure which of the two waterfalls was which. Was the first one Haamaremare Iti and the last one Haamaremare Rahi? Or was it the other way around? The first one looked taller but more slender while the last one seemed shorter but much thicker.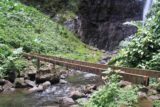 When I was finally able to see the entirety of the gushing third falls, I saw that the last bridge was unfinished. Apparently, this was the only reason why the trail was closed and I swore that it probably wasn't at all necessary to close the trail unless there was more of a rockfall danger at the base of this falls (where it seemed like there was a very inviting swimming hole underneath the vertical cliffs closing in the cove).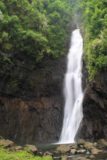 The planks laying beside the bridge looked like they were new so I'd imagine that over the ten years between visits, this bridge must've been finished then frequently washed away. I found it hard to believe they'd leave it unfinished for a decade (as stuff would've surely grown on the wood).
Seeing that I didn't have the best tightrope walking skills, I decided to go under the bridge and wade across the stream, which was about thigh deep. When I was finally on the other side (hoping the green foliage here wasn't poison ivy or poison oak), I then took my time taking photos and movies of this pretty cool shorter but impressive vertical waterfall though the swarms of gnats (I hoped they weren't sandflies) conspired to make me leave sooner rather than later.
The falls looked like it was around 30m tall or shorter though I couldn't tell if there were more tiers further upstream unseen from down here due to the twisting nature of the stream up above. I began to wonder if both of these waterfalls came from the same stream before they segmented and became two paralleling streams that would later reconvene a short distance downstream of the two bridges here. I suppose if that was the case, it would make sense since I believed these falls would be fed by the same alternate waterfall we noticed from the road just before we got to the car park.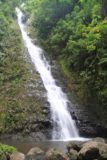 I was eventually joined by another couple who crossed the unbridged stream, and that was my cue to leave so they could enjoy it. They looked like a sunburnt older Caucasian couple and I couldn't tell if they were European visitors or if they were local.
Anyways, after making one last attempt at taking long exposure shots of Haamaremare Iti from the functioning bridge, I finally headed back to the car where Julie was struggling to get Tahia's diaper changed and to feed her milk from within the confines of the rental car.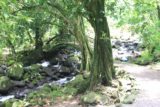 We left the car park at 12:45pm (after the 10-minute struggle to get Tahia what she needed against her own spontaneous wishes). Five minutes later, we made a brief stop at the car park for the Arahoho Blowhole where locals were at the black sand beach here boogie boarding while a handful of others walked on the old familiar road to get to the overlook which looked a little more built-up. At least this time, the blowhole was signposted (unlike last time).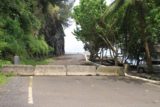 Meanwhile, I also briefly walked along the main road where I checked out the tunnel (a sign here said it was finished in 2011, which would explain why it wasn't there before), and I also took a few shots of the main Faarumai Waterfall, which I wasn't able to stop and take earlier.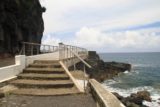 When I returned to the car, some local was blaring music from his car stereo in which it happened to be Gangnam Style. I guess this instance of K-pop (Korean Pop) really was an international phenomenon because even in rural Tahiti, it caught on!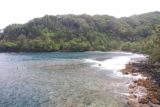 Finally, we continued on our circle island tour of Tahiti Nui. Now that we continued east then south of the Faarumai Waterfalls, Julie and I realized that we were in unchartered territory as far as we were concerned. Everything from here on out would be new to us.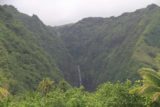 At about 1:25pm, we stopped on the far side of a bridge over the Faatautia Stream between the PK41 and PK42 markers. The Moon book we carried with us said there was a view of Vaiharuru Falls (not to be confused with the falls of the same name in Papenoo Valley), and as we looked over the homes towards the mountain, we could see there was a pretty big falls where part of its top as well as large chunk of its main drop could be seen.
The view of the falls was actually probably best seen over someone's driveway but regardless of whether it was from there or the road bridge, there was always foliage blocking the bottommost section of the falls from my line of sight. So I took my obligatory photos and movies and then continued on. There didn't seem to be an obvious way to get closer to this waterfall but then again I didn't think with Tahia in tow, there wasn't a real incentive to go on a spontaneous adventure anyways.
As we continued driving clockwise along the main road, Julie was getting hungry and Tahia was getting increasingly fussy. Since we were approaching Taravao, the hope was that we might find something decent to eat over there for lunch, but we were also aware of the short lunch hours where everyone tended to close at 2pm, which we experienced in France earlier this year.
After a futile attempt at finding this place called Restaurant L'Escale (turned out that a lady at the Total gas station here said it no longer existed), we were given recommendations to try a couple of other places in town though we might be unsuccessful due to the narrow lunch window we had just missed out on. So after finding the two recommended restaurants (Taumatai and Chez Loula & Remi) and being turned away at the latter, we ended up eating at this place called Snack Hibiscus which was basically for a baguette filled with chicken and BBQ sauce at 2:10pm.
Julie and I thought that maybe we might be able to try one of the restaurants here tomorrow when we don't anticipate the very late start we suffered from today. However, the thought did cross my mind that it would also be Sunday when most local businesses would close.
Anyways, Tahia reluctantly ate her pieces of chicken and baguette while Julie and I quickly chowed down what we could at the same time. The ice cold drinks here were refreshing against the humidity of Tahiti's Wet Season, and so this was the much needed break before recharging and heading back towards Punaauia where the Manava Suite was.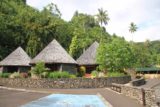 At 3pm, we finally left Taravao and headed towards the southern and western coast of Tahiti Nui. About 15 minutes later (after passing the Paul Gaugin Museum turnoff), we saw the car park and signpost for the Vaipahi Garden.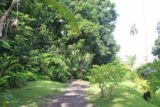 While Julie and Tahia stayed in the car (to honor Tahia's much needed afternoon siesta), I went out solo and entered the free admission garden. After a few minutes of walking, I saw the main waterfall where I recalled a photo on the web where one of the Beattles had posed while visiting this garden.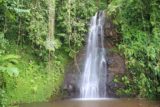 The falls was a pretty attractive classic jungle waterfall that was some 15m or shorter (the upper tiers if they existed were unseen) flanked by hanging vines and some apparently introduced species of flowers and plants growing alongside the stream. It was the type of waterfall that invited long exposure photographs though I didn't have my tripod with me (doh!).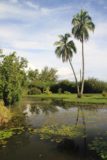 After having my fill of the Vaipahi Falls, I went back to an intersection where a sign indicated a start to a much longer walk up the mountain. The signs here indicated that there was a second waterfall, and after I noticed a guide explaining stuff to an English-speaking couple, I asked the guide how far away the other waterfall was.
He indicated that it was another half-hour up the mountain each way (one hour round trip) and that was something I couldn't do since Tahia and Julie were waiting in the car. Maybe I'll try this tomorrow time permitting though I was unsure whether that second waterfall would be worth it.
Nonetheless, I was back at the car at 3:45pm. Tahia was still napping, which was a good thing. Now, it was time to head back to town in the hopes of having an earlier dinner to end off the day.
It wasn't until 4:35pm when we finally returned to the Manava Suite. Somehow I missed the familiar turnoff for Vaihiria Valley (though I wasn't going to drive that road anyways). That was the outlet of the 4×4 tour through Papenoo Valley, which we did 10 years ago on the last day of our initial tour to Paradise. At least, it was interesting seeing this part of the island with some more obscure hidden waterfalls tumbling down the mountain as well as busy beaches en route full of locals. Clearly the locals were out in the countryside on the weekends.
After TripAdvisoring to see what restaurant to do today, we finally settled on this place called L'o a la Bouche. We managed to secure 7pm reservations since they didn't open until then (which was kind of late for Tahia), and so the plan was to check this place out and then Les 3 Brasseurs tomorrow since we knew they'd be open tomorrow.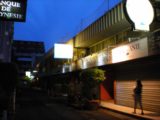 Since we stressed out a bit about parking, we actually gave ourselves an early start to drive back into town while looking for parking. After a frustrating time circling the same blocks over and over again, we finally figured out that this restaurant was hidden away in some small alleyway and we managed to find free parking (free on the weekends thanks to a lady who stopped me from putting money in the P machine) nearby it at 6:20pm.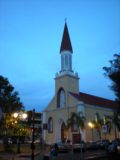 So we killed 40 minutes walking around towards the Notre Dame Cathedral before finally getting back into the restaurant when they opened their doors. They didn't have a high chair in there and it was apparent that it wasn't a very toddler-friendly place. Little would we realize just how much trouble Tahia would be given the circumstances as it seemed like she was dead tired or somehow not happy about being there.
We were enticed by having the foie gras in Tahitian Vanilla and tuna carpaccio though Julie wasn't too impressed with them considering the price we were paying. Our mains of honey-glazed duck and some kind of grilled moon fish also didn't seem to impress us though we wouldn't get a chance to fully enjoy our meal because Tahia was really starting to fuss and create a scene in the restaurant.
In hindsight, we made a mistake feeding her milk during dinner as she didn't want to eat anything we gave her. We noticed she was starting to cry in her makeshift seat restraint that we used whenever no high chairs were available, and that was the beginning of the end of our stressful meal.
With all her fussing, we'd eventually had to leave the restaurant early with takeaway boxes. I felt bad about the scene that was created in the restaurant, and now we could see why strangers back home complimented us on how well behaved Tahia would be whenever we took her out eating. This was the very first time she was difficult though in her defense it was way past her bedtime and her usual routine.
At 8:40pm, we returned to the Manava Suite. Julie and I lamented the overpriced food thinking the roulottes last night were a far better value. Then again, maybe Julie and I got a little too spoiled with fine food over the years and we just happened to hit one that seemed to have made plenty of TripAdvisor reviewers happy, but we thought they were a bit off in this instance.
And with that, we finished our takeaway food in our room, which was also when Tahia finally decided to eat. Afterwards, we had our much needed showers and teeth brushing, and shortly thereafter, Tahia was dead sleep in her mini tent where we could hear her snoring!
Not long after that, Julie and I followed suit and let our exhausted bodies rest at around 10:30pm…