Day 3: LIVING UP TO ITS REPUTATION
When I awoke at 5:20am, it was raining outside. I had a feeling that it wasn't a good sign if the day started off right off the bat with some downpours. There was something about this rain that I had a feeling wouldn't be the short tropical types we had come to know and love. Something about this one seemed to be one of those sticky ones where it might rain all day. I certainly hoped that wouldn't be the case.
After spending a good chunk of the early morning waiting for Julie to get ready while also trying to feed Tahia her milk, we finally went to have breakfast at 8am. It was still raining when we were having our brekkie, and clearly it seemed like today would be a bad day for panoramic views, which we kind of hoped for given today was our last full day on Tahiti Island.
We struggled to get Tahia to eat her breakfast as she would frequently spit out whatever went into her mouth. So we resigned ourselves to just a partial breakfast for her before we finally left the hotel at 9:05am.
With the intermittently rainy morning, we passed through much lighter traffic in downtown Papeete as we drove the now-familiar roads through town following the Mahina signs. The city seemed a lot more dead probably because it was Sunday where it seemed like the whole island was either on rest or attending service.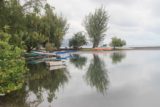 At about 9:35am, we made a brief detour towards Point Venus. In addition to a pretty little sandbar lagoon or inlet, there was a black sand beach there as well as a small sandy lagoon where I was able to look across a strait towards a heavily-cloud-covered Moorea as well as parts of Papeete.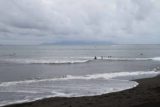 Under the depressingly gloomy skies, it wasn't very photogenic though I was willing to bet that had we been here yesterday, it would've been way better since it was only overcast and not raining.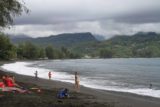 We did notice some families here playing in the sand and the water to beat the humidity, but I'd imagine this place would've been a lot busier under more benign weather.
Ten minutes later, we left and decided to continue on towards Taravao. This time, we tried to head straight for Tahiti Iti, which we didn't have time to do yesterday. However, Tahia was fussing in the car until Julie managed to reel in her short attention span with some small puzzles and the iPad we decided to bring along. Eventually, she conked out and slept in the rear-facing baby car seat.
At about 10:45am, we returned to the familiar restaurant from yesterday called Chez Loula & Remy's. This was a local's recommendation from that Total gas station who said there were a couple of local favorites specializing in French/Tahitian fusion.
It turned out that this restaurant was open, which surprised us considering how early it was and that it was Sunday. However, their kitchen wasn't open until 11am. That was ok though because Tahia was still dead tired and she slept with her head resting on our shoulders (we took turns holding her) while we supported her with our arms and chest.
When the kitchen was finally open, we enjoyed a meal consisting of very fresh poisson cru marinated in coconut milk, mahi mahi puff pastry in Tahitian vanilla bean sauce, and some fresh local shrimp in a kind of sweet chili curry or sauce. We both thought it was way better than our L'o a la bouche experience last night and it was way more reasonably priced.
Unfortunately, when Tahia finally woke up from her nap, she was being difficult again. So after Julie and I took turns eating, we had to carry out the leftovers and try to feed her in the car.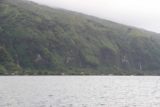 At 12pm, we left the restaurant under pouring rain. We headed over to the farthest northeast of Tahiti Iti that we could go. After passing through the village of Pueu, we noticed there were quite a few waterfalls lining the cliffs above some residences all within view of the main road. But under the pouring skies, it was hard to tell if these waterfalls were legitimate or they were merely ephemeral waterfalls aided by a persistent downpour.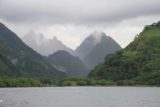 At 12:30pm, we eventually made it to a beach somewhere near the town of Tautira where we looked back at the waterfalls spilling behind Pueu Village as well as some sharp peaks looking mysterious against the dark cloudy skies draping over Vaitepiha Valley. It was a shame that the weather was so foul because Tahiti Nui would've also been visible from here!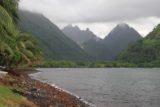 This was our turnaround point and we proceeded to slowly make our way back towards Taravao trying to photograph all those waterfalls we saw en route to get here. We spent some 40 minutes do this, which consisted of trying to find pullouts or shoulders off the road to photograph some of these attractive falls in the pouring rain.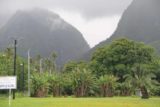 It wasn't until around 1:10pm when we left Pueu for good.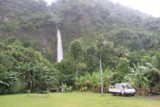 On the way out, I was lured by signs that indicated "Plateau de Taravao" and decided to ascend that short road thinking (incorrectly) that we had to go this way to find the connecting road to Teahupoo, which was where we intended to go next. But eventually after another half-hour of driving on some pretty beat up ascending roads through some pastures with cows grazing on them, we'd get to a shelter that was supposed offer a nice view of the isthmus of Taravao as well as the imposing Tahiti Nui behind it. Unfortunately, the weather was so foul that low clouds pretty much fogged up the scene and this drive amounted to a waste of time.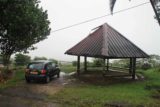 We didn't stay up in this plateau for long. At 2:05pm, I filled up gas at Taravao before continuing on towards Teahupoo. It wasn't until about 2:25pm that we finally arrived at the end of the road at the Plage de Teahupoo. It was here that we saw a handful of locals surfing or boogie boarding in the immediate rocky and black sanded beach. However, we didn't really see anyone out by the distant barrel breaks at the edge of the reef here.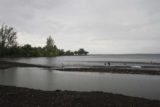 This beach seemed pretty low key (especially compared to the North Shore of Oahu), but perhaps that helped maintain a certain bit of charm due to its lack of commercialism.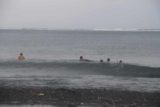 I had read that surfers here had better know what they're doing and that you needed a boat to even get out to the reef breaks so perhaps it was this degree of difficulty that kept this place from being overrun with commercialism or tourists and locals alike competing for waves.
Even though there was a bit of mystery to this place as it seemed like it might be worth doing a walk across the bridge to go further east to the Te Pari Cliffs, a sign here said it was private. Plus, the rain wasn't exactly inviting us to go ahead and do some exploring anyways, especially with Julie and Tahia interested in going back to Papeete.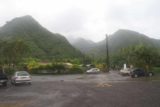 Next, we started to drive back towards Papeete via the west coast. At about 2:55pm, we made a brief stop for the Paul Gaugin Museum, which Julie was interested in checking out. Meanwhile, I kept company with the napping Tahia.
The rain remained relentless and there was even a fair bit of street flooding on the main road. Given the longevity of this rain, I could see how people say December is the wettest month of the year in French Polynesia (though February is also said to have a valid claim for this title as well).
When Julie returned to the car, she said that the "museum" was a little dilapidated. We had a bit of a laugh when she recounted how one of the employees there noticed how quickly Julie made her visit and asked her, "Is everything ok?"
As we left the Paul Gaugin Museum, we decided to skip the Vaipahi Garden since I had already seen it yesterday. But given the heavy rains, I was lamenting that I took the trouble to bring the tripod today only to be denied because there really wasn't a whole lot of opportunities to take family photos with it.
The drive under depressing conditions pretty much went uneventfully despite the presence of street flooding and some new potholes being formed as I tried to avoid them. When we returned to Papeete, I noticed the waters at the Taina Marina were red! I knew there was no way this was the reef, and I wondered aloud to Julie whether this was a red tide. Whatever the case was, it made me think twice about letting Tahia go in the water if all this rain and industrial runoff help make the toxic red algae bloom.
At about 4:15pm, we returned to the familiar Carrefour near the Faaa Airport turnout. Julie ran her errands (which was basically getting a more reliable floatie so Tahia would stay afloat without drinking too much lagoon or ocean water).
At 4:40pm, Julie returned to the car though the rain still persisted. About 5 minutes later, we made it back to the Manava Suite. Julie and I were trying to get Tahia's stuff washed before we headed back out on the town. However at the last minute, Julie decided that we should visit the Intercontinental Hotel which was one place Julie wanted to check out for her work.
We'd eventually head towards the IC at about 6:30pm. When we got onto the IC property, we noticed the large infiniti pool as well as large open area restaurant. We ended up eating at one of the restaurants here, but the food seemed to lack in quality and value considering what we paid.
Once again, Tahia was being difficult during the dinner as she refused to eat whatever we offered her, but when we were about to leave, Tahia finally decided to start eating. Apparently, she didn't want to be in a high chair anymore nor did she want us feeding her. Instead, she'd rather feed herself.
We'll see if we stumbled upon something that might work for the rest of this trip. But for now, it appeared that every restaurant we're going into seemed to bring out the brattiness in her – something that she never exhibited up until this trip.
At about 8:15am we returned to the Manava Suite. Tahia was still in a much better mood and we tended to her hygiene before tending to our own and calling it a day. Outside was still pouring rain and both of us feared that might be just the beginning of consecutive days of downpours, which would thereby ruin our time in both Moorea and Bora Bora (since we'd be leaving for Moorea starting tomorrow). We really hoped that wouldn't be the case, but given how my fears that today would rain all day came true, it definitely wasn't a good sign…