Day 4: THE ISLAND THAT REFUSED TO LET US GO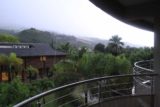 It was 5:30am when Tahia woke everyone up. It had been pouring all last night and it was still pouring when we awoke! This time, the rains were accompanied with lightning and thunder! Indeed, the weather seemed to have gotten worse than yesterday, and we thought yesterday was bad!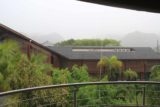 So by 6:15am, we were packing for the anticipated flight to Moorea. Tahia was making things difficult by running around the suite causing trouble as usual so progress was intermittent and slow mostly because we were constantly interrupted and distracted from whatever task we had set our mind to only to be disrupted by Tahia's antics. When we learned that her mindset was on drawing scribbles on the free memo pads given by the hotel, we figured out that just letting her doodle with the provided pencil on those pads seemed to have calmed her down momentarily.
The last three days, Tahia seemed to have been acting up (especially in the restaurants). Julie and I had feared Tahia would be acting up given the unfamiliar routines (or lack thereof) and surroundings that would throw off her sense of security. So I guess this was why we used this Tahiti trip as a test trip to see how Tahia would respond. Even though we were learning new things and adjusting to sudden changes as we went, we could tell that she still wasn't ready for other types of trips that would've involved a bit more activity than this particular one.
So that planned Italy trip next year? Probably out of the question for Tahia until we could trust that she could behave well and show at least some interest in traveling with us.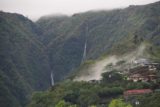 As we were couped up in our room tending to both Tahia's needs and the need to pack for today's travel to Moorea, we noticed that the rain did let up somewhat to show the familiar gulch directly in view from our hotel room. It turned out that not only was there that familiar waterfall we saw each of the last two days, but there was also a new waterfall introduced by the last two days of downpours.
So it wasn't until about 8:35am when we finally headed down to the included breakfast. It was really pouring rain when we were headed there, and Julie was surprised that the Manava Suite didn't have at least an awning or some kind of built-in shelter connecting the corridors leading between the rooms and the reception area itself. Instead there was an area of open air which the staff placed a few umbrellas to at least limit the drenchings for the guests trying to get to the reception area and back.
Since last night Julie thought she had lost her organic insect repellant (made of natural ingredients) we did the unthinkable and put some DEET on Tahia to keep her from getting mosquito bites. Meanwhile, we returned to the familiar brekkie room where we had the same stuff except this time they ran out of the Tahitian Vanilla yogurt. But at least Tahia was a little more well-behaved in eating because we figured out to let her control the fork or at least let her think she was in control. Indeed, the terrible 2s were in full effect even though she still wasn't two yet.
At 9:45am, we were finally done with brekkie and started to load up the car. It was still pouring outside so when I was done getting the car all loaded up, I drove up to the reception area to pick up Julie and Tahia and minimize their walking.
Since we were a little early before our scheduled 1:15pm flight to Moorea, we decided on doing a last minute stop into the mean streets of Papeete again. Not surprisingly, there was traffic. And given the time constraints of the day, we decided to go to the familiar taxi standby spots and parked there illegally at 10:10am.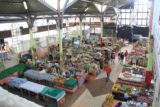 Initially, I stayed in the car while Julie went out to the Marche in downtown Papeete to see what it was all about. When Julie returned to the car, she told me that it was pretty much like a two-story swap meet. So Julie suggested that I go check it out while she waited in the car with Tahia, and that was what I ended up doing.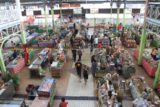 The Marche was only a few steps around the corner of where we illegally parked so it didn't take long for me to find it, check it out, and then return back to the car. I could see what Julie meant when she mentiond to me that it really wasn't anything special. However, I'm sure it would be something to do on a day like today where the treacherous thunderstorms would limit what could be done.
In any case, there was a lot of various merchanise being sold downstairs (e.g. foods, clothing, trinkets, etc.). Meanwhile, the upstairs area seemed to focus on black pearls.
At 10:30am, I returned to the car and we drove off. We proceeded to head over to the familiar roundabout of Boulevard Pomare V and Avenue du Prince Hinoi. As I signalled left to try to communicate to others that I was making a U-turn at this roundabout from the outermost lane of the concentric circles, apparently the driver next to me on the inner lane of the roundabout ignored it and nearly hit our rental car when we crossed paths.
This was one moment where I kind of anticipated this and fortunately the defensive driving posture we took lessened the chances of a calamitous hiccup right before our scheduled flight.
Once we left the chaotic Papeete streets, we then filled up at a Shell along the way before we were finally back at the Faaa Airport at around 10:50am.
Once again, it was raining but it wasn't a downpour when we were unloading the car with our baggages. After checking in our bags at 11:15am, we learned from our flight ticket that our flight was delayed by another half-hour to about 1:45pm instead of 1:15pm. So given the flight delay, we had a lot of time to kill so we went upstairs where there was an air-conditioned room in a buffet cafe.
Tahia was dead tired and performed her long overdue morning nap so she was conked out in our arms. Julie and I took turns having our lunch before Tahia managed to wake up and start eating some of the stuff we were eating.
After going through security at 1:25pm, we were waiting for our flight in a boarding area with three gates. It was a far cry from the hike we had to make to get onto an Air Moorea flight from Papeete like we did 10 years ago. And Julie and I were glad this hike didn't have to be made given the intermittent downpours that persisted on this day.
Anyways, our flight was a little delayed and it wasn't until about 1:55pm when we were finally seated on the plane. The boarding was a bit of a wet affair though the staff gave us some red tent umbrellas to make the transit easier. By about 2:05pm, the plane took off.
The plane ride was supposed to be only 10 minutes to Moorea, but Julie and I started to notice that the plane kept turning in the same direction and it was well past 10 minutes from departure. We figured the flight was in a holding pattern until it was safe to land.
Our hunch was somewhat confirmed when the PA said that we had to abort the first attempt to descend into the airstrip in Moorea due to unfavorable landing conditions. After the second failed attempt at 2:30pm (in which there was some severe rocking in the plane resulting from the scary turbulence though Tahia seemed to enjoy the ride as indicated by her laughter), the plane started to head back to Papeete. However, even the flight back to Papeete was a non-trivial affair as it took longer than 10 minutes to do this leg as perhaps even landing there was not favorable as well!
At 2:50pm, we finally landed back at the Papeete Airport. The plane was being refueled since it wasted a lot of gas from the two failed landing attempts. We had to deplane and walk through the pouring rain back to the boarding area again, where we'd await further news on what should happen next.
While at the boarding area, we found an empty set of seats next to a couple. We managed to strike a conversation with this couple who hailed from Las Vegas. They relayed to us their flight delay story as they had been waiting since 10am for a flight to Tahaa. Apparently, this flight to Tahaa was supposed to be an alternate location for their honeymoon since their original plan of going to Fiji was cancelled thanks to Cyclone Evan.
I guess if we thought we had it bad, it seemed like this honeymooning couple just couldn't catch a break!
We also conversed with another honeymooning couple from Seattle who also seemed to have difficulties with the weather starting yesterday on their international flight from LA to Papeete. We traded horror stories of flight delays and times when things didn't go right as well as sharing itineraries and places we were staying. It really seemed like in times of duress like this, it was easy to engage with other fellow holidaymakers.
Somewhere amidst the chaos going on at the airport, we would later learn that another flight was about to take off for only Raiatea and Bora Bora, but the Moorea part was cancelled. Instead, the airport had us going to the waterfront to take the ferry to Moorea.
When one of the staffers led the Moorea-bound passengers to pick up luggage before being taken by bus to the waterfront, Julie realized that we were missing her black bag full of essentials like Tahia's stuff as well as our passports and vouchers! So while everyone bound for Moorea was leaving us behind, we had no choice but to try to go back to the boarding area to recover Julie's bag.
It was a frustrating affair as the security guard insisted on finding it for us. He took his time and at first took the wrong bag. But eventually, he got us the right one but by then, Julie and I tried to run to find the rest of the Moorea-bound group to no avail.
Fortunately, there was the guy from Seattle who we conversed with who beckoned us. And from there, we picked up our wet luggage (wet from the rain) and awaited our turn to get onto the bus bound for the ferry.
There was only space for our two biggest luggage pieces beneath the bus. I actually had to bring the baby car seat onto the passenger seat with me due to the lack of space below. It was a bit of an awkward ride holding this bulky car seat on my lap, but at least we managed to make it to the ferry ok.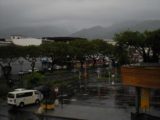 Perhaps a sign that things weren't all that well coordinated between the airport and everyone else was best symbolized when we saw the surprised look on the ferry worker's face after the airport employee/bus driver told him what was going on. Eventually, after we confirmed that our luggage was going to be joining us to the Moorea-bound ferry, we were to wait another hour or so before the 5:25pm ferry.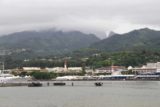 After we managed to kill some more time at the ferry, which went by pretty quickly because we had to change Tahia's diaper then feed her milk as well as some after-lunch food, we finally were aboard the boat named Teravau at 5:20pm. By this time, the weather seemed to start to calm down a bit and perhaps we were finally home free to get to Moorea and resume our suddenly drama-filled trip.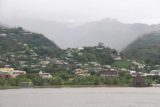 At 5:40pm, just before the ferry was about to enter the choppy strait between Moorea and Tahiti, the ferry started going backwards. Apparently, the news was that there was some kind of issue with the propeller and that we would have to return to the waterfront in Papeete!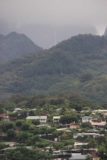 "Are you kidding me?" exclaimed Julie upon hering this news. Indeed on this day, it just seemed like the island of Tahiti refused to let us go!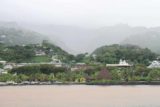 We were definitely spending much more time than we wanted to on this island and that we would be spending less time than we wanted to on both Moorea and possibly Bora Bora later in the trip. This was further exacerbated by the foul weather we had been experiencing the last two days at least.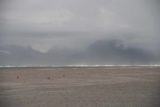 At 5:45pm, the boat stopped going backwards and then started going forwards again. Apparently, it appeared that we were making another attempt at going across the strait to Moorea. And I knew we were committed to finishing the ferry when we left the safety of the reef area and right into the real choppy waters that caused many in the boat to be seasick.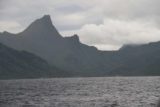 As we got closer to Moorea at 6:05pm, I decided it was time to go outside and take some photos of our approach to Moorea Island. It was a bit windy at the time and the boat was still rocking. But most scary of all was that just before I was about to take photos of several waterfalls I had not seen before on the island of Moorea, my case of a pair of backup memory cards fell to the deck!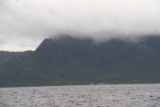 Apparently, I forgot to zip up one compartment of the camera bag, and so the memory card case just so happened to escape from that opening. When I saw it on the floor, I immediately picked it up but had a hard time trying to put it back into the bag and then zip up that troublesome compartment.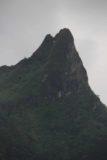 Fortunately, a fellow passenger saw my troubles and actually came over and tried to shield me against the railings so I wouldn't be rocking back and forth with the sudden movements of the ferry boat. However, it was only when I engaged in this act of zipping up the troublesome compartment of my camera bag that I learned that the camera's instruction manual (which was also stored there) was gone as it was probably lost at sea.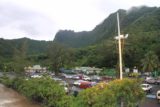 Anyways, I did get my shots of Moorea where I could see those ephemeral waterfalls that I never recalled seeing before. I could also see that the weather indeed seemed to be momentarily calmer as we approached the dock at Vaiare.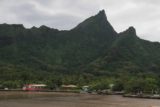 At 6:15pm, we finally got off the ferry boat and were in the dock area looking for Albert Tours, which was supposed to be shuttling us to our resort on the other side of the island at the Intercontinental Moorea. There were also some other folks waiting for the same tour company to be shuttled to their resort as well.
So after picking up our luggage and making a short hike to the taxi area, we waited patiently for our shuttle.
At 6:40pm when the skies were getting dark and the rain was coming again, we were still waiting for our Albert Tours shuttle. Even though we were assured by other drivers as well as some staffers here that "they're coming" it sure seemed like nobody got the message. By now, it was Julie, Tahia, and I plus a family of four from Portland as well as another couple waiting in the taxi area and practically no one else in the dock area.
It wasn't until 7pm when the long awaited Albert Tours van showed up. The driver claimed there was misinformation from Air Tahiti Nui as well as the airport as he was under the impression that the flight never showed up given the info he received. Although the story didn't seem to add up, I'm sure it would all be water under the bridge once we could resume our trip again starting tomorrow.
It wasn't until 7:30pm when we finally arrived at the Intercontinental Moorea on the northwest side of the island (we had docked at the eastern side of the island). Even as we arrived at the lobby, it was still raining big time (would it ever end?)!
After some formalities at the lobby regarding vouchers, paperwork, and riding in a go-cart towards our beach bungalow (under pouring rain again), we were finally in our room at 8:05pm. The porter told me that weeklong downpours like this was actually pretty normal in the Wet Season. So even though the circumstances we had to deal with on this turbulent day seemed to scream outlier (especially since we had never had this type of persistent thunderstorms in tropical locations even during Wet Season months like December), I guess it wasn't all that unusual after all. Maybe it was a bad idea to come to Tahiti in December, we thought?
Julie, Tahia, and I had an overpriced dinner on site in which Tahia once again didn't really feel like eating until we went back to our beach bungalow. Anyways, in the end, we were finally done for the day as we got settled and tried not to let Tahia break anything here. Both Julie and Tahia were dead asleep by about 10:30pm where no one had time to brush teeth or even shower.
While we were looking forward to Moorea for a break from the chaos of Tahiti Island (more specifically Papeete), the elusive legendary Tahiti holiday would remain that way (elusive) at least until tomorrow. Hopefully, things would improve but with the weather being as stubborn as it was, I wasn't about to hold my breath for it.
On the bright side, if we had to get more bad weather, I guess tomorrow wouldn't be such a bad thing because Julie had to do two site visits so there wouldn't be an opportunity to be going anywhere anyways outside of those site visits!