Day 5: PERILS OF THE WET SEASON
At 5:45am, Tahia once again woke everyone up. Julie was real reluctant to get up since she had slept as late as I did after midnight after yesterday's drama-filled day thanks to the bad weather.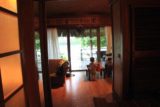 The morning was spent tending to Tahia's needs as usual starting with a milk feeding then trying to keep her out of trouble while Julie and I were trying to get ready for the day. Julie had two site visits to do today, and I had resigned myself to pretty much a lost day of sightseeing given that Julie wouldn't be around at disjoint periods during the day.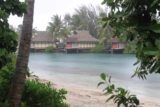 I guess to make matters worse (or better depending on how you look at it), the rain still hadn't left us as there were sudden downpours mixed in with periods of calm. In fact, while we were getting ready, there was a downpour dashing all hopes that maybe the weather might improve before the forecast that tomorrow would be that day.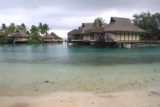 When we finally went for breakfast at around 8:15am, the weather had calmed down to the point that we could start to see some of the mountains backing the Intercontinel Moorea property as well as noticing that there were more bungalows or villas further up the mountain (Julie had told me those were for Tahiti Legends).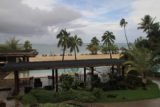 While we were challenging ourselves with feeding Tahia her breakfast (as she'd usually spit back out whatever went in her mouth), the weather did momentarily calm down enough to even show some pockets of blue skies! I believe it was the first time in the last two days that we even glimpsed even a crack at blue skies.
After we were done with breakfast, we then talked with the Avis rep and got a stick shift car rental (as they had run out of automatics, which we fancied that Julie might be able to drive on her own when I would be preoccupied with a hike). Anyways, by about 9:25am, we got our car rental and we were ready to go.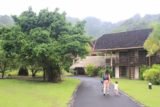 It was only when I got into the car and we drove off did I realize that the contract said the gas tank for the car was full but the gauge said it was only 3/4 full.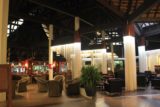 When I returned to the IC Moorea to talk to the Avis person about this, he said the gauge was broken and it was noted in the contract. Something didn't seem right about that, but I guess I had to roll with this and see to what extent the damage to the gauge would be and figure out whether we'd know how much gas would be in the tank with a broken gauge.
At 9:45am, we showed up at the Hilton Moorea, which was where Julie's first site visit was supposed to be. We had brought swimming attire and decked Tahia out in a bathing suit as well. We also brought a blow-up tube as well as a life jacket so we'd have one less thing to worry about concerning Tahia sinking in the water.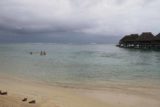 Tahia was actually pretty tired as she was engaged in her morning nap. So when we found an empty shelter with some reclining lawn chairs and a table on the beach, we put Tahia down on one of those chairs and let her finish her nap. That allowed me some time to just sit back and chill at the scene, which I'm sure would've been beautiful if not for the dark menacing skies all around us and the muted colors of the lagoon thanks to the overcast skies.
It was a pretty relaxing morning though I couldn't wait for Tahia to get up so we could go into the water.
It wasn't until Julie came by to drop off Tahia's cooler filled with ice did Tahia finally stir enough to wake up from her nap. It was at that point that I put on Tahia's life jacket and blow up floatie and went right into the water before us.
The water felt cold at first, which I didn't expect. I had expected something as warm as lukewarm bathwater, but given the incessant rains, I guess the weather was far cooler and less humid than normal.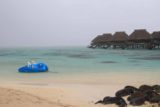 Once our bodies more or less adjusted to the water temperature, we were then able to swim around the lagoon for about an hour while Julie was doing her site visit. She even waved to us when she and the Hilton rep accompanying her were walking to the overwater bungalows behind us.
When Julie was finally done with her site visit, she rejoined us just in time for the next downpour to occur. Since I was already wet, I went ahead and walked through the drenching rain to our car rental where we had left our umbrellas.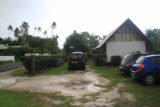 By 11:45am, we were finally all loaded up in the car and ready to go. The next stop was a lunch at Snack Mahana. It was a place where Julie said had received a lot of positive reviews so now it was our turn to see what it was all about.
By about 12pm, we arrived at the Snack Mahana where there were some more rains coming down on us. Fortunately, we were able to sit indoors next to an open-air window so Tahia could stare out the window and be somewhat occupied. Of course that didn't last very long as her short attention-span all of the sudden switched into troublemaker mode where she'd refuse to sit in her own chair and would reach over and try to grab our foods as well as trying to grab breakable items.
Needless to say, it was very difficult to eat the lunch with Tahia being the prime distraction. At least we were able to finish all of the main stuff we wanted to eat though we did leave a pretty big chunk of rice.
But lost in all this was how excellent the reasonably-priced food was. We split amongst ourselves a mahi mahi dish, poisson cru au lait de coco (of course), and a shrimp curry dish. All this turned out to be a lot of food without breaking the bank, but the food seemed to be pretty high quality.
After driving off in the rain from the Snack Mahana back towards our hotel, we then detoured to Tahiti Legends, which was the second of Julie's site visits during this day. It was still raining pretty hard when we arrived at the Legends reception, but I could see from the car that on the opposite end of the lobby was an infinity pool with a gorgeous (under good weather) view of the reefs and bungalows protruding out onto the those reefs at the Intercontinental Moorea.
So I dropped Julie off so she could do her visit while the task of taking care of Tahia alone fell onto me.
About ten minutes later, I was finally back with Tahia at the IC Moorea. It was difficult to carry a bunch of things plus guide Tahia to our room, but under the rain, it made things even that much more stressful. Ultimately, it took at least three back and forth trips, which consumed quite a bit of time.
It wasn't until about 2:30pm that Tahia and I finally settled in our beach bungalow. However, Tahia was being mischievous and managed to pour out onto the floor the contents of one of the bottled waters we had bought earlier. Fortunately, a good chunk of our belongings didn't get ruined from the moisture. Unfortunately, Tahia was too busy running around while being oblivious to the mess she caused as she slipped on that wet spot, fell and hit her head on the floor.
Fortunately, everything seemed ok with Tahia's head though her crying was pretty intense.
Just as I was returning from the third round trip, Julie was there by the beach bungalow. Apparently, her site visit was short and I was relieved that now we both could look after Tahia again.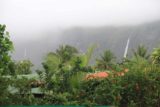 At about 3pm, I decided to try to seize the moment and go see if I could visit the first of the Afareaitu Waterfalls on my own. And as I was busy driving south then swinging around the base of the island and then going north towards Afareaitu, I had noticed how beat up the roads were. That made for slower than anticipated progress as I swore I had not seen that many potholes 10 years ago.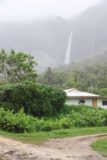 Just as had finally entered the town of Afareaitu, that was when the rains really started to come down. I managed to spot one of the two major Afareaitu Waterfalls, and I also managed to find the turnoff road just by the Ah Sing Store across from the town church.
The road was a bit bumpy and also had potholes, which kind of made me nervous knowing that I was driving a rental without collision damage waiver. But as I went further along this road past quite a few residences, that rain fell even harder and I was soon finding out that taking photos of this waterfall, which could be seen from several unofficial spots on the main road as well as this inland road, would be a test in patience.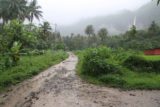 Eventually at 3:50pm, I stopped the car nearby a spot where the road was very muddy and I could've risked the car really getting stuck. With rain poncho donned, I proceeded to leave the car and continue walking up the road towards the falls, which was looking enticingly close. Unfortunately, the downpour continued relentlessly and even from this close to the falls, it was still starting to get difficult to even see it as well.
I'd eventually get to a point where after going right at a fork, I was faced with a very fast moving stream crossing across the road. As I was testing whether I could make it past this, I balked when I only took about two or three steps into the stream when I realized that it was already knee deep.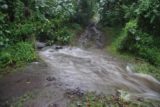 I waited a few minutes to see if this downpour would subside, but it stubbornly got stronger and that stream seemed to rise even more. So I decided at that point to abort this excursion and go back into the car hoping that perhaps the conditions might be more benign tomorrow. Indeed, visiting Tahiti in the Wet Season seemed to be an exercise in either getting lucky with good weather or an exercise in patience to not force things despite Mother Nature doing things on her terms and not on our terms.
And Wet Season perils like the one I was faced with now was certainly a case in point.
At 4:15pm, I was back in the car and eventually made my way back onto the main road.
Despite the downpour, I turned left to head north and tried to scout where the other turnoff was for the Atiraa Waterfall (or what I had previously thought was the Vaioro Falls since it was on the Vaioro Stream).
There would be no way I could see the falls through the very low clouds and thick torrential rains so it merely became an exercise in trying to identify the right road going inland just north of the hospital in town.
By about 4:35pm, I believe I had found that road as it was very rough and seemed to go past a few residences before continuing up a hill. I wasn't sure what the Moon guidebook said regarding leaving the car at the "stone bridge" but perhaps that author was talking about the bridge on the main road near the Afareaitu sign. If that's the case, then I wouldn't mind walking that rough road to get up to the falls in the reported 30 minutes.
Anyways, it was now time to turn back and head back to the west side of the island. The rains just kept falling and the street flooding was increasing as well as conspiring to conceal the many potholes plaguing the roads on this side of the island.
Eventually at 5:20pm, I made it back to the Intercontinental Moorea again. After having filled up gas at the Total en route, I noticed on the gauge that the needle was all the way up to the F. So at that point I suspected that the Avis guy either lied to me or perhaps it was an honest mistake. Either way, that was something that had to be brought up to the guy at that desk. Plus, given the driving conditions, I don't think Julie would be driving and dodging those potholes so keeping this stick shift car was sufficient. That automatic we were stressing about turned out to be unnecessary.
After feeding Tahia some milk and getting ready for dinner, we headed back out towards this place called Coco d'Ile at 6:50pm. When we got there, some guy asked if I was staying at the Intercontinental Moorea at the correct room we were staying at (somehow he knew the right room number). Before he sensed my hesitation, he then explained that he was the restaurant's free shuttle service waiting for us. Apparently, somehow Julie's message that we didn't need the free shuttle didn't get through. Julie insisted on us self-driving because we had a baby seat and they didn't and we didn't want to take chances with her safety).
The dinner was another reasonably priced affair and the whole family (including Tahia) was full. We had some kind of mahi mahi in sweet and sour sauce with banana, another generous helping of poisson cru, and a margherita pizza (which Tahia seemed to enjoy and momentarily calmed her down).
By about 8:40pm, we were finally back in our room and called it a day. Julie and Tahia had no trouble crashing, and even I had difficulty trying to stay awake to compose this blog entry.
And so ended this day where the perils of the wet season seemed to keep our waterfalling goals going into the trip at bay. Thus, there was a lot riding on the weather for tomorrow (our last full day in Moorea), and this was one instance where we really hoped that the forecast would be correct. After three consecutive days of non-stop thunderstorms complete with lightning and thunder, we were all tired of it, and I sensed even the locals were tired of it too (as stated by the cashier at the Total station earlier in the day who said as such).