Day 7: BORA BORA UNDER THE CLOUDS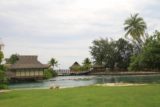 I took the time in the morning to get all packed and ready to go as well as finish off composing the travel journal from yesterday. By 5:50am, both Tahia and Julie were awake and the short-term morning routine was on (consisting of diaper changes, milk feedings, etc.).
When we were mostly done with our immediate packing needs, it was about 7:45am. At that point, we went to the familiar buffet breakfast and stuffed ourselves silly knowing that we probably wouldn't be having lunch since we were to fly out to Bora Bora at a little after midday today.
We returned to the room at around 8:45am and continued packing. The sun seemed to tease us with very brief moments of breaking through the cloud cover, but we had to resign ourselves to the fact that we would have spent our entire time in Moorea without seeing its blue-green waters amplified by the sunlight. We were beginning to wonder if the same fate would befall us at Bora Bora as well.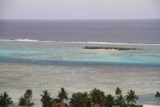 At about 9:40am, I headed out in the rental car with the intent to fill up some gas. I also made a brief stop at the lobby for Tahiti Legends above the Intercontinental Moorea property since they had a pretty nice top down view of our lagoon. But given the lack of sunshine, the colors remained muted.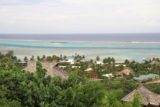 After filling up 1000 CFP at the Total gas station in Hauru, I realized when I got back into the car that I overfilled the tank. I probably could've gotten away with just 500 CFP. Oh well.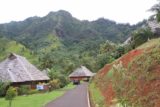 At about 10:15am, I was back at the resort to return the rental car before rejoining Julie and Tahia. After that errand was done, I took Tahia to the dolphin viewing area where the program didn't start until nearly 11am (as opposed to the scheduled 10:30am). That basically meant that we would be missing most of the tricks.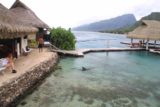 In the mean time, I spent a lot of time trying to take photos when the sun barely peeked itself against the constant cloud cover to provide some color to the lagoons. The view from this area was actually quite scenic.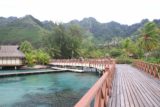 However, I really had to keep an eye on Tahia because the railings here were easily open enough to let Tahia fall into the dolphin area or lagoon. So I held onto her hand tightly the whole time, but all that did was increase her desire to break free and freely run around.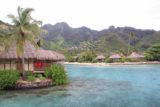 The wait certainly did seem like forever especially considering that we had to catch a shuttle back to the airport at 11:45am. So a lot of time was passed here pretty much not doing much.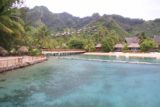 But after having seen how the caretaker addressed only paying participants, it was apparent that this dolphin feeding and tricks was pretty much another way for the hotel to monetize. So I felt we weren't missing much. However, holding onto Tahia (so she wouldn't fall into the water) while also taking photos with the lone free hand was not easy. So the lone shot I had of the dolphin doing a backflip was not that great (I had much better ones in Kaikoura, New Zealand).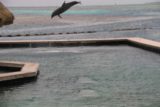 By about 11:30am, Julie beckoned for us to leave because we had to catch our 11:45am shuttle back to the airport. When all was said and done, we'd eventually make it to the small Moorea aerodrome at 12:20pm. That was when we promptly checked in our bags while also weighed our carry-ons.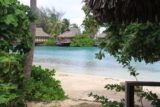 At first they were about to make us check-in some of our stuff from the carry-ons, but when they saw that most of the weight from my pack was from the camera and computer, they were ok with me holding on to my bag. As for Julie's bag, there was a 1.5L bottle of water that we ended up checking in.
And with that bit finished with, we spent the next 90 minutes talking with a couple from Sydney who saw the difficulties we were having traveling with Tahia. They did the same thing years ago and decided to leave their 3-year-old at home.
We ended up talking about all sorts of topics from touring Australia to our jobs to Bora Bora activities to even Triple J Radio. Of course we did all this while battling mosquitoes.
The plane took off at 1:45pm as scheduled. The views out of the plane weren't great given the cloud cover, but the cloud cover increased as we continued on towards Huahine, where the plane made a stop.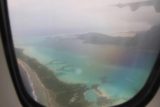 Then, the plane hopped from Huahine to Bora Bora where the flyover views I was hoping for didn't materialize the way it had 10 years ago when there were gorgeous colors between the picturesque Mt Otemanu and the many motus surrounding the lagoon. This time, there were some clouds blocking parts of Mt Otemanu and we were too low to really get that comprehensive shot like 10 years ago.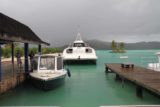 When we landed at the airport, it was starting to rain again. I guess no matter where we were to go on this trip, the rain would follow us. I don't think we had ever had sun and blue skies since the day we arrived in Papeete some six days ago.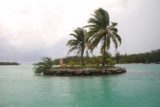 The shuttle took us around the north side of Bora Bora's lagoons. In a way, it was like the old lagoon tour from 10 years ago in that we were seeing the different faces of Mt Otemanu. However, in this case, the weather was worse and we weren't completely going around the island like before.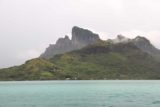 At first, the shuttle headed towards the Intercontinental Thalasso Resort. From this side, Mt Otemanu looked pointier.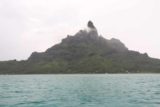 Yet I was still tripping out about how this entire motu was only occupied by the Le Meridien Resort 10 years ago. Now, there were four of them! It made me wonder how there would be enough water to supply all those resorts seeing that motus don't exactly have much freshwater.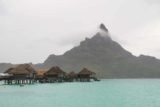 We made a brief stop at the Thalasso so that afforded us some time to take photos of the overwater bungalows fronting Mt Otemanu. Plus, the employee moved our bags closer to the cover of the boat as it was previously exposed to the elements, but now there were fewer pieces of luggage occupying the boat.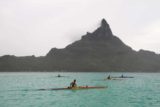 When the boat took off and headed to Le Moana, I was getting a kick out of some local Polynesians in pirogue kayaks trying to see just how far they can paddle and keep up with the motorboat we were on while utilizing the wakes that were produced. In a way, this bit of messing around (probably because there wasn't much going on in the island so this would be how they'd pass the time) made me appreciate just how skilled the Polynesians were in the water.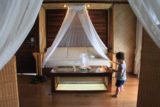 By the time our boat shuttle took us directly to the Intercontinental Le Moana, it was raining pretty hard. When the receptionist greeted us and we were about to do some paperwork, she saw that Tahia hadn't had her nap nor had she had lunch. So she decided to walk us over to our overwater bungalow and do the check-in over there.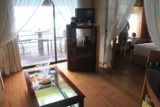 This was the very first time I had ever stayed in an OWB and I had some mixed feelings about it mostly because of the obvious environmental impact they had. Nonetheless, after a rather lengthy walk on the boardwalk in the rain to our bungalow, which was one of the furthest out, I realized that we were given one of the prime bungalows on this property (something Julie said was really for honeymooners).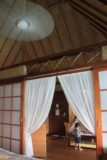 I guess her upgrading us with the Emperor Status card or whatever it was was certainly worth the price paid for it.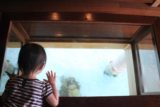 Anyways, it was 4:15pm when we finally made it to our bungalow and Tahia was having fun looking down at the Tahitian TV, which was a glass coffee table with a view directly down at the water below where we could see reefs and some fish swimming by. Plus, Tahia was also messing with flowers in the room as well as doodling with pencil and scratch pads.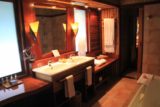 Tahia would eventually have her nap at around 5pm but it sounded like she never really slept despite our best efforts to make the bedroom dark. Plus, we knew we'd have to go back to catch a taxi to Kaina Hut, which was where we were going to have dinner.
Julie wanted to make reservations for Villa Mahana, but that place was booked out weeks or even months before we arrived and wouldn't be available until well after we left. I guess there was some connection between the place we were going and the place Julie wanted to go so I guess we'd have to see for ourselves whether this place might be a diamond in the rough so to speak.
We also wanted to eat at Bloody Mary's to rekindle memories of 10 years ago, but even that place was closed for all of December so that would have to wait until the next time we'd come back (whenever that would be).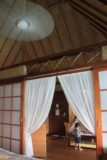 While we were getting ready for dinner, Tahia managed to open the front door to our bungalow! Plus, she opened the door in a way that caught her toe, causing it to bleed while she cried for a few minutes responding to the pain.
The fact that we were surrounded by water freaked out both Julie and I when we realized that Tahia was able to open our bungalow door on her own. Now it became even more imperative to keep a close eye out on her for the next three full days!
To make matters worse, the lock on the door unlocked itself when opened from the inside. Fortunately, we figured out that there was an upper lock mechanism at the top of the door where we could at least prevent Tahia from opening the door far eough so she could get out. Still, it wouldn't prevent her from stubbing her toes again.
At 7pm, we caught the taxi at 2000 CFP each way to the Kaina Hut restaurant. We were warmly greeted by a French-speaking Caucasian lady who also knew English when she realized that we weren't fluent in French. After she seated us at the barefoot restaurant (i.e. sand on the floor), she took our order where we got some simple dishes like a chicken with some fresh cooked vegetables as well as a seared tuna dish with similar vegetables. The appetizer was a different style of bruschetta with tomato topping as well as eggs sunny side up. The dessert was a chocolate souffle with two scoops of vanilla ice cream.
As usual, we had difficulty keep Tahia behaving at the dinner table, but the crispy cuts of French baguette definitely held her over until the real food came out. Julie and I took turns eating so at least one person could keep an eye on her.
During our dinner, the lady who greeted us (I think she might be the owner or at least co-owner) spent some time getting Tahia's attention. She knew how difficult it was to keep a child this young under control so she was totally laid back regarding Tahia's behavior.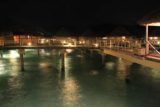 When we were done paying for the meal, we made more small talk with the lady who I think is the owner or co-owner. We then taxied back to Le Moana and made the long walk on the walkway to our far out overwater bungalow. The walk was pleasant as the walkway was lit up with floor lights and there was a gentle tropical breeze to offset the humidity of the Wet.
We eventually got back to our room at about 9:45pm, which pretty much concluded this day. We still had to concern ourselves with the logistics of Julie's two site visits tomorrow, but for now, we tried to enjoy this experience staying at an OWB, which would normally be reserved for splurging honeymooners.