Day 8: TAKING IT WHERE WE CAN
Tahia woke everyone up again at 5:30am. It was as if her biological clock insisted that we wake up 7:30am Los Angeles time, which meant 5:30am Tahitian time.
After tending to her diapers and milk, I noticed that the sun was coming out at 6:15am! It was the first time in nearly 6 days that we finally got to see the sun again (without clouds muting its radiance mind you). However, when I went outside to look, I could see that we were surrounded by clouds in the distance still so perhaps it might be short lived.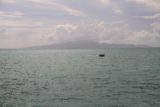 I could now look further east from the walkway leading to our OWB and I could even see Raiatea in the distance! However, Tahaa (to its right) always seemed to be under heavy cloud cover.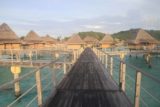 Nonetheless, I figured with sun this rare at this time of the year plus with the remnants of Cyclone Evan adding further complications to the misery factor, you take it where you can. So I went outside to take photos with toothbrush in the mouth as I was in the middle of brushing my teeth when it happened. I tried my best to take what photos I could even though the colors of the lagoon weren't at their best at this time of day.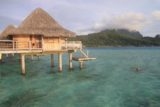 The sea breeze from the east felt nice against the intense humidity. I actually had to wait some 15 minutes for the condensation on my camera to wear off as a result of that humidity, so I figured that in order to offset the difference in humidity between our air-conditioned room and the natural humidity outside, I had to leave my camera on our patio for as long as I could. Obviously the AC was making things difficult on that front.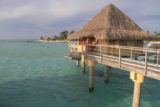 We quickly made our now-familiar hike from our OWB to the breakfast area getting there by about 7:40am. We knew the activity desk was open at 8am so we thought maybe we could hire a car and save ourselves the trouble and expense of taking taxis so often given Julie's tight and spread out schedule for her pair of site visits today.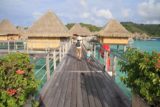 We knew she had to be at Vaitape definitely by 9am in order to catch her shuttle to Bora Bora Nui Resort and then come back and catch another shuttle at 11:45am to the Four Seasons. It was decided that Tahia and I would join Julie for that particular shuttle.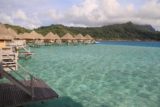 After a rushed breakfast, we eventually talked to the activity desk person who told us that the rental car place wasn't open until 8:30am. That would make things very tight in terms of getting to Vaitape in time for Julie's 9am shuttle. So it was decided to have him call for a taxi so Julie can be assured of reaching the boat shuttle to Bora Bora Nui from Vaitape by 9am. And by 8:30am, she caught her taxi.
Meanwhile, I asked the activity desk if we could hire a car anyways, but that was when he told us the low down regarding Avis monopolizing the car hires in Bora Bora. He mentioned that it was about $160 USD for just 4 hours! So all those 2000 CFP one-way taxi fares adding up would still not add up to those crazy rental car fees!
I guess times have changed since our last trip to Bora Bora when hiring a car for 8 hours was still just under $100 USD. Now that the activity desk guy was honest about how it was no longer worth doing it and that there wasn't much to see driving around the island, we decided that I'd play Mr. Mom for the rest of the morning until around 10:45am when it would be my turn to catch the shuttle to Vaitape and rejoin Julie at the dock so we could take the Four Seasons shuttle together.
So by about 8:45am, I lugged all the stuff we had brought (including the car seat since we anticipated driving around the island with our little girl) and made it back to our room where I changed Tahia's diaper and let her take her morning nap. She was sound asleep by about 9:10am so that allowed me to take a few photos from outside our overwater bungalow while trying to take advantage of the sun from this morning.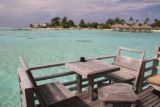 Although the air outside was humid, the easterly breezes made it more bearable. The turquoise water surrounding us were gorgeous. I guess it was also the fact that waiting six days for the sun to come back made me savor this moment as well.
I guess it was too bad that we'd be couped up in the room while Julie did her work during this time. I could see storm clouds coming our way over from Raiatea and Tahaa. So who knows how much longer this fair weather will last before the rains come back?
It was about 10:30am when Tahia reluctantly woke up from her nap. While I was busy playing Mr Mom, I changed her diaper once again, got all our belongings together, and even brought along a cooler (though one of the plastic bags was leaking from the melted ice).
Tahia was sitting in the ergo that I was now wearing while my hands were free to carry the stuff. When I got to the reception, there was a taxi driver who asked if I was going to the Four Seasons. He explained that Julie told him to expect me and so there he was with his little dog in the front seat anticipating our arrival.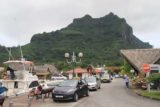 The driver's name was Danny, and he promptly grabbed our stuff to put in the trunk while opening the doors so Tahia and I could easily get in. And from there, we headed over to Vaitape for another 2000 CFP. We expected to meet Julie over there so we would once again be reunited as a family to continue on at the Four Seasons where Julie was to make her next site visit.
At around 11:15am we arrived at Vaitape. Julie wasn't there so the driver went ahead and walked around the place looking for her (knowing that she'd already be at this dock waiting for the 11:45am Four Seasons shuttle). Meanwhile, I was busy feeding Tahia her milk while trying to ensure that she didn't run off by herself with the constant danger of drowning as we were practically surrounded by water again.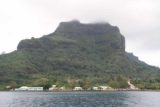 At around 11:35am, Julie found her way towards us. Tahia had been asking for mommy so she was quite happy to see Julie. And while it seemed like the Four Seasons boat shuttle might be late, it ultimately did show up on time at 11:45am and took off barely a few minutes later with just us three and the pair of employees on it.
The boat ride seemed rather long as it swung around the northern lagoon area. Mt Otemanu for the most part seemed to be free of clouds from this side though we knew that on the windward side, it would be cloudy. It seemed like the winds were blowing from the east or the said-to-be wetter northeast.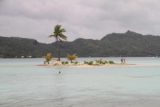 We'd eventually arrive at the Four Seasons, which was on one of the long eastern motus. I recalled this motu was practically undeveloped ten years ago. Now there seemed to be at least three (possibly four or more) resorts here.
We were greeted warmly by a hostess from Paris as well as a smart casually dressed guy who was probably the manager. Julie (and us as a result) was practically treated like royalty since this resort seemed to take her site visit very seriously as I'm sure positive referrals by travel agents like her were essential for business.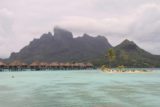 While we were making small talk with the hostess, we got confirmation from her that Tahia's name was indeed Marquesan. However, we also learned that the locals pronounce the name "TA-hee-ah" instead of "tuh-HEE-ah" as Julie intended. So even though Julie was inspired to name our daughter after the Marquesan word exposed to us by the well known "empress of pearls" from Julie's last fam in 2007, there was still a bit of uniqueness to our daughter's name though I did start to wonder whether others might be confused about how to pronounce or say her name.
Anyways, we were eventually led to a beach area fronting a restaurant. We could see the pretty sandbar with a small motu that looked like it could be reached by wading across the shallow lagoon. Plus in the distance looking inward were the furthest overwater bungalows plus Mt Otemanu which was largely concealed by dark but high clouds so most of it could be seen.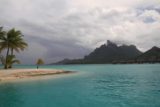 The sun was in between showing itself through the persistent but light thickness of the overhead clouds (enough to cause sunburn I'm sure) and being covered completely by darker clouds. Julie left with the hostess to do the site visit while Tahia and I would play in the water.
At first Tahia freaked out about Julie walking away, but as soon as I was done changing her into her swim diapers and putting her into her little body suit and life jacket, I went into the waters of the shallow sandbar and enjoyed the warm water with her. Tahia usually was shivering cold whenever she was swimming in water, but she kept saying, "bath" so I knew the water temperature here was comparably warm.
She even said in Chinese that she was going to sleep ("shui jiao") since that usually followed up our bath routine. In any case, we played for the hour or so that Julie was away, and it was certainly one of those priceless times where father and daughter got to spend quality time together in paradise. For all the trouble that she had caused on this trip, it was moments like these that made me momentarily forget about all the maintenance required to bring her along.
In between extended swims (which was really just me kneeling or squatting on the sandbar while holding Tahia up), we also walked over to that familiar small motu on the property. This motu seemed like it was man-made because the shores were very loose and had steep walls. I know in Nature, things typically don't work that way unless there was a hard rock layer or a solid enough foundation to ensure its prolonged existence. Otherwise, this island would disappear over a short amount of time so I'd imagine that they might actually add sand to this islet to ensure it stayed there.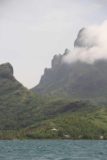 Julie returned to us at around 1:15pm. After she took photos of Tahia and I in the water, we actually ordered and had lunch brought to us while we were chilling out under one of the larger thatched roof shelters.
The lunch consisted of poisson cru along with some kind of shrimp fajita-type dish with salad and jasmine rice on the side. There was also additional coconut milk on the side, which was great for dipping the rice something like a coconut-flavored rice. The staff even brought us some ice cold water, which was really nice of them.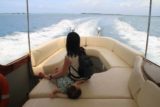 Julie said that the Four Seasons provided five-star service and it certainly felt like it during our time here. When we were done eating, Julie went up to go pay, but she came back after a few minutes to tell us that we didn't have to pay for the lunch. That shocking gesture of generosity was really nice of the hostess who showed Julie around. In fact, I thought Julie said this was one of the nicest site visits she had done because more often than not she was looked upon as an afterthought on many other properties.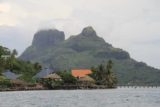 At 2:10pm we were back at the boat as planned. And we were all warmly sent off which made all of us feel real good about our visit here. I guess the hostess who treated Julie (as well as Tahia and I) really well took the mentality that we spent time away from holidaying to do this kind of site visit, which really was work for Julie and turned an otherwise relaxing day in paradise into one where we had to figure out a lot of logistics to make it work. So this gesture was certainly well appreciated.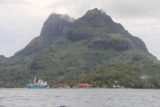 When we got back to Vaitape, the same cab driver (Danny) showed up to greet us. And he promptly took all of us into his cab so we could return to the IC Le Moana.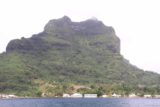 During the drive, Julie and I were recalling how we took photos from some familiar-looking spots near Matira Point (on the southern tip of the main Bora Bora island). We could also see the familiar entrance to the former site of Hotel Bora Bora, which the driver confirmed was indeed done. We could see some tape going across its entrance with a car parked there so apparently it's off limits. He also mentioned that Club Revatua (which was another one of our memorable dining experiences from 10 years ago) was also gone. Indeed, lots had changed in 10 years though I doubt I was in a position to judge whether the changes were for the better or for worse.
All I knew was there was a lesson from these observations.
Basically, it was that nothing really sits still in life. Time goes on. Properties age or come and go, restaurants also come and go, roads change, people change, etc. But the one thing that does kind of sit still would be memories, which we immortalize in photos and/or journals representing snapshots of a particular moment in time that allow us to recall or rekindle particular thoughts and feelings. It's one of the most interesting aspects about travel, and why I suspect it allows us to not only reflect but also to learn and move on to keep up with the constant changes of father time.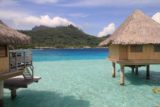 Anyways, we eventually returned to our room at 3:05pm. When we started walking on the walkway to our far-out overwater bungalow, the weather was quite sunny and we were beneath a pocket of blue skies. So the color of the lagoon were divine!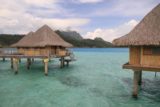 However, when we got most of the way towards our bungalow, the sun was giving way to the clouds and started to mute the colors again. Meanwhile, Mt Otemanu remained clouded over for the most part from this angle looking to the north or northwest. In addition, the winds were blowing pretty hard, and given the small crevices between the blinds and underneath our door, the howls that the winds were making were that much more amplified.
In a way, it kind of reinforced to us that Mother Nature was still in charge, and that we were at her mercy. I'm sure being surrounded by water like this amped up our sense of vulnerability to Nature's whims.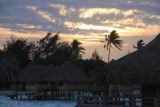 The rest of the afternoon was spent with Tahia napping, me working on blogging and photos, and Julie reading from her Kindle. It was a laid back afternoon, and it was certainly the kind of Tahiti experience I'm sure just about everyone desires.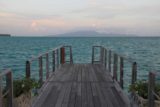 Sure we had to wait about 6-7 days for something like this with more-or-less the kind of conditions giving rise to that Tahitian paradise unlike anywhere else on earth, but it was certainly worth the wait (though we certainly would've preferred not having to wait most of the trip for it to happen). Finally, the Wet Season we experienced here relented enough for us to enjoy at least a half-day or so of sun (although it wasn't as benign as 10 years ago when we came here in the Dry in September).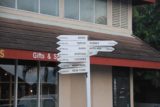 At around 5:30pm, Tahia was done with her nap and we had to try to get her to finish her last helping of milk. Once that was done, we put on bug repellant and proceeded to make the hike from our OWB to the Fare Manuia ("Lucky House") next door to the turnoff leading to Le Moana. We showed up just in time for our 6:30pm reservation.
The gentle afternoon breeze was a welcome relief and the humidity was actually tolerable as a result. So we didn't sweat on the way to the restaurant, and even inside the restaurant, we didn't feel uncomfortably stuffy either.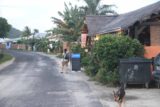 The food we had was a touristique menu of poisson cru, fish of the day (tasted like mahi mahi), and a creme brulee using vanilla from Tahaa. My main was mahi mahi in dark vanilla sauce. When the food plates came out, we realized that we probably should've just shared one dish because the portions were quite large. However, the grilled fish were kind of dry. So we ended up not finishing a pretty large chunk of grilled fish.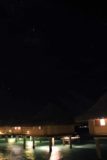 Tahia was also misbehaving at the restaurant as she was busy climbing chairs and trying to climb onto the table. Later during the dinner, she noticed an electrical socket and wanted to keep playing with it. That was a major cause for concern.
Anyways, when all was said and done, we paid the bill (I think they forgot to add my Tahitian vanilla mahi mahi), and then we were back in the room at 8:45pm. The interesting thing about the walk back to our room was that we noticed that the night skies were mostly clear for the time being. We could actually see many stars in the night sky while the half-moon shone brightly.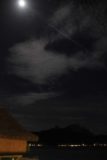 Julie and I wondered aloud why the clear skies always happened at night when it didn't seem to matter as much to have the clear skies. It was like Mother Nature was playing a pretty cruel prank. In any case, the gentle trade winds were still blowing out of the east or northeast, but Julie's intention of leaving the windows open so we could sleep to the lapping waters of the lagoon were nixed when she noticed quite a few flying ant-like bugs that somehow had gotten onto our bed. So it was back to the environmentally unfriendly A/C again.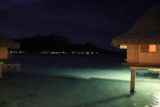 And so ended a rather eventful though tiring day considering the amount of coordination that had to happen thanks to Julie's site visits. Since the weather was so calm this evening, maybe it might be a sign of a miraculously sunny day for the next two days. We'll just have to wait and see as usual…