Day 24: WIGGIN' OUT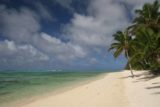 We awoke at 8am. Actually, I briefly got up at around 7am where I saw a little bit of a golden view of the beach and lagoon while the sun was rising. This was as I was looking towards our feet while in bed. But I just wanted to sleep in and get caught up on sleep so instead of getting up and trying to take photographs, I went back to sleep.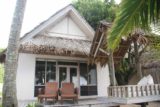 So we freshened up to a much brighter morning and not that warm glow I saw earlier. Then, we had a simple tropical breakfast (consisting of cereal and fresh fruits) that was complementary.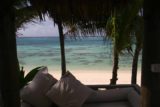 At 10am, we finally started the day. But our day initially consisted of running errands. First up was a return to the airport in the hopes of recovering our LP guidebook
that we had left in the plane. And we managed to do just that as by 10:20am, we were fortunate to have recovered it from the Lost and Found.
Ten minutes later, we went to the supermarket to pick up some snacks, soy milk, and water. After the trauma of spending $5NZD for a 750mL bottle of water at the Little Polynesian Resort, we bought 3 1.5L bottles for that price at the market. I'm sure the upscale restaurants won't like this, but we're bringing our own water.
Then, 15 minutes later, we went to the Police Station to purchase drivers licenses. Even though at $20NZD per person for an annual license while a temporary license at $2.50NZD per day per person was possible (but only at the car rental place which required driving all the way to the other side of the island each day), we just went for the more expensive option thinking that perhaps the petrol waste for the daily temporary license procurement would more than make up for the initial hit in price.
Regardless, we both now have a souvenir from the Cook Islands as the license cards were kind of sturdy and nice, and not those flimsy cardboard things that you're more likely to discard.
At a little after 11am, we left the police station and finally got started with our actual sightseeing. And for today, it was going to be the Wigmore's Waterfall. It was the only waterfall we were going to see in the Cook Islands.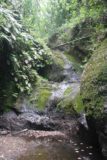 So by 11:45am, we made it to the end of the mostly sealed road (though it was full of potholes) to the Wigmore's Waterfall. The turnoff to get here involved going west of the Vaima Restaurant and not going so far west so as to bypass the failed Sheraton property. The road initially was unsealed next to the ghostly dilapidated resort, but then was sealed the rest of the way to the falls.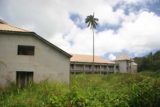 The Sheraton resort was said to be a failure because of some scrupulous overseas players who didn't fulfill or managed to squander the investment money needed to support the development of the property. The Cook Islands government was so duped that this project was said to be responsible for half of its current national debt.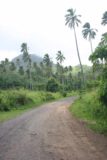 Still, I wonder if this failed project was a blessing in disguise because there's still yet to be a mega resort on Rarotonga or any of the other islands in the country. That has allowed the Cook Islands to retain a very rural and laid back feel where places like Tahiti and Fiji might seem more commercialized, though both of those countries are nothing like the mega-commercialism you see in Hawaii and The Caribbean.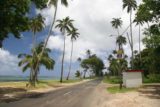 Anyways, at the end of the road, there was a van as well as a handful of picnic tables. Unfortunately, the falls was nowhere to be seen except for some moisture on the wall. But there were some sounds of perturbed water somewhere above the falls suggesting there was some water here and should be coming down this wall as a waterfall (though it didn't).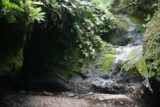 However, I noticed a pipe going across the top of the falls, and I guessed that the water has been diverted. Apparently, since we're a month or so into the Cook Islands' wet season, this had led me to believe that these falls only flows during or immediately after a sustained downpour. I guess this waterfall was kind of a downer of a way to celebrate the last waterfall of this trip.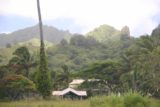 Other Polynesians (I wasn't sure if they're locals or Polynesian visitors from other islands) came up in scooters as well as that van that was already here. I was surprised to see them just as disappointed and surprised as we were about the state of the falls. I figured they'd know the conditions better than anyone else, but their surprised reactions was a bit of a strange sight.
So we didn't spend much time here. We left at 12pm and headed towards the Vaima Restaurant. But we learned that this was a dinner only place so we continued driving clockwise back towards the north of the island. I think this was now the third time we were going around this island by now.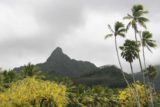 By 12:55pm, we were back at sort of the busy part of Rarotonga called Avarua. We were looking for this place called Paulina's, but now it's replaced by some fried chicken place. So we ended up eating at this place called Trader Jack's where we had our first try at Ika Mata, which was the local version of the Tahitian Poisson Cru, a type of raw tuna soaked in coconut and lime juice.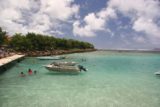 We also had some fish curry as well as a seared sesame crusted tuna as mains.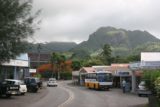 After the lunch, we walked around the area looking for internet, a local pareu (pronounced "paru") shirt, and some ice cream or smoothies.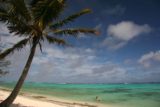 Eventually, at 3:55pm, we left and headed around the east side of the island. By 4:10pm, we were in front of this place called the Fruits of Rarotonga. There, we identified a decent snorkeling spot, which we'll definitely be checking out either tomorrow or the day after.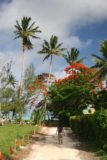 However, the smoothie stand was closed. Another stand up the road was also out of fruits. I'm sure we'll be back here tomorrow to try to beat the heat with some local fruit drinks.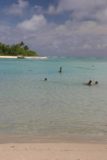 We did kill some time around here checking out the Muri Beach and Lagoon area. Actually, the beach access wasn't well signed (if at all), but the locals running one of the fruit stands encouraged us to walk down a nearby road to the beach.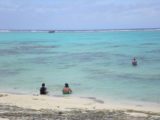 And once we did that, we noticed where there was a little activity including some kayaking and swimming while the beaches were fronted by some cafes and restaurants. Further out on the reef, we saw some of the motus (islets) we noticed on some post cards. I'm sure we'll be spending some more time here in the next couple of days.
At 5pm, we were back at our accommodation. We almost overnapped as we awoke at 5:40pm. So we had to quickly get into our cars and honor our 6pm dinner reservation at Tamarind House. Fortunately, we did make it, but we thought the food wasn't better than Trader Jack's. I guess this was one of those cases where people have hyped up this place, but it didn't quite live up to the elevated expectations.
By 8pm, we were back at the Little Polynesian to call it a day.