Day 25: ROUGH SNORKELING
We once again slept in this morning as we didn't get up until 9am. And we didn't have our breakfast until 10am. We had noticed the weather was noticeably more overcast today. So Julie was debating whether to make today a workday or defer it to tomorrow.
It wasn't until Julie walked over to the Moana Sands Resort to use their internet did she learn from the receptionist that the forecast for tomorrow was thundershowers. So given that, we decided to just go out and snorkel today, which we promptly did after 11:30am.
First up was snorkeling at the southeastern end of the island near the Fruits of Rarotonga stand. This was said to have the best snorkeling. So we went ahead and went right into the shallow lagoon looking for marine life.
Unfortunately, the waters were quite choppy and the visibility left much to be desired. This was due to the windy conditions and the overcast skies. The choppiness of the water made my head bob up and down quite vigorously and I started to get headaches from a bit of motion sickness.
I thought with our Maldives trip last time that perhaps I had gotten over seasickness while snorkeling, but this experience seemed to have caused me to regress.
We weren't the only ones battling the rough waters to snorkel here. There were at least a half-dozen other parties and more were showing up. But we didn't stay in the water long and decided to head out for a lunch.
So we drove around the southern end of the island looking for some decent spots to eat. But they either didn't offer lunch or didn't have anything fresh (trying the eke would've been nice, but the place we went to didn't have it despite being on the menu).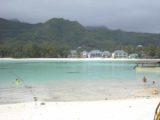 So eventually we ended back at Muri Beach. The smoothie and milkshake stand didn't have fresh mangoes (contrary to what we were told yesterday) so we just walked towards this place called the Sails Cafe.
There, we had a delicious fish bruschetta along with some seafood linguine. It hit the spot and wasn't overeating.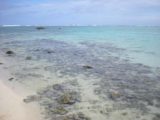 Afterwards, we got our gear and waded across the lagoon towards the nearest motu right across from the Muri Beach Sands Resort.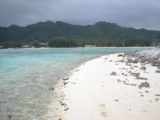 While wading, the water never went beyond waist deep so we were able to bring Julie's digital camera to the motu without a problem. But it was too bad the skies were so overcast and threatening rain because the view back towards the main Rarotonga Island was quite beautiful.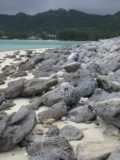 In a way, this was reminiscent of the motu excursion we had in Moorea except we didn't have to boat to the motu this time around. Still, other tours were boated out to this motu then were treated to some BBQ and a coconut husking demonstration.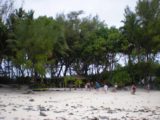 We didn't partake in it, but we did manage to do a little snorkeling instead. And once again, the snorkeling was nothing compared to our Maldives experience, which we thought wasn't quite as good as the Great Barrier Reef experience. So that kind of made us wonder if the Cook Islands was said to have good snorkeling, then what else have those folks seen in terms of snorkeling?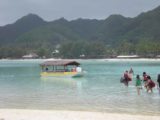 Anyways, when all was said and done, we were back at the car at 4pm. And when we got back to the Little Polynesian, we showered off the sand and put on some drier more comfortable clothing.
We had a 6pm dinner reservation at the Paw Paw Patch where we were looking forward to their more traditional-slanted menu. We were a little tired of Ika Mata after having had it twice yesterday. Plus, we had been having nothing but seafood so far, and I had to admit that we were getting a little tired of it. But how could we not have seafood when just about everything (especially the meats) were imported from New Zealand?
We'll just play it by ear once again. Seems like that's all you can do when your activities revolve around Mother Nature's mood swings…