Day 26: WORK DAY
With last night's rain which seemed to have carried on all the way until a few hours before dawn, we figured today would be as good a day as any to go to work. That meant Julie was going to do a series of site inspections so she can advise her clients about the Cook Islands. Meanwhile, I'd be working with organizing and labeling photos.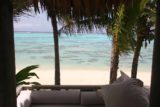 At 9am, Julie started on her work. And while all that was going on, I was busy on the computer every once in a while looking out the window to see if the sun had come out. And when it does, I'd go outside to take photos of the colorful lagoon right outside our bungalow.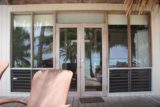 By about 1pm, Julie returned to our bungalow. By this time, it was a pretty hot and sunny day despite dark clouds surrounding the island everywhere you look. We ended up going for a quick lunch from the Little Polynesian since someone had to be in the room so the key can keep the power going and Julie's camera could be recharged.
Her site inspections consisted of some six resorts. She was already wearing the fatigue on her demeanor and her body language. I'm sure the heat and humidity didn't help either.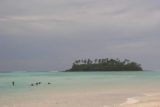 By about 2pm, Julie was back out going on more site inspections. This time I joined her for at least the Pacific Resort, the Muri Beach Club Hotel, and the Muri Beachcomber. When we got back to our bungalow, Julie did one more at the Moana Sands next door to our resort.
It wasn't until around 3:30pm when Julie returned and we decided to drive to the Wigmore's Waterfall to see if last night's rain revived it at all. But when we got there, it remained pretty much dry though the pool beneath the falls grew substantially. I guess you need a real downpour in order for this falls to flow.
We then went snorkeling at around 4:30pm in front of the Moana Sands Resort. The conditions were less than ideal as the skies remained overcast and the visibility was pretty poor. I guess we were spoiled by our experiences in the Great Barrier Reef and the Maldives. But so far the Cook Islands snorkeling left much to be desired.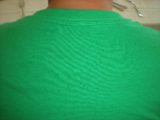 By about 5:45pm, we left our bungalow and then proceeded to go to the Pacific Resort for dinner, which we had dinner reservations at 6pm. And when we got to the restaurant, the Muri Lagoon was quite calm. The restaurant was basically under a white canopy with tables under white tablecloth. We managed to get some happy hour drinks (still at $10NZD even though it's half price) and then we treated ourselves to Te Ika Mata and Koromiri Scallops before having mains of fresh mahi mahi and pork osso bucco.
And despite these little black gnats swarming all over me because they seemed to be attracted to bright colors (and I was wearing a bright green "Sweet As" Kiwi shirt), we still enjoyed the food here and thought this might have been the best food we had so far in Raro. I guess the higher prices here were more or less warranted since this place seemed to be heads and shoulders above the rest we had tried so far. As for the swarming gnats, these little buggers were even after my cocktail drink which was a yellowish reddish color, and I think one or two even managed to swim in my drink. Funny they left Julie and just about everyone else alone.
By 7:15pm, we were back at our room, but I didn't enter until I took off my shirt, patted out those annoying gnats, and then bolted into our room when we thought the gnats were mostly gone. And so ended this rather busy day. Tomorrow, we're headed to Aitutaki for the last couple of nights on this trip. Hope the weather holds up. Beyond that, it's back to reality…