Day 27: GOOD FOR THE LOCALS
It was around 6am when I awoke for some reason. But before I decided to go back to sleep for the last half-hour before the alarm would go off, I realized as I looked out the window that there was something purplish pink in the water. And that could only mean one thing – sunrise lighting!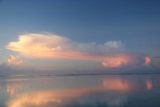 So I bolted out of bed, grabbed my DSLR camera, and then stepped right out into the sand in front of our bungalow where I saw some funky cloud formations illuminated with purplish pink light. What made the scene even more alluring was that the lagoon was very calm and reflective.
So with this turn of events, I took as many photos as I could finding reasonable ways to compose this shot. In between shots, I had to fight the condensation as I went from a relatively dry air-conditioned bungalow to the typical tropical mugginess of the South Pacific in the Wet Season (i.e. their Summer).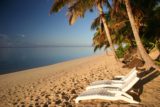 I didn't even worry whether there were mosquitoes around or not. And fortunately for me, I didn't get bit while I was enjoying the silence.
There were even a handful of other males out and about at this time of day. Some did just as I did and took photos. Another was jogging along the beach with a pair of dogs.
Eventually, the lighting went from moody soft colors to loud bright yellow as the sun went high enough on the horizon. And instantly when that happened, the waters got ripply (hence the reflections went away), it got real hot (and I started to sweat), and the clouds turned whitish again. So that was enough photographing for me. Now, it's time to return to our bungalow, where I'm sure outsiders could tell we're using the AC because our window had lots of condensation on it, and it seemed we were the only ones from what I could visibly tell.
After we were done packing and getting ready for the day, we had breakfast in the familiar dining area by the infiniti pool. Funny how the weather now is nice and sunny with all the lagoon colors coming out when it's a travel day, and we have to leave the resort. I can only hope this fine weather is also the case in Aitutaki.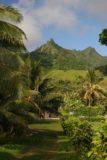 It was about 8:45am when we were done with our complementary breakfast and drove around the eastern end of the island back to the airport. Julie needed some soy milk to bring to Aitutaki (thinking there wouldn't be any over there) so we made a stop at the supermarket before returning to the airport at around 9:15am.
It turned out that we were a bit too early for both the Avis car hire and to check-in for our departure to Aitutaki so we were spending the time reading our LP
about possible places to eat as well as figuring out how we should spend our time there.
Anyways, eventually we got to check in our luggage (with soy milk and all), and then had to wait for roughly another hour before we finally got to board our plane. During that time, the mosquitoes were having a field day with us, and it was stiflingly muggy and hot. Both of us were glistening with sweat and our clothes were sticking to us. So much for maintaining travel clothes, because on the day we return to LAX, we're going to have to go through a similar ordeal but without the benefit of having a shower prior to our flight.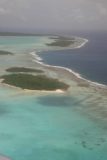 By around 11:30am, we landed in Aitutaki. We were on the left side of the plane hoping for that Bora Bora-like aerial view of Aitutaki. Unfortunately, it was quite cloudy and the plane flew a lower trajectory so we couldn't get that nice aerial shot that I wanted.
We expected to be picked up by our car hire place at the airport, but apparently they weren't around. So we ended up joining a transfer to the Pacific Resort, but they'd be dropping us off the Tamanu Beach Resort (where we were staying) en route.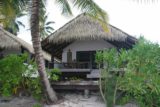 After we picked up our luggage and before we got into the van, some guy was speaking to us saying he had seen us before at the Pacific Resort in Rarotonga. Julie and I weren't sure if he had us confused with some other Asian folks, but he was insistent that we were there passing by and even visited. And when he explained that he's the CEO of Pacific Resorts, then I think that kind of disarmed any suspiscion we might have had regarding his interest in us.
So we got into some small talk about the Cook Islands and the way Hawai'i was 50 years ago. We actually thought Raro was more of a quieter and smaller version of Moorea. And we were wondering if Aitutaki was going to be a smaller version and quieter version of Bora Bora.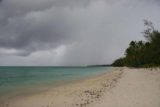 Anyways, we checked into our Tamanu Beach bungalow shortly thereafter, got settled, and sweated it out as Julie was making calls trying to rectify the car hire situation while also trying to make some bookings. Meanwhile, I was taking photos, but I could see a squall coming in, and within a few minutes, it was pouring. This totally contrasted the nice fine weather we were leaving at Rarotonga.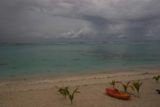 The head of housekeeping managed to help Julie get through on the phone to the lobby and then the car hire company. She also talked to us about island life and doing things "island style." It was interesting to hear her talk because it really reminded me of the way Hawaiians speak English. Maybe there's something about the Polynesian language that lends itself to make English somehow sound like pidgin.
She also told us that the rain was very welcome because the last several days were real hot and without rain. She then conjectured that maybe we brought the rain with us. Now where have we heard that before? (oh yes, those folks in Blenheim who were enjoying several days of fine weather until we showed up)
In any case, she thought the rain was good for the locals. I'm sure for our own selfish reasons, we would've preferred the sunny and hot weather, but that's the way it is sometimes. And like our visit to Nelson and Blenheim in New Zealand, which saw a lot of rain, I feared that our Aitutaki visit just happened to coincide with a break in fine weather in favor of tropical downpours.
After a few minutes, the weather calmed down. And of course the humidity returned.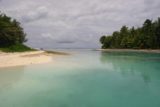 From there, we were picked up by the car hire folks. Somehow they managed to ignore their own emails and confirmation notices, which explained why they weren't even aware of our booking. Anyways, we finally got into a small 2-door vehicle where the AC was barely working (at least not enough to offset the intense tropical heat). We swore it was hotter here than it was in Rarotonga where it seemed like there was a consistent breeze making the temperature more manageable.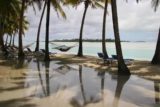 So now that we were free to move about the island, we first went to the Aitutaki Lagoon Resort. There, Julie tried to do a site inspection, but only managed to have a lunch there (not very good for a 5-star resort), admire the views of the extensive lagoon, check out the well-endowed Tangaroa Statue, and get eaten alive by mosquitoes while waiting out another heavy downpour. We'd have to come back tomorrow when rooms would be freed up for Julie to do a site inspection here.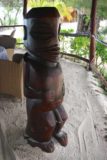 Later, we drove back towards the western side of the island where we found Tauono's and happened to meet up with one of the co-owners. However, we couldn't make dinner plans there because one of the co-owners sadly passed away a couple of weeks ago. So we continued into Arutango for some much needed cold drinking water, and then headed back towards the Pacific Resort.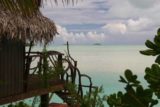 Once we got there, we walked around the premises even though the folks here said they didn't have any free rooms for a site inspection until Saturday.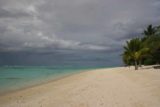 Then, we drove around the island looking for a lookout as suggested by one of the free maps provided at the information office at the Rarotonga airport. When we made it up to some water tank on the top of a hill, we could get glimpses of some of the lagoons and motus surrounding Aitutaki, but I'd reckon this view wasn't quite what we had in our 4×4 excursions in Bora Bora. We did see an even taller hill in the distance, but further research indicated to us that we would have to hike some 30 minutes each way to summit that hill starting from somewhere near our resort. Maybe we'll check it out when the weather turns out to be better than today.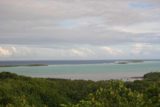 By 6:30pm, we ate that the Cafe Tupuna. There, we got some reasonably priced (by Aitutaki standards) home-cooked meals consisting of an Ika Mata-like fish in lime juice and some chilis along with mains of a different type of seafood curry as well as some unique seafood dish called Tupuna's Favorite.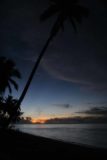 When we left the restaurant at 7:30pm, we could see that we missed out on what would've been a pretty awesome sunset as we could see some of the clouds in the distance were in an orangish glow, but we were still too far inland. Oh well, maybe tomorrow, we might be fortunate enough to catch a sunset from our resort.
By 8pm, we were back in our room. We spent some time checking out Amazing Race on TV, which the more I thought about it, the more I realized that we were on a more remote island watching some choice programming when Raro had only one channel and pretty comical home-made ads and news from and about the Cook Islands. Even the reception here was better than there. Go figga.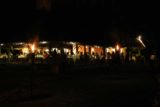 By around 8:50pm, we heard the drums going, and we knew the Island Night show had just begun. So we quickly got out of our room and walked the few paces to the lit up tiki torches where a bunch of local Maori women were doing their version of hula dances with a bit of the face-paced energetic Polynesian flare as their hips were swaying quickly and wildly.
These were interspersed with Maori males doing more war dances, and at the end, several of them were twirling fire sticks. When all was said and done, we got back to our rooms under a suddenly star-filled night. I can only hope that fine weather returns tomorrow in our one and only full day in the island.