Day 28: SUNDAY BLOODY SUNDAY
At 7am we got up out of bed together. Actually, I had awoken at around 6:15am and noticed some purple and pink in the clouds again. So I got up as soon as I could, grabbed my camera, then went outside into the humid air.
Unfortunately, as I was done wiping the condensation (which kept coming back) from the lens, the photos I took lacked the color that I initially saw. To add insult to injury, some of the mozzies took pot shots at me on my calf.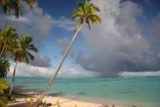 So back into the room I went to sneak in another half-hour of sleep before we had to get up. Since Julie made a TeKing booking for a lagoon tour today (which pick-up was around 9-9:30am), we had to get our stuff together and then have the complementary breakfast. We heard some loud clattering noises from outside and it turned out that a squall was dumping its load over us. This didn't bode well for our hopes of having fine weather during our tour today. But then again, I was hoping that with this being tropical weather, perhaps it would pass and the day would be dominated by good weather. I guess we're about to find out what we're in for.
Anyways, by 9am, we were waiting, and at around 9:15am, we were picked up in a van and were on our way. A few more people joined us at some other accommodation and it turned out that there was about 7 paying customers for this tour.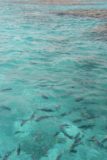 The boat we were on didn't seem to have sufficient shade for where we were sitting (at the front). So we were already worried about possibly getting sun burnt even though we were going to slip, slop, and slap our sunscreen on ourselves frequently. But the time spent in the water snorkeling was sure to wash off most of that as well as any insect repellant we had on.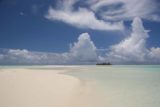 Well to make a long story short, we did manage to enjoy three snorkeling sessions, and each one of them had a fair bit of sun so visibility was good.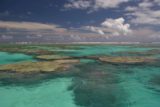 There were also plenty of fish and coral, and this was far better than any of the snorkeling we had done in Raro. This just confirmed our suspiscion that atolls are good for marine life, but larger islands with reefs surrounding them typically aren't as pleasing marine life wise.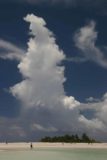 When we were taking a break, we did manage to discuss with TeKing (the tour guide who runs this operation) about flights. After all, it seemed natural to discuss duration of stays and flights when trying to break the ice with strangers.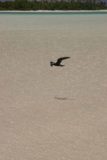 And during this conversation, we brought up the issue about Sunday flights. Apparently, the Cook Islands government and Rarotonga were conducting local Sunday flights to and from Aitutaki. And many people of Aitutaki didn't like it at all as it seemed most of them were Christian and quite a few of the locals posted very Hawaiian like signs (reminiscent of the A'ole La'au signs we saw on Moloka'i) saying the gov't and Air Raro sold out to the almighty dollar and disrespected the Sabbath since Sunday was supposed to be a rest day.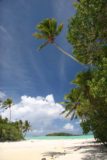 Sometimes, I wondered why Cook Island Maoris embraced something as European as Christianity as opposed to something even more traditionally Polynesian. I guess the Missionaries that showed up here in the mid 1800s really did their job convincing the locals here to abandon their own beliefs.
TeKing chose to side with no one though he did confirm that the timing of the flights were done without the consultation of Aitutakians, which is pretty messed up when you think about it.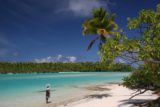 In addition to the snorkeling, we spent some time on Honeymoon Island and One Foot Island. Both islands were motus featuring extensive sandbars (almost Whitsundays like). Some of the sandbars formed isthmuses where you could wade in ankle-deep lagoon water while your feet rested on soft white sand. And all of this happened to be done in pretty fine weather where the sun brought out gorgeous lagoon colors as well as some reef colors such as some purple reefs as well as yellowish brain coral.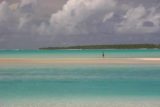 The snorkeling yielded views of impressive giant clams (brought over from Australia after the last mass coral bleaching event in 1989 due to a combination of El Nino, rising sea temperatures, Global Warming (the driving factor of the first two), and overharvesting), smaller more colorful native clams, and a plethora of reef fish including the plentiful parrot fish.
We also had a delicious traditional BBQ lunch on the adjacent island to Honeymoon Island called "Unfaithful Island." Dunno the whole story to that, but the food consisted of grilled tuna, grilled chicken, grilled bananas (tasting like banana flambe), breadfruit salad, starfruits, papayas, mangos, bananas, banana pudding, taro, and bread. All pretty good stuff.
We eventually returned back to the Tamanu Beach Resort where we washed off all the sticky, salty reef water and got into cleaner clothes. But before I could get settled in and save time organizing and labeling photos while blogging, Julie interrupted me to drive her to her Aitutaki Lagoon site inspection.
I didn't understand why she didn't just drive herself to the ferry parking area and do the inspection herself because it wasn't necessary for me to be there. Besides, I wasn't going to take repeat photos from the photos taken yesterday.
So with me chauffeuring her to her site inspection, I tried to make the most out of this inconvenience by bringing along the computer, the camera, and all this other stuff while waiting for her.
Complicating matters were the swarm of mosquitoes taking pot shots at me while in the car. This occurred because I felt bad about wasting petrol and causing pollution leaving the car on to stay cool while waiting for her so I opened the windows and car doors to get the benefit of the breeze at the moment. And that was when the natural breeze apparently did jack to blow away the mosquitoes, and so I ended up trying to do work amidst the battalion of mozzies. I wasn't feeling particularly happy about this turn of events especially since it wasn't necessary, but at the same time, I didn't feel like getting in a fight with Julie where I'm sure she thought she was in the right even in something as absurd as this.
So I ended up with a dozen bites from my toes to my arms as well as my lower leg area. I hope she can appreciate that taking me along for this wasn't a smart move. For all this stuff I was doing could've been accomplished back at the room without the cost of all the wasted petrol and time. And I'm sure the locals and other tourists passing by were wondering why the car was still left running while parked, which further made me feel uncomfortable about doing this. Yet somehow I don't think she'll learn from this and we'll probably have another one of those moments in the future where she can't admit when she's wrong and get in a fight to stubbornly think she's right.
Anyways, this wasn't a good way to end off an otherwise fine day of touring. But rather than endure a fight with Julie over this issue, I mind as well suck it up.
We finally left the Aitutaki Lagoon Resort Ferry area at 6pm. It couldn't have been soon enough. The mood was a bit tense as we didn't really talk to each other in the hour or so since this incident.
And afterwards, we ditched yet another dinner reservation at the Tamanu Beach for a dinner and the hope of catching a colorful sunset. Instead, we ate at the Boatshed Restaurant near the car hire place for something a little cheaper yet different. We did see Jason and Jules from the tour, but admittedly we weren't real talkative since we were just coming off of a bit of drama from earlier.
Thus, we missed yet another Aitutakian sunset. I guess we didn't put too much of a priority on it this time around.
And so ended our last full day in the Cook Islands. Tomorrow won't be a real pleasant day as I'm sure we'll be flying home late at night after a full day of sweating it out in the heat and humidity while wearing lots of DEET and sunscreen. The extra dozen mosquito bites from this afternoon also isn't going to help with making things tolerable as we await our flight and the long haul itself. But at least we'll be back at home by Sunday. I guess you could say homesickness had definitely kicked in by now.