Having been to the South Pacific on several occasions (especially since Julie had been a South Pacific travel agent herself), we experienced firsthand the good, the bad, and the ugly when it came to the climate and the weather of Paradise.
Along with some anecdotal experiences from some of Julie's clients, we've combined our collective experiences to compose this article to impart these personal experiences so you can get a sense of what it's like to be in the South Pacific regardless of what time of year we're talking about.
Hopefully, you can use this information to make your travel plans accordingly.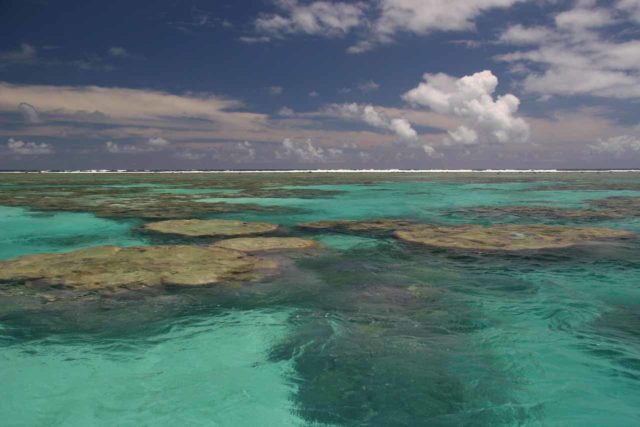 Unlike the weather and climate write-ups for other regions on this website where we take a more waterfalling-centric view, this write-up takes a more common approach (i.e. we care about sunny skies just as much as having enough water for waterfalls).
So why are sunny days so important?
Basically, the sun tends to bring out the beautiful colors of the lagoons and the coral reefs so the South Pacific is certainly at its photogenic best.
It's also the time to engage in outdoor activities whether you're out snorkeling (or even scuba diving), going on hikes, tours and/or adventures, or even just chilling out while living it up a bit.
In other words, all those things you'd imagine Paradise to be like tend to occur on sunny days as opposed to rainy days, and you certainly have more options available to you as to how you can spend that precious time.
In any case, when we talk about climate in the South Pacific, we have to recognize that it is a tropical region. Therefore, we can categorize the seasons in terms of a Wet Season and a Dry Season.
The Wet Season
The Wet Season "typically" occurs from November through March.
Even though this would be the Summer in the Southern Hemisphere (where one might think of sunny days and outdoor-friendly weather), it is actually the time of year when most of the islands in the region get their precipitation (as the name "Wet Season" would suggest).
During the times that we've been here in the Wet, there tended to be stifling heat and humidity, where getting sweaty (even immediately after a shower) would be inevitable without the benefit of a strong fan or air conditioning.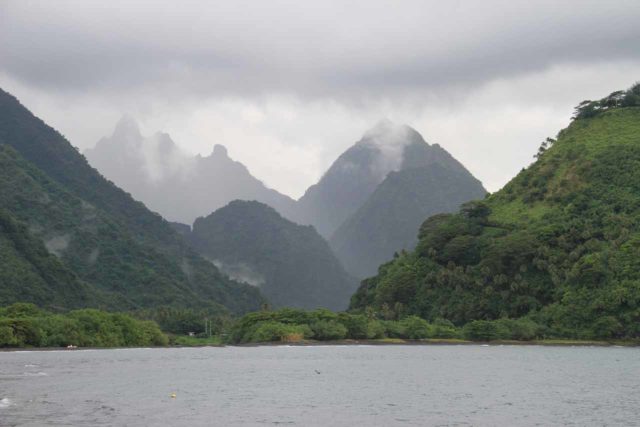 So when we would get tropical downpours resulting from monsoonal thunderstorms, which tended to be pretty frequent at this time of year, sometimes they provided welcome relief (albeit temporarily) to the mugginess (and even then it would still be hot and humid though not as intense otherwise).
Since Julie and I tend to use waterfalls as our excuse to visit some of the more Naturesque as well as off-the-beaten path spots, this would also be the season to see waterfalls.
At other times of the year (especially late in the Dry Season), many of these waterfalls would struggle to flow.
However, when the rains came (sometimes torrentially), the risk of flash floods and mudslides became greater.
This was a risk that can't be underestimated as I recalled having to turn back when I was faced with a fast-running stream crossing while going to a waterfall in Moorea Island during one of these torrential downpours.
The Wet Season was also the time of year when tropical cyclones (think hurricanes) were more likely to occur.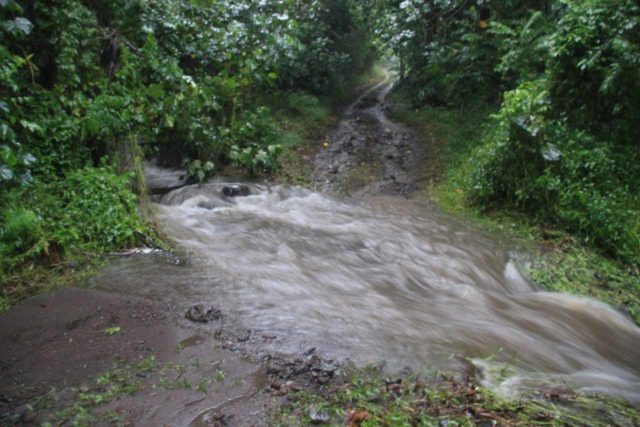 During such events, evacuations from the coastal areas may be necessary (as you wouldn't want to be near ocean during a storm surge). Thus, precious time may have to be spent waiting out such a storm.
That said, there were varying degrees as to which islands tended to get hit by cyclones and how often.
For example, historically speaking, Tahiti tended to get them rarely while they might hit Fiji a bit more. We even experienced an instance where a tropical cyclone that had hit Fiji broke up and became a tropical depression that essentially parked itself over Tahiti (where we were staying at the time), which resulted in all but one or two of our nine days there being practically socked in by abnormally torrential rains and floods.
So as you can imagine with the frequency of rainy days and the sticky weather, this time of the year would be considered "Low Season", which meant that there tended to be fewer visitors.
Therefore, the accommodation prices tended to be cheaper (except for holiday periods like between Christmas Eve and New Year's Day), and there might even be some deals that would otherwise be nearly impossible to attain at other times of the year.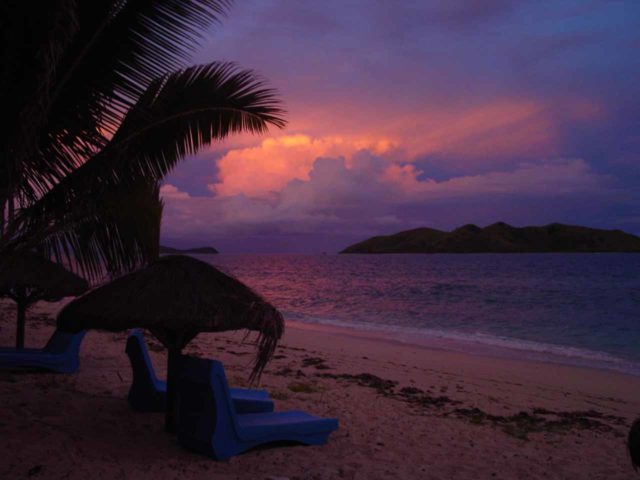 In one instance, Julie and I took advantage of such a low season deal where we (including our daughter who wasn't two years old at the time) were able to spend 8 nights in French Polynesia in December 2012 with 3 nights in Tahiti Island, 2 nights in Moorea Island (in a beach bungalow), and 3 nights in Bora Bora Island (in an overwater bungalow) all for about $6,000 USD including airfare, inter-island transport, hotel pick-up, and breakfast.
With all these "risks" and "non-ideal" conditions, was it worth the discount prices by coming to Paradise in the Wet Season?
Well, like almost all things in life, there was a risk-reward factor.
Consider our humble sampling…
Julie and I have been to the South Pacific in the Wet Season at least three times together (Julie was actually there a fourth time on her own on a "fam" trip to Tahiti when she was a travel agent).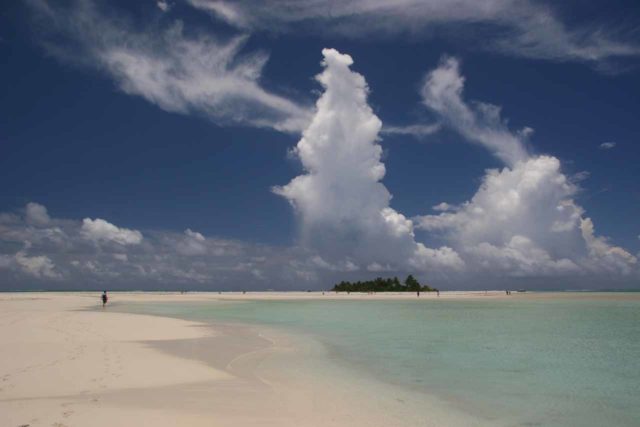 In a December trip to Fiji in 2005, we got heavy rains on two of the six days, but we saw at least some sun and blue skies on each of the days.
In a December trip to the Cook Islands in 2010, it was a similar story except we had a bit more rain than that Fiji trip yet we still saw some sun and clear skies on each of the six days on this trip as well.
On Julie's February 2007 "fam" trip to Tahiti, she told me that she had mostly sunny weather where the tropical rains came and went though the humidity was stifling.
It was only during our mid-December 2012 trip to Tahiti did we get socked in by inclement weather for the majority of our nine days there. The sun made a significant appearance on only two of the days of that trip.
Just based on our humble sampling alone, you can see that there were certainly our share of sunny days even during the Wet Season, except for that 2012 trip to French Polynesia.
The Dry Season
The Dry Season "typically" occurs from about May through September.
That said, in our experiences, we've also managed to experience Dry Season conditions as late as late November. I guess in some years, the transition from Dry to Wet comes later than the historical average.
Conversely, the trasition from the Wet to Dry could also vary year over year.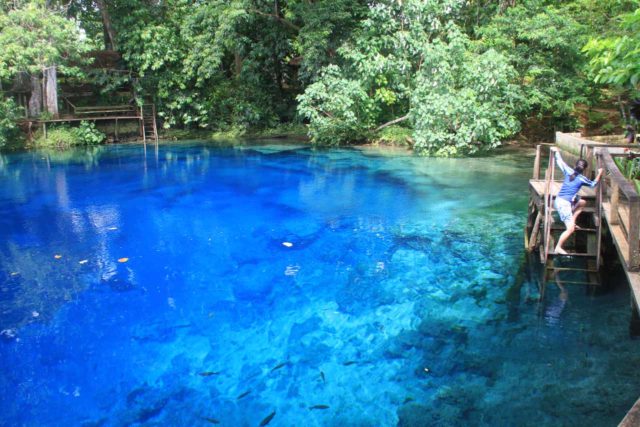 Even though this would be Winter in the Southern Hemisphere, it was actually the time when thunderstorms were less frequent and less intense.
This could be because the easterly trade winds were said to blow a bit more frequently (therefore reducing the heat and humidity while also preventing thunderstorms from organizing into more intense storm cells).
Now while the nomenclature would suggest it would be drier in Paradise at this time of year, it didn't mean that it was rain-free.
It was just that the tropical rains would come and go, and they were not likely to persist as much as we what had observed during the Wet Season.
From a waterfalling standpoint, we noticed that the flow of the watercourses feeding waterfalls diminished significantly from their Wet Season states.
Generally for non-snowmelt waterfalls that were not on major rivers or creeks (like those commonly found in the tropics), a waterfall could easily dry or reduce to a trickle within a matter of a few weeks or a month at most.
Just to give you an idea of how much a difference you get with a couple of the waterfalls we were able to see in both the Wet and the Dry, I've provided a series of photos comparing both the Vaimahutu Waterfall on Tahiti Island and the "Putoa Waterfall" on Moorea Island in both seasons.
Not surprisingly, the Dry Season was also the "High Season" where the demand was higher so it would be a bit busier and the prices tended to be at their highest.
Anyone who has looked at the prices of the Dry Season in the South Pacific can easily appreciate this, especially once you get past the initial sticker shock.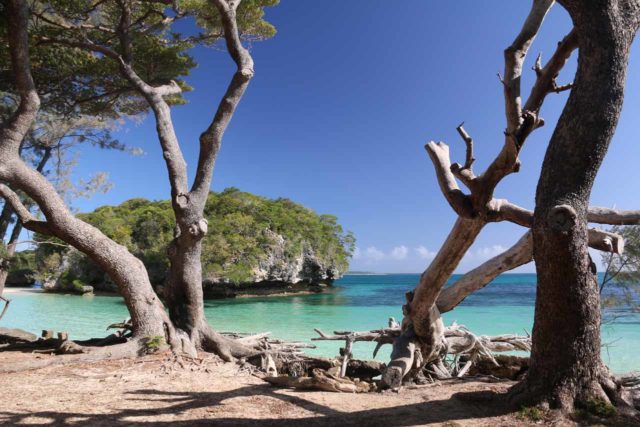 As far as the weather was concerned, Julie and I could appreciate the drier conditions firsthand since our very first trip to Tahiti together was in September 2002, when about four or five of our seven days there were mostly sunny (albeit windy on a couple of the days).
The other days were mostly overcast, and the rains came and went, but didn't persist.
Now we were fortunate that we didn't have to pay the crazy prices for that trip because the tourism industry was pretty hard hit by the September 11, 2001 attacks that essentially dropped the demand from the USA.
However, that was more of an anomalous event, and I don't think you can count on such deep discounts in the High Season these days.
To further corroborate the Dry Season climate's historical tendencies, Julie has had anecdotal evidence from dozens of clients who had their trips occur during the High Season. Not one of them complained about the weather one bit!
Indeed, there's a reason why the Dry Season is the High Season, and like most things in life, you generally get what you pay for…
Conclusion
So given our combination of personal experiences as well as direct anecdotal experiences from Julie's past clients, hopefully you can better appreciate how a Wet Season and Dry Season experience might differ.
Since we all like to have the best of both worlds (in our case, waterfalls and Dry Season conditions), Julie and I still long for a trip to Tahiti or other parts of the South Pacific around May or June, when the waterfalls would be most likely to flow fairly well while living it up in the beautiful and relatively comfortable weather.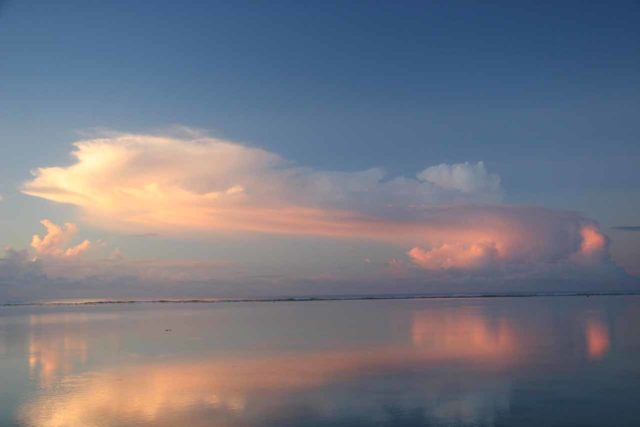 Again, there was definitely a risk reward factor involved where you can get significant savings by coming in the Wet Season, provided that you're willing to roll the dice a bit more concerning some of the season's nuissances.
However, Nature that is fully functional tends to happen in cycles, and to truly appreciate a place for what it is, you have to respect these cycles.
Granted the prices involved in visiting the South Pacific might challenge most people to see the good with the bad in this way.
But I've found that the most fulfilling and well-rounded perspective of any kind of travel means seeing and experiencing as much of these rhythms and cycles as possible – even in a place like Paradise…
Visitor Comments:
Got something you'd like to share or say to keep the conversation going? Feel free to leave a comment below...
No users have replied to the content on this page