This was essentially a redo of a trip that took place back in November 2006, when it was adversely affected by some of Australia's worst drought on record at the time.
This time around, Julie and I once again did this trip together alone (Tahia stayed at home with the grandparents), and we used this second chance to see what changed as well as made up for past mistakes.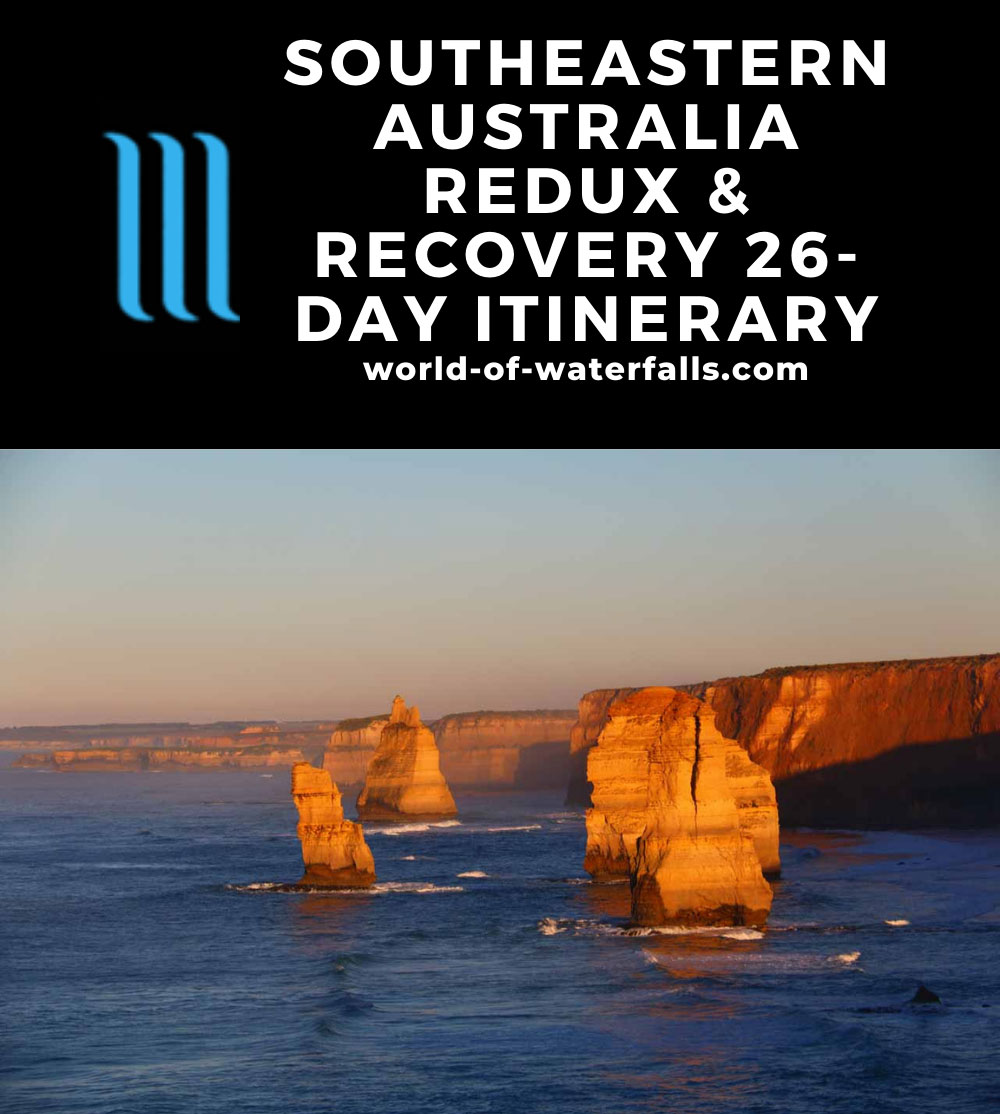 We also learned that we travel and perceive things quite different this time around compared to our last time in this part of Oz. The end result was a much more relaxing trip despite some unforeseen events and setbacks that forced us to make adjustments on the fly (quite par for the course, actually).
Here are some highlights and how we managed to pull this trip off…
Trip Map
This map and its markings were produced by this app.
Trip Highlights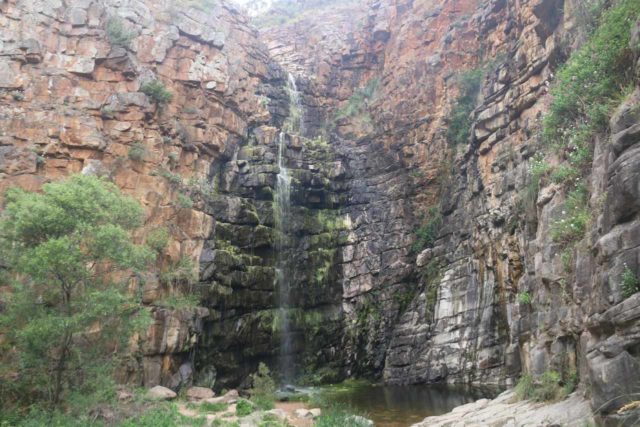 Morialta Conservation Park – the first time Julie and I were here, we saw koalas but the main waterfall was dry. The second time we came here, the waterfall was flowing, but we didn't see koalas (saw interesting birds instead). Nevertheless, it just shows that you never know what pleasant surprises await in the Adelaide Hills all in close proximity to the city of Adelaide.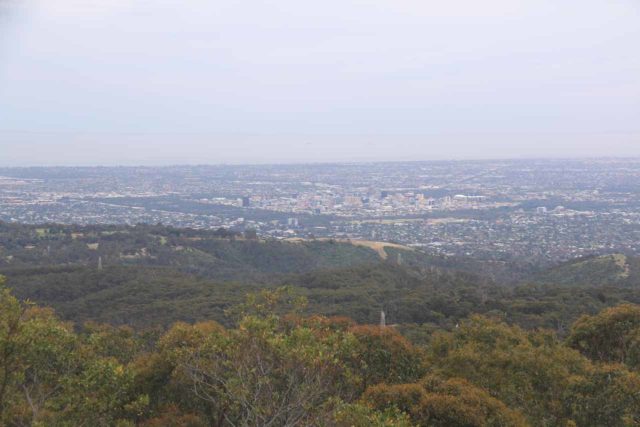 Mt Lofty and the Waterfall Gully – although the weather wasn't optimal for our experience at the Mt Lofty Summit, which provided expansive views over Adelaide, the view was still commanding. Further down the slopes of the mountain, several waterfalls in succession could be experienced in the Waterfall Gully, which was one of the few places in South Australia where a reliably flowing waterfall could be seen…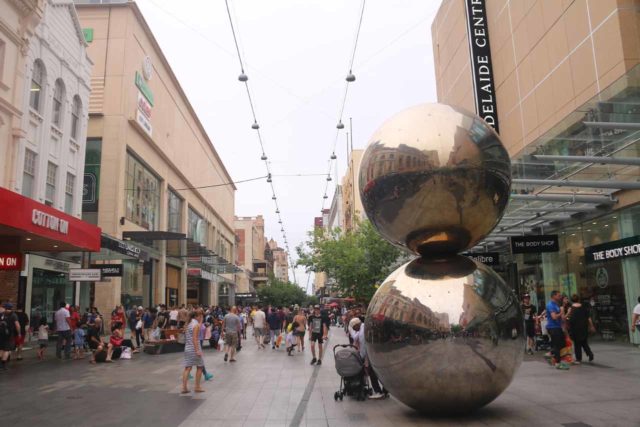 Adelaide CBD – it seemed like the energy of the city was in the Rundle Street Mall as well as the area around the river further to the north. Not to be outdone, the Adelaide Central Market further to the west also provided some interesting boutique indoor stands and eateries.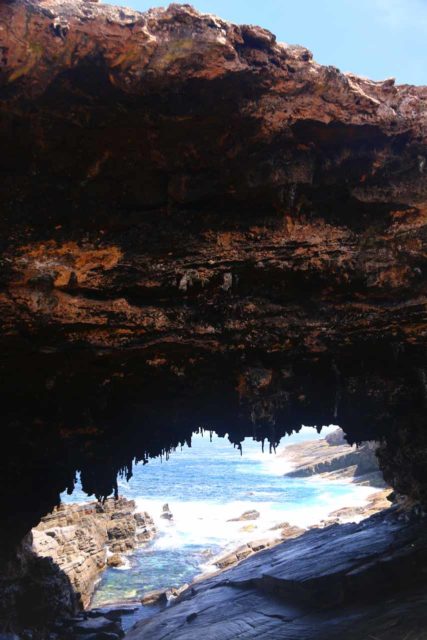 Flinders Chase National Park (Kangaroo Island) – treating us to a handful of highlights of our visit to Kangaroo Island, it included Admirals Arch (a sea arch with views of the turbulent Southern Ocean coastline), the Remarkable Rocks, blowholes, and fur seals. Even at the visitor centre on the way in, we saw koalas resting on trees.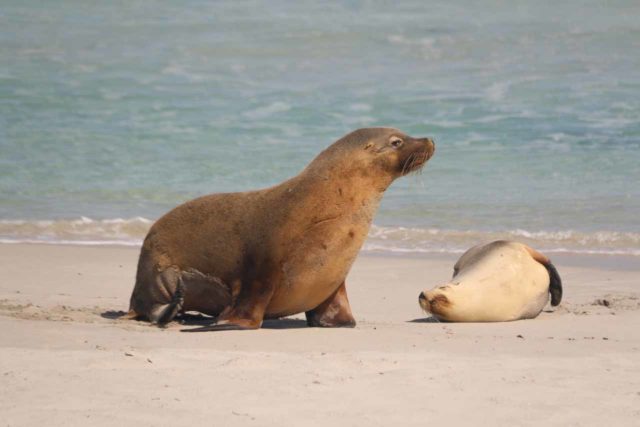 Seal Bay (Kangaroo Island) – this place was one of the few places in world to reliably witness the Australian Sea Lion (not the same as the New Zealand Fur Seals we saw by Admirals Arch). We took a guided tour that allowed us to share the same beach with the sea lions. Self-tours could only get to the lookout where we were able to see the context of the beach and the beautiful blue colors of the water.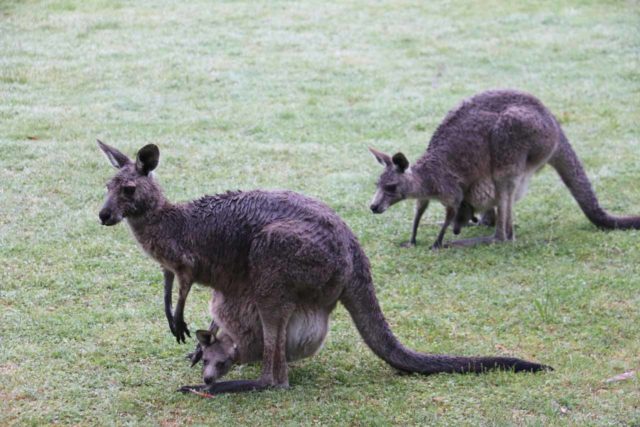 Grampians National Park – this reserve featured several waterfalls and eccentric rock formations as well as expansive views over the Halls Gap. In addition to MacKenzie Falls and many other minor waterfalls (including Beehive Falls, Silverband Falls, Clematis Falls, among others), we also witnessed a lot of kangaroos where we were staying at Halls Gap.
Wannon Falls and Nigretta Falls – the first time Julie and I were here, both falls were a casualty of the drought. However, we lucked into a rain storm during our time in Halls Gap, and it ultimately resulted in both waterfalls putting on a show!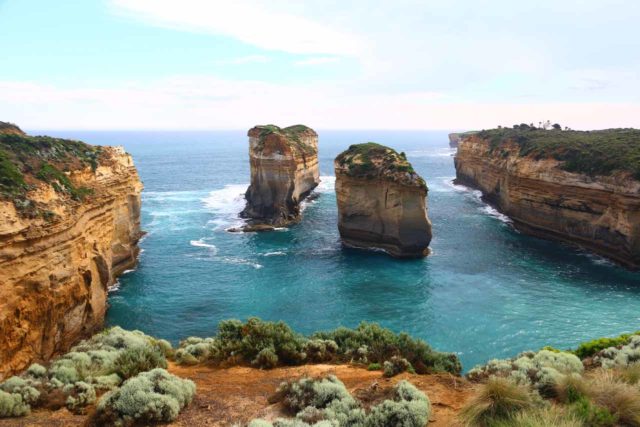 The Great Ocean Road – deservedly world famous, we once again experienced the scenic drive along the turbulent Southern Ocean experiencing sea arches, rugged coastlines, charming towns, and impressive sea stacks. While some of the arches we saw before no longer stood, it just demonstrated to us how dynamic this ever-changing landscape was.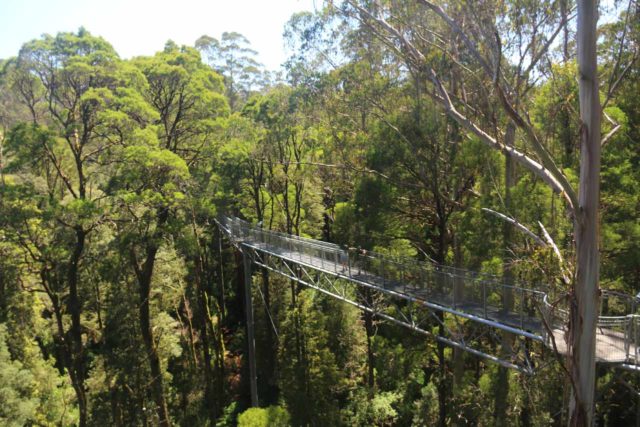 The Otways – this lush rainforest just inland from the Great Ocean Road featured a multitude of waterfalls, including Triplet Falls, Beauchamp Falls, Hopetoun Falls, Stevenson Falls and many others. But not to be outdone, we also finally got to experience what it was like to walk amongst the treetops of gum trees at the Otway Fly.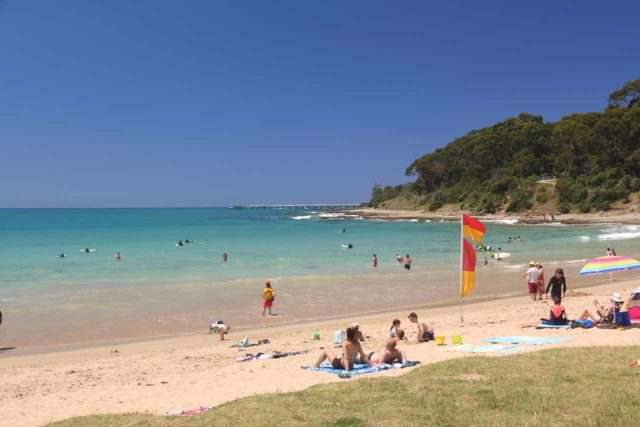 Angahook-Lorne State Park – towards the eastern end of the Great Ocean Road, we experienced this drier part of the Otways, which featured waterfalls of its own like Sheoak Falls, Erskine Falls, Phantom Falls, and more. We also witnessed a festive beach in the town of Lorne where it seemed like tourists and Melbourne weekenders alike flocked there to enjoy the beautiful weather and lovely scenery. Not to be outdone, we also managed to see a koala in its native habitat at Kennett River.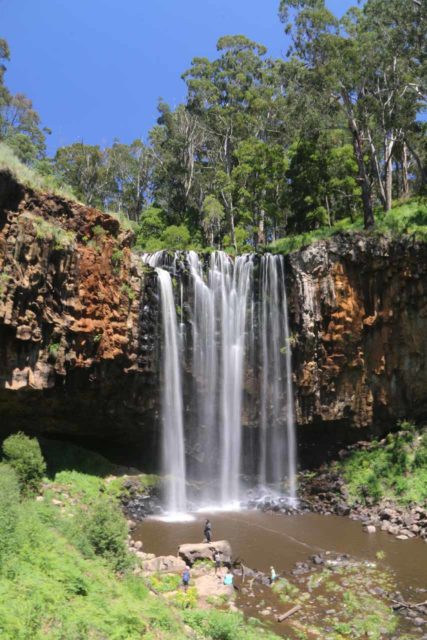 Trentham Falls and Daylesford – although the waterfalls drew us to the Spa Country, we regretted that we didn't spend at least a night in Daylesford, where we got just a taste of the good food and high life that Melbourneans escape to when escaping the city.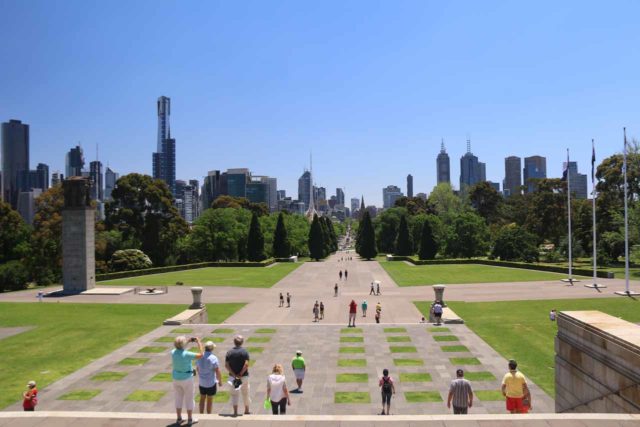 Melbourne CBD – this city featured an energetic centre with the buzz at Federation Square, the eccentric artistic graffiti of Hooser Lane, a very diverse foodie scene, the large scale Queen Victoria Market, the peaceful Shrine of Remembrance, and much more. It truly is one of the great cosmopolitan cities on an international level and seems to have quite a rivalry over bragging rights with Sydney.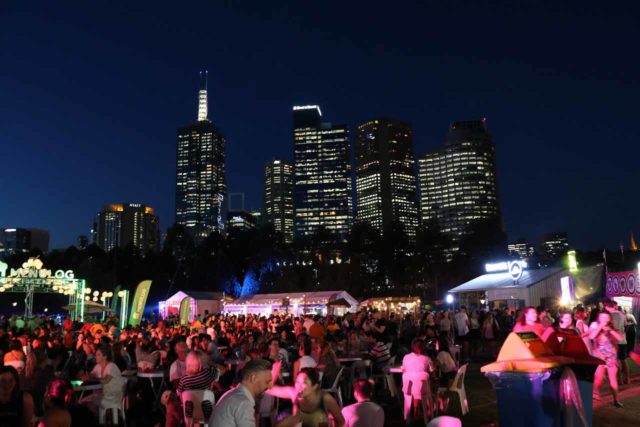 The Noodle Night Market (Melbourne) – Julie and I stumbled unexpectedly onto this happening twilight and evening night market near the banks of the Yarra River in the Melbourne CBD. Not only was it full of energy (and people), but it also had good and diverse street food as well as that festive atmosphere that made us understand why this city solidified its place as a truly great city for festivals.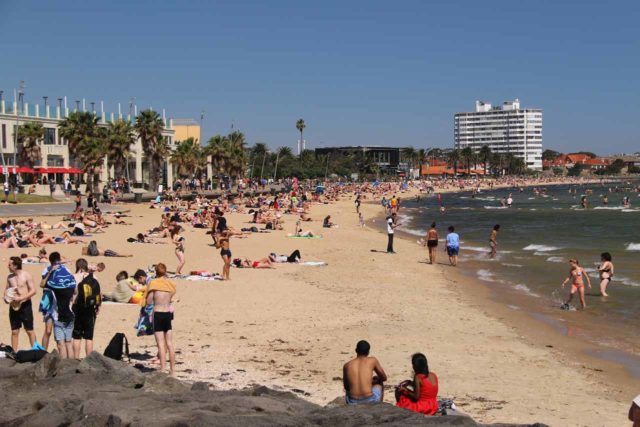 St Kilda Beach – this seemed like the place to be in order to be seen or to soak in its youthful vibe. Our visit here was under some beautifully warm weather so it was fitting that so many people were out here to enjoy the scene, the sand, and the sun.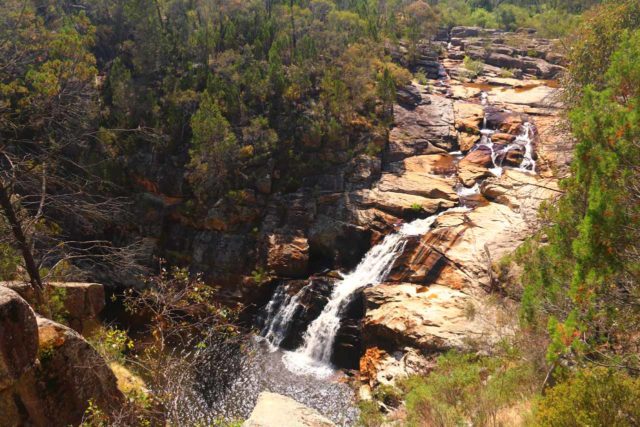 Woolshed Falls, Newtown Falls, and Beechworth – while waterfalls drew me to this out-of-the-way area not far from the Riverina region, I also learned a bit more about the Beechworth Goldfields and the infamous history of the bush rangers in addition to a laid back rural feel that contrasted mightily with the more well-known urban centres like Melbourne.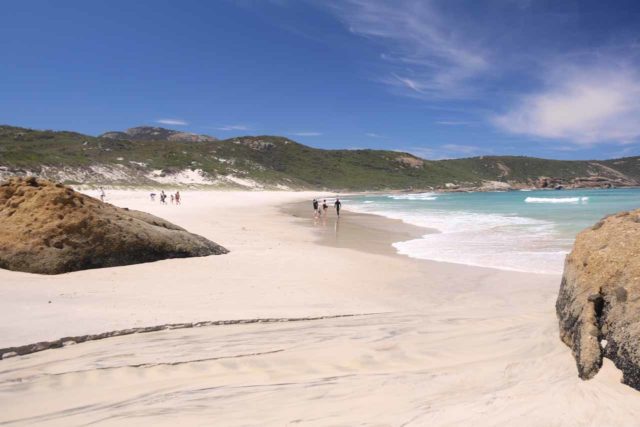 Wilson's Promontory – this quiet and naturesque reserve featured gorgeous and quiet beaches as well as the possibility of seeing rare wildlife like lemurs. I managed to get just a taste of "The Prom" by checking out Squeaky Beach (where the sand really does squeak) and Norman's Beach as well as some overlooks along the way. We definitely need to come back and spend more time here.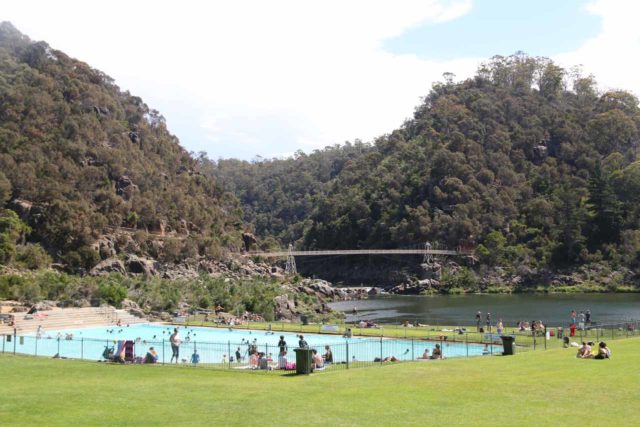 Cataract Gorge – on our second visit, we finally saw the main part of this popular hangout spot in Launceston. And we could totally understand why it was popular with locals as it featured swimming holes, a pool, some hiking trails with overlooks, and even a chair lift!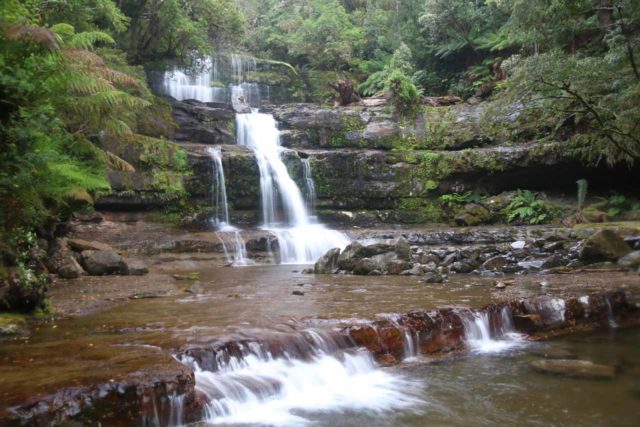 Liffey Falls – this was really four main waterfalls in one, but this area was a World Heritage Area mostly because of its ancient forest and to protect it from any further logging. One such "Big Tree" was actually by the Upper Car Park.
Mathinna Falls – this remote but still very accessible waterfall really made Julie and I feel like we were in the middle of nowhere with yet this beautiful spot to savor the experience in. The road to get here was a little on the rough side, but it was very doable in our passenger vehicle.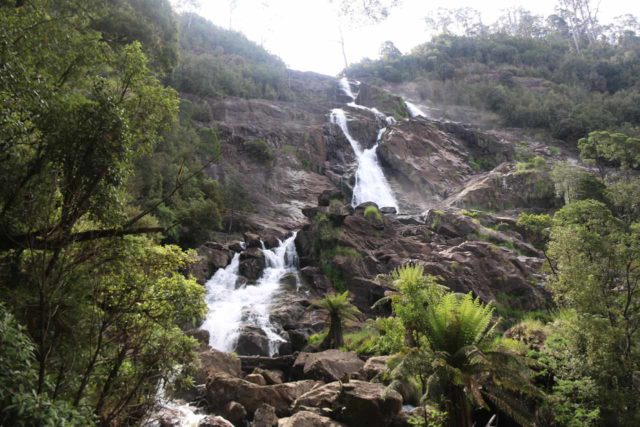 St Columba Falls and Ralphs Falls – this pair of tall waterfalls were in the well-forested northeast region of Tasmania. While Ralphs Falls featured a nice overlook as well as a loop walk taking in the Carr Gorge and Falls, the St Columba Falls was said to have never run dry.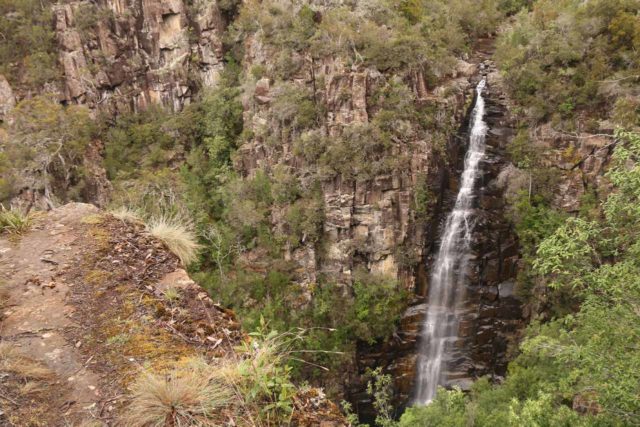 Meetus Falls – this tall waterfall also featured an attractive overlook and was located in a pretty remote part of Eastern Tasmania though it was quite accessible. It's the kind of waterfall we took a detour for to break up the drive between Launceston and Hobart going the scenic route.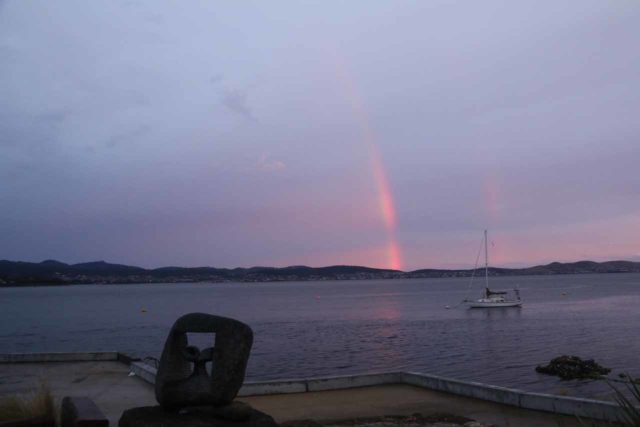 Hobart – it seemed like most of the happening and interesting parts of this city that's not really a city centred around the wharf, Battery Point, and the Salamanca Street (where they hold the weekend market). It was a nice place to stroll around and just get lost in its quiet ambience.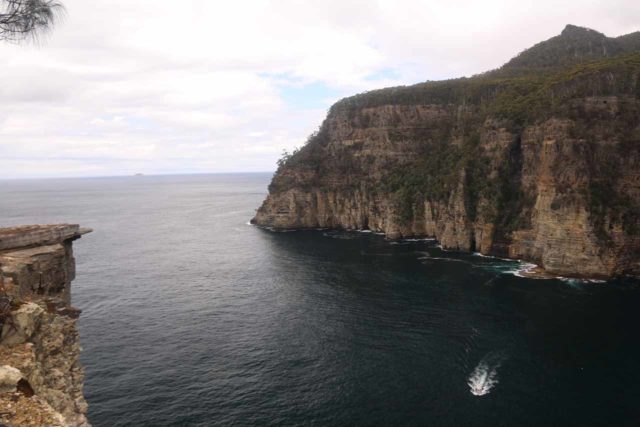 Waterfall Bay – even though the waterfall here wasn't flowing despite the heavy rains prior to our arrival, witnessing the precipitous sea cliffs was definitely worth checking out, especially since we do a cliff-hugging walk all the way to the Tasman Arch.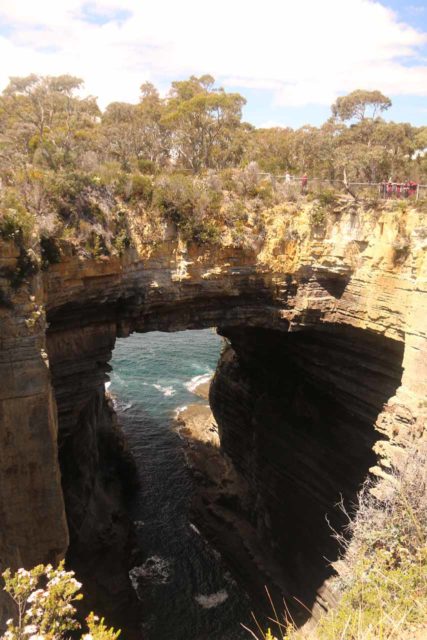 Tasman Arch – this impressive sea arch is neighboured by the Devil's Kitchen and blowholes as well as expansive seaside views along precipitous sea cliffs; and it's all within close proximity to the isthmus of the Eaglehawk Neck.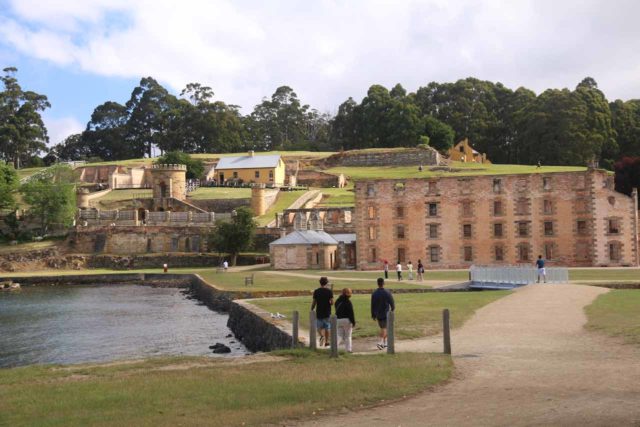 Port Arthur Historic Site – this former prison colony of the first convict settlers that would shape modern-day Australia was really our excuse to step back in time and imagine life back in those days. It featured an extensive touring area, including some spooky prison cells as well as some preserved living quarters of the warden.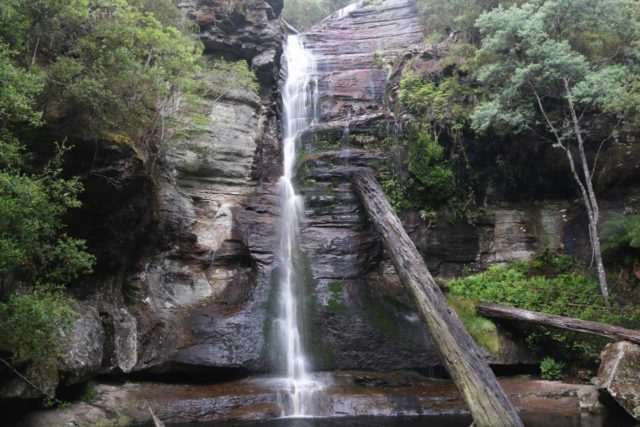 Snug Falls – this attractive waterfall was close to the Hobart CBD yet far enough away to still retain that naturesque feel. Like the first time Julie and I first visited the place, it had a nice flow, and it was quiet and serene.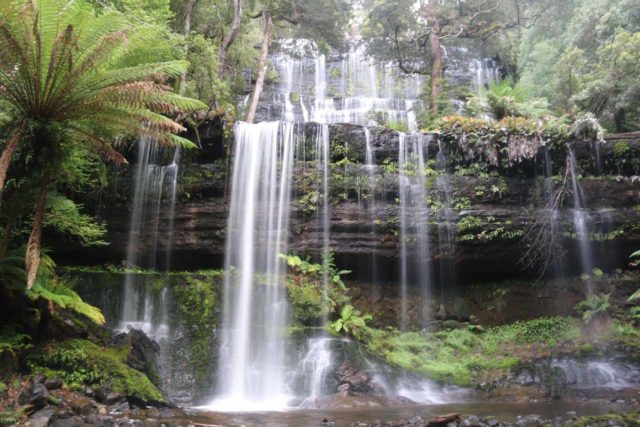 Russell Falls – this could very be Tasmania's most famous waterfall as it featured a graceful pair of drops combining to be about 100m tall that was very conducive to those long exposure shots that tend to make it grace calendars and post cards. In addition, there were also other neighboring waterfalls like Lady Barron Falls as well as impressively tall gum trees.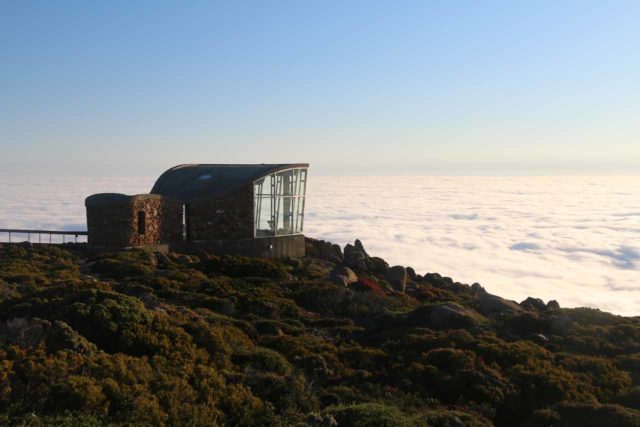 Mt Wellington – this is the place to be to get that birds-eye view over Hobart as well as other scenery in the rest of this 360-degree panorama. While morning fog stubbornly concealed the city below, I did get to check out a group of wallabies as a consolation prize for making it up here.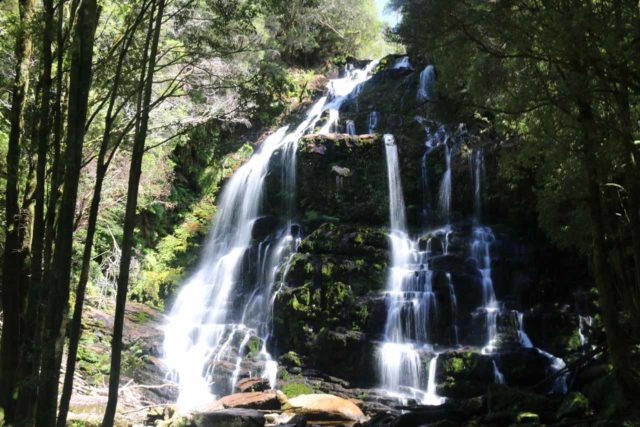 Nelson Falls – although it wasn't flowing as nicely as it was the first time we were here back in 2006, it still put on a show, and it helped to break up the long drive between Hobart and Queenstown.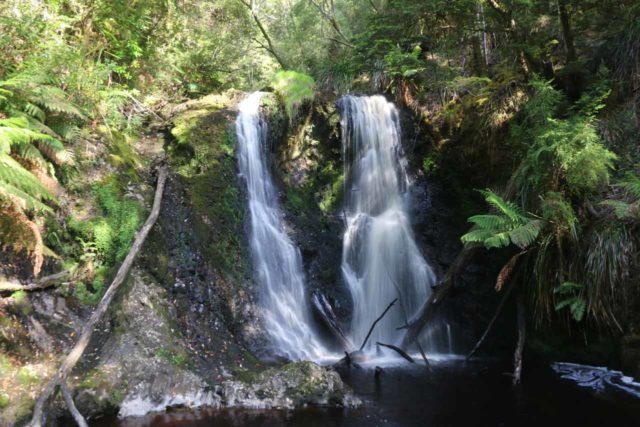 Hogarth Falls and Strahan – there was record consecutive hot days during our visit to this part of Tassie, but it was especially hot when we made it to the charming seaside town of Strahan. Imagine our relief when we felt the cool air around the nearby Hogarth Falls, which was the perfect antidote for the heat wave.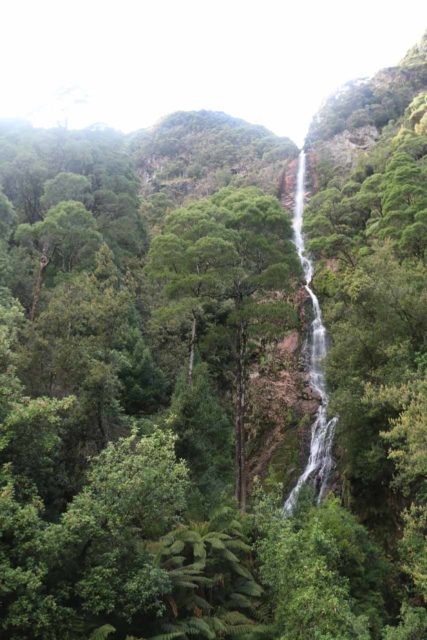 Montezuma Falls – one of the tallest waterfalls in Tasmania, we had to earn our visit to witness its towering flow. Along the way, we saw old growth forests, some mining relics, and a suspension bridge suspended high above the gorge in front of the falls!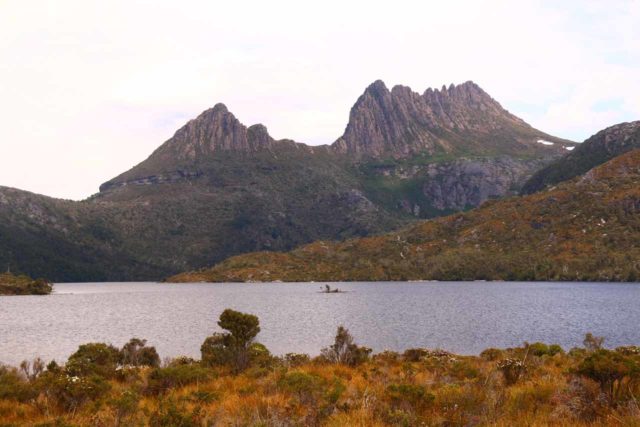 Cradle Mountain National Park – unlike the first time we were here when it was sunny, on our second visit, it was more about the hiking (to Crater Lake) and the wildlife sightings that included lots of wombats and echidnas. Of course, we also saw the familiar waterfalls of Crater Falls and Pencil Pine Falls among others.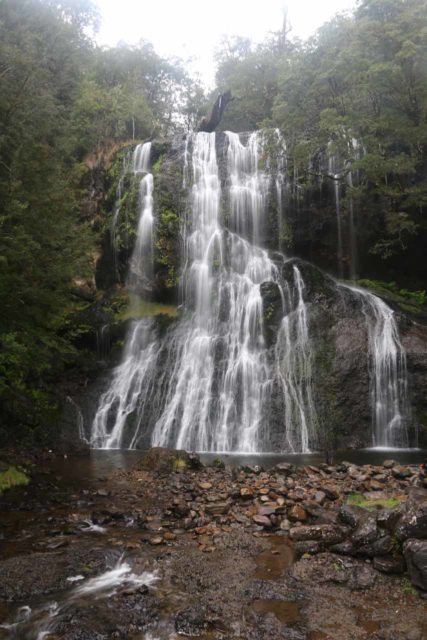 Champagne Falls and Bridal Veil Falls – this was my waterfalling excuse to get to the Lemonthyme Wilderness Retreat, which also doubled as the trailhead to the fairly difficult hike to these two attractive waterfalls in a remote forest. On my second visit here, it was right at the onset of a rainstorm that would eventually inundate Cradle Valley and get worse around the Burnie area. So I luckily beat the brunt of the storm with this hike thanks to the early start.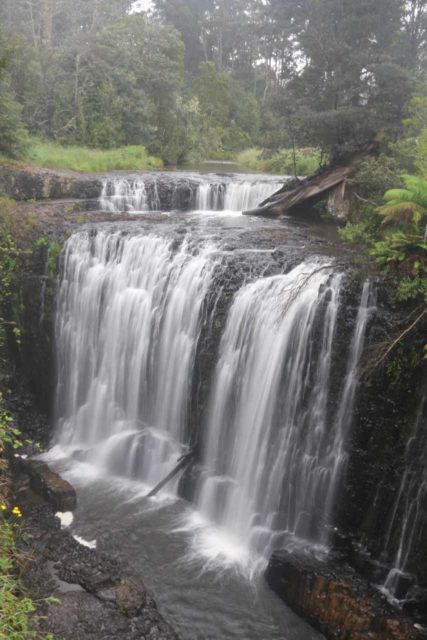 Guide Falls – this attractive waterfall near Ridgley received a bit of a boost in flow thanks to some heavy downpours that socked in Burnie while creating crazy weather across the Bass Strait throughout Victoria. Luckily, this was an easy-to-visit waterfall so with our umbrellas, ponchos, waterproof pants, and some sponges to try to wipe the fog off the lens, we were still able to fit in a visit here despite the inclement weather.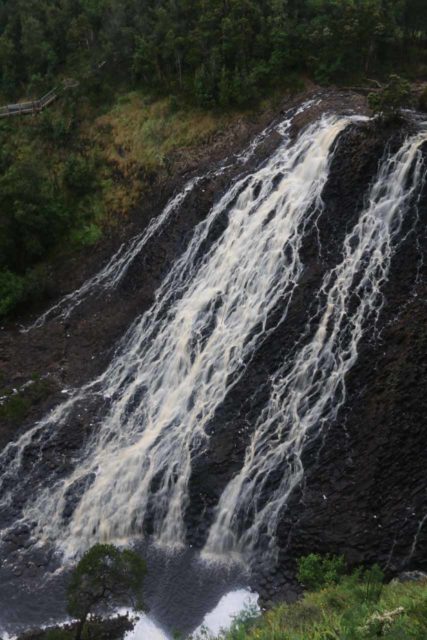 Dip Falls and the Big Tree – it was a bit out-of-the-way from Cradle Valley to visit this big basalt waterfall, but as an added bonus, we also got to experience some giant trees nearby as well. Moreover, the scenery here hinted at some beautiful coastal bluffs and waterfronts of North West Tassie, that we'll just have to make a return trip to this part next time we're fortunate enough to make it back to the island state.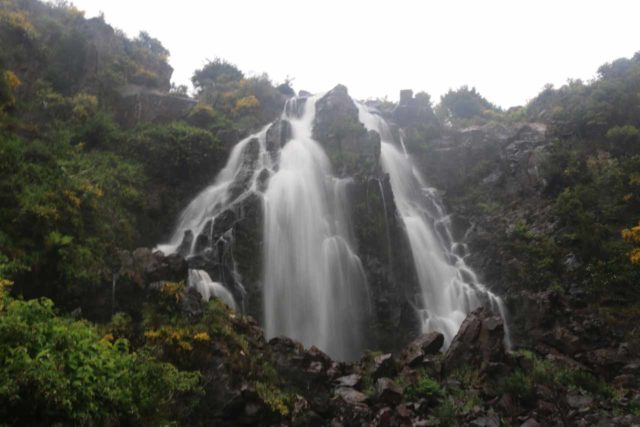 Waratah Falls – on our way from Cradle Valley to Burnie, we made a brief detour out to Waratah to experience this attractive and historical waterfall. Unlike our first time here, we actually found a trail that took us right down to the base for a totally different and up-close experience.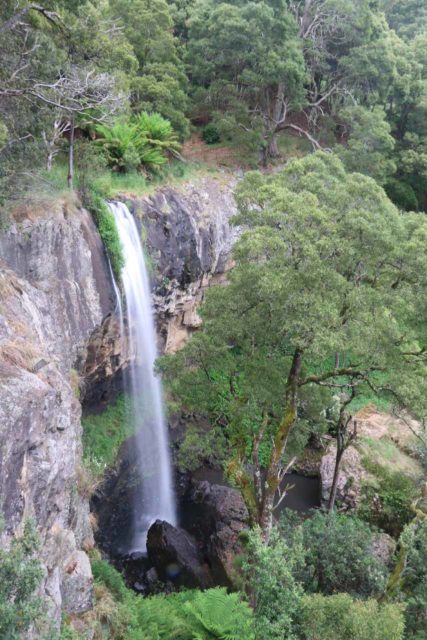 Preston Falls – this was the last waterfall of our return trip to Southeastern Australia, and this time we managed to get better lighting and nice flow. Of course, this foreshadowed yet another strong storm that was coming our way, which made us wonder whether we'd make our international flight if the local flight from Hobart to Melbourne might get delayed the next day…
Trip Advice
Our visit took place at the tail end of Spring and the beginning of Summer (pretty much throughout the month of November). On this visit, it seemed like there were more people than we remembered from our first visit. But in any case, we tried to apply some of the lessons learned from our first visit to this part of Australia back around the same time 11 years ago.
That said, there were some other new things we learned on this trip, and here's a brief summary of them…
Festival Season: At this time of the year, it seemed like the cities were gearing up for festival season. In our limited sample size, we just so happened to witness quite a few of these, and we even took part in a couple of them both in Adelaide and in Melbourne. I can only imagine how much more happening and festive it would get throughout the major cities as we'd get deeper into the Summer.
One of the more memorable things we did as a result was the Noodle Night Market, which took place in Melbourne. It was one of the most energetic and atmospheric places we went to, where Julie and I spent a lovely evening watching the sun set, the skies turn purple, the high rises light up, and overall just sampling different ethnic foods while just being part of the crowd that was here having a good time.
Not too crowded except in cliche spots While there were plenty of tour buses, it didn't really feel like there was a crush except for the most famous sights like the Twelve Apostles. In fact, most of our trip was refreshingly uncrowded and peaceful. Perhaps the worst offending spots in terms of crowds and tour buses were largely confined to the cliche sights like the Twelve Apostles.
I suspect that's where the cheap tour bus itineraries (mostly containing ethnic groups – we saw mostly Chinese ones but did spot a Japanese, Korean, and Spanish tour group on separate occasions) would go because there would be too much time invested to see more farflung and less crowded places. And that wouldn't be conducive to taking them shopping and to restaurants and the like…
Extreme weather: It didn't seem like it going into the trip, but we never would have expected late Spring to harbour a few nasty storms that resulted in flash flooding in Victoria (luckily we were across the Bass Strait in Tassie at the time, but it was still heavily raining there) as well as a heat wave throughout. I'm sure weather is one of the most underrated factors when it comes to impacting outdoorsy trips like this.
Don't underestimate long driving distances: While driving long distances are not unfamiliar to me, when you have the potential for kangaroos or emus darting in front of the rental car, it can be quite the trip killer. We had a taste of the long distances when driving about Kangaroo Island, which is much larger than you'd expect. Plus, we had one long stretch where we drove from Kangaroo Island all the way to Halls Gap. Another long driving stretch involved me going from Melbourne to Beechworth and back. For the rest of the trip, we tried to break up such long drives since road fatigue can also be quite the factor.
Remember what it was like to do a trip without our daughter: We were lucky to be able to celebrate anniversary and Julie's birthday on this trip while our parents took turns taking care of Tahia at home and making sure she attended school (though we weren't sure if she reverted on the homeworks). Indeed, on this trip, I could see the stress on Julie melt away and we were certainly able to accomplish way more each day than we could have ever imagined had we brought our daughter.
It was quite refreshing to do one of these kinds of trips when we had almost forgotten what it was like without her, but we know that's not a sustainable practice, especially since we were missing her around the half-way point of this trip. The same went in reverse when she was missing us as well. So the moral of the story here is to take advantage of couples only moments before family duties take over once again.
Travel Itinerary
Days 1-3: International flight from Los Angeles to Adelaide
We were supposed to take a red-eye flight from Los Angeles, then landing in Melbourne before connecting to Adelaide. Unfortunately, our flight was delayed by several hours and the flight ended up being re-routed to Brisbane before catching a connecting flight to Adelaide. We'd eventually pick up the rental car in Adelaide before arriving at our accommodation later in the evening (so we wouldn't get a chance to tour much of Adelaide on this day).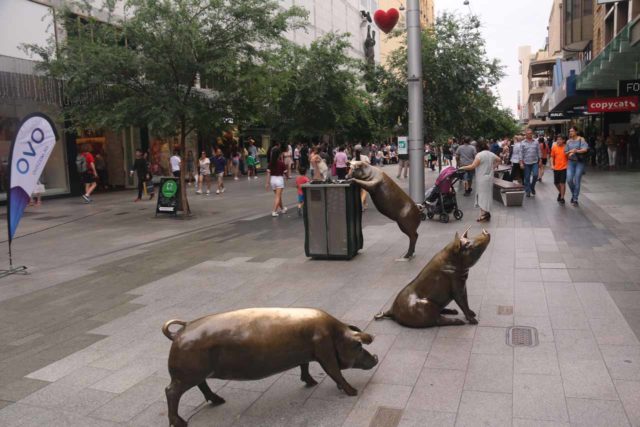 Day 4: Sightseeing the Adelaide Hills and Adelaide
On our lone full day in the Adelaide area, we had to pack in a lot of activities out of necessity.
We began with an early morning exploration of the Adelaide Central Market, where we picked up some goods and had a breakfast. Afterwards, we spent the better part of the day visiting a pair of waterfall excursions – Morialta Falls and Waterfall Gully. And, we squeezed in a visit to the summit of Mt Lofty in between.
Then, we spent the late afternoon and evening hours exploring the the Rundle Street Mall, the River Torrens area, and then a little more of the Adelaide CBD before an anniversary dinner.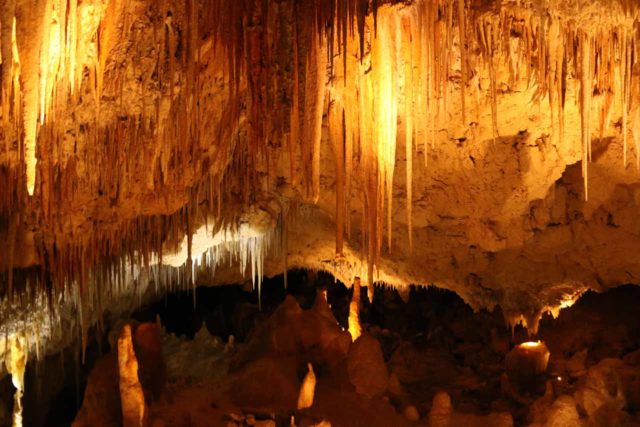 Overnight: Home On Torrens (Kingscote, South Australia, Australia)
This was mostly a travel day dominated by the ferry across to Kangaroo Island. After checking into our accommodation in Kingscote, we then fit in a long driving excursion out to the Kelly Caves and back. In hindsight, we probably should have visited Seal Bay instead.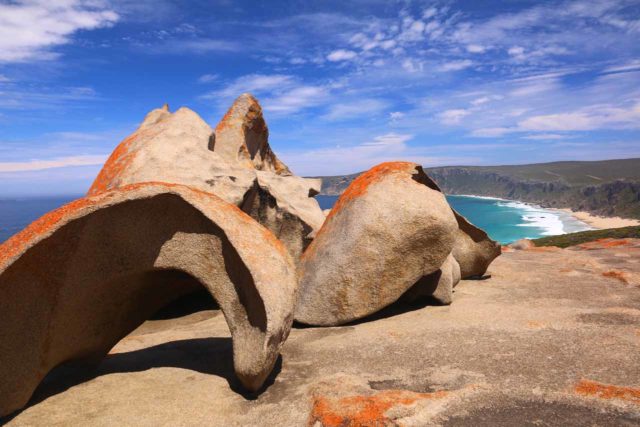 Day 6: Full Day On Kangaroo Island
Overnight: Home On Torrens (Kingscote, South Australia, Australia)
With our lone full day on Kangaroo Island, we had to begin with the long drive all the way out to the southwestern tip of the island, where we visited the Remarkable Rocks, Admirals Arch, saw New Zealand fur seals on the turbulent coastline, and saw koalas at the Flinders Chase Visitor Centre.
After lunch, we spent a hot sunny afternoon at Seal Bay, where we got to see Australian Sea Lions up close in their native habitat.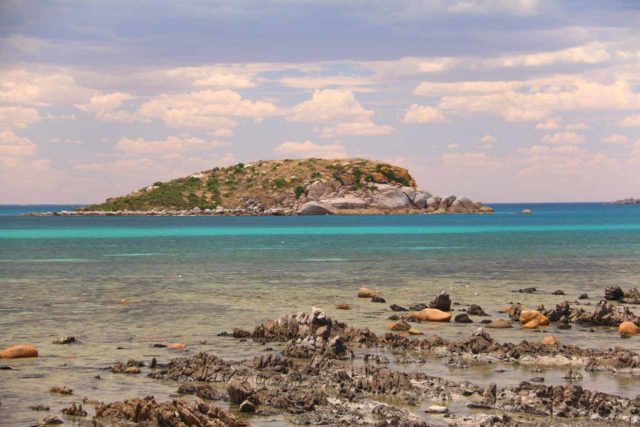 Day 7: Drive from Kingscote to Halls Gap
Overnight: Kiramli Villas (Halls Gap, Victoria, Australia)
This was another long driving day that also included an early morning ferry ride back to the mainland. We spent the better part of the morning visiting a pair of waterfalls – Ingalalla Falls and Hindmarsh Falls.
After lunch at Victor Harbor, we then made the marathon drive out to Halls Gap, eventually getting there late in the evening. We had to stock up on supplies and have a dinner in Horsham before getting to our accommodation.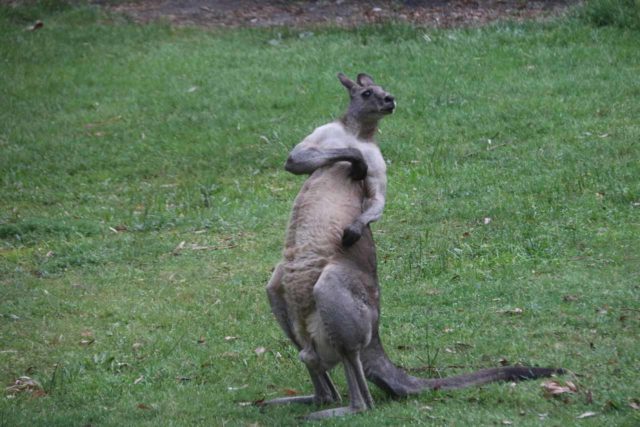 Day 8: Full Day In The Grampians
Overnight: Kiramli Villas (Halls Gap, Victoria, Australia)
I began the day with an early morning drive and hike out to Beehive Falls except that it was trickling. By the time I returned to Halls Gap, Julie and I were able to drive out to visit the familiar MacKenzie Falls and Broken Falls before re-visiting Silverband Falls.
When we got back to the accommodation, I did a solo hike right to Clematis Falls, but it was also trickling. At least I got to check out a big group of kangaroos at the oval in Halls Gap and some of them were even hanging out right outside our accommodation.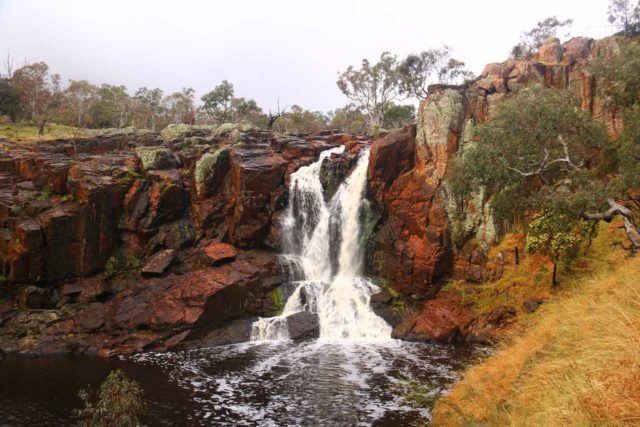 Day 9: Drive from Halls Gap to Hamilton
After heavy rain overnight, I spent the early morning hours hiking back to Clematis Falls, which was now performing quite nicely. Encouraged by this result, I then drove back out to Beehive Falls, which was also performing quite well.
By the time I returned to Halls Gap, we checked out then did a drive out around the east side of the Grampians so we could visit Kalymna Falls en route to Hamilton. After checking in, we then did a late afternoon loop drive encompassing Nigretta Falls and Wannon Falls.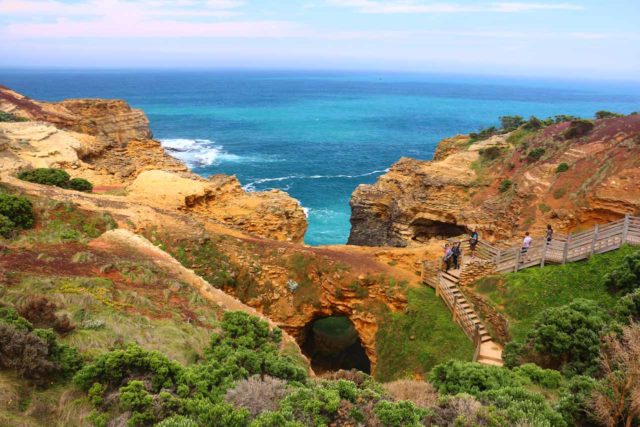 Day 10: Drive from Hamilton to Port Campbell
Overnight: Sea Foam Villas (Port Campbell, Victoria, Australia)
This was a divide and conquer day where Julie, Dad, and the kids all visited Zion Canyon in the morning. Then, the kids got to play in a kid-friendly pool at the La Quinta that the parents stayed at. While all that was going on, Mom and I did the adventure on Kanarra Creek to see the Kanarraville Falls.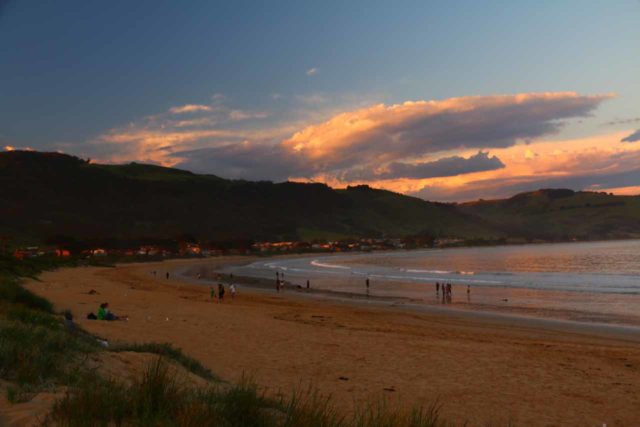 Day 11: Drive from Port Campbell to Apollo Bay
Overnight: Seafarers Getaway (Apollo Bay, Victoria, Australia)
After an early morning sunrise view of the Twelve Apostles, we then drove further east into the Otways, where we visited a series of waterfalls including Triplet Falls, Beauchamp Falls, Hopetoun Falls, and Stevenson Falls. In between all that, Julie and I visited the Otway Fly, which was the second such tree top walk that we did in Australia (the first one being in Western Australia near Denmark).
We spent the evening enjoying the quiet beach scene at Apollo Bay after eating a self-cooked dinner at our beautiful accommodation.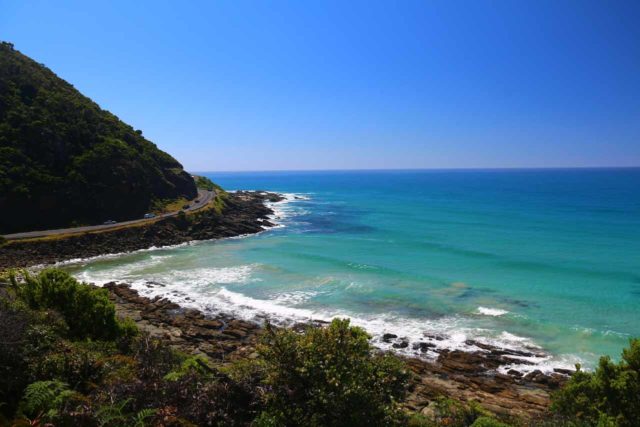 Day 12: Drive from Apollo Bay to Melbourne
Overnight: Grand Hyatt Melbourne (Melbourne, Victoria, Australia)
After an unsuccessful early morning visit to Marriners Falls, I then followed that with an early morning visit to Carisbrook Falls.
By the time I returned to our accommodation, we had a breakfast before checking out and driving towards Lorne. Along the way, we saw a koala at Kennett River before doing the now-popular hike to Sheoak Falls. Then, we had lunch at Lorne before visiting Erskine Falls, Straw Falls, and Phantom Falls.
Then, we finally made the drive after dinner to Melbourne, thus ending our time on the Great Ocean Road.
Day 13: Day Trip To Spa Country
Overnight: Grand Hyatt Melbourne (Melbourne, Victoria, Australia)
On this day, we did an out-and-back visit to both the Spa Country area and Mt Disappointment State Forest. The main attractions of the day were waterfalls – Trentham Falls, Sailors Falls, and Strath Creek Falls. We also had a lunch in Daylesford, which made us with we had spent at least a night here before spending the next few nights in Melbourne.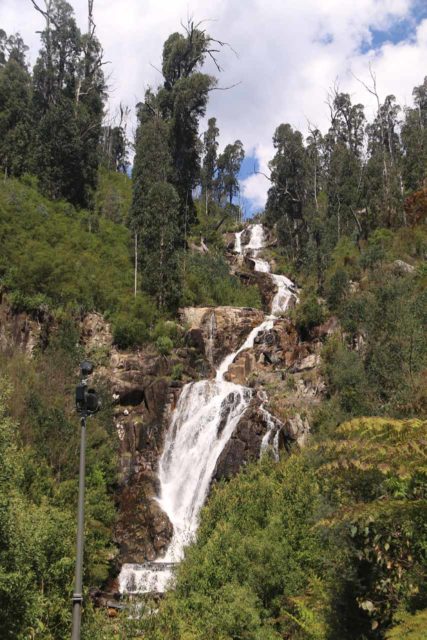 Day 14: Day Trip To Goldfields And Waterfalls
Overnight: Grand Hyatt Melbourne (Melbourne, Victoria, Australia)
This was a divide-and-conquer day where Julie got to self-tour the city of Melbourne on her own while I went solo'ing out to the Goldfields region near Beechworth (itself not far from the New South Wales border). Around Beechworth, I visited Newtown Falls and Woolshed Falls.
On the way back to Melbourne, I stopped by Snobs Creek Falls and Steavenson Falls before returning to Melbourne to rejoin Julie for dinner.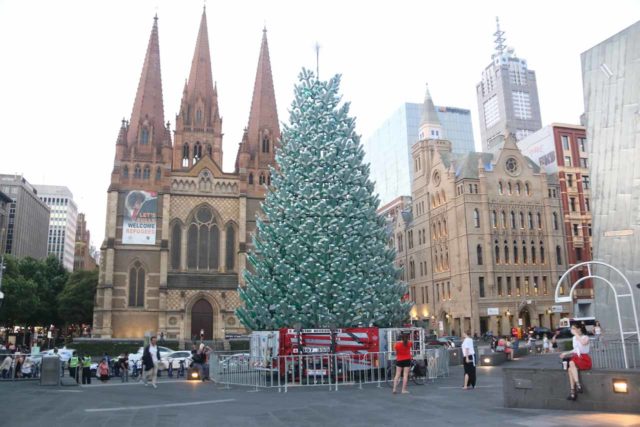 Day 15: Sightseeing Melbourne
Overnight: Grand Hyatt Melbourne (Melbourne, Victoria, Australia)
This was a day at-leisure sightseeing the city of Melbourne. Although the Queen Victoria Market was closed, we did do a hop-on-hop-off bus tour taking in the Shrine of Remembrance and St Kilda Beach. Eventually, we spent the twilight hours at the Noodle Night Market soaking up the festival atmosphere on a clear day.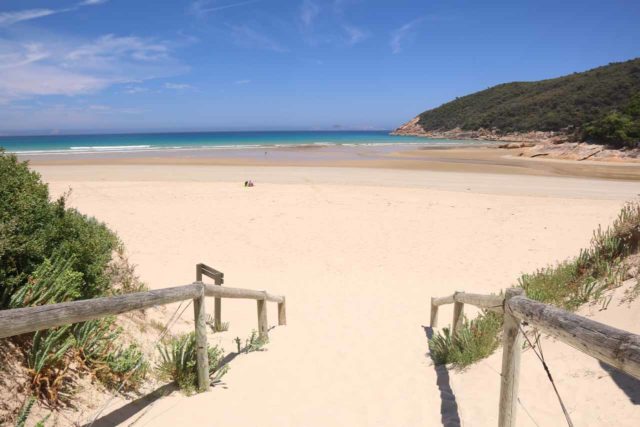 Day 16: Day Trip To Gippsland
Overnight: Grand Hyatt Melbourne (Melbourne, Victoria, Australia)
Going back to another divide-and-conquer day, Julie spent another day on her own in Melbourne while I solo'ed a long circular drive that encompassed Toorongo Falls and Agnes Falls. I also managed to squeeze in a visit to the peaceful and naturesque Wilson's Promontory taking in the Squeaky Beach and Norman's Beach.
When I returned to Melbourne, Julie and I enjoyed one last dinner in the city.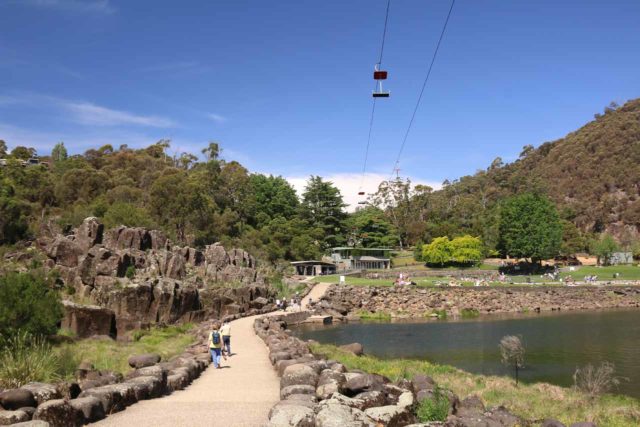 This was a travel day that was complicated by a cancelled flight direct from Melbourne to Launceston. So we actually had to fly to Devonport, then be transported to the airport in Launceston before picking up our rental car there.
After checking in and briefly checking out the Launceston CBD while having lunch there, we then checked out the Cataract Gorge before driving out to Lilydale Falls before calling it a day.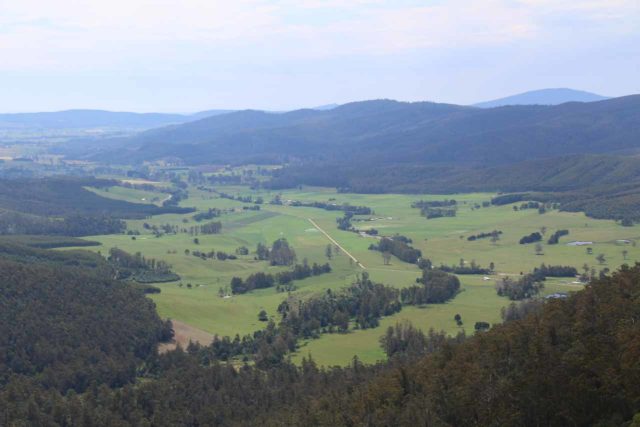 Day 18: Day Trip To North East Tasmania
I began the day with a solo visit to Liffey Falls before rejoining Julie for breakfast. We then did the long loop drive taking in Mathinna Falls, Ralphs Falls, and St Columba Falls before returning to Launceston for dinner.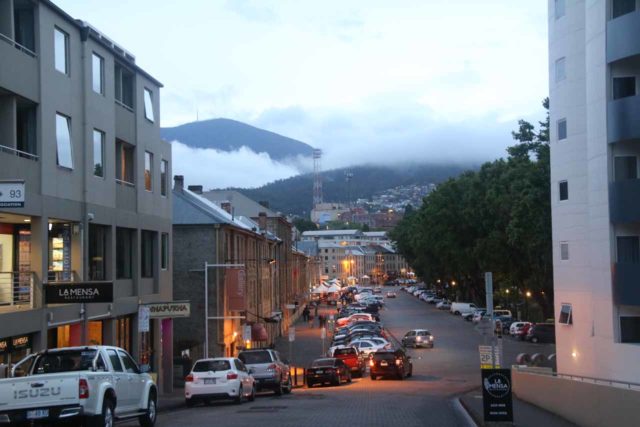 Day 19: Drive from Launceston to Hobart
Overnight: Somerset on the Pier (Hobart, Tasmania, Australia)
On this day, we had to contend with some bad weather, but we still managed to catch a break in the weather when visiting Meetus Falls. Lost Falls was still not flowing despite all the rain.
After lunch in Swansea, we then drove to Hobart, where we had a nice dinner (waiting out the heavy rain in the process) before exploring Battery Point as the weather was starting to clear up.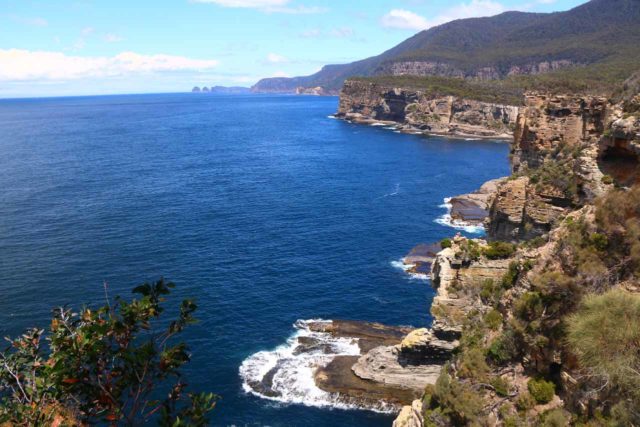 Day 20: Day Tour Of The Tasman Peninsula
Overnight: Somerset on the Pier (Hobart, Tasmania, Australia)
I did an early-morning hike to a revived Pelverata Falls before Julie and I drove out to the Tasman Peninsula, where we checked out Waterfall Bay, the Devil's Kitchen, the Tasman Arch, the Blowhole, and the Port Arthur Convict Site. We then returned back to Hobart for a self-cooked and relaxing dinner.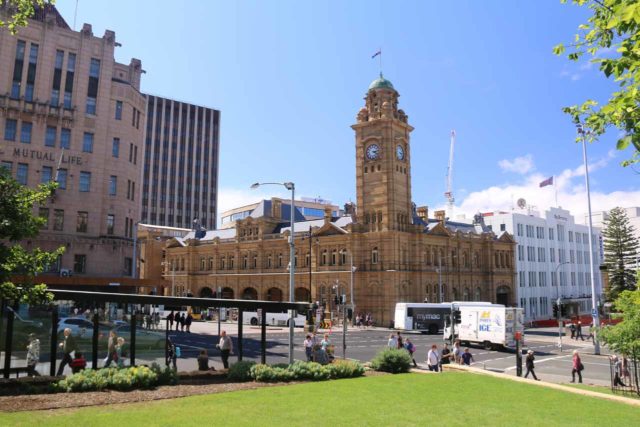 Day 21: Day Trip To Mt Field National Park
Overnight: Somerset on the Pier (Hobart, Tasmania, Australia)
After doing an early morning solo hike to Snug Falls, Julie and I then did a day trip out to Russell Falls, one of our favourite waterfalls in Tassie.
We then returned to Hobart in the mid-afternoon, where we then spent some time strolling around parts of town that we had never seen before. We then had one more self-cooked dinner at our accommodation for our last night in town.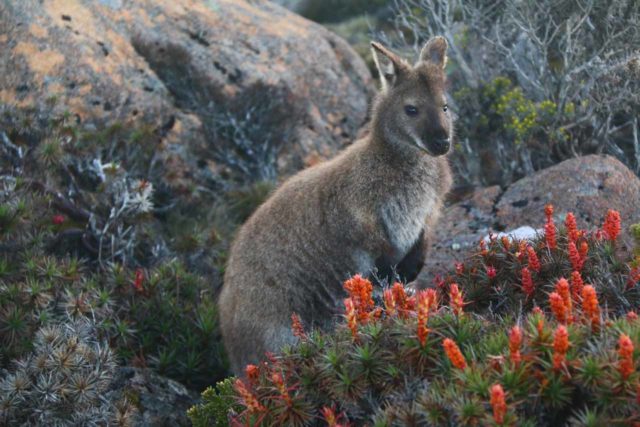 Day 22: Drive from Hobart to Queenstown
Overnight: Mt Lyell Anchorage (Queenstown, Tasmania, Australia)
I started the day solo'ing the drive up to Mt Wellington hoping that the fog would burn off, but alas, it didn't. At least there were wallabies grazing in the serenity of the summit.
Then, we did the long drive west to Queenstown visiting Nelson Falls and Horsetail Falls en route. Afterwards, we drove out to Strahan for a late lunch and a brief moment to cool off in the mist of Hogarth Falls before returning to Queenstown for a self-cooked dinner.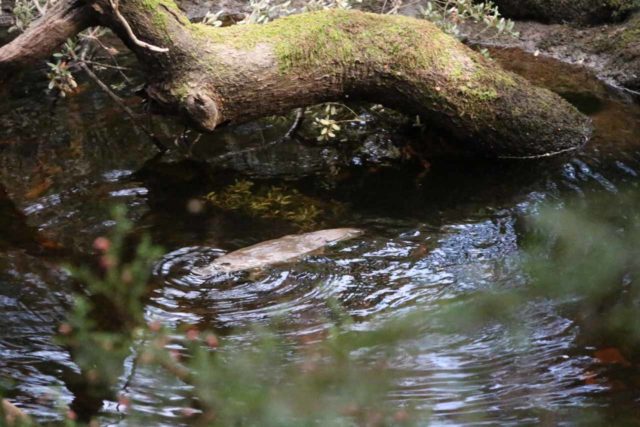 Day 23: Drive from Queenstown to Cradle Mountain
We did the fairly lengthy drive from Queenstown to Cradle Mountain with a detour to Montezuma Falls. Once in the Cradle Mountain area, we managed to get into the park area to visit Dove Lake, Crater Falls, and Crater Lake. Towards the tail end of our hiking, we started to spot several wombats and echidnas near Ronny Creek.
After checking in and having a nice dinner at the lodge, I then solo'ed a late afternoon and twilight hike taking in Pencil Pine Falls and Knyvet Falls before doing the Enchanted Walk, where some folks there helped me spot a rare platypus swimming in the creek.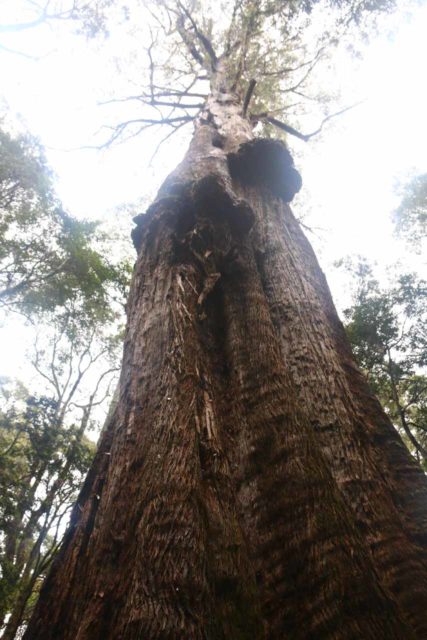 Day 24: Day Trip To Dip Falls and Burnie
With oncoming bad weather, I managed to sneak in an early morning hike to Champagne Falls and Bridal Veil Falls near the Lemonthyme Lodge. Then, after rejoining Julie after breakfast, we then braved the bad weather and headed towards Burnie.
Along the way, we visited Guide Falls in the heavy rain before arriving at Burnie for lunch. We then spent the better part of the afternoon making it all the way out to Dip Falls before returning all the way back to Cradle Mountain.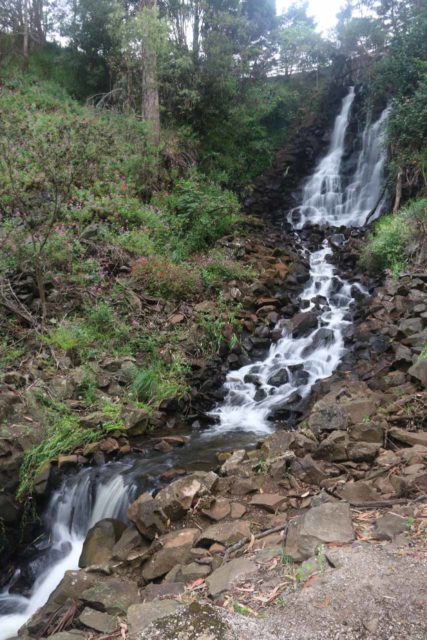 Day 25: Drive from Cradle Mountain to Launceston
Overnight: Mantra Charles Hotel (Launceston, Tasmania, Australia)
This was our last full day in Tasmania, where we started off with a drive towards Burnie with a detour to Waratah Falls and a visit to Oldaker Falls in Burnie Park before having lunch in Burnie. Then, we headed east to Launceston with a detour to Preston Falls.
Once we made it to Launceston, we briefly checked out Penny Royal before having our last dinner on this trip before packing and getting ready to go home tomorrow.
Day 26: Flight to Los Angeles
This was a travel day under bad weather, but the amazing thing was that despite the circumstances, this was the first time all trip long that none of our flights were delayed!
Best Places We've Stayed At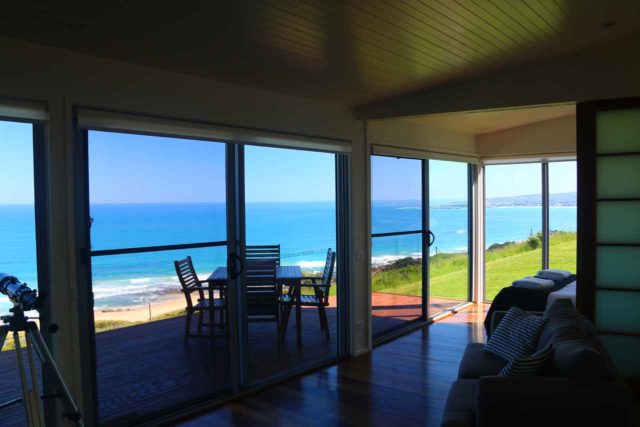 Seafarers Getaway – This was hands down Julie's favourite accommodation during this trip to Australia. It had the seclusion, the views, and it was well-equipped so we could have a nice self-cooked dinner and breakfast to further enjoy the sunset and sunrise, respectively. While it wasn't in the town of Apollo Bay where most of the "action" was, we enjoyed the peace and quiet. Places like this would cost a fortune in say Big Sur, CA or other more well-known coastal spots, yet here upslope from the Great Ocean Road, it didn't break the bank!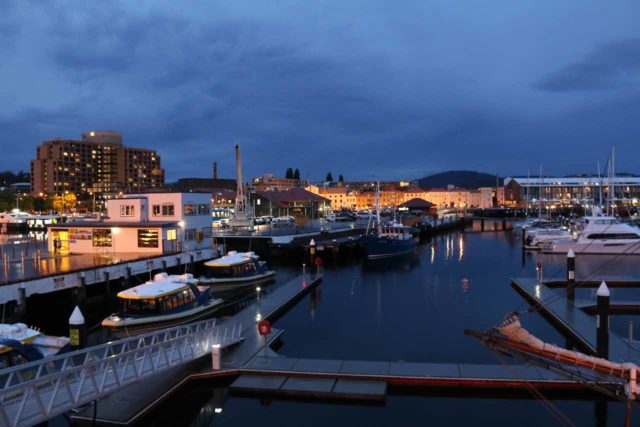 Somerset on the Pier, Hobart – When it came to this accommodation, we couldn't beat the location as we were literally staying in a spacious apartment right on the pier at Fisherman's Wharf in Hobart's CBD. We could walk to Salamanca Street and Battery Point as well as the heart of the Hobart CBD.
When we felt like staying in for a self-cooked dinner, we could stare out of our room towards the parked boats and some of the historical buildings lining the harbour. Of course, we also used this place as a base to visit places as far flung as the Tasman Peninsula, Mt Field National Park, and a lot of waterfalls in between.

Seafoam Villas – When it came to this accommodation, it was all about the location. For right across the street from our long apartment was a protected beach as well as a pier to check out some rainbows and the sunset. Meanwhile, just down the block from us was the heart of Port Campbell. The only thing we didn't like about this place was the dirty floors, but other than that, we took full advantage of what this place had to offer.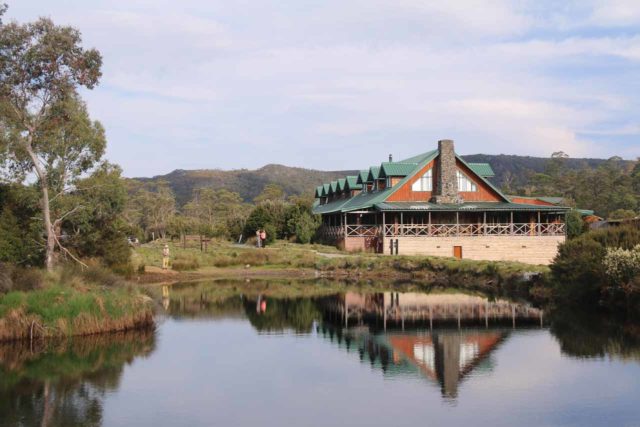 Peppers Cradle Mountain Lodge – Even though this accommodation didn't have a kitchen, it was a perfect romantic getaway spot as it was spacious, almost isolated (only one wall is shared with the neighbours), and right in the heart of Cradle Mountain. In fact, I was able to go on some walks right out of our accommodation like the Enchanted Walk and the Pencil Pine and Knyvet Falls Walk. The place also boasted some pretty good food and also a quality buffet breakfast to boot!
Related Trip Reports
Waterfalls included in this itinerary
Visitor Comments:
Got something you'd like to share or say to keep the conversation going? Feel free to leave a comment below...
No users have replied to the content on this page