This itinerary was kind of our last-minute extended weekend visit to Idaho, where we encapsulated a visit to see a long-time friend and her newborn along with some waterfalls and sightseeing.
Since these waterfalls and sights were otherwise out-of-the-way for us (so we never had the time nor motivation to pursue them to this point), the desire to take the trouble to see friends now living out-of-state was really the thing that enabled this trip to happen.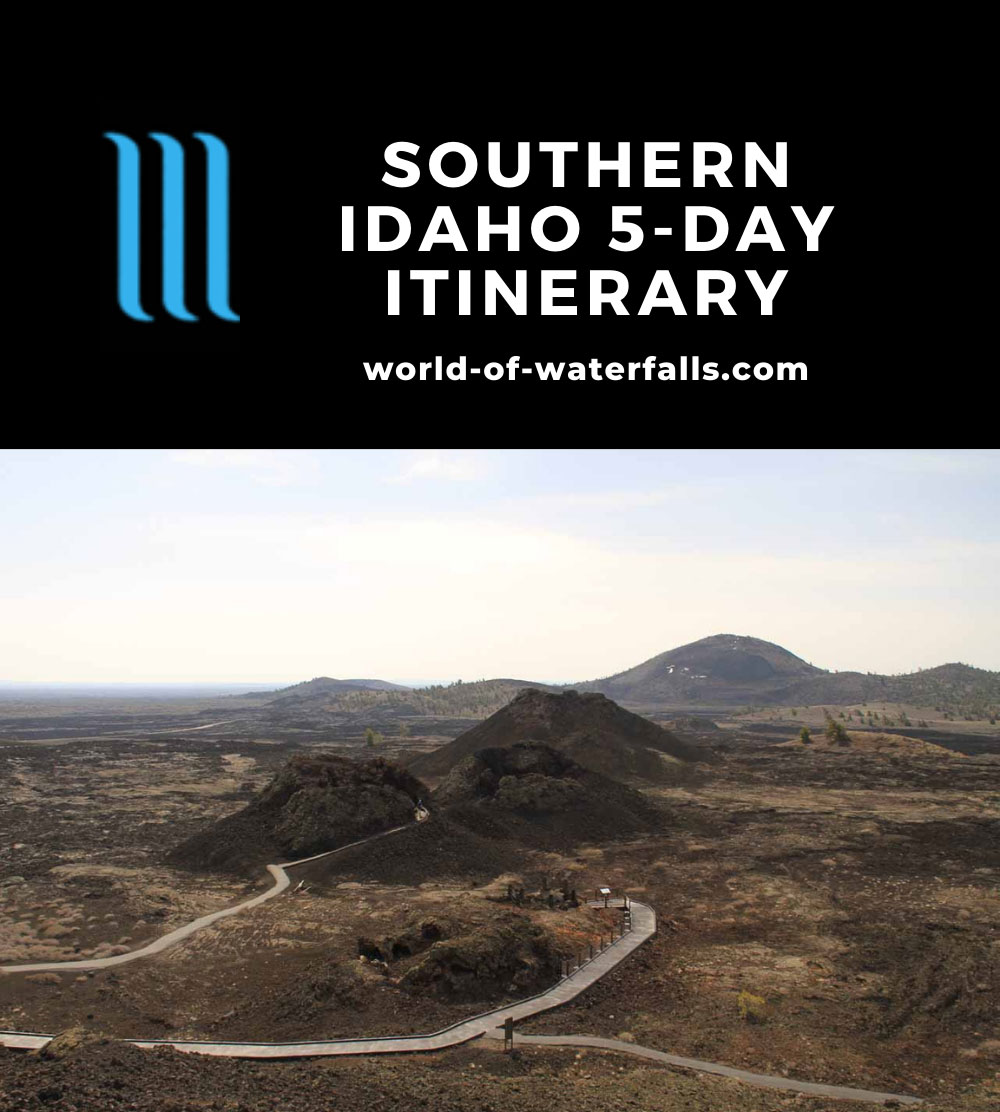 As you can see from this page, we think there's a lot that can be accomplished by simply extending a weekend for a few days. Here are some highlights and how we executed this impromptu trip…
Trip Map
This map and its markings were produced by this app.
Trip Highlights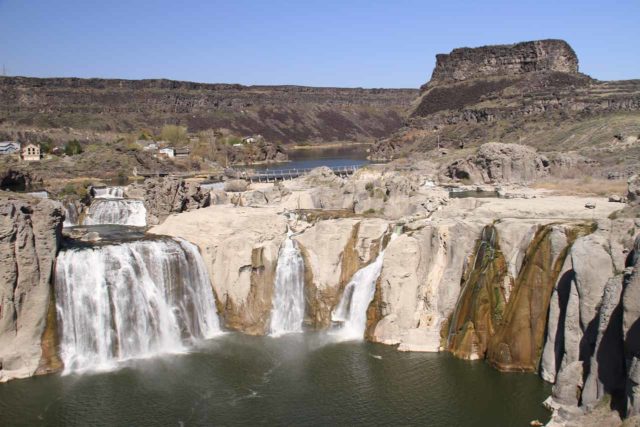 Shoshone Falls – Even though the waterfall wasn't that great when we made our visit, the backing buttes and the wide span of the waterfall's crest still made it an impressive sight. So imagine how much more impressive it would have been had there been even more flow!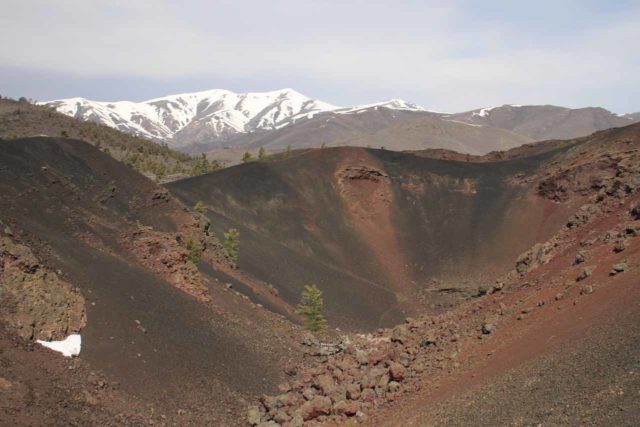 Craters of the Moon – This desolate and barren volcanic landscape seemingly in the middle of nowhere featured pronounced red and black soil juxtaposed with cinder cones and mountains still clinging onto snow. Such surreal scenery made us wonder how this place became the way it did as we walked amongst this aptly-named moonscape to see evidence of the earth turned inside out.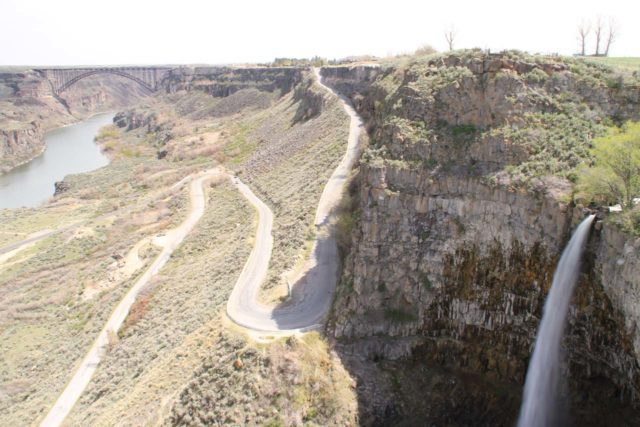 Perrine Coulee Falls and the Canyon Crest – This part of Twin Falls featured a wide and deep gorge carved out by the Snake River. We were able to experience the scenery along the Canyon Crest walkway right on the rim, where we were able to look over Perrine Coulee Falls. Of course, we were also able to drive closer to its base and experience this waterfall from behind its column!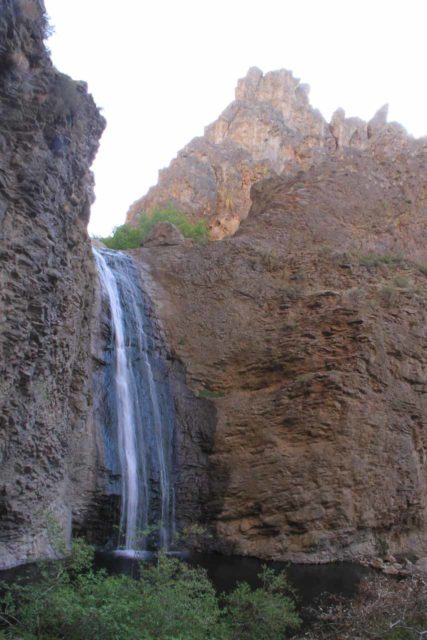 Jump Creek Falls – This was an easy waterfall to visit, but it was also kind of hidden away in a little gorge to the southwest of Meridian. What stood out about this waterfall wasn't so much about its drop (which was impressive), but it was the surrounding red cliffs and rocks that really gave this place a bit of character to it.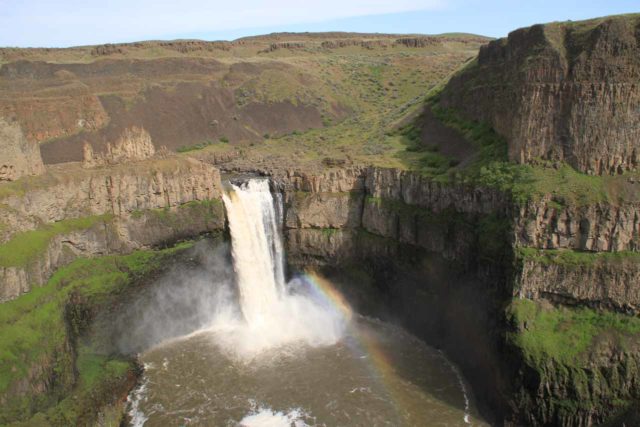 Palouse Falls – As far as I was concerned, this waterfall was the highlight of our Idaho trip even though this waterfall was in a very remote corner of southeastern Washington! Its remoteness kind of reminded me of what it was like to visit waterfalls in Iceland. However, Palouse Falls had several vantage points around the rim of the gorge as well as a trail that let us get closer to that "mohawk" just above its brink.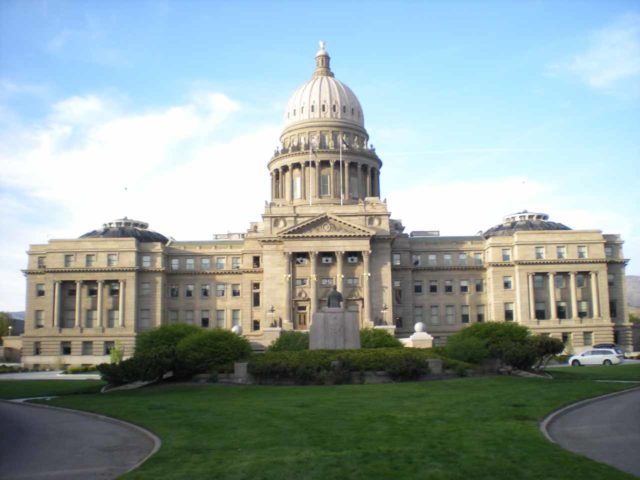 Boise – This city felt surprisingly progressive as it seemed to take on more of a Seattle feel than the more run-of-the-mill city in rural America that we were expecting. But the true highlight of being in downtown Boise was the opportunity to hang out with friends who now call this city home. And that was what made this part of the trip memorable.
Trip Advice
Since we didn't have many expectations about this trip, we were also quite ignorant about the environment as well as what there was to see and do apart from a few well-known waterfalls. So in this section, we're imparting some of what we learned along the way…
Southern Idaho is more like a desert: I always had this notion that the Pacific Northwest was pretty much all green and rainy. But the Snake River basin seemed to resemble more of a desert than a lush environment. In fact, the Snake River going through this region kind of reminds me of the way the Colorado River flows through the deserts of the American Southwest. So with that in mind, definitely make sure to stay hydrated.
Long Distances The places we were going to actually seemed to be quite far from each other. For example, it took about two hours to drive from Boise to Twin Falls (where Shoshone Falls was). It took another hour or so to drive from Twin Falls all the way to the Craters of the Moon.
Plus, the drive from Boise to Walla Walla took the better part of the day. So we barely had time to visit Palouse Falls before crashing for the night in Walla Walla.
Travel Itinerary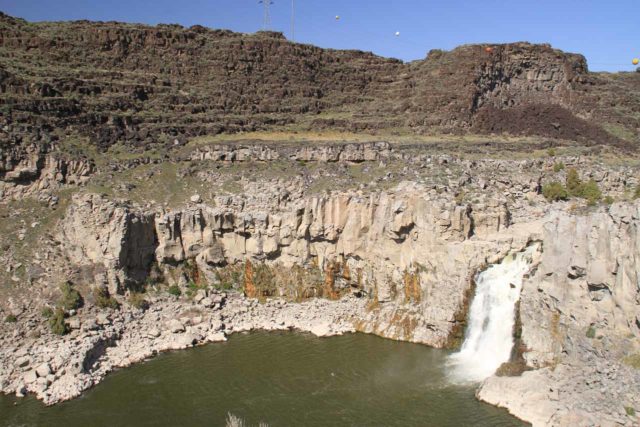 Day 1: Fly from Los Angeles to Boise then drive to Twin Falls
Overnight: Best Western (Twin Falls, Idaho, USA)
This was a travel day where we took a regional flight to Boise, then we picked up the rental car and made the drive east to Twin Falls. Once we got there, we visited Shoshone Falls, Twin Falls, and Perrine Coulee Falls.
Day 2: Drive from Twin Falls to Meridian
We started this day visiting the Craters of the Moon National Monument. Then, we headed back west towards Boise and beyond where we visited Jump Creek Falls before crashing for the night in Meridian.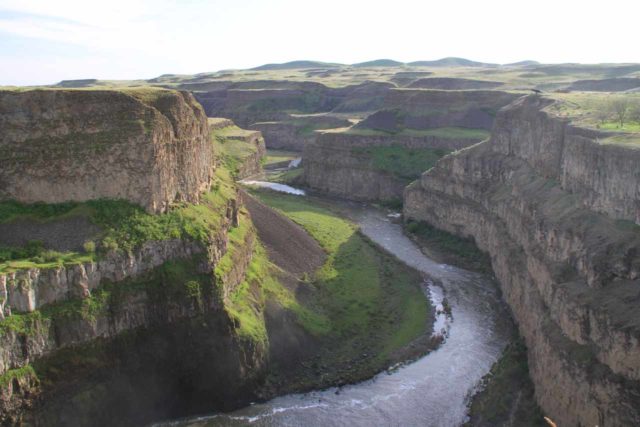 Day 3: Drive from Meridian to Walla Walla
This was a very long driving day where we got an early start and made a late afternoon visit to Palouse Falls before crashing for the night in Walla Walla.
Day 4: Drive back from Walla Walla to Boise
This was another long day of driving, where our early start allowed us to return to Boise and do some hanging out with friends for the afternoon and evening in downtown Boise.
Day 5: Fly Home
This was just a travel day where we returned the rental car and caught our flight home.
Related Trip Reports
Waterfalls included in this itinerary
Visitor Comments:
Got something you'd like to share or say to keep the conversation going? Feel free to leave a comment below...
No users have replied to the content on this page