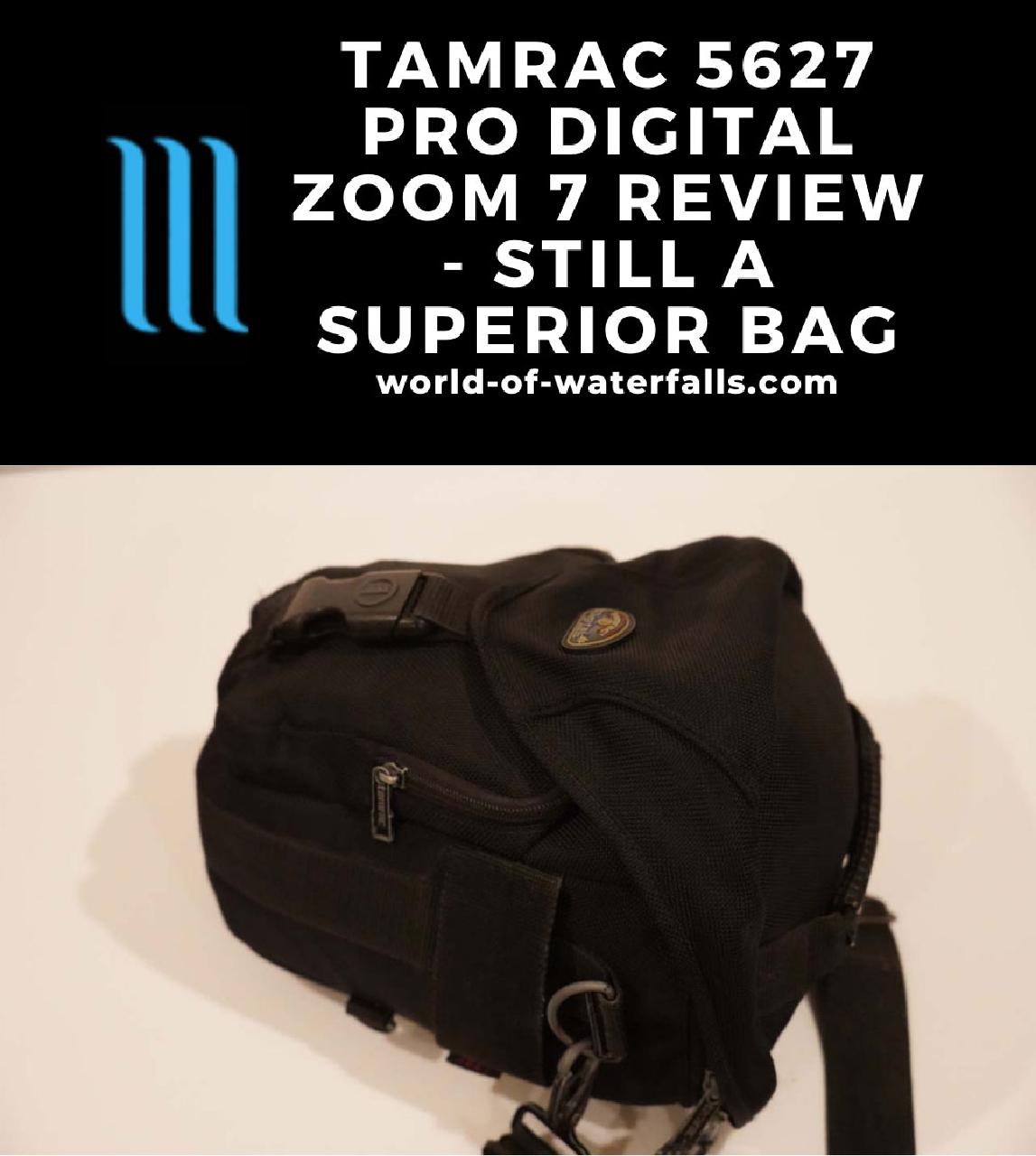 I've been using the Tamrac 5627 Pro Digital Zoom 7 Holster Camera Bag ever since 2006 when I first committed to graduating from point-and-shoot cameras in favor of semi-professional DSLR cameras (a Canon EOS 20D at the time). I've ended up becoming very familiar with this bag over the years. So it's about time that I write a review conveying my experiences with it.
Speaking of experiences, I discovered various pain points that I needed to overcome if I was to continue enjoying hiking and traveling (especially to waterfalls) when it came to carrying pro or semi-pro cameras when hiking and traveling.
The main pain points that I pay attention to boil down to comfort, workflow (or quick camera accessibility), and camera protection.
That said, I wrote an article that goes much deeper into why I care so much about finding the best way to carrying a camera when hiking.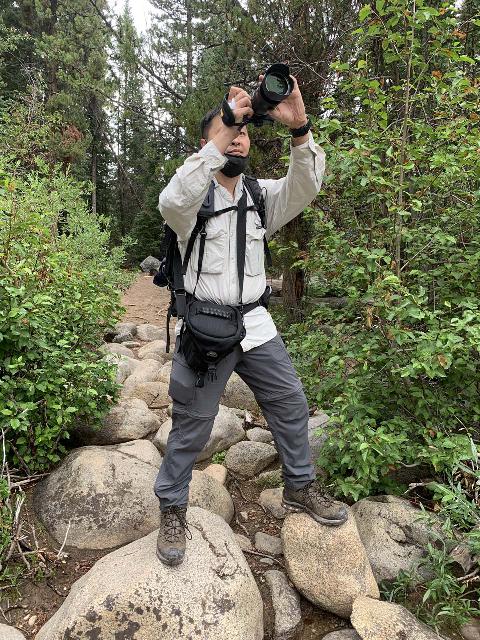 Anyways, over the course of this review, I evaluate the Tamrac 5627 Pro Digital Zoom 7 Holster Camera Bag against how it overcomes my camera carrying pain points. I also go into how I've managed to figure out how best to use it.
The Tamrac 5627 is actually a discontinued bag. So what's the big deal with this bag anyways? And why am I going in-depth about my experiences with something that's not made anymore?
What Is the Tamrac 5627 Pro Digital Zoom 7 Holster Camera Bag?
The Tamrac 5627 Pro Digital Zoom 7 is basically a holster-style bag designed for on-the-go photography.
The holster aspect of the bag is essentially analogous to the way gunslingers would holster their gun ready to draw and shoot as quickly as possible.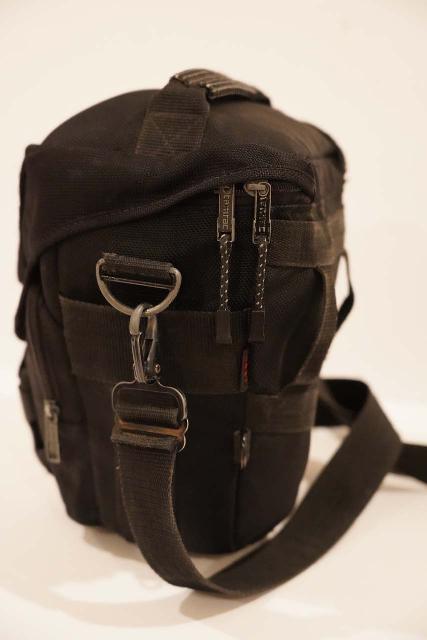 So going back to the world of photography, this bag is all about shooting pictures as quickly as possible while in the field, especially on my waterfall hikes and travels.
The bag has dimensions of 9.4″ wide x 7.1″ long x 9.8″ deep, which can handle just about any combination of 5 inch lens attached to a 2-2.75 inch camera body with the lens hood facing out. It can also barely fit handle any combination of 7 inch lens attached to the same 2-2.75 inch camera body, but the lens hood needs to face inwards.
Just to give you an example of the camera and lens combinations that I've used with this bag, here's a list of the combinations I've used so far:
Sony Alpha7 3 Mirrorless with FE 24-105mm F4 G OSS
Sony Alpha7 3 Mirrorless with FE 24-240mm F3.5-6.3 OSS
Canon EOS 70D with EFS 18-200mm f/3.5-5.6 IS
Canon EOS 70D with EF 70-200mm 1:4 L USM
Canon EOS 7D with EFS 18-200mm f/3.5-5.6 IS
Canon EOS 7D with EF 70-200mm 1:4 L USM
I also measured the bag's weight at 1.10 pounds (though it's officially 540g or 1.19 pounds).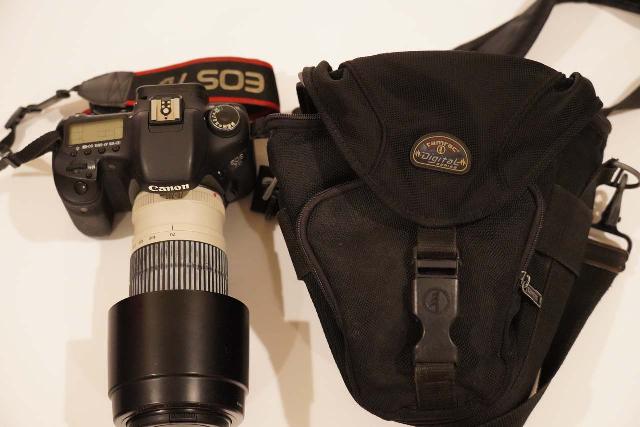 The Tamrac 5627 has a pair of loops in back for attaching belts, a top handle, a pair of side loops, and metal loops for clipping the shoulder/neck strap as well as other kinds of tethers or straps.
The bag also features a flip top lid with both buckle and zipper fasteners along with a internal zipper pocket, and it has a front zipper-fastened pocket with an internal velcro pocket along with two internal memory pockets.
Why Should I Use The Tamrac 5627 Pro Digital Zoom 7 Holster Camera Bag?
The Tamrac 5627 Pro Digital Zoom 7 Holster Camera Bag addresses three critical pain points simultaneously – comfort, workflow, and camera protection.
In my experiences, this is turning out to be quite the rare combination as most commercial offerings I've seen tend to address a subset of these pain points (and often not at the same time).
Comfort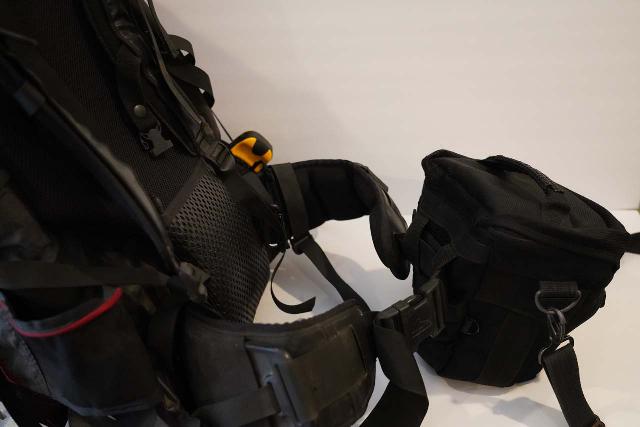 I've found that the back loops of the Tamrac 5627 allows me to redistribute the weight of the camera and lens to the strongest parts of my body – the hips and legs.
If you're familiar with frame packs for backpacking and even for carrying a toddler, you know how important it is to carry weight on those hips and legs instead of the shoulders and back.
Anyways, this weight redistribution relieves my neck and shoulders, especially when I go on long hikes, rugged hikes, off-trail scrambles, overnight backpacking treks, or any combination of these things.
When the bag is not looped through the hip belt of my pack, then its long strap goes across my body and over one shoulder, which is the most natural position of most camera straps and bags.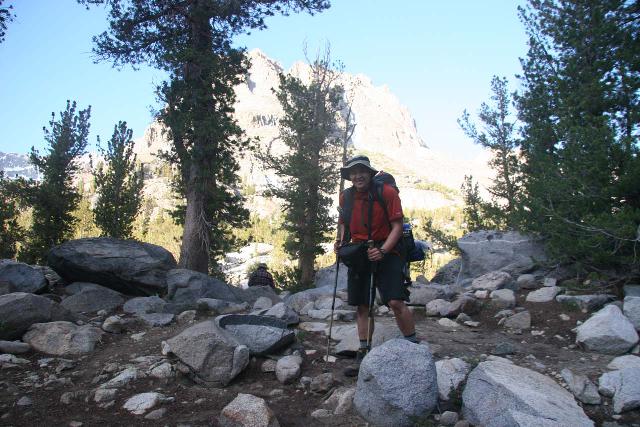 As a result, I've taken this bag on three-day backpacks as well as 16-mile long full day hikes, and this bag's handling of the weight and bulk of my cameras has not caused me any additional discomfort.
Workflow
Because the Tamrac 5627 Pro Digital Zoom 7 is a holster-style bag, it is designed to not be in the way of taking photographs in those rare and unexpected photographable moments that I happen to stumble across in my hikes and in my travels.
Indeed, this bag allowed me to minimize the time it took from intending to take a picture to extracting the camera out of the bag ready to shoot and actually take that picture.
It had the ability to do this thanks to the buckle fastener and flip top lid, where I'd leave the zippers open and only relied on the buckle for fastening the lid.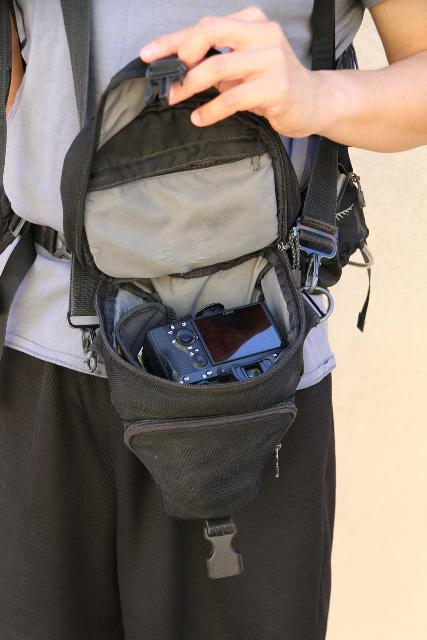 By only having to worry about the buckle fastener, I didn't have to take the extra time to zip and unzip the bag (hoping it doesn't snag), which would cost precious additional seconds to access the camera.
So the buckle gave me the option of the quick access while the zipper allowed me to secure the camera when I knew I wasn't going to use it for a while.
That combination of buckle and zipper is very rare. Yet perhaps it's one of the most important aspects of a camera bag's ability to address the workflow of taking pictures in the field.
The Tamrac 5627 bag's size also let me access the camera and start shooting without needing to mess with the lens. After all, if the bag required that I had to remove the lens to stow both the body and lens, then that kills the workflow.
Protection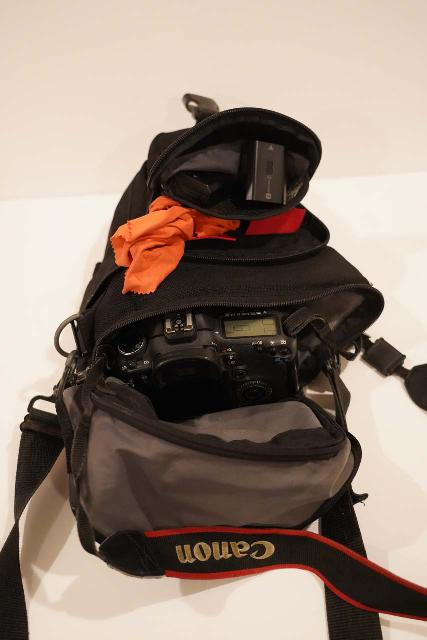 Most of the quick-access camera carrying solutions that I've seen in the market involve leaving the camera mounted nakedly on a strap or harness.
Even without these carrying systems, I've seen (and found myself) just holding the camera in hand or draped around the shoulder and/or neck fully exposed to the elements, blunt trauma, and drops.
So without losing the benefits of weight distribution and workflow, the Tamrac 5627 bag can still protect the camera and lens (along with other things like batteries, memories, wipes, etc.).
The bag has pads lined throughout the main compartment to minimize those moments when the bag might bump into a boulder or cliff wall.
It also has some thick fabric or nylon that is meant to be resistant to light water contact (e.g. light rain or mist) for protection from the elements.
How Do I Properly Wear The Tamrac 5627 Pro Digital Zoom 7 Holster Camera Bag?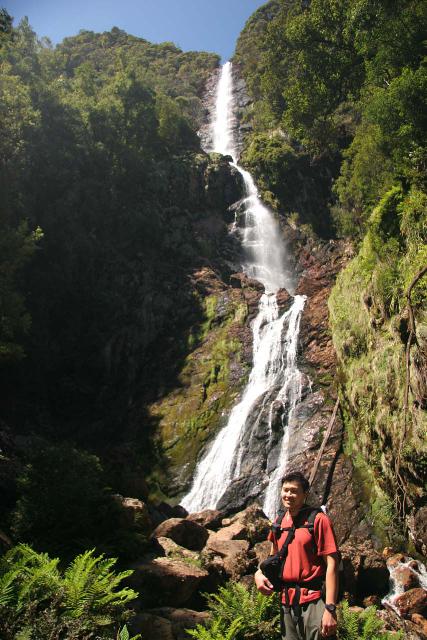 In addition to the steep learning curve of how to properly take pictures with these cameras, I also had to learn how to properly use the Tamrac 5627 Pro Digital Zoom 7 bag.
In fact, I had actually misused it for the first 3-4 years of owning one of these bags.
So it took quite a bit of time before I finally realized the benefits of using this holster-style camera bag that I highlighted above.
Nevertheless, here's the way that I carry my camera and lens using this Tamrac 5627 holster bag on hikes and in my adventure travels while carrying a pack.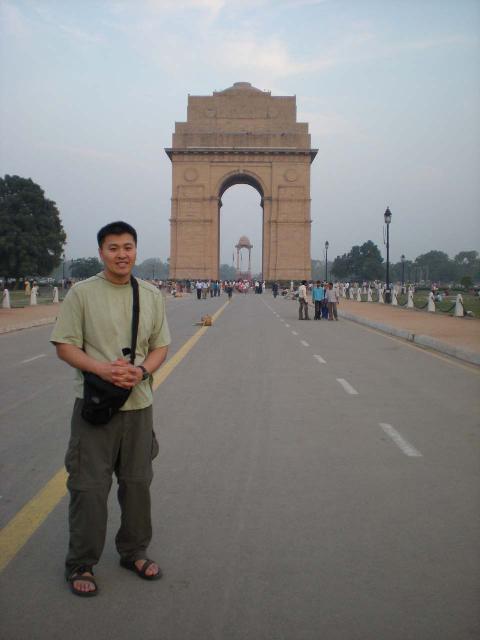 The first thing I do after I put on my pack (regardless of whether it's a day pack or a frame backpack or even a fanny pack) is to sling the Tamrac 5627 across my body.
Thus, the strap would sit over one of my shoulders and the bag would dangle by the waist on the opposite side of the body.
This is the most natural position of sling-style carrying of the camera let alone a camera bag, and it's an option if I carried nothing else but just my camera and this bag.
Next, I would take the hip belt of my pack and loop it through the rear loops of the Tamrac 5627 before buckling the pack's hip belt.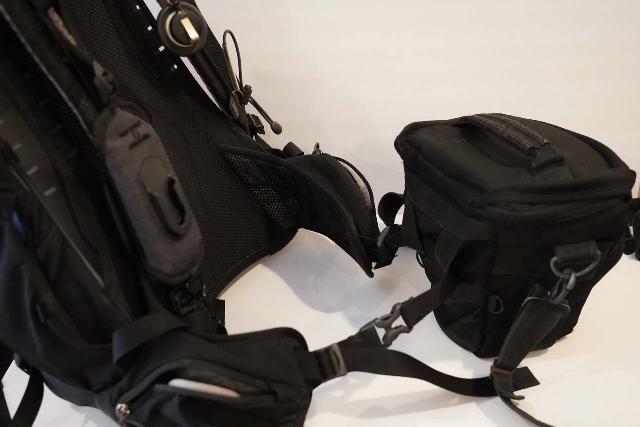 This is the most important step as the hip belt enables the weight of all that it carries (now including the camera thanks to the hip belt attachment) to ride the hips and the legs, which are the strongest parts of the body.
For easy access to the camera, I leave the flip top lid unzipped but I use the buckle to fasten the lip to keep the camera and lens from falling out of the bag.
I'd only use the zipper for that added security and protection if I knew I wasn't going to access the camera for a while.
Admittedly, this technique is kind of a hack since many people opt for the security of the zipper over the buckle.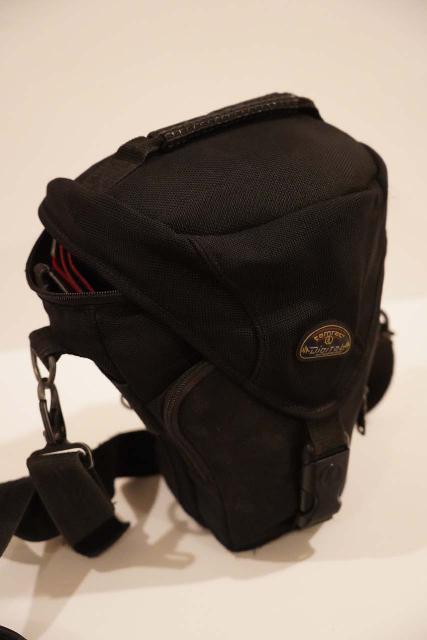 However, more often than not, I employ this hack in the field because not missing photographs is more important to me than overthinking the protection that I am compromising for the quick access.
With this holster bag configuration, I also have other options to further add protection, access, and even carrying an additional camera, but those are beyond the call of duty of the Tamrac 5627 bag.
What Don't I Like About The Tamrac 5627 Pro Digital Zoom 7 Holster Camera Bag?
While I enjoy a lot of the benefits of the Tamrac 5627 Pro Digital Zoom 7 Holster Camera Bag, there are some things that I'm not too thrilled about it.
Durability
First, I've noticed that it's not that durable even though I've been using these bags for the better part of 10-15 years. So allow me to explain this apparent paradox.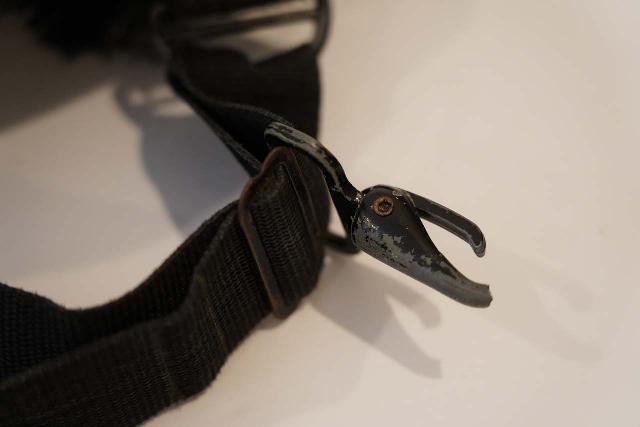 For example, I've had one metal clip break on me barely two years into use.
While the circumstances of its breakage was such that it happened when I tried to get it unstuck out of an airport seat in India, its ease of breakage was not ideal.
Fortunately, I managed to MacGuyver a way to still use the shoulder strap though it was shorter in the absence of the metal clip.
Another example of the bag's fragility involves how easily the flip top buckle can break. In fact, both of my first two Tamrac 5627 camera bags have one missing side of the male end of the buckle.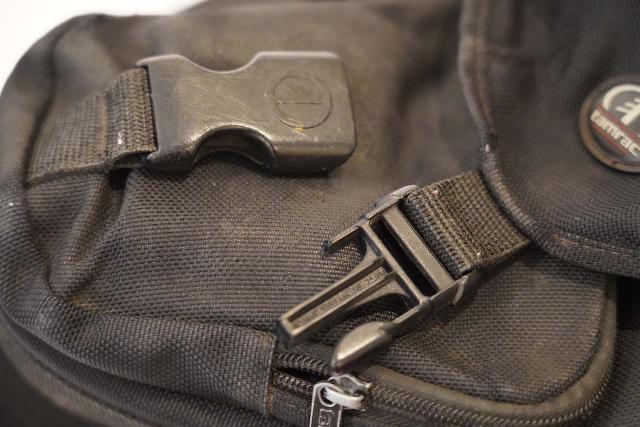 Luckily, the buckle still works even with one side broken, but I'll lose the flip top quick access advantage the moment the remaining side of the buckle breaks.
I've also noticed that the stitchings and fabrics seem to fray pretty easily, but this might be a nit considering how long I've been using each of my Tamrac 5627 bags.
On one of my bags (not necessarily the oldest), the hip belt loop is also worn out completely while holes started to emerge where they're not supposed to on that bag.
Ideally, if the hip belt attachment had a way to combine the velcro with some kind of fastener (like how my lens pouches can mate with hip belts), then this reliance on the material and stitchings would be less critical.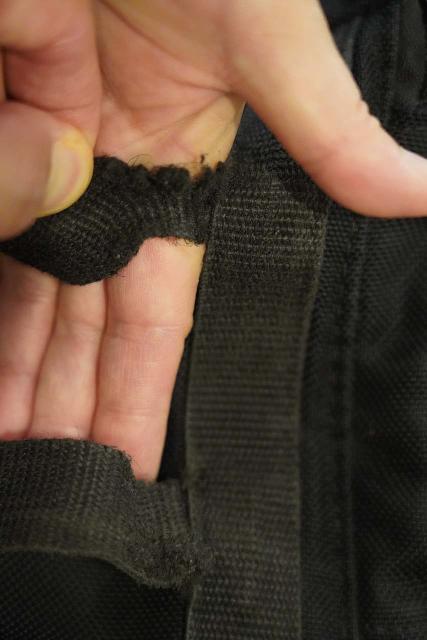 Moreover, such a feature would allow the bag to slide further along the thicker parts of the hip belt instead of only sitting towards the front where the hip belt would be the thinnest.
Not Very Water Resistant
Despite claims that the Tamrac 5627 bag is water resistant, my experiences have demonstrated that this is only true in light rain or mist.
The bag actually gets quite wet in more moderate rainfall, and it would require a rain cover or letting it hide under my rain poncho for true water resistance.
That said, when the bag gets wet, it takes a while for it to dry. So letting the bag get wet is not something I want.
Nevertheless, despite its mediocre water resistance, it's still better than exposing the camera and lens nakedly to the elements so securing it in the camera bag is still better than nothing.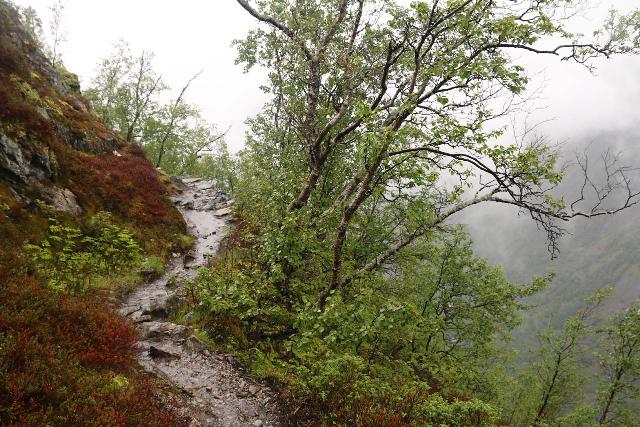 Ideally, if the Tamrac 5627 bag was truly waterproof, then that would make this the ultimate camera bag because then I could finally get past uenxpected water obstacles without worrying about killing the camera through inundation.
As it is, I'd have to supplement my gear by carrying a dry bag to get past such obstacles.
And by doing that, it would also make it next to impossible to access the pro camera and be ready to take pictures on say a water-based excursion or a very wet hike in a river.
That would then call for buying a specialized waterproof cover for the pro camera and lens itself, which might be too bulky to fit inside this camera bag or even to be carrying around in the day pack just in case.
Discontinued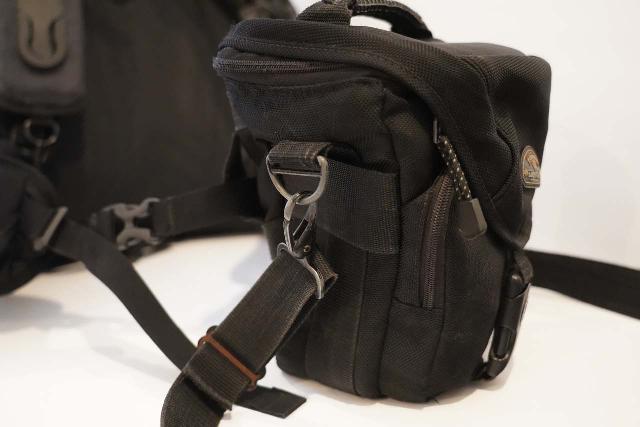 The Tamrac 5627 Pro Digital Zoom 7 Camera Holster Bag is no longer made, and that's a shame because the new designs that I've seen on the market have taken steps backwards from what this bag has done right.
Indeed, the holster bags that have come out since the discontinuation of the Tamrac 5627 tend to be missing the flip top buckle and only reliant on zippers (so you miss the quick camera access).
The later bags also tend to lack the hip belt attachment loop so you lose the weight redistribution to the hips and legs thereby losing out on comfort on long hikes or just carrying the camera for a long time in general.
In fact, I had to resort to buying the Tamrac 5627 on the after market (typically used or sitting in someone's warehouse), but they're increasingly rare as time goes on.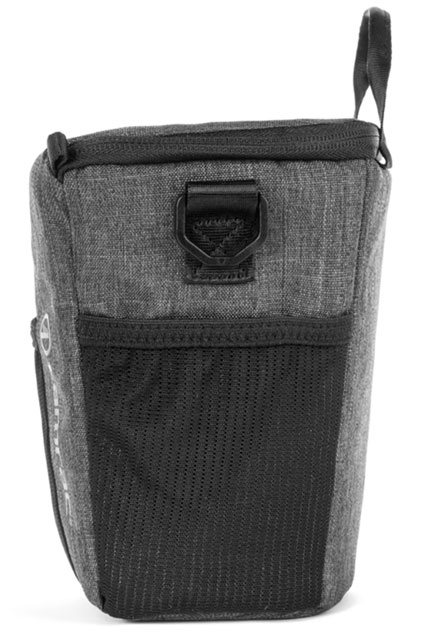 So this puts pressure on me to find a suitable replacement solution while I keep trying to buy myself time by hanging onto my current Tamrac 5627 bags until they eventually fail.
But with the current trends in camera carrying solutions or systems, I'm not holding my breath for a return to useful holster bags like the Tamrac 5627.
Final Thoughts / Conclusion
Despite its flaws, the Tamrac 5627 Pro Digital Zoom 7 is as close to the perfect holster-style camera bag that I've used, and I still can't believe that its design is discontinued or being made obsolete.
I think the discontinuation of this bag has something to do with Tamrac filing for bankruptcy in 2014. The company might have succumbed to the death of point-and-shoot cameras (which they also had lots of bags for in addition to pro camera bag offerings).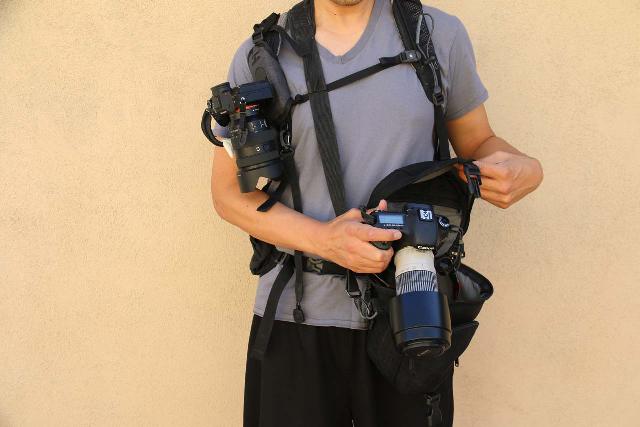 In 2015, Gura Gear bought the company, and then started to pitch their own designs under the Tamrac name.
So it could have been that a great design ultimately fell by the wayside through the noise of a rather messy business environment, especially after the Global Financial Crisis in the late 2008-2009 time period.
I guess that says something about the target markets of vendors, and that perhaps adventure photographers like myself don't fit into the profile of what they would envision making the most money from.
After all, I'm not a pro wedding photographer so I don't need multiple cameras and lenses at the ready most of the time.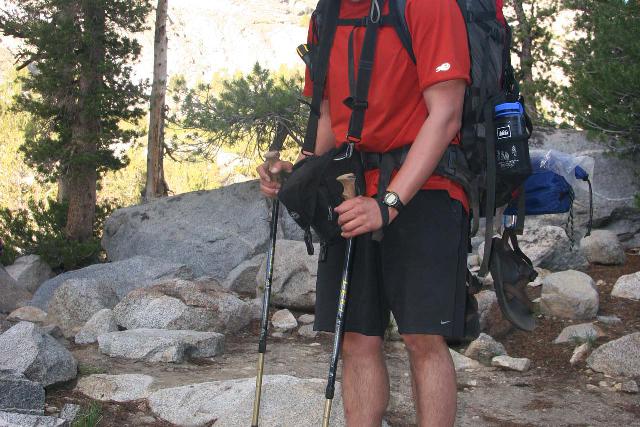 I'm also not a sit-and-wait landscape photographer as I value agility, mobility, and savoring experiences rather than seeking out that perfect shot and spending hours at home doctoring that photo.
I do feel like vendors these days have specific power users in mind who don't mind forking over lots of money on more expensive camera gear. Thus, that would put users like myself into the forgotten or "fringe" market (like falling outside of the 80/20 rule).
Nevertheless, the bottom line is that I still use the Tamrac 5627 Pro Digital Zoom 7 holster bag as much as I can, and I reject the later holster bag models and solutions I've seen so far that take steps backwards from what I'm using.
So I'll keep stubbornly hanging on to my Tamrac 5627s until a suitable replacement comes along, but I'm not holding by breath…
Please note that this is not a sponsored post. However, there are affiliate links that help pay for this site. You can read more about these in our affiliate disclosure in the footer at the bottom of this post. If you have questions or comments, please use the comment box below.
Tamrac 5627 Pro Digital Zoom 7 Holster Style Camera Bag
Pros
Hip Belt Loop for Weight Redistribution
Flip Top Buckle for Fast Camera Access
Fits Pro Camera Body and Attached 5" Lens
Padded
Superior Design
Cons
Not Very Durable
Discontinued Design (not widely available)
Poor Water Resistance
Permanent Belt Loop limits Bag Positioning
Visitor Comments:
Got something you'd like to share or say to keep the conversation going? Feel free to leave a comment below...
No users have replied to the content on this page