This itinerary covered a three-week trip to Thailand as well as a few days in Cambodia.
I've opted to combine this into a single itinerary since it's reasonable to assume that many visitors to Cambodia will only do it as an add-on to a Thailand trip as we had done.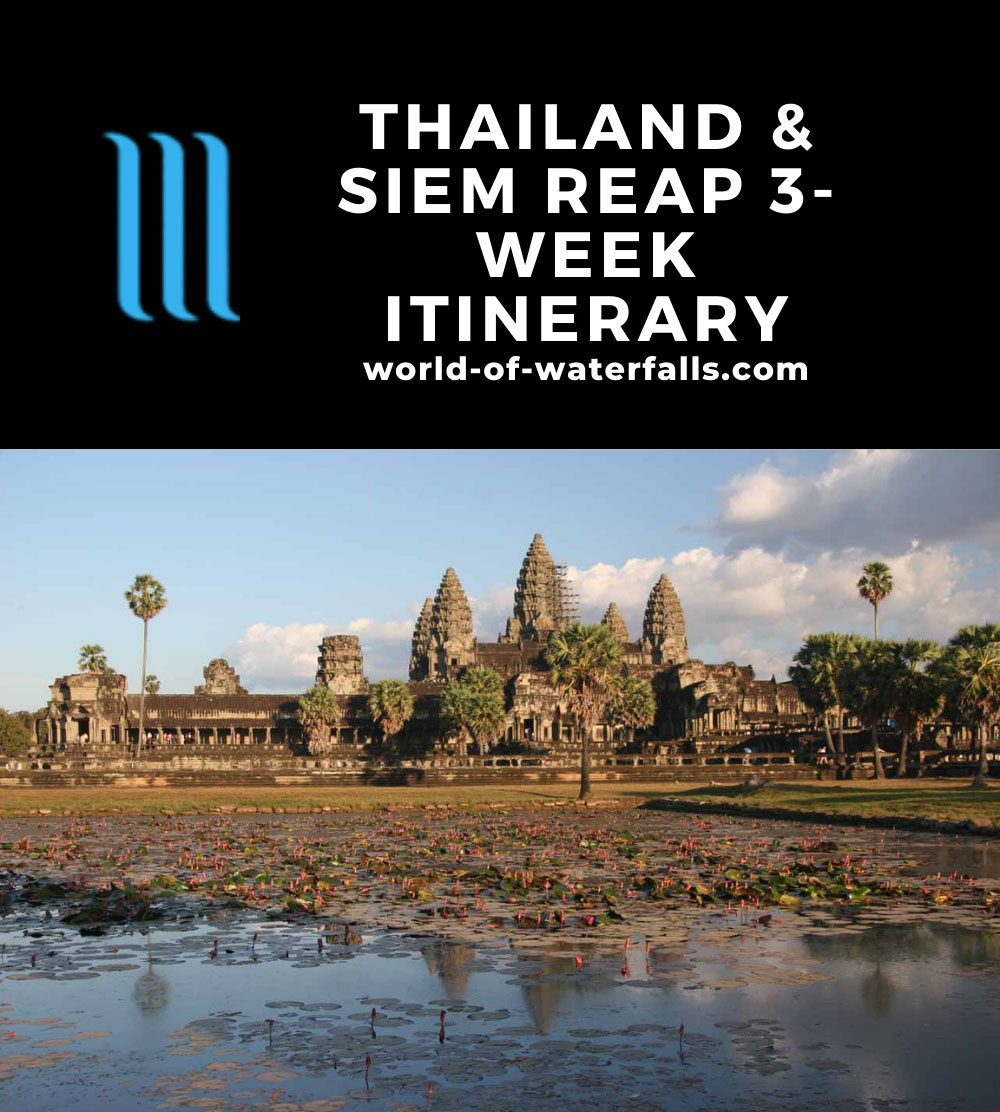 Maybe one of these days, we will do a more dedicated trip to Cambodia to finally see some of its waterfalls.
We timed our visit for the end-of-December to mid-January time frame, which coincided with our holiday season (thereby minimizing on days off work). It also happened to coincide with the Thailand Dry Season for better weather and post-monsoonal waterfall from the prior Wet Season.
Since these were developing countries, we opted to go on a custom escorted tour for the entire time. We acknowledge that this wasn't the cheapest option, but we very rarely attempt to self-drive in developing countries unless we knew for certain that the traffic conditions weren't going to be chaotic to the point of being downright dangerous for the uninitiated. We also bought travel insurance just in case of unforeseen mishaps.
Anyways, here are some highlights and the trip logistics behind the execution of this trip…
Trip Map
This map and its markings were produced by this app.
Trip Highlights

Phuket – This is how most people envision a tropical paradise in Southeast Asia, and indeed some of the offshore islands off the mainland in and around Phuket definitely deliver on that front (except for the crowds). Everything from Ko Phi Phi Islands to the James Bond Islands to the Monkey Island as well as the festive atmosphere of Patong Beach… That along with the sea arches, white sand beaches, great snorkeling, you name it… It's no wonder why this region is as popular as it is.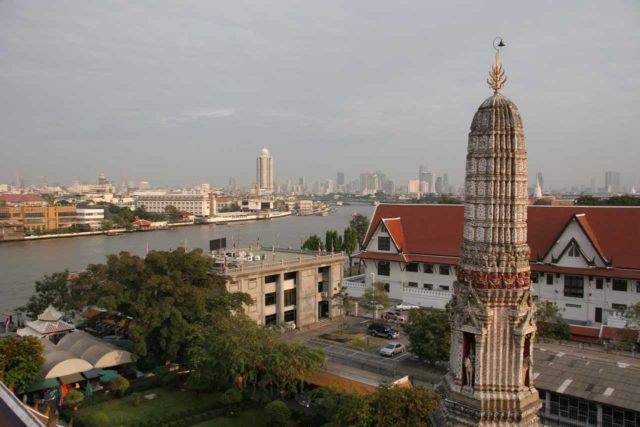 Bangkok – Even though we only had a single night and afternoon of touring here, we made it count with visits to the vertical Wat Arun, the Wat Pho What, and the Khao San Road Night Market. We also visited the Grand Palace to get a sense of how the royalty lived and how they go about governing the country.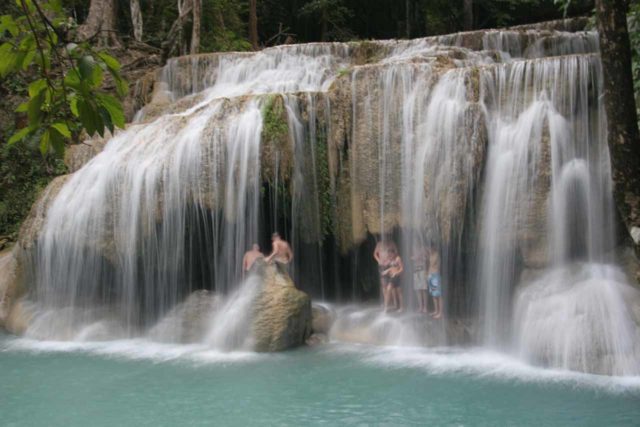 Erawan Waterfalls – This was actually a series of waterfalls where a handful of them were conducive for playing or swimming around. The higher up the stream we went, the more rugged the hike but also the more intriguing and less crowded the waterfalls. Indeed, the waterfall was named after a deity based on an elephant, and apparently the last waterfall was said to have a similar resemblance.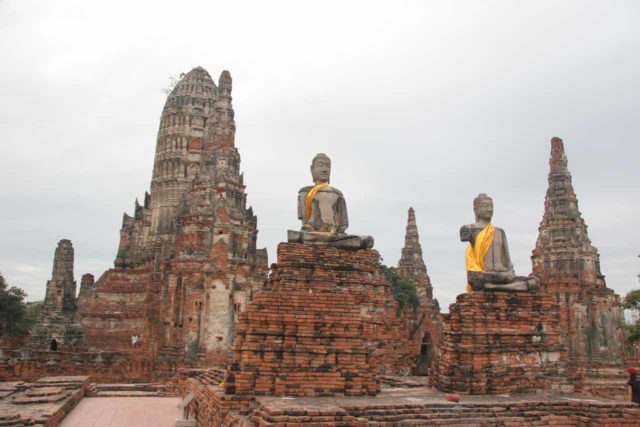 Ayutthaya – The ruins around this city north from Bangkok featured a lot of intact statues as well as towering temples, chedis, and prangs. There was definitely a sense of stepping back in time mostly because this place was the capital of the country dating back to the 14th century.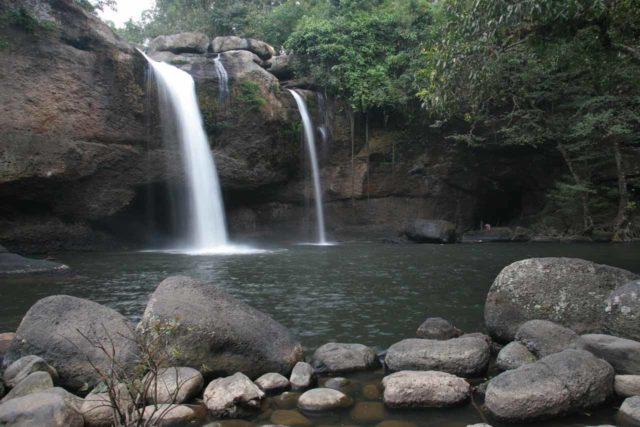 Khao Yai National Park – This was one of the places where we got to see more of a less developed side of Thailand. And while it was holiday season and the park was busy with Thai vacationers, we did get a chance to see waterfalls (e.g. Haew Narok, Haew Suwat, and Haew Sai) as well as wildlife. And it was a refreshing change from all the historical stuff we had seen to this point.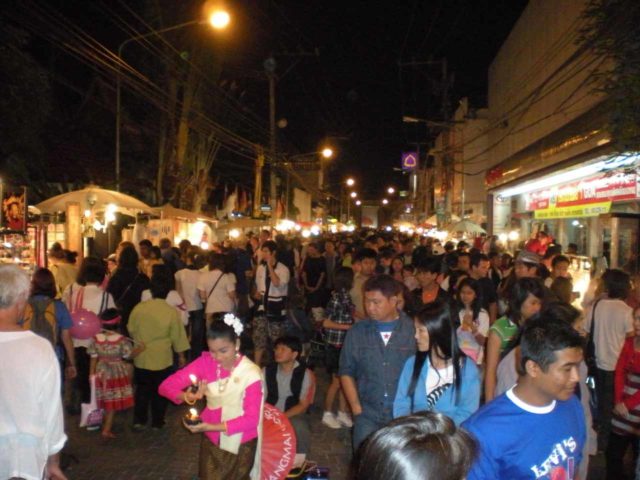 Chiang Mai – Our visit happened to coincide with the holiday season and so when we explored within its scenic city walls, we were treated to night time concerts, lots of Thai street food, a buzzing and atmospheric Sunday Walking Street, and a night time bazaar among others. We were glad to have spent as many evenings as we did here so we could take it all in.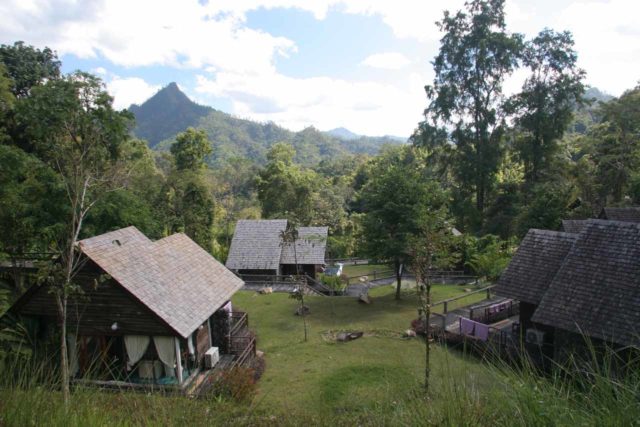 Pong Dueat – During our tour going north of Chiang Mai, we checked out this thermal area allowing us to relax with other Thai visitors a bit. We also got to check out other boiling pools and geysers. It was definitely a side of the country we didn't get to see elsewhere, and that made this excursion all the more memorable.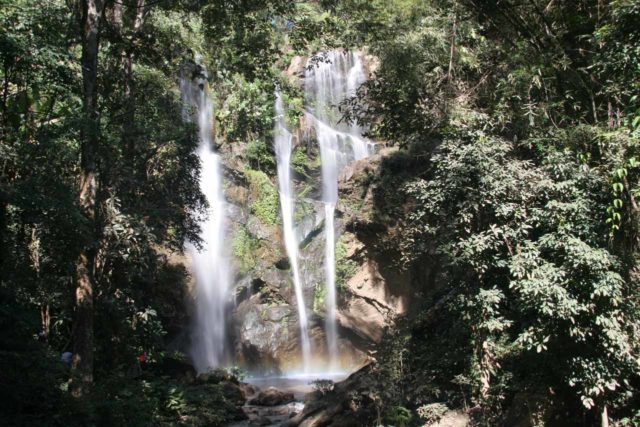 Mork Fa Waterfall – Further to the east of the Pong Dueat Thermal Area was this impressive waterfall that was tall and seemingly quite popular with Thai visitors. It also featured an intermediate waterfall called Ob Noi Waterfall. And our visit was well-timed with a rainbow as you can see in this photo.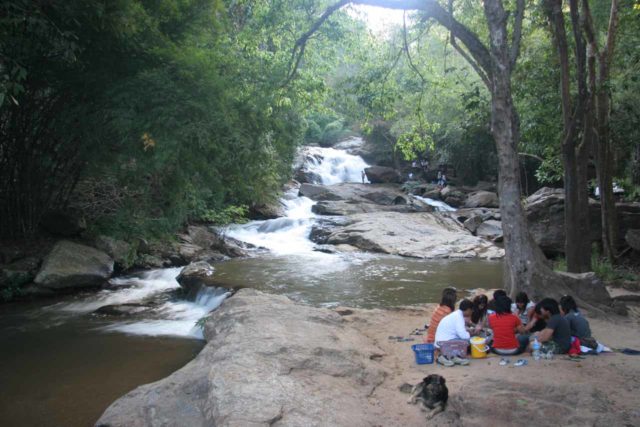 Mae Sa Waterfall – While there wasn't a standout waterfall that made us go wow, this series of about ten waterfalls was a very popular place to relax, go on a walk, and soak in the festive ambiance as Thai friends and families were out enjoying a picnic or swim.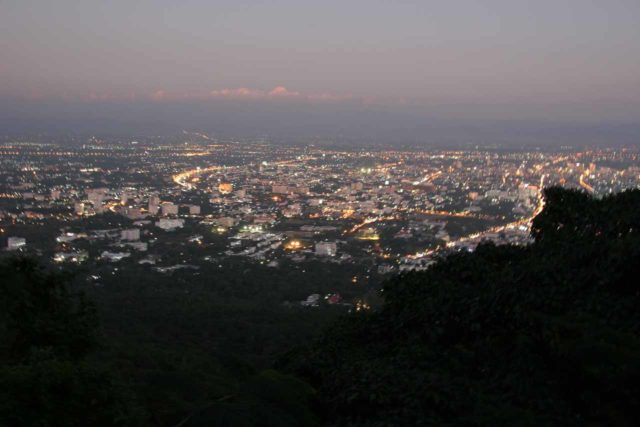 Doi Suthep – This mountain with a temple at its summit was atmospheric with Thais in prayer around burning incense sticks and golden chedis and statues. There was also a nice panoramic view over Chiang Mai from here, which was especially scenic towards sunset.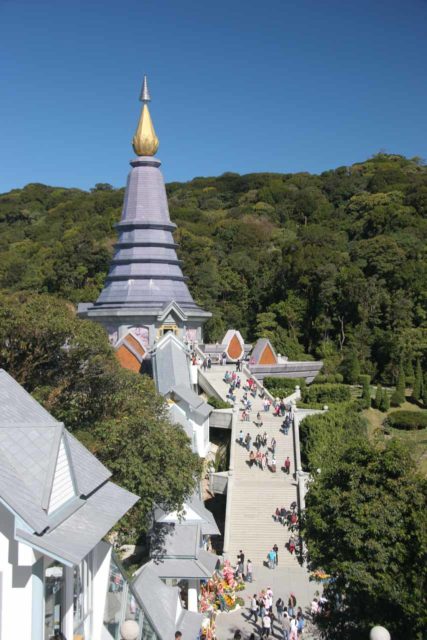 Doi Inthanon – This was said to be Thailand's highest point, where there were two chedis (a silver one and a brown one) where many Thais came to for prayer or reflection. There was also the Ang-ka nature trail showing the source of the rivers as well as an unusual temperate forest where so much of the rest of the country featured more tropical climates.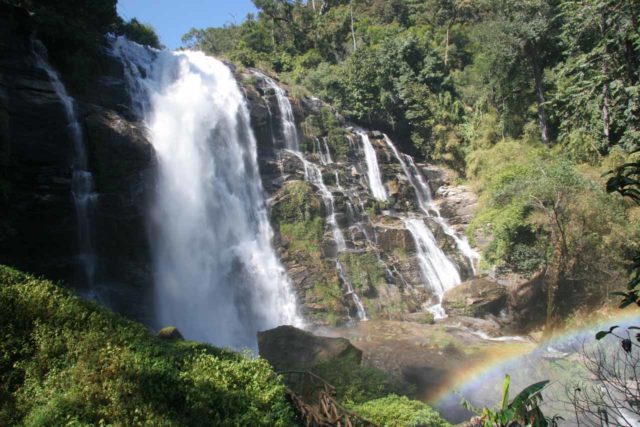 Wachirathan Waterfall – Of the three waterfalls we visited on the way up to the summit of Doi Inthanon, this was perhaps the most accessible as it had a healthy flow, a short (but muddy) trail, and a nice rainbow at its misty base.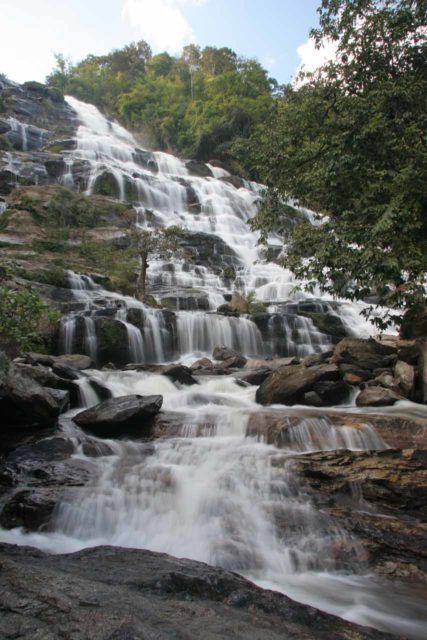 Mae Ya Waterfall – This was definitely the most impressive of the waterfalls we visited in and around Doi Inthanon National Park as it was a giant fan-shaped waterfall with a graceful cascading characteristic that also made it very photo friendly. I know it was our tour guide's favorite waterfall in the country though he happens to live nearby (so I'm sure there's a little regional bias there). Nonetheless, this was also one of our favorites that we saw on this trip.

Wat Phra That Lampang Luang – This extensive temple complex was also very busy during our visit. And in addition to more Buddha statues, pointy buildings, and chedis, we also saw a camera obscura as well as a fun little instrument demo, where Julie got to try her hand at playing a violin-like instrument.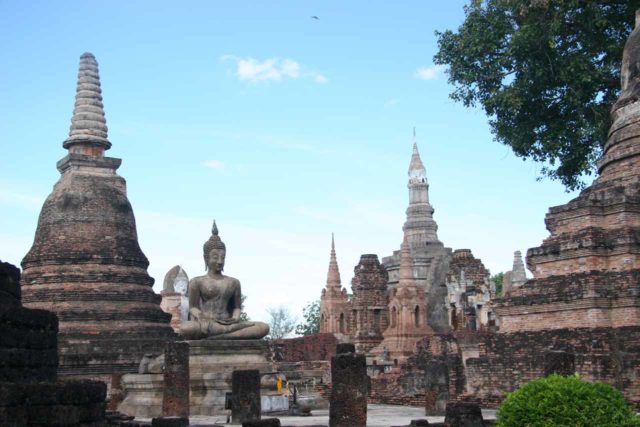 Sukhothai – The historical park was the centerpiece and main draw of the Sukhothai area. The park was so extensive that we actually did a bicycle self-guided tour to cover as much real-estate and sites as we could in a single day. In addition to big chedis, statues, and prangs, there was a big sitting Buddha statue as well.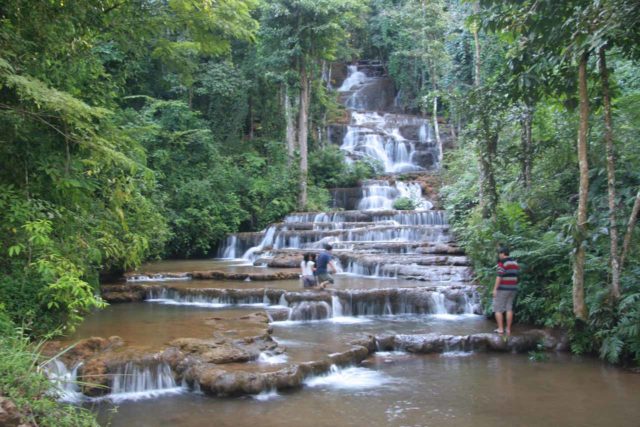 Pha Charoen Waterfall and Thararak Waterfall – It was a bit of a drive to get from Mae Sot to Umphang via the Death Highway, but perhaps the highlights of this drive included these waterfalls, which helped to break up the winding and long route. The Death Highway also featured Burmese refugee camps as well as some panoramas.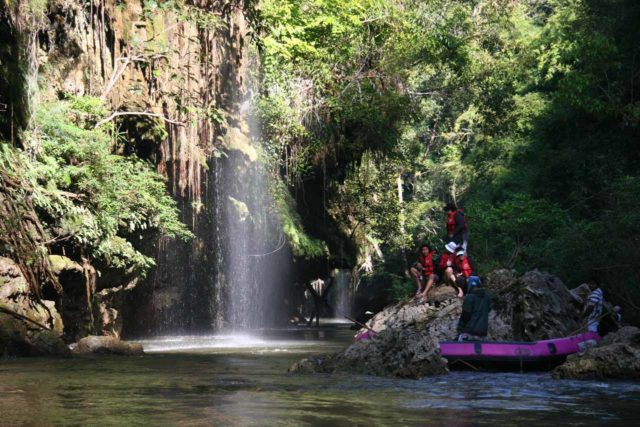 Umphang Wildlife Sanctuary – We took a bit of a scenic route deep into this reserve where the scenery was almost pristine plus we even got to paddle by the Thi Lor Jor Waterfall. Another one of the stops along the way also included a thermal pool.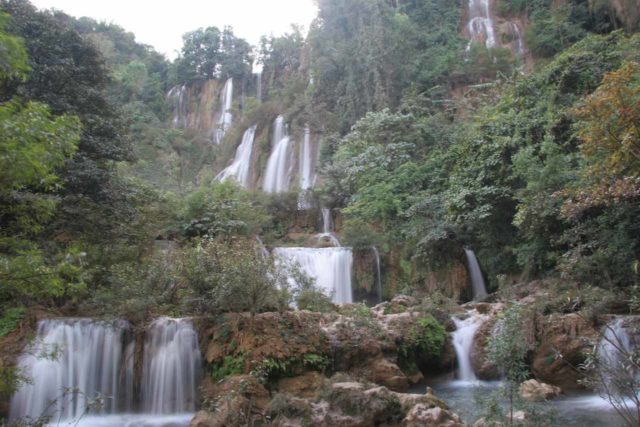 Thi Lo Su Waterfall – This was quite possibly Thailand's largest waterfall. Falling several tiers over several segments, it had a bit of a unique broken characteristic about it, which made it tricky to photograph but easy to enjoy. It was also very popular with Thais as our visit coincided with thousands of Thai vacationers who were camping here as well as enjoying the waters around some of the plunge pools for the individual waterfalls. Indeed, the popularity belied how much effort it took to get here.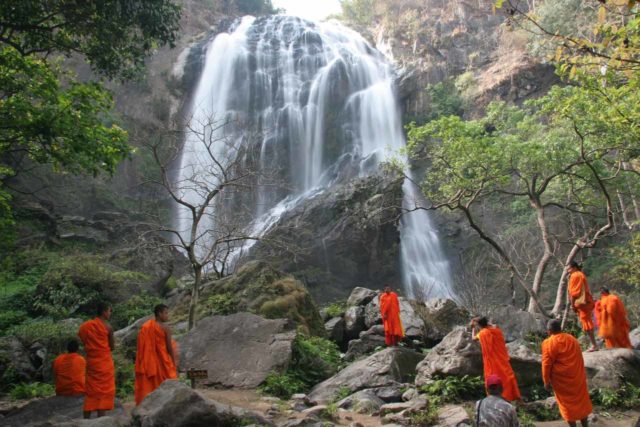 Khlong Lan Waterfall – This was the last of the Thailand Waterfalls that we checked out on our three week guided tour of the country. And indeed, this one was a big one. It seemed like it was off the beaten path because we felt like we were one of maybe two foreign tourists here (though I wondered if that other guy was an ex-pat as opposed to a typical tourist). In any case, the quiet feel of the park along with the beautiful Nature made this a great way to end off our Thai waterfalling.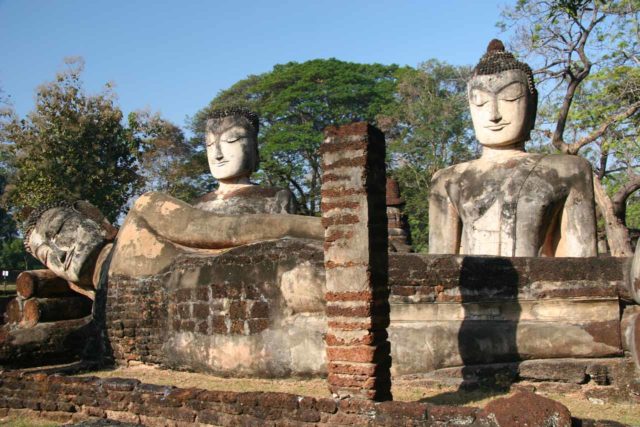 Kamphaeng Phet – This was the last of the historical parks we visited in Thailand, and this one probably felt the most off-the-beaten track. Indeed, many of the statues took on a faceless characteristic kind of reminding me of something out of Close Encounters of the Third Kind. There were also temples lined with figurines that are half weathered and half covered in ivy. Then, there was the strange ritual of people leaving severed pig heads as offerings (and there were dozens of them).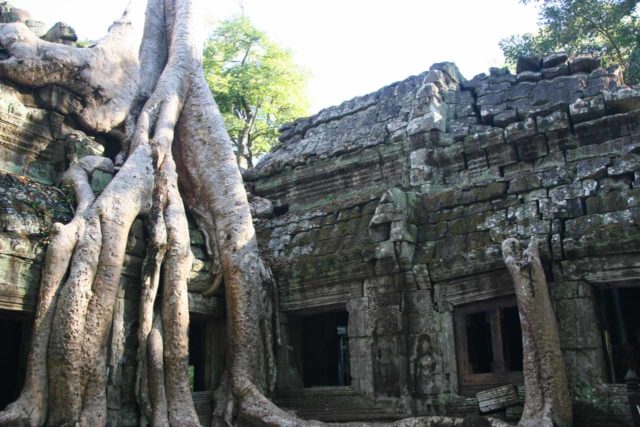 Ta Prohm – If there are ruins that evoke the Lara Croft Tomb Raider scenes, this is it as I believe this was one of the filming locations. Indeed, what made these ruins so captivating were the trees growing on or through some of the ancient Khmer ruins. It was almost as if the jungle was trying to take back this area.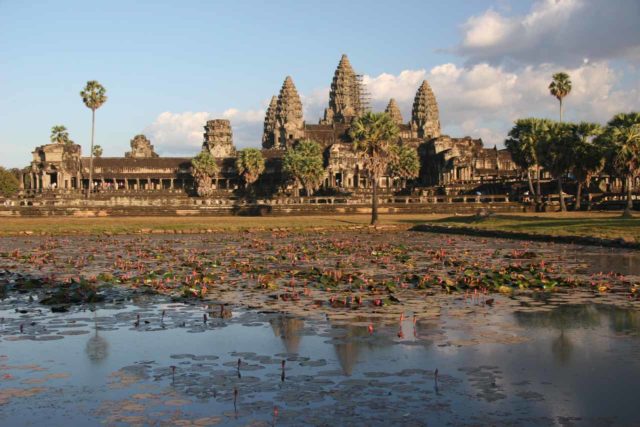 Angkor Wat – No trip to Cambodia would be complete without a visit to this signature Khmer landmark seeped in history and yet captivating to people around the world who descend upon this place to see it for themselves. Our visit took place in the late afternoon, which was atmospheric in that we watched the skies changing color against the stone ruins. Perhaps the one thing we could have done differently was to stand atop a hill and watch the sunset over the ruins.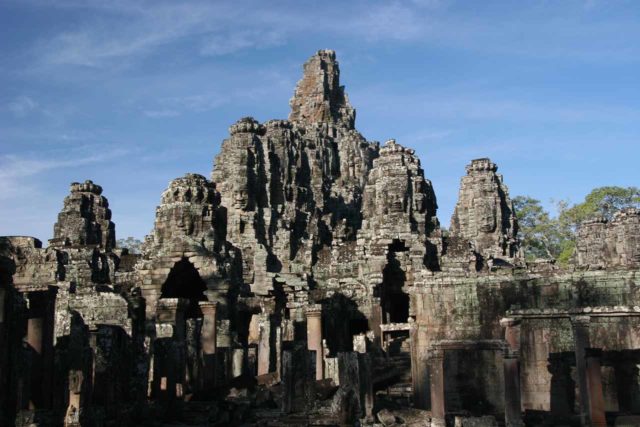 Angkor Thom – While the vast majority of tourist traffic goes to Angkor Wat, this series of ruins seemed to be even more extensive and historical in its own right. Everything from the atmospheric bridge leading to its entrance (with statue heads on the bridge railings) to the prangs upon prangs seemingly piling atop each other to make us feel insignificant standing next to them, it really felt like we were in the midst of an important historical place that gave it a certain mystical air about it.
Travel Itinerary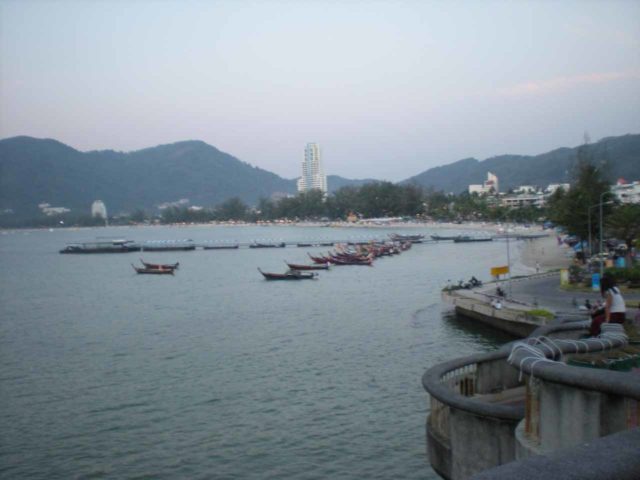 Days 1-3: International flight from Los Angeles to Hong Kong, then regional flight to Phuket
This was a red-eye travel night, which also crossed the international date line (so it took three calendar days). When we landed, we took a regional flight to Phuket. By the time we made it to our accommodation, we had the evening to check out the festive Patong Beach Town.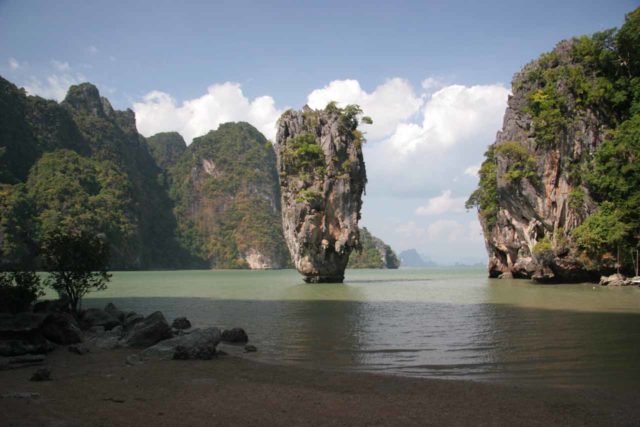 Day 4: Offshore Day Trip Around Phuket
On this day, we did the Phang Nga Bay Boat Tour, which featured beaches, karst arches, caves, and James Bond Island. In the evening, we strolled about Patong Beach Town.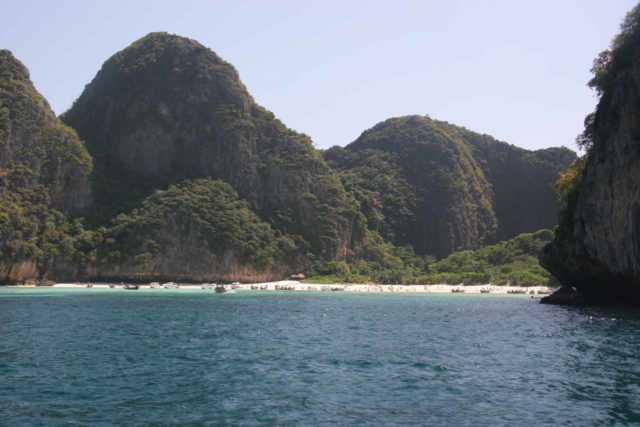 Day 5: Offshore Day Trip Around Phuket
On this day, we did the Ko Phi Phi Boat Tour, which featured snorkeling, Ko Phi Phi Don Island, Monkey Island, Maya Beach on Ko Phi Phi Lei Island, and Rang Yai Island.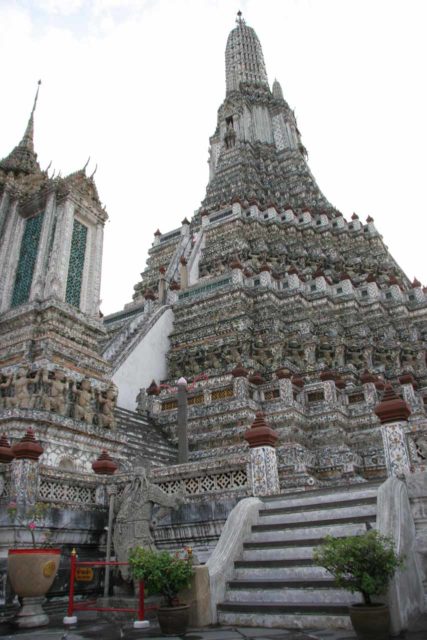 Day 6: Fly from Phuket to Bangkok
After flying to Bangkok, we had the late afternoon and evening to visit the Wat Arun, Wat Pho What (Giant Reclining Buddha), and the Khao San Road Night Market.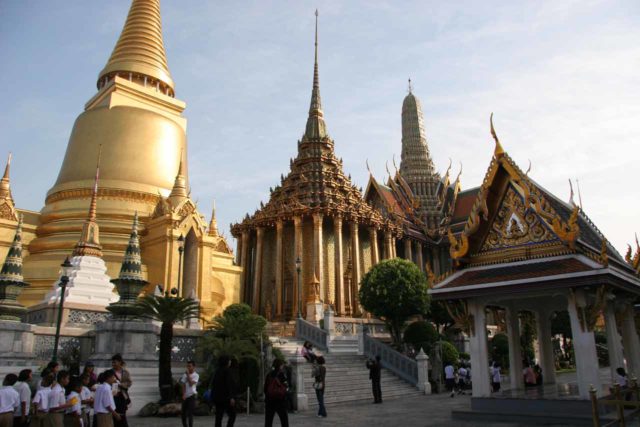 Day 7: Transport from Bangkok to Kanchanaburi
We met up with our tour guide and driver, who then took us to the Grand Palace in Bangkok. Then, they took us out of the city and headed west to the Erawan Waterfalls. Ultimately, we spent the night at the River Kwai in a large series of house boats or "jungle rafts".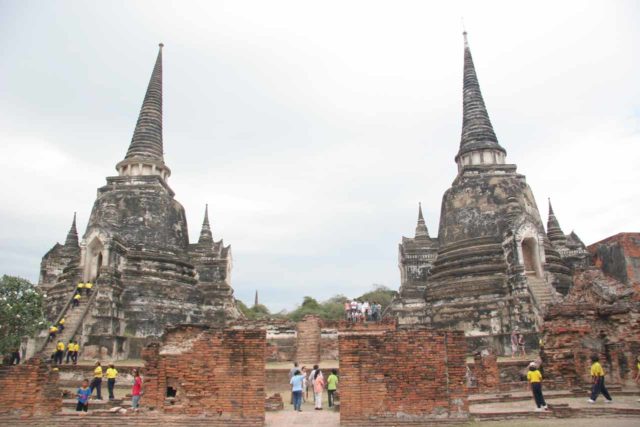 Day 8: Transport from Kanchanaburi to Ayutthaya
After breakfast, we checked out of the River Kwai then were transported to Ayutthaya, where we visited the Wat Chai Wat Tanaram, Wat Phra Si Sanphet, and Wat Yai Chai Mongkhon.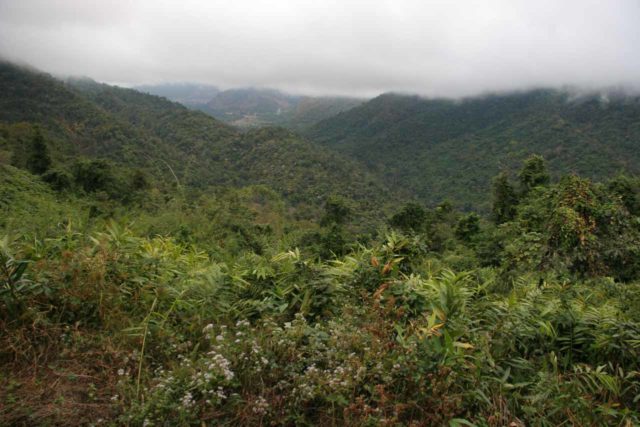 Overnight: Juldis Khao Yai Resort (Khao Yai National Park, Thailand)
We were transported into Khao Yai National Park where we visited the Kong Kaeo Waterfall (not much of a waterfall), the Haew Narok Waterfall, and the Haew Suwat Waterfall.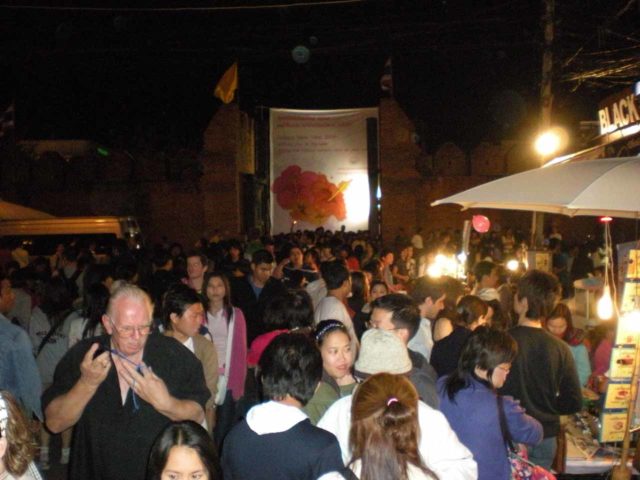 Day 10: Transport from Khao Yai National Park to Bangkok, then fly to Chiang Mai
Overnight: De Naga Hotel (Chiang Mai, Thailand)
We spent the early morning visiting the Haew Sai Waterfall, then we returned to Bangkok Airport. At that point, we caught a regional flight to Chiang Mai, where we then had the evening to explore the city center, especially the Chiang Mai Sunday Walking Street.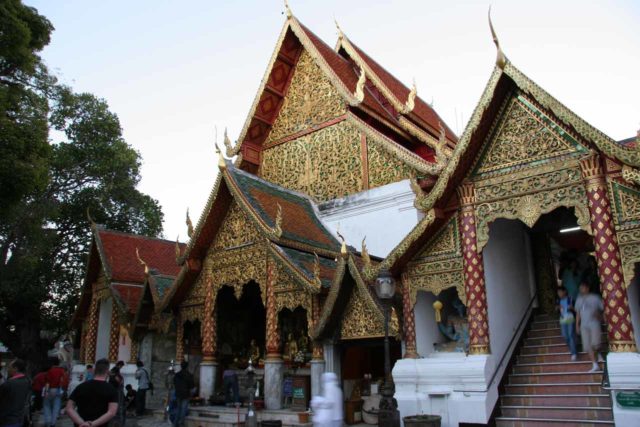 Day 11: Day Trip to the north of Chiang Mai
Overnight: De Naga Hotel (Chiang Mai, Thailand)
We were guided to the Mae Malai Market, then the Mork Fah Village, where we visited the Mork Fa Waterfall. Afterwards, we went to the Pong Dueat Geyser.
On the way back to Chiang Mai, we visited the Mae Sa Waterfall before ending the guided touring at Doi Suthep. We ended the day on our own visiting the Chiang Mai Night Bazaar.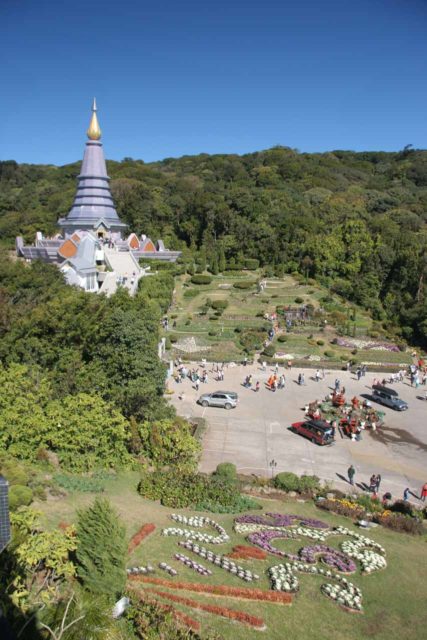 Day 12: Day Trip to Doi Inthanon National Park
Overnight: De Naga Hotel (Chiang Mai, Thailand)
We pretty much spent the day at Doi Inthanon (said to be the highest mountain in Thailand). On the way to the summit, we visited the Ang-ka Nature Trail as well as the Two Chedis there. We also saw three waterfalls – Siriphum Waterfall, Wachirathan Waterfall, and Mae Klang Waterfall. At the base of the mountain, we visited the Mae Ya Waterfall.
When the touring was done, we returned to Chiang Mai to go to the Pantip Plaza to replace my non-functioning camera lens. Then, we were on our own in Chiang Mai for the night, where we checked out the night bazaar as well as the New Years Festival.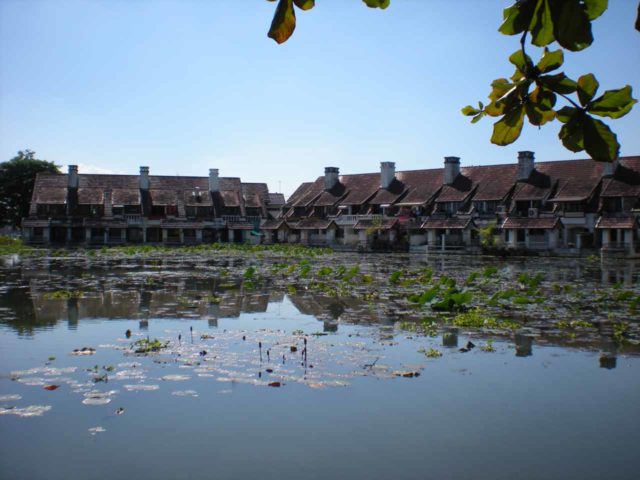 Day 13: Transport from Chiang Mai to Sukhothai
Overnight: Ruean Thai Hotel (Sukhothai, Thailand)
On this transit day, we stopped by the Kad Tung Kwian Local Market as well as the Wat Phra That Lampang Luang. At the end of the day, we spent that time celebrating the New Year at our accommodation in Sukhothai.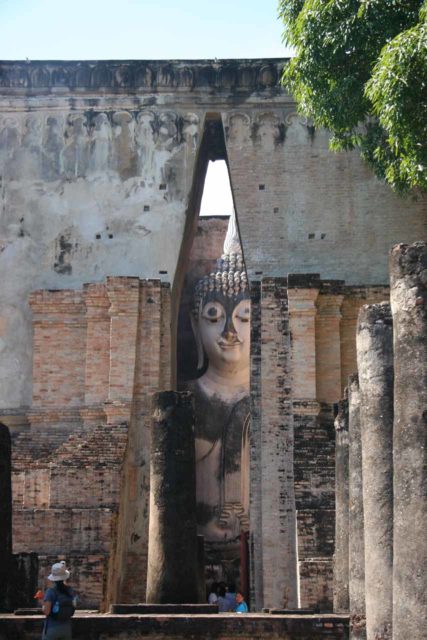 Day 14: Transport from Sukhothai to Mae Sot
We spent the better part of the day doing a bicycle tour of the Sukhothai Historical Park, where we visited sights like the Wat Maharat, Wat Sra Si, and Wat Si Chum. Then, we were taken to the border town of Mae Sot where we checked out the Mae Sot Market.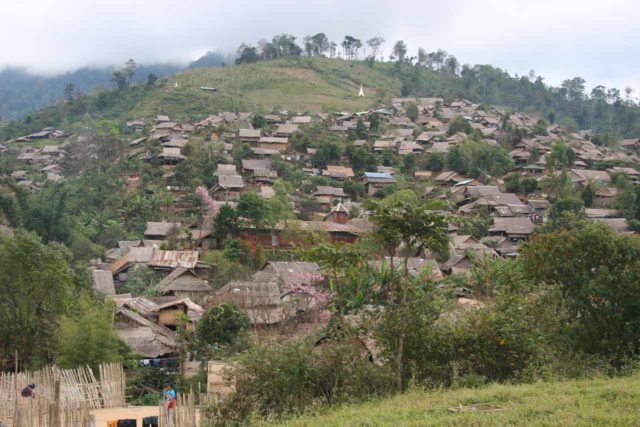 Day 15: Transport from Mae Sot to Umphang
Overnight: Tukasu Cottage (Umphang, Thailand)
We were taken along the so-called Death Highway, where we stopped for the Pha Charoen Waterfall and Thararak Waterfall as well as having lunch at Um Piam. At the end of the day, we settled into our accommodation in Umphang.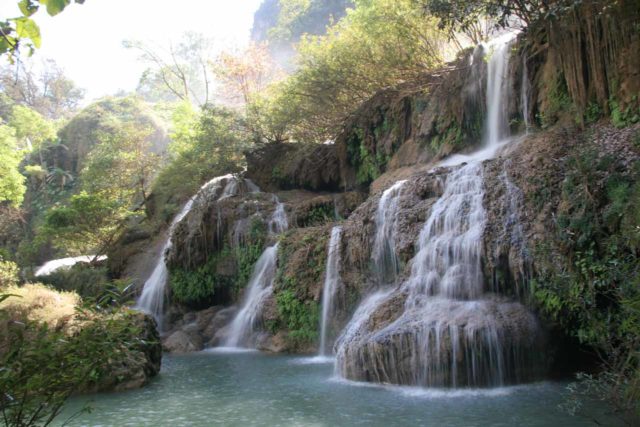 Overnight: Teelorsu Campground (Umphang Wildlife Sanctuary, Thailand)
We spent the better part of the morning doing a river rafting tour that included the Thi Lor Jor Waterfall. After that, we were then transported by local songthaew to the very busy Thi Lo Su Waterfall. We then spent the night at the campground in a tent.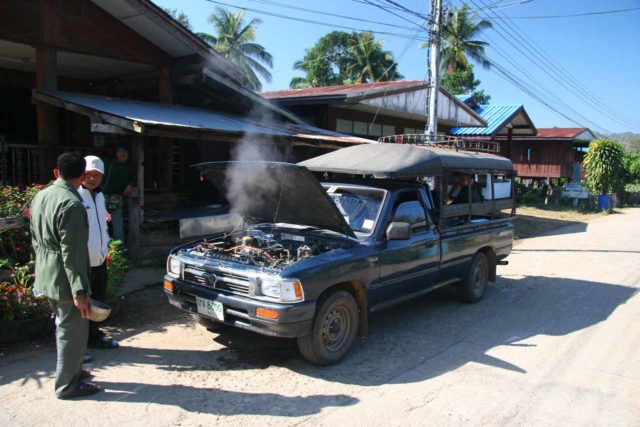 Day 17: Transport from Umphang Wildlife Sanctuary to Mae Sot
This was basically a long travel day. We did stomach a bit of a delay due to the songthaew we were on being overheated.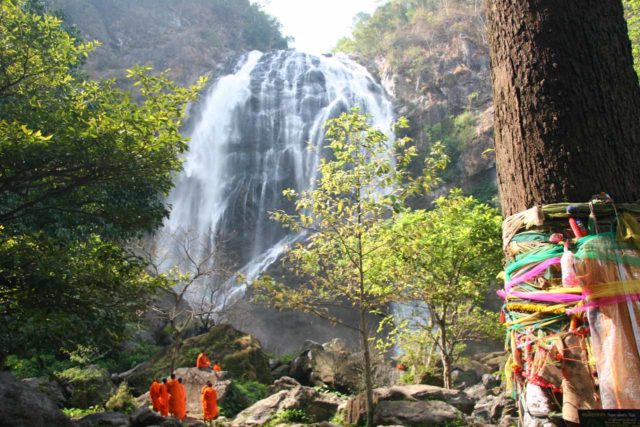 Day 18: Transport from Mae Sot to Kamphaeng Phet
On this day, we went into the Khlong Lan National Park to visit the Khlong Lan Waterfall. In the evening, we visited the Kamphaeng Phet Market.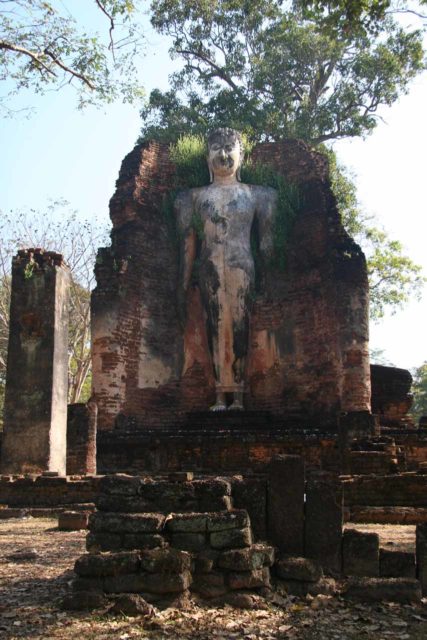 Day 19: Transport from Kamphaeng Phet to Sukhothai Airport, then fly to Bangkok
We started the day with a visit to the Kamphaeng Phet Historical Park, where we saw the Wat Phra Kaew, Wat Phra That, Wat Phra Non, Wat Phra Si Iriyabot, Wat Sing, and Wat Chang Rop. Afterwards, we were taken to the Sukhothai Airport for a regional flight back to Bangkok. Then, we spent our final night in Thailand at this "resort" which was anything but.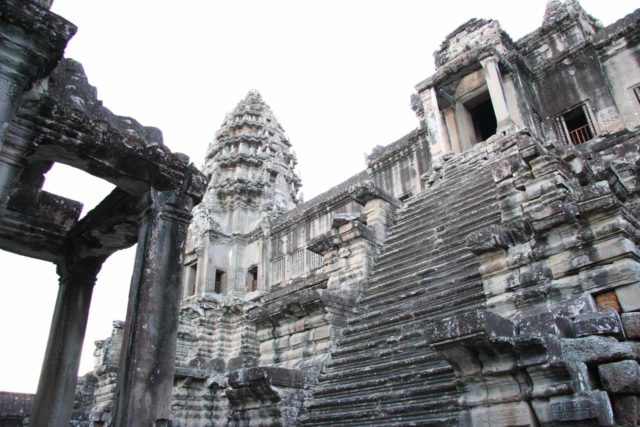 Day 20: Fly from Bangkok to Siem Reap
We caught a reasonably early flight, and when we landed, we met up with our tour guide and driver for the next couple of days. They took us to the "World's Largest Swimming Pool", then they took us to the popular ruins of Ta Prohm and Angkor Wat. At the end of the day, we got to explore the Siem Reap Noon Night Market.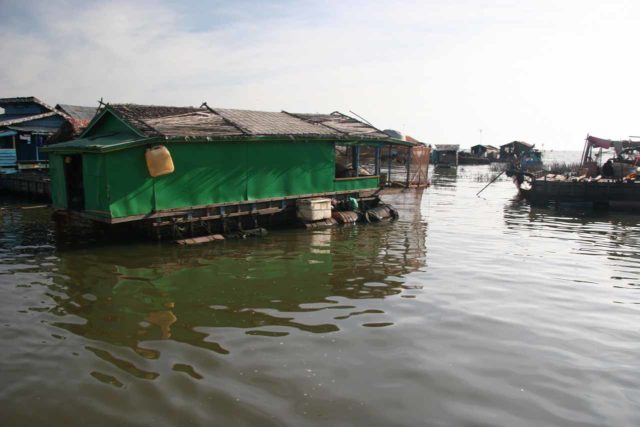 Day 21: Day Trip to the Floating Village and back
On this day, we started off by visiting the ruins of Angkor Thom. Then, we were driven to the Siem Reap French Quarter before going to the Floating Village for a brief boat tour before heading back to Siem Reap. In hindsight (actually I complained about our itinerary for this part when it happened) that we really should have substituted the Floating Village for the waterfall that was apparently not far from Siem Reap.
Day 22: Fly from Siem Reap to Bangkok, then fly home.
This was basically a long travel day (and night as we took a red-eye flight home).
Related Trip Reports
Waterfalls included in this itinerary
Visitor Comments:
Got something you'd like to share or say to keep the conversation going? Feel free to leave a comment below...
No users have replied to the content on this page