It's April 21st
and everybody knows today is Earth Day,
Merry Christmas,
Happy Birthday to whoever's being born.
And now I'm trying hard
to think of something meaningful and worthy,
kind of earthy,
to make everybody ask themselves just…
What are we doing here?
And what are we doing to Her?
I don't know…
What are we gonna do?
These lyrics are from the song "What Are We Gonna Do?" from Dramarama back when I was in high school.
It was perhaps the first rock song I had ever heard that addressed the environment in a way that somehow affected me as a young and naive adolescent (even though Simon & Garfunkel and many other eco-friendly artists came before them).
However, with waterfalls being a re-discovered lifelong passion of mine and having learned much about nature and life in the modern world through waterfalling, I look back at that Dramarama song with a newfound appreciation of its message.
So it's apparent that nature on planet earth is getting trashed by our own way of life and associated creature comforts. But since waterfalls are an aspect of nature, what does this mean for waterfall lovers like myself as well as the future of waterfalls?
This article attempts to look at how the very things that contribute to Global Warming and Climate Change are affecting waterfalls and the quality of waterfall travel.
To the dismay of waterfall lovers, the future looks bleak because most of the world's drainages are drying up or have been destroyed. Major contributors to this disturbing trend are the changing rainfall patterns, soil erosion and deforestation, and the unnatural alteration of watercourses.
Evidence of the changing rainfall patterns worldwide are numerous.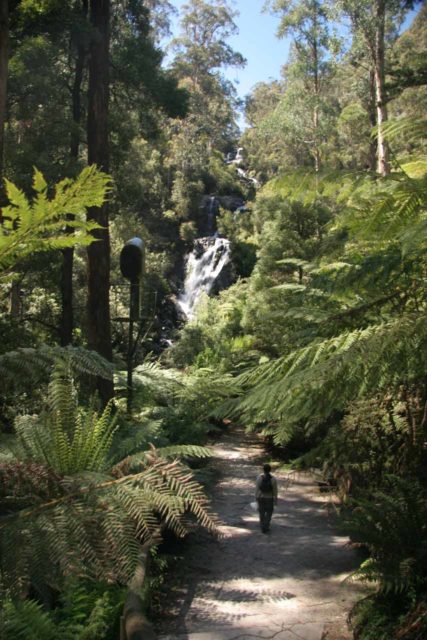 In Australia, prolonged drought (as long as a decade in some regions) throughout the majority of the country has resulted in increased occurrences of bushfires, the endangerment of the Murray-Darling River basin, strict water restrictions (recently, a level 5 water restriction was placed in regions of Queensland such as the metropolitan city of Brisbane), and of course the drying of waterfalls (especially in much of Victoria, Queensland, New South Wales, and Tasmania).
In Eastern Africa, the climate change has already resulted in mass starvations and regional conflicts over the dwindling resources necessary for survival. Mt Kilamanjaro's ice fields and snow caps are in danger of disappearing within the next decade, which will put pressure on the volume of major river systems like the Nile. Even Cape Town, South Africa was in danger of a cutoff date due to severe drought that meant the spigots would not turn on in the city.
Anecdotally, the majority of locals have said that they could remember when rivers and streams were flowing when they were kids. However, most of those rivers are no longer flowing today. From a tourism and waterfalling standpoint, even the mighty Victoria Falls could fall victim to the desertification of its sourcing drainage areas.
There are also localized effects such as soil erosion and deforestation that adversely affect waterfalls. Driven by economic gains, regions that were once covered in forests which in turn supported their own ecosystems and microclimates have disappeared in favor of monocultural farming and real-estate overdevelopment.
As a result, watercourses have become temporary and unable to support fresh water habitats and surrounding ecosystems because water-rententive vegetation could no longer keep the streams flowing while maintaining the balance of the microclimate (which would've resulted in more reliable rainfall in the region). This in turn diminishes the bio-diversity of such regions thereby causing a vicious feedback cycle of accelerated climate and ecosystem dysfunction.
Therefore, the organisms, who have relied on the functionality of these ecosystems played roles in keeping the balance during the course of their survival, would also disappear. Consequently, they could no longer contribute to the functioning of the ecosystem.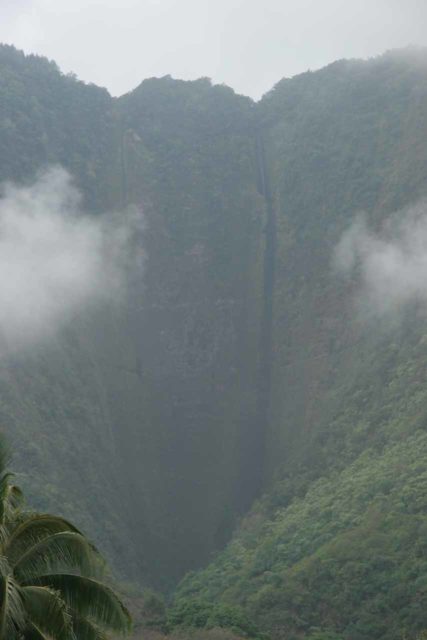 In Hawai'i, deforestation, water diversion (to feed thirsty crops while also providing for an ever growing population), overdevelopment (e.g. new resorts and homes), and the introduction of pests (e.g. wild boar, mongoose, rats, mountain goats, bamboo, etc.) have radically diminished the native forests and consequently compromised the fresh water systems in the drainages that have relied on the islands' windward rains.
The majority of its waterfalls have now become ephemeral or nonexistent – such as Hi'ilawe Falls, Kaluahine Falls, and nearly all the waterfalls in O'ahu.
On Maui, the once famed waterfalls of the Road to Hana have been reduced to a feast or famine cycle of ephemeral waterfalls in flood quickly followed by no water just a few days later. This is a direct result of East Maui Irrigation's ditches which has affected almost all watercourses on the windward side of Haleakala, which in turn has made all but a few of the streams feeding its waterfalls unreliable.
In addition, the deforestation of South American jungles (especially the Amazon), which are due to developing and industrializing to meet the demands of the global economy are resulting in less reliable rainfall throughout the Amazon basin.
This could have carry-over effects in neighboring ecosystems and microclimates responsible for sourcing water to waterfalls like Angel Falls and Iguassu Falls. And in addition, the vicious cycle of dysfunction from the dying off of organisms that would have helped to keep the delicate natural balance while also relying on the functioning ecosystem would further exacerbate the long term damage.
Furthermore, damming and water diversion have obvious negative impacts to waterfalls. Much of what drives this activity is due to the need for energy (in this case hydroelectricity) and water harvesting for drinking and agriculture.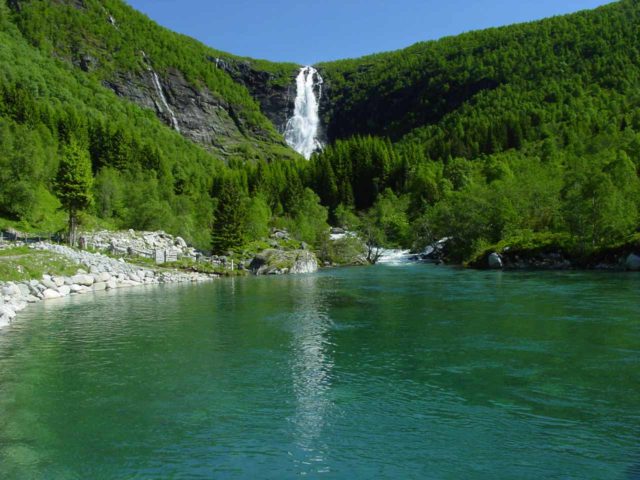 With the unabated increase in human population, the demands for energy and water must rise to sustain the survival of the increased number of people (as well as to sustain profit). Thus, you can expect to see more dams, diversion pipes, hydroelectric plants, and ditches.
In Norway, the majority of its power is generated from hydroelectricity. This has resulted in the sacrificing of many of what were once the world's tallest waterfalls such as Mongefossen, Tyssestrengene, and Ringedalsfossen to name a few. There are also waterfalls under threat of regulation such as Langfoss and Sanddalsfossen among others.
There are however waterfalls that have resulted from time-sharing compromises between tourism and energy harvesting such as Mardalsfossen and Vøringsfossen.
In Iceland, the Kárahnjúkar Dam project submerged at least four major waterfalls. Famously, Bjork's mother protested this move but eventually the aluminum smelter that was being built to harvest the hydroelectricity was complete. This was merely one example where Icelanders were divided about whether hydroelectricity would save struggling rural economies or destroy the fragile ecosystems in some of the last remaining wilderness areas left in Europe.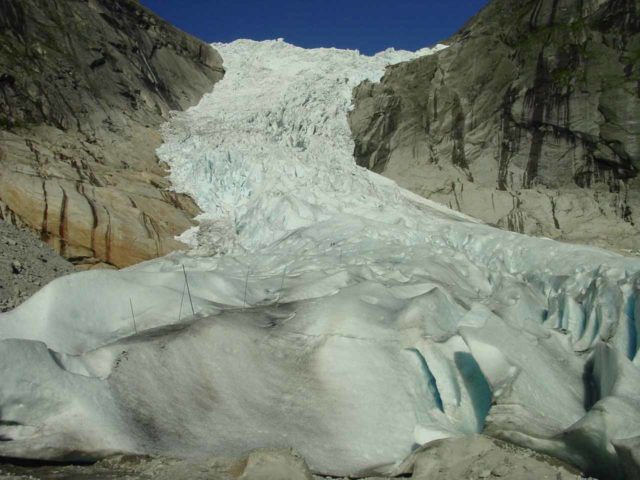 What's mentioned here are all symptomic of perverse economic incentives that compel people to forsake the stability of the future to sustain the stresses of surviving in modern times. Without policies that are reflective of what we value in terms of a sustainable future while providing for the now, this degradation in quality of waterfalls as well as their existence resulting from the overall plundering and disregard of the planet's resources will only worsen over time.
The examples cited above are merely a sampling of what's going in around the world. Even our day-to-day way of life in terms of driving larger cars, owning larger homes, buying products with planned obsolescence, and having too many children, it seems the trajectory of our future is certain.
So whether you care about waterfalls or not (let alone the ecosystems of our planet), it's clear that action is necessary to even have a chance at preventing or at least slowing down the disappearance of nature and thus its waterfalls.
And if the bleak future of this planet is sealed, then we mind as well go out there and enjoy the remaining waterfalls and what's left of nature while they last.
Visitor Comments:
Got something you'd like to share or say to keep the conversation going? Feel free to leave a comment below...
No users have replied to the content on this page