One of the things that I learned when Julie and I turned our waterfalling attention internationally was that travel was all about building bridges between your own perception of the world and the actual experiences in the real world.
And so I realized that one of the best ways to build this bridge was to try to learn the local language as this would help me to keep an open mind and be prepared to expand my horizons as I went.
Besides, I feel that trying to speak the local language (no matter how awkward it might be at first) goes a long way towards being encouraged while also being greeted with kindness as opposed to the opposite reation when you expect or even demand the locals to speak English on their own soil.
In the case of Swahili, I was hoping to give the language a try when we anticipated doing an epic around-the-world trip to both Australia and Africa in 2008.
Most of the two-month trip would take place in Africa so I took it as a real opportunity to better connect with the local people and their culture.
I also wanted to better understand and learn what it was like in the so-called Dark Continent, and I knew that knowing the language was a huge first step in preparing myself for what we were surely going to experience that we knew would be way beyond our home experiences.
When I knew we committed to taking this epic trip, I started my self-learning at around 5 months prior to the trip. Again, I knew it wasn't very much time, but I also knew that if I persisted, then little by little the inner workings of the language as well as an expanded vocabulary would reveal itself.
The point of this page is to familiarize you with the language of Swahili and perhaps motivate you to give the language a go. I know for certain that I'm not fluent in the language and I'll make no effort to even come across as if I am.
Nevertheless, in this page, I'll delve into what I went through to get up to my current understanding of Swahili.
I'll also try to divulge all that I know about the language to at least get you acquainted with it. Hopefully, you'll find this page useful…
The Learning Process
I essentially did my learning of Swahili through a single course that included a series of textbooks and some audio CDs from Teach Yourself. I pretty much went through all of the lessons from start to finish, and all of my Swahili to this point was exclusively through this resource.
I'll go further into a review of this language course in the next section.
As for the process of my learning, I basically used my work commute (typically an hour at a time) to get through both the textbook and the audio CDs. I could listen to the audio CDs in the car, and I could read through the textbook little-by-little on the metro.
This method allowed me to go through the lessons at my own pace without costing me any of my free time outside my normal day-to-day work routines.
In fact, I could argue that doing this during the commute was a far more productive use of this time than say listening to talk radio or whatever else was on the radio.
It was infinitely better than filling up my mind with road rage. I was even able to review or go back through chapters before proceeding onto the next chapter once I was learning while on the train.
Aside from the 2-3 weeks Julie had spent in both Tanzania and Kenya and the 5 days in Uganda (and even then, Swahili is shunned due to the Idi Amin experience), I haven't had much of an opportunity to practice my Swahili in the real world.
Therefore, I'm fully aware that I might have forgotten a large chunk of what I had learned back from our around-the-world trip, and that I'm aware that my knowledge of the language is pretty much limited to book learning.
Reviews Of Learning Resources
The following are some of the resources that I've used to self-learn or self-reinforce what I've learned.
Teach Yourself Swahili
Overall Rating: 3/5
The Teach Yourself Swahili course (I used the version with the close-up of colorful fabrics woven together on the cover) was pretty much my primary means of learning the language prior to our 2008 trip to Africa.
It actually turned out to be a pretty comprehensive course covering varying situations from the standard greetings to being at a hotel or market as well as visiting a game park, and even climbing (and getting sick on) Mt Kilimanjaro and having some belongings stolen.
So from that standpoint, the language course was helpful in contexts where you're likely to use and encounter the language.
The course also went into spending time with family, being invited to someone's place, talking about soccer and dancing, and even writing letters in Swahili. Probably these topics wouldn't be as relevant to a foreigner with an interest in visiting. So there were some lessons that didn't seem as useful either.
In addition to the context, there were some basic vocabulary and grammar encountered in each lesson. Perhaps I had a surprising amount of difficulty in learning Swahili primarily because there were quite a few grammatical aspects to the language that I had to get my head wrapped around.
Not only were there four classes of nouns where they have to agree in adjectives and in number (note Swahili is technically Kiswahili as it's a Ki/Vi class of nouns), but the way verbs work was a bit different as they tended to append pronouns, tense, and reflexive/reciprocal actions as prefixes or suffixes to the verb stem.
The course itself could have given more examples to help solidify the grammar that was described and introduced in the course, but given the leanness of the textbook, I guess some things had to give in order to make this the affordable resource that it was.
So all in all, I was definitely in a position to at least speak with some locals in limited Swahili while we were there. So I have to give this course credit for getting me up to that level of competency.
That said, I really wished there were more examples to help me understand the grammar better, and I felt the situational contexts could have been an even more relevant. Better continuity in the storyline like what Teach Yourself Norwegian did would have really given the course a bit of fun and motivation.
Given my slow progress in the course, I don't think I finished the last unit or two, or at least not to the thoroughness and understanding of the previous units. Nonetheless, I gave the course a 3 since it was definitely adequate, but there was a lot to be desired.
Some Useful Expressions
Here's a list of some very basic expressions that I have come across in my travels. Hopefully, you'll find these to be useful.
To learn more expressions or go through a much more comprehensive list than this, I'd recommend checking out more authoritative resources than this, however.
Hujambo? / Hamjambo? / Jambo! – How are you? Usually said in a greeting like Hello. The first word is to address a single person. The second word is to address a group of people. The third word is simplified for tourists and you'll hear this more often though it won't be used between locals.
Shikamoo / Marahaba – Hello (respectful greeting to an elder) / thanks to this greeting in reply.
Kwa heri / Kwa herini – Goodbye (to one person) / Goodbye (to more than one person)
Ndiyo / Hapana / La – Yes / last two words mean No (the very last word is actually Arabic, but Swahili is a trader's language that mixes Bantu, Portugese, Indian, and Arabic)
Tafadhali – Please
Asante (sana) – Thank you (very much)
Samahani – Sorry
(Hoteli) iko wapi? – Where is (the hotel)?
Habari / Habari gani? / Habari za (safari)? – What news? (the first two expressions) / How was (the safari)?
Nzuri (sana) / Salama / Njema / Safi (sana) – (very) good
Aliona … / Tuliona … – I saw … / We saw … (to be used with the nouns in the next section). Example: Tuliona simba means "We saw a lion."
Hakuna matata – no worries. Truthfully, I never saw this expression used in the field, but I know we're familiar with it because of the Disney movie The Lion King
Some Useful Vocabulary
I'm sure there can be any number of words that would be helpful to know, but I'm going to do things a little differently and try to bias this vocabulary list with things more related to waterfalls or other geographical features.
I figure that might at least help you read some maps or at least have a better understanding of what some of the local place names mean.
maporomoko ya maji – waterfall. I haven't seen Swahili place names for waterfall. The one lone waterfall we saw in Kenya was simply called Thomson Falls or Nyahururu.
safari – journey or just safari
mto – river.
mlima / kilima – mountain / hill. Example: Kilimanjaro is the mountain of greatness (kilima is possibly a bastardization of the word mountain, njaroe is is said to mean greatness)
bonde – valley. Example: Bonde la Ufa is the Rift Valley
simba – lion
kifaru – rhinoceros
tembo or ndovu – elephant
duma – cheetah
chui – leopard
twiga – giraffe
nyumbu – wildebeest
nyati – buffalo
kiboko – hippopotamus
tumbili – monkey
punda milia – zebra
fisi – hyena
swala / swalatomi / swala pala – gazelle / Thomson's gazelle / impala
nyani – baboon
Conclusion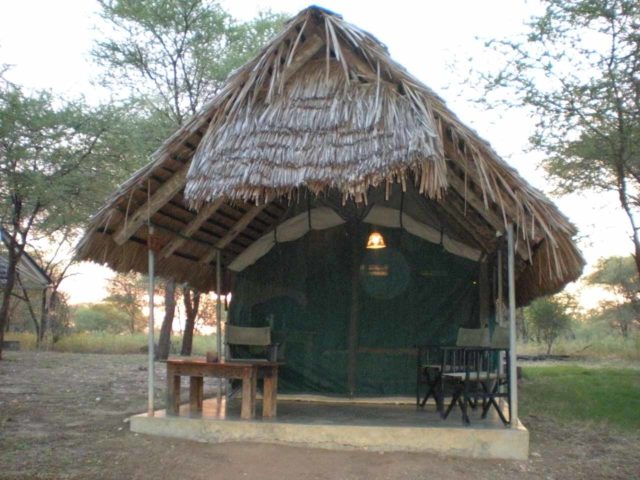 Even though I wouldn't have many excuses to try to use Swahili outside of East Africa (which probably meant I was likely to forget a lot of what I would have learned back in 2007), I did come away from our trip with perhaps a deeper and better understanding of the people and cultures there than I would have had if I had just passively been taken on safari tours exclusively.
Actually, I had to make the effort to use Swahili and converse with the locals on topics outside of buying curios and souvenirs or having locals help you for tips, as the tourism industry there seemed to make a real conscious effort to shelter foreigners from some of the poverty and the more real things you're likely to encounter as a worker or volunteer as opposed to a tourist.
Nonetheless, since I made the effort and showed interest in learning more about Swahili, I was able to get some language and cultural pointers from both our Tanzanian guide Salim and our Kenyan guide Siraj.
That was where I learned expressions like Haraka haraka haina baraka (essentially haste makes waste) and Simba wanapandana (the lions are making love, after we had seen them and many other big game mating).
It turned out that Swahili was a very interesting language.
It was really a traders language primarily used to facilitate communication among trade partners who primarily came from coastal and inland East Africa, especially Tanzania and Kenya where Swahili was the national language.
Julie and I would soon learn, however, that for many people, Swahili more of a secondary language (a so-called lingua franca), but given that status, its use was also said to occur in parts of the Democratic Republic of Congo (formerly Zaire), Uganda, Rwanda, Burundi, Comoros, northern Zambia, Malawi, Mozambique, and even Somalia. It's just that they're nowhere near as prevalent in those countries.
So from that larger context, in a continent where local tribal languages and dialects tend to dominate, it could very well be the most widely spoken or understood language in Sub-Saharan Africa.
Heck, it might even rival the use of Arabic in all of Africa as a continent.
Nonetheless, that doesn't mean you should expect people outside of Tanzania and Kenya to use Swahili or even have enough of a working knowledge of it to warrant it as a seriously-used language.
For example, we tried to see if Swahili was used in Northern Zambia and the local language up there was Bemba. Nonetheless, there were words like kwenda meaning "go" that were common or similar in both Swahili and Bemba.
Actually, some locals there said if I lived for a short while, I could have used what I knew of Swahili to pick up Bemba and speak it fluently. I got the same feedback from our Tanzanian and Kenyan guides concerning fluency in Swahili.
One example where Swahili was intentionally avoided was in Uganda (especially around Kampala) where it brought back bitter memories of the Idi Amin regime (see the movie The Last King of Scotland
).
So they adopted a more local language called Lugandan, and Swahili wasn't really encountered until we went to Mt Elgon in the far east of the country near the border with Kenya. I recalled it might also have been understood in the north of Uganda near Murchison Falls.
In any case, the trade position of Tanzania and Kenya also meant there were interactions with peoples containing cultural ties to India, Portugal, and many countries where Arabic was spoken.
Thus, I was surprised to see that I indirectly picked up some Arabic words (or at least words resembling them like rafiki) during my learning process as well as seeing how words like chai and mvinyo made it into the language; words which I'd imagine had Indian and Portugese heritage, respectively.
Finally, I'll never forget one particular instance, where I recalled having a brief but very pleasurable and memorable exchange with a local in Swahili (wa Kiswahili) that went something like:
Me: Hujambo
Him: Sijambo
Him: Habari?
Me: Mzuri
Him: Unatoka wapi?
Me: America
Him: Unakwenda wapi?
Me: Nakwenda safari
At that point, he smiled widely and warmly. Just then, I was being called away to get to our safari even though I really wanted this exchange to continue.
Me: Kwa heri
Then the man waved with his warm smile.
Indeed, a moment like that stuck with me, and I hope one of these days I could have another friendly exchange like that on a future trip out there.
Finally, I recognize that I still have a long ways to go even in my structured learning of the language let alone getting comfortable with the pace and unpredictability of real-life conversations before I could even entertain hopes of being fluent.
That said, I want to conclude by saying that structured learning from lessons can get you to a point where you can have enough confidence to try the language in a real life situation. But you can't have the illusion that it alone will make you fluent.
Instead, structured learning can only get you so far because after a while, you can almost predict the conversations through all the repetition and memorization in the lessons.
However, in a real life conversation, you can't predict what someone else is going to say or how they'll react to what you say. That's why there's no substitute for in-the-field immersion, and you can't be afraid to try.
Still, the structured lessons are worth doing because it puts you in a position to at least have the confidence to try.
Indeed, fluency won't occur until you've had a chance to practice what you've learned in real life situations repeatedly. This will take time. That's why I suspect people who have lived the language pick it up much faster and more deeply than someone whose knowledge is dominated by remote book learning.
So the bottom line is don't be discouraged by awkward exchanges at first as more often than not, I've observed that people are genuinely pleased and more encouraging when you try to speak their language.
Besides, you'll never know if you don't try, and who knows where your learning will take you next? So what have you got to lose?
Visitor Comments:
Got something you'd like to share or say to keep the conversation going? Feel free to leave a comment below...
No users have replied to the content on this page