To helicopter, or not to helicopter?
That is the question that has confronted visitors like us who hope to see some of the most beautiful spots on earth.
But being environmentally conscious, we realize that the amount of fuel and pollution involved can make it a highly impactful (not to mention expensive) way to tour an area.
Yet sometimes we're overcome with an incredible urge to see the amazing and incredible. Thus, in the case of waterfalls, such things (especially in Hawai'i) are only accessible by air. So this poses a most interesting dilemma for the visitor.
It also evokes mixed reactions amongst locals who have to put up with them. A pure-blood Hawaiian local in Kaua'i summed it up best when he said to us, "They're a two-edged sword. You hate 'em when you're on the ground. But you love 'em when you're in the air."
In this feature article, we'll look into this issue more in depth as well as what one should expect when helicopter touring. Among the topics we'll cover are…
Accessibility: Attractions You Otherwise Couldn't See
This is perhaps the most compelling reason to take a helicopter tour.
In the case of waterfalling (especially in places like Hawaii), most of the tallest and most beautiful waterfalls are only accessible by air.
In our experience, we have seen places like Jim Jim Falls and Mitchell Falls in Australia when neither 4wd tours were accessible nor appealing.
We also saw some of Hawaii's greatest waterfalls like Honokohau Falls, Manawaiopuna Falls (or Jurassic Falls), and even Sacred Falls – all of which are not accessible to the public.
In Australia's Mitchell Falls, the helicopter allowed an elderly woman access to the top of the very remote waterfall. There was no way she could've ever hoped to see the falls any other way (even if she could endure a two-day each way bumpy 4wd ride with a tough day hike involving class 4 obstacles).
Moreover, we also flew to see Jim Jim Falls and Twin Falls in Australia because access was closed due to a late season Cyclone that kept estuarine crocodiles in the area. Meanwhile, the excess rainfall kept roads flooded and muddy, resulting in the impassability by 4wd vehicles.
In Hawaii, accessibility is a real issue. The island's best waterfalls typically reside within private land or deep within rugged terrain.
Indeed, no normal visitor would even consider going bushwhacking to get that far into the canyons. Nor would most visitors risk trespassing to reach them either.
Therefore, tourists like us would have a real motivating factor for parting with our hard-earned money by blowing it off on a helicopter flight lasting typically an hour – often with mixed results.
In our experience, we've typically paid upwards of $200 per person depending on the tour company we chose. Whether the expense was justified or not was a tough call.
Below is a collection of some of the Hawaiian waterfalls we've witnessed exclusively via helicopter. And as you can see, we had a difficult time ignoring the beauty and foregoing one of these tours.
Experiences: What You Can Expect While Touring Via Helicopter
While helicopter touring yields sights that few people get to experience, we've also had our share of disappointments along the way.
In this mini-section, we'll address our own experiences with helicopter tours so that you may be better informed whether or not you should go one of these yourself. So far, we've been on helicopter tours for West Maui/Molokai, Twin Falls and Jim Jim Falls in Northern Territory Australia, Mitchell Falls in Western Australia, Kauai, Oahu, and Victoria Falls.
Here are some things to look out for when you're considering a chopper tour.
Helicopter types
So far we've ridden on two types of helicopters – the four passenger Hughes 500 helicopters and the six passenger A-star helicopters. In our experience, A-star choppers seemed to be more prevalent in Hawaii as helicopter tours in each of their islands were quite common.
We'd have to say that between the two helicopter types, we prefer the Hughes 500 ones. That's because we were guaranteed a window seat.
I've had the misfortune of sitting in one of the rear middle seats on an A-star and it sucks. My photos almost always included the helicopter frame and someone else's body part. In this instance, I did feel ripped off.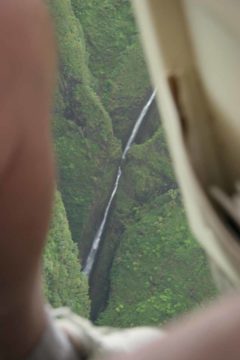 There is also a third type of chopper called the Bell Jet Ranger. We haven't ridden on any of these (yet), but it has a four passenger arrangement with one in front (with the pilot) and three in back. Obviously the back middle seat would suck.
The nice thing about this chopper is that if you get one of the window seats, it's said that there's a small window to open for photography.
Unfortunately, we couldn't avoid the worst seats in a helicopter as seating arrangements were not in our control. They typically assign seating based on passenger weight.
Therefore, it all depends on how much our fellow passengers weighed in relation to ourselves. This was purely random since we had no way of predicting who would be riding along with us before we committed to paying for the tour.
There was also a higher likelihood of airsickness when they crowded more people into the chopper – especially with the doors closed. I had such an experience in the rear middle seat of an A-star in Maui.
So why are A-stars so prevalent (at least in Hawai'i)?
That's because helicopter operators can fit more passengers per tour than with a Hughes or Bell. As a result, they can make more money per tour and it's a big reason why the cost of riding a Hughes or Bell would be considerably higher than an A-star.
So this trade between price versus helicopter type as well as tour company were pretty much the only things we could control (i.e. choose) before we committed money on a tour.
Helicopter Doors – On Or Off?
Depending on the type of tours offered by the helicopter company and the discretion of the pilot and/or fellow passengers, we actually had the choice of flying with the doors off.
This may sound scary if you're scared of heights or you're worried about falling off the chopper.
However, I'd say that we really only needed to concern ourselves with losing loose objects. With the safety belts on and a pilot who won't do some crazy maneuver while in the air, we didn't worry about falling out. That said, we had to make sure things like keys, hats, sunglasses, wallet, etc. were stowed in zipper pockets or strapped on fanny packs.
Now the big benefit of having the doors off is definitely for photography. Without the annoying window glare or reflection caused by the doors, the photos were noticeably cleaner.
Here are a few last things to remember about flying with the doors off.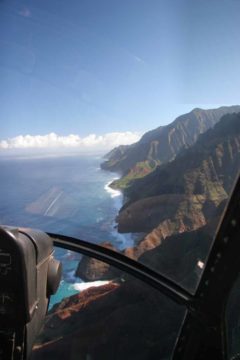 First of all, we found that wearing a windbreaker helped to maintain comfort because it was quite windy within the chopper.
Second, you were wise not to stick our arms outside the chopper because that would make it easier for us to get pulled out of the helicopter.
Finally, since airsickness was a total possibility, I definitely had a mind for using those airsickness bags to contain the vomit. Trying to hurl the vomit out the doors would merely result in the stuff flying back up into the chopper. Actually, airsickness bags were provided regardless of whether the tour was doors on or doors off.
Most tours that offer the option of having the doors off do so at an additional cost.
We've gone a couple of times on a tour with Inter-Island Helicopter in Kaua'i where it seemed like they always left the doors off (unless all passengers agreed to keep them on). In one case, I got a free "upgrade" at Paradise Helicopter in O'ahu because the pilot preferred to have the doors off and the fellow passengers had no problems with it.
Helicopter Pilot
This is perhaps the one driving factor as to whether we felt we had gotten our money's worth (and possibly more) or whether we felt like having buyer's remorse.
With a good helicopter pilot, it mattered less what seat assignment we got because he would go through the trouble to orient the chopper to ensure that I had my shots. He might also make sure the ride was smooth so I would be less likely to be airsick.
Moreover, he might also go above and beyond some of the cookie-cutter sights that he must show the paying passengers. All of this would apply regardless of the type of helicopter we were on or regardless of whether the doors were on or off.
In one of the more memorable experiences, I did a comped helicopter tour with Inter-Island Helicopters in Kaua'i (because a previous tour missed a major sight and they were gracious enough to let me go back on a second time).
More importantly, the pilot on that second tour let me get great photos even though I sat on the left rear seat while he was flying around Kaua'i clockwise. He also landed on the Alaka'i Swamp near the top of Mt Wai'ale'ale as well as some interesting spot near the other side of the Secret Tunnels.
With the company Air Kaua'i, even though they fly with A-stars, we had a pilot who added to the experience with a synchronous mix of headphone music coordinated with the sites he flew over.
He enhanced the experience further with his fluency in Hawaiian so it really felt like we learned something. Indeed, the pilot wanted to make sure we got something more than just a laundry list of sights.
He might have also made things more tolerable for the two guys sitting in the rear middle seats of the A-star. I had the fortune of sitting in the front seat as my wife and I had the lightest cumulative weight amongst the three couples. That said, even a good pilot might overcome a poor seating arrangement.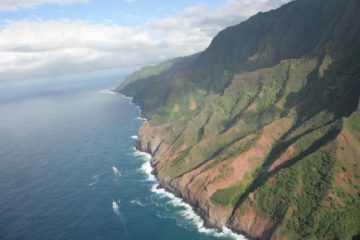 With a bad helicopter pilot, I experienced the opposite of the above.
For example, I did a helicopter ride with Paradise Helicopters in O'ahu and despite the doors being off in the Hughes 500, I sat on a seat opposite the direction that the pilot consistently turned. That meant that I rarely got to see anything besides the legs and head of the guy sitting next to me.
When we got to Sacred Falls, the pilot did let me see the falls from my side of the door, but he had the chopper tilted the wrong way so I had to deal with the helicopter foot in my photos of the waterfall.
We spent most of the 60 minutes flying over parts of O'ahu you could see by car and he didn't spend any time in the Ko'olau Mountains (except for Sacred Falls).
He even wasted some time landing at the Honolulu Airport and who knows why he did that?
Needless to say, I felt like I totally wasted the $220 spent on the tour, and most of the flight felt like a waste of time and fuel up until we got to Sacred Falls.
Final Thoughts
So these are some of the things we would consider about flying on our next helicopter tour.
Unfortunately, we couldn't control many of these factors (such as the helicopter pilot or the weight of our fellow passengers).
Also the weather had the potential for a tour that would move us to tears or leave us thinking we had a ho hum experience. We've had numerous occasions where bad weather resulted in tour cancellations.
Nonetheless, I figure it pays to be informed so you maximize your chances of getting your money's worth.
The Negative Factors: What's Bad About Helicoptering?
I really didn't appreciate how annoyed locals can be with helicopters until a recent trip to Kaua'i as well as to Moloka'i.
To give you an idea of how bad the noise can be, you pretty much need to wear the noise-cancelling head phones whilst in the chopper. Without them, the deafening high frequency ringing of the engine and the rotors could accelerate deafness.
Now, imagine that sound traveling unobstructed from the air right down into peoples' homes or in public parks. That perspective made it easier for us to understand why people on the ground weren't crazy about helicopters.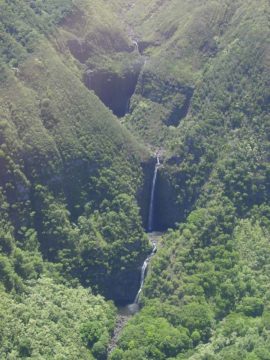 In Kaua'i, helicopters have been derisively referred to by the locals as the "Kaua'i Mosquitoes" since they were as annoying as the blood-sucking, disease-transmitting insects leaving those hard-to-ignore itchy welts.
Since choppers are one of the best ways to see Kaua'i, residents probably have to deal with the sound of these crafts flying overhead at least a half dozen or more times a day.
On a recent hiking tour to Moloka'i, the tour guide told us he and his family have to deal with the noise about eight times a day. This breaks up the peace and quiet of the Halawa Valley (not to mention disturbing cultural hikes they lead).
We even witnessed many of them violating the 500ft buffer height requirement. That was so the air disturbance caused by the rotors wouldn't pry loose some rocks or induce landslides from the crumbly lava cliffs. Such conditions were especially prevalent near the waterfalls.
In addition to the noise pollution and air disturbance, helicopters also tend to consume lots of toxic fuel and therefore emit lots of polluting exhaust.
Thus, it's a rather impactful way of touring and it goes against the principles of seeing natural attractions while trying to preserve them with minimal impact visitation.
To give you an idea of how much fuel a chopper consumes, the following table compares the Hughes 500D, a similar model to the A-star (I couldn't find a direct stat for that one), and a Bell Jetranger.
Helicopter Fuel Consumption Summary

Note: Generally the heavier the load, the more fuel (energy) is required to carry that load.
When you compare those numbers to an automobile (lets assume a load of 4 people per vehicle – i.e. an average American household sitting in a car), you get the following table…
Automobile Fuel Consumption Summary

Note: Fuel Consumption metric based on assumption that you drive on average of 65mph (speed limit in most highways in the US). Of course this efficiency is far worse in traffic and you'll be driving a car for longer than an hour to cover the same distance that a helicopter would, but we'll keep the assumption simple for illustration purposes.
So you can see that helicopters certainly make a gas guzzling SUV, pickup truck, or Hummer seem like a drop in the bucket. Given how much the American cars really impact the air and the land (and contribute to Global Warming), you can imagine how bad helicopters are for the environment.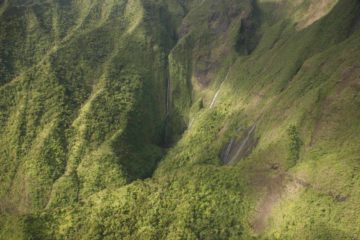 Now let's get into some final things I want to say about Helicopter tour companies.
We've been lied to about what we'll be seeing on a tour so that they can get our money and commit to them. For example, a salesperson at Air Maui claimed that Honokohau Falls was the same thing as the Wall of Tears at the head of 'Iao Valley. That's BS.
We also had safety concerns. We certainly wouldn't want to be in the chopper if it crashes.
Unfortunately, this has happened in the past and we had to dig and inquire through the FAA for more information. We didn't do it before each of our tours, but I did pursue such literature to write this article.
Now to be fair to helicopter usage (as the last few paragraphs kind of threw shade at them), they are generally used for…
fighting fires
search and rescue
anti-crime measures
military operations
Tourism tends to be low on the priority list when it comes to their use.
So given all these factors, sometimes I think the high price of helicopter tours are justified. I say this not only because they're expensive to operate, but also because they're bad for the environment.
In an ideal world, the increased cost would go towards some kind of measure to "clean up the mess" so-to-speak (though in a world of perverse economic incentives, I don't see this changing anytime soon). Nevertheless, ultimately the decision is up to the customer what they want to do with their money (guilt-ridden or not).
To Helicopter, Or Not To Helicopter?
Given all the data I've supplied in this feature article (and this just scratches the surface about what can be written about this topic), the question remains.
Should you helicopter or should you forego helicoptering?
The answer to that question ultimately comes down to your conscience and your sense of value.
Do you feel you're going to get your money's worth?
Unfortunately, you can't make that determination (at least accurately) unless you give helicopters at least one chance.
But it's clear that helicopters can't be a sustained means of tourism (or transportation in general). Certainly there is room for improvement in terms of making them more fuel efficient, but the practical solution would be their limited use.
Of course with that measure, you'll be missing out on some of the most memorable sights you'll be remembering for the rest of your life.
To close off this discussion, I've basically presented lots of information and considerations. I can't tell people what to do and so the question still remains. To helicopter, or not to helicopter?
I'll leave it up to you…
Visitor Comments:
No users have replied to the content on this page