It's not easy to put together a Top 10 Best Africa Waterfalls List because it's completely subjective and limited to each person's experience with the falls being named. Not only that, but making trips to the so-called "Dark Continent" doesn't happen often.
Anyways, we base this list on our own personal experiences. Considering this list covers a whole continent, we know that what we have seen and done in our travels so far merely scratches the surface.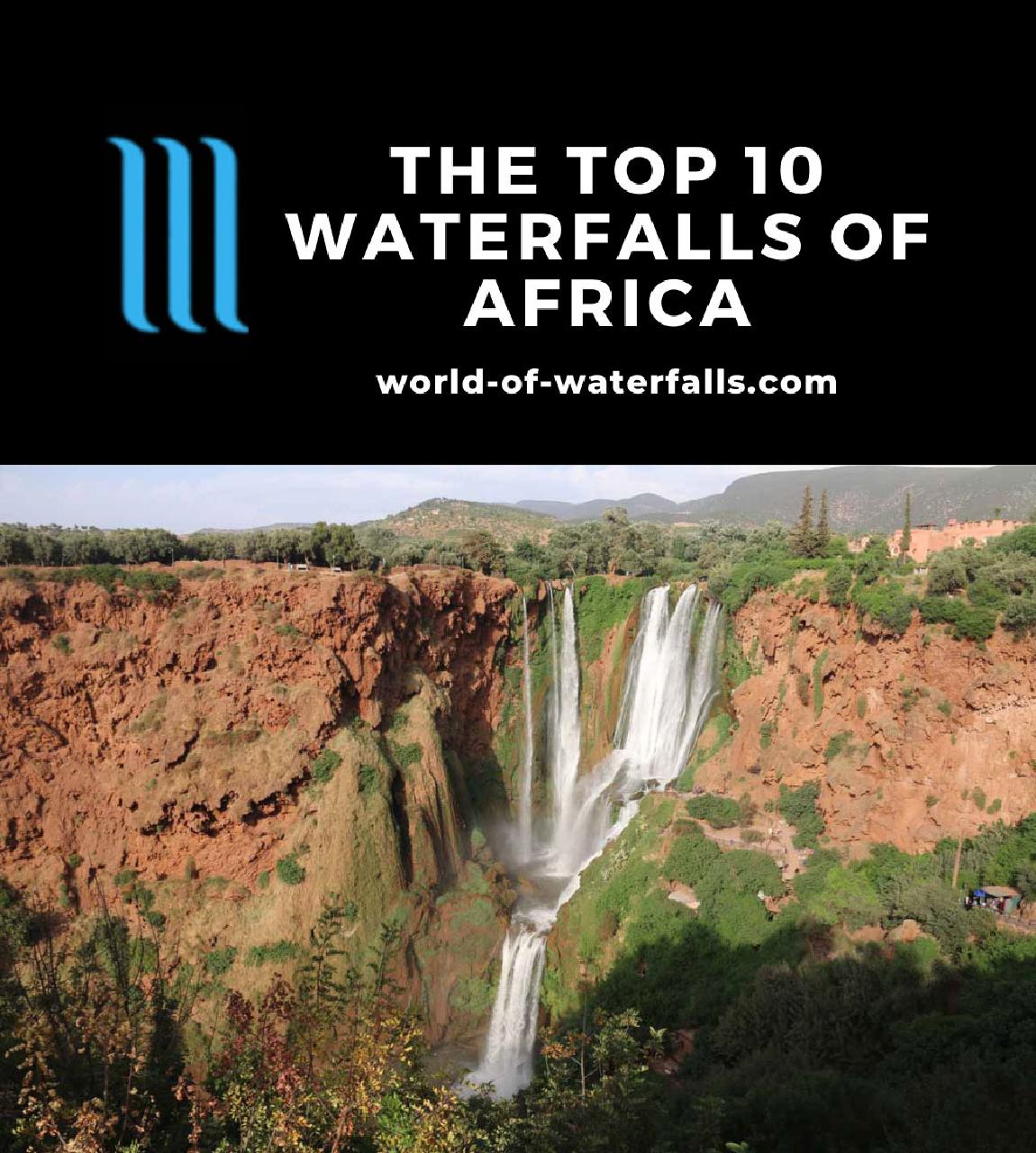 Still, we think we've seen some world class waterfalls and this page is our way of acknowledging some of the outstanding waterfalls that didn't make the other Top 10 Lists.
Of course we hope to be fortunate enough to return to Africa and update this list with more incredible waterfalls.
So without further ado, here are the ten best Africa Waterfalls in reverse order…
This impressive 72m waterfall was the lone waterfall we encountered on our Kenyan safari.
Unfortunately, I also suffered from a pretty bad case of food poisoning, which kept us from going down to the bottom.
Nevertheless, with waterfalls like this in a country where big game safaris rule most of the tourism traffic, we found it refreshing to mix things up a bit.
And this kind of waterfall certainly had legitimate size and flow to hopefully find more like it on a future trip.
Thus, this waterfall squeezed right into the last spot on our Top 10 Best Africa Waterfalls List.
It's not often that you can combine a wildlife safari with a waterfall.
But this powerful waterfall on the Victoria Nile yielded just that opportunity!
Our river boat safari allowed us to spot hippos, zebras, cape buffalos, and Nile crocodiles among others.
A short hiking trail on a separate excursion allowed us to look down at the powerful torrent. By the way, it almost felt like the ground was trembling with the power of the Victoria Nile being squeezed into a chute!
Add it all together, and we just had to include this Ugandan delight on our list of favorite African Waterfalls.
Visiting this impressive 100m waterfall required quite a physical challenge to reach, especially considering we had visited the Bridge of God on the same day!
That said, the sight of travertine formations on reddish cliffs spotted with green moss and algae reminded me of the kind of scenery seen in Havasu Falls.
It was yet another example of how Nature in Morocco complemented the sensory overload in the busier medinas. Indeed, the reds and greens certainly contrasted the blues in the beautiful city of Chefchaouen.
And that's why I just had to give this waterfall its props with a spot on our Top 10 Best Africa Waterfalls List.
This was really a series of three tall waterfalls at 100m, 75m, and 85m, respectively.
In order to take in all three waterfalls by foot, I hired a local guide and went on a muddy 7km loop walk that took me close to each of the waterfalls.
Such tall waterfalls didn't seem to be sought after compared to wildlife spotting. And in the case of Uganda, it certainly wasn't as sexy as spotting gorillas or chimpanzees.
Nevertheless, a waterfalling experience like this allowed me to connect with Mt Elgon (Africa's 4th highest peak) on a deeper level. And it was enough to include this trio on our Top 10 Best Africa Waterfalls List.
This series of impressive waterfalls in the Ourika Valley was worth the half-day visit from Marrakech and back.
The hike to even get up to the first major waterfall was not easy by any stretch of the imagination.
However, little tea shacks or cafes set up in the most improbable spots along the trail made things easier for intrepid hikers.
Considering we were in some pretty harsh desert climates, witnessing such a high volume of water during our visit further illustrated the miracle of Nature in the Atlas Mountains.
We had such a memorable time here that we just had to include this beauty on our Top 10 Best Africa Waterfalls List.
Like What You See So Far?
This waterfall almost stranded us when we did our very adventurous Northern Zambia Waterfalling Safari.
For starters, the road to even get to this trailhead was in really bad shape. Then, our driver almost lost his keys at a creek crossing on the trail. And finally, the safari vehicle's axle snapped on our way back to Kawambwa.
The local guide mentioned that this waterfall had a spirit that prevented those who have seen it to document and share it. For several hours, I almost thought there was something to that legend.
Nevertheless, as you can see in the photo, this multi-tiered, multi-segmented rush of water on the Kalungwishi River was world class.
And provided it remains wild and free like when we saw it, I just had to include this waterfall on our Top 10 Best Africa Waterfalls List.
This classically wide block-type waterfall on the Kalungwishi River impressed us with its volume and size.
Probably sporting dimensions of 30-40m in height and 160m in width, this world class waterfall could have easily been more famous in a developed country (let alone be tapped for industrial use).
Whether it will remain that way going forward remains to be seen. But in any case, we savored our experience at this mammoth waterfall, especially since we didn't have much trouble reaching it (unlike the previous entry on this list).
Putting it all together, and no list of Africa Waterfalls would be complete without this one!
Said to be Africa's second highest free-leaping single-drop waterfall at 221m, we definitely had to work to witness it.
Indeed, the remote location meant we had to battle some brutal daytime heat so we had an early start.
But the payoff was not only witnessing this towering waterfall, but we also enjoyed views of Lake Tanganyika on the steep return hike.
This also happened to be a transnational waterfall shared between Zambia and Tanzania. We've been told that during the Dry Season, it's possible to stand atop this waterfall with one foot in one country and the opposite foot in the other!
So adding up all the good and bad with this remote waterfall and it was a no-brainer to include this waterfall on our exclusive list of African favorites.
No other waterfall on this list had quite the contrast in colors, the volume, the size (at 110m tall), and the paradox of a year-round waterfall in the desert!
Indeed, the African Continent had another world class waterfall, and this particular one gave us the waterfalling excuse to explore the dynamic North African country of Morocco.
The colorfulness of this waterfall included the cliffs sporting reddish travertine stalactites and dams. And these cliffs contrasted the greens from a combination of algae and trees. The blue skies and cafes further added color to this incredible place.
We thought places like Havasu Falls were as good as it gets in terms of oases in the desert. But that pales in comparison to this gargantuan waterfall.
We loved this waterfall so much that it almost cracked the top spot on our Top 10 Best Africa Waterfalls List. So which one just beat it out?
With a span of about 1.7km (over a mile long) and a drop of 108m, this "Smoke That Thunders" easily tops our Top 10 Best Africa Waterfalls List.
In fact, this waterfall nearly took the top spot on our Top 10 World's Best Waterfalls List!
So that tells you what a world wonder this waterfall on the Zambezi River really is!
I feel like we're due for a return trip to spend even more time around this awesome waterfall, especially staying in the Zimbabwe side.
But until we're fortunate to be able to come back, we still have our misty memories to look back upon thanks to this waterfall.
In the mean time, I don't foresee another African Waterfall dethroning this member of the "Big Three" anytime soon!
Looking for more of our favorites?
Below are a few more Top 10 lists of the waterfalls we've visited.
Visitor Comments:
Got something you'd like to share or say to keep the conversation going? Feel free to leave a comment below...
No users have replied to the content on this page