It's not easy to put together a Top 10 Best Asia Waterfalls List (let alone show you how to visit each of them) because it's completely subjective and limited to each person's experience with the falls being named.
We feel we're in a position to at least have a credible list since we've now surveyed China, Japan, Taiwan, India, and Thailand.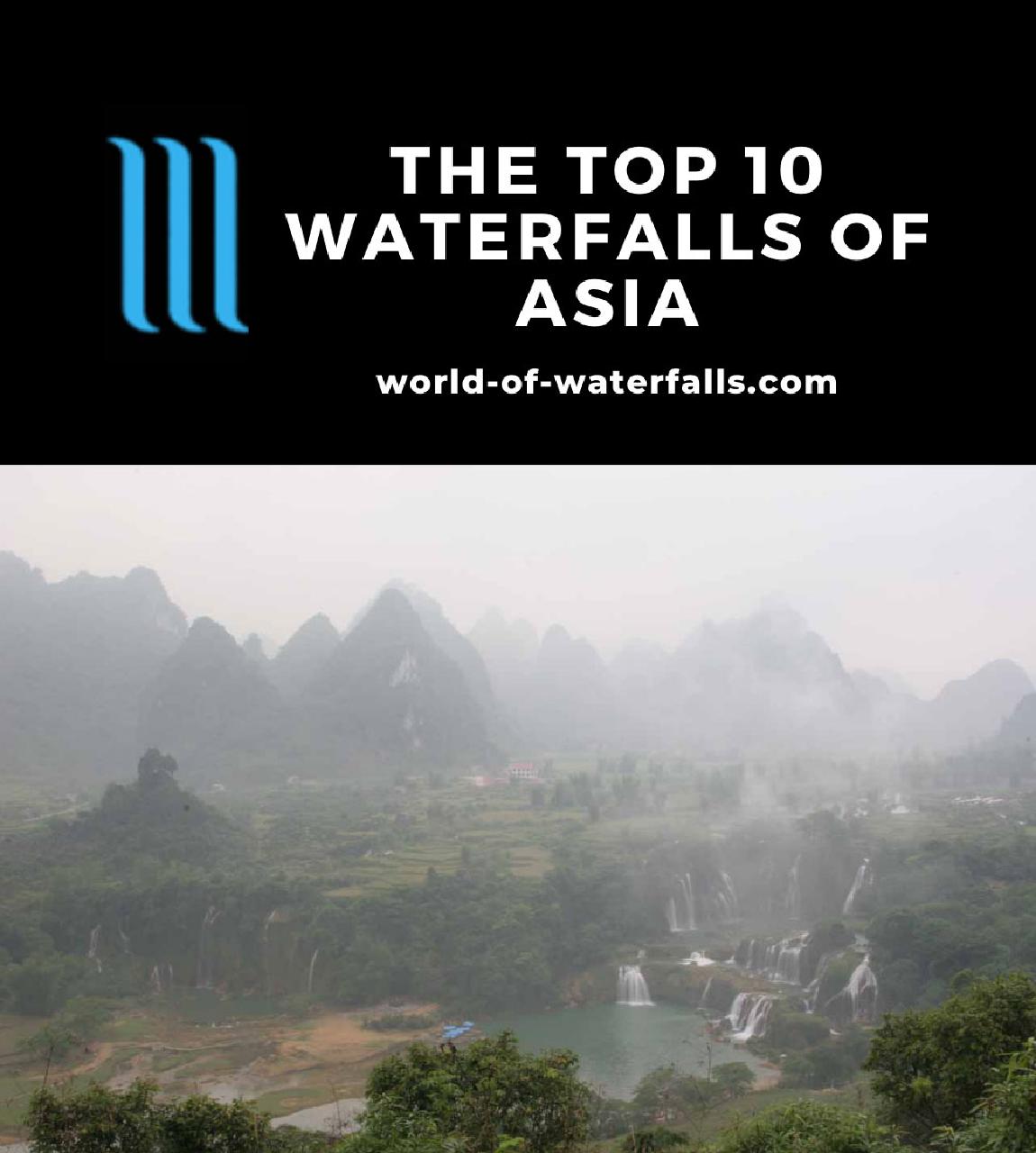 Indeed, we had a real hard time coming up with this list because most of the falls that made it were so equally beautiful that we could've flipped a coin to argue that a particular waterfall jumps 7 spots or falls 7 spots. It's that close!
So here's our attempt at this list, which as usual, is based on our own personal experiences (so you know you're seeing a genuine list from people who've been there).
And we have to reiterate once again that this is by no means a permanent list as we intend to collect more falls from this continent. So without further ado, here they are in reverse order…
Tucked away in the forgotten northeast corner of India (near its border with Bangladesh) sat this towering freefalling waterfall.
It's not often that you get a waterfall this tall with pretty reliable flow, which says something about the fact that it was still flowing when we visited in November 2009 following a particularly weak monsoon season. That made a lot of falls in this area suffer from lower-than-usual flows.
The climatic anomaly was despite its location in the Cherrapunji Hills, which was said to have been one of the wettest places on earth thereby boosting its reputation.
However, even despite its lower flow upon our visit, you can't deny its dramatic cliff-side location while the color of the cliffs contrasting the bright blue pool at its base further added to both its mystery and allure.
Affectionately referred to as the "husband and wife waterfall," this pairing immediately made a deep impression to Julie and I thanks to the grand scene of having two waterfalls tumble side by side split by a giant rock.
Backed by snowy mountains hinting at the wildness of Daisetsuzan's backcountry, it further added to the dramatic scene.
Such tall and permanent waterfalls don't come like this often, especially when they came as a pairing, and it was easy for us to include this Japanese married couple on our list.
This could've been hands down the emphatic choice for best Asian waterfall as well as easily cracking the World's Top 10.
Comprised of a plunging fab four of waterfalls named Raja, Roar, Rocket, and Rani, it's one of India's largest as well as tallest.
Unfortunately, hydroelectric developments further upstream have robbed this spectacular foursome of much of the river's water so the dam pretty much turned this into a monsoon-only waterfall.
During our visit, which was just outside that time in November 2009, we saw the falls reduced to merely a shadow of its former self as you can see in this photo.
So even in its compromised state, just imagine how awesome it would be during the monsoon!
We can only hope to be fortunate enough to come back at a time when it's more like its normal self.
This towering 97m waterfall draining Chuzenji-ko was just a short bus ride from the World Heritage sites of Nikko.
So it was only natural for Julie and I to combine our temples and pagodas touring with a natural wonder like this. Indeed, this part of Japan would be sure to ooh and aah onlookers with its grandeur and its settings.
And as for the waterfall itself, its plunge was both forceful and tall, and it also had a long cascade immediately downstream from its base.
It was possible to experience this falls in many ways including a top-down view of both the falls with the lake it drains at the end of a ropeway (something we'll have to do next time), but as you can in the photo, our morning visit on a sunny day was further blessed with a bright rainbow arcing across its base!
Even though this is considered to be the tallest permanent vertical waterfall in Japan at 133m, it's really more about its uniquely holy settings more than anything that made this our favorite Japanese waterfall (by a very narrow margin when compared with Kegon-no-taki).
It's one of the few waterfalls where we can see it with a pagoda or from within a genuine old temple.
Plus, the subtropical settings and laid back atmosphere this side of the Kii-hanto made it easy for us to forget that we were still on the main island of Honshu!
Sure we were rushed on our visit to this falls (no thanks to the coordination or lack-thereof between the transit and boat schedules), but we were impressed so much by it that we had to put it on this regional top 10 list.
Like What You See So Far?
This unusual triangular cascade has the rare combination of both size and character, and it could've easily jumped higher on this list depending on our mood.
We think it's the best attraction in Northern Thailand's Doi Inthanon National Park and on par with the Thi Lo Su Waterfall, which itself is considered to be Thailand's largest.
We could tell both foreigners and locals alike loved this waterfall based on the sheer number of camera toting visitors all trying to take home that picture postcard shot.
So it certainly belongs on this list of Top 10 Asia Waterfalls.
This is widely regarded as China's most famous waterfall as well as one of its biggest at 74m tall and 81m wide.
It's got a classically squarish shape, and its character can go from thunderous wall of water to graceful parallel strands of water exposing the Curtain Cave behind it. Cascades both above and below the main plunge further add to its allure.
And speaking of Curtain Cave, Julie and I were able to enter it and go behind the waterfall for an experience that few other waterfalls of this size would allow.
You won't find any of the namesake yellow fruit trees here, but you will find lots of other people eagerly taking photos who also probably think this is amongst their favorite Chinese waterfalls, too!
What makes this big yet strangely alluring waterfall apart from the rest is that it has reliable flow, still sits in relative obscurity (Jog Falls gets most of the hype), and has an unusual shape as it dives into a well-forested steep ravine.
Come under the right weather and time of day (as we were lucky to do) and a rainbow appears.
Some people argue (and I see their point) that this could even be better than Jog Falls. But we'll leave it up to you to settle that debate.
In any case, on its own merits, we were so impressed with our experience at this falls that we just had to place it high up on our Top 10 Best Asia Waterfalls List!
This unusual multi-segmented and multi-tiered waterfall is widely regarded as Thailand's largest waterfall.
But instead of a thundering monster, Julie and I witnessed a waterfall that possessed a certain grace and character that both allowed visitors to swim beneath some of its tiers as well as appreciate the overall scene where trees and bush would routinely grow in and around the scattered watercourse.
Even though it was pretty busy during our visit as it seemed all of Thailand knew about this waterfall, its remote location in the Umphang Wildlife Sanctuary still allowed it to maintain its naturesque feel.
We don't think we've seen another waterfall quite like this one, and for that uniqueness alone, we ranked it high among our list of favorite Asian Waterfalls.
Easily China's most picturesque waterfall, we could make a case for this also being Asia's most picturesque as well.
If you combine the main multi-tiered falls with the neighboring Ban Gioc Waterfall in Vietnam, this could have been one of the largest (if not the largest) waterfalls in the country.
But we thought it was the backdrop of ghostly karst mountains (reminiscent of Guilin) penetrating the often steamy and misty air that really give this falls the character and scenery that ultimately put it at the top of our Top 10 Best Asia Waterfalls List.
In fact, it was pretty easy for Julie and I to lose ourselves in a combination of multicultural villages and scenery as there's a market where both Chinese and Vietnamese could be heard.
This waterfall could've possibly cracked the World's Top 10 had we not come when the falls was at its lowest flow for the year in late April 2009.
So if we already think this is the best Asian waterfall as is, what does that say had we come closer to the end of the rainy season?
We certainly hope to have that chance and see it the way it ought to be seen!
Looking for more of our favorites?
Below are a few more Top 10 lists of the waterfalls we've visited
Visitor Comments:
Got something you'd like to share or say to keep the conversation going? Feel free to leave a comment below...