Our list of the Top 10 Best Austria Waterfalls reflected our deep desire to thoroughly experience the best waterfalls that this mountainous country had to offer. Further adding to the usefulness of this list, we also show you how to visit each of these waterfalls.
While most of the tourist traffic tended to focus on Vienna, Hallstatt, Innsbruck, and Salzburg, we found that waterfalling took us to less touristy spots and thus yielded pleasant surprises.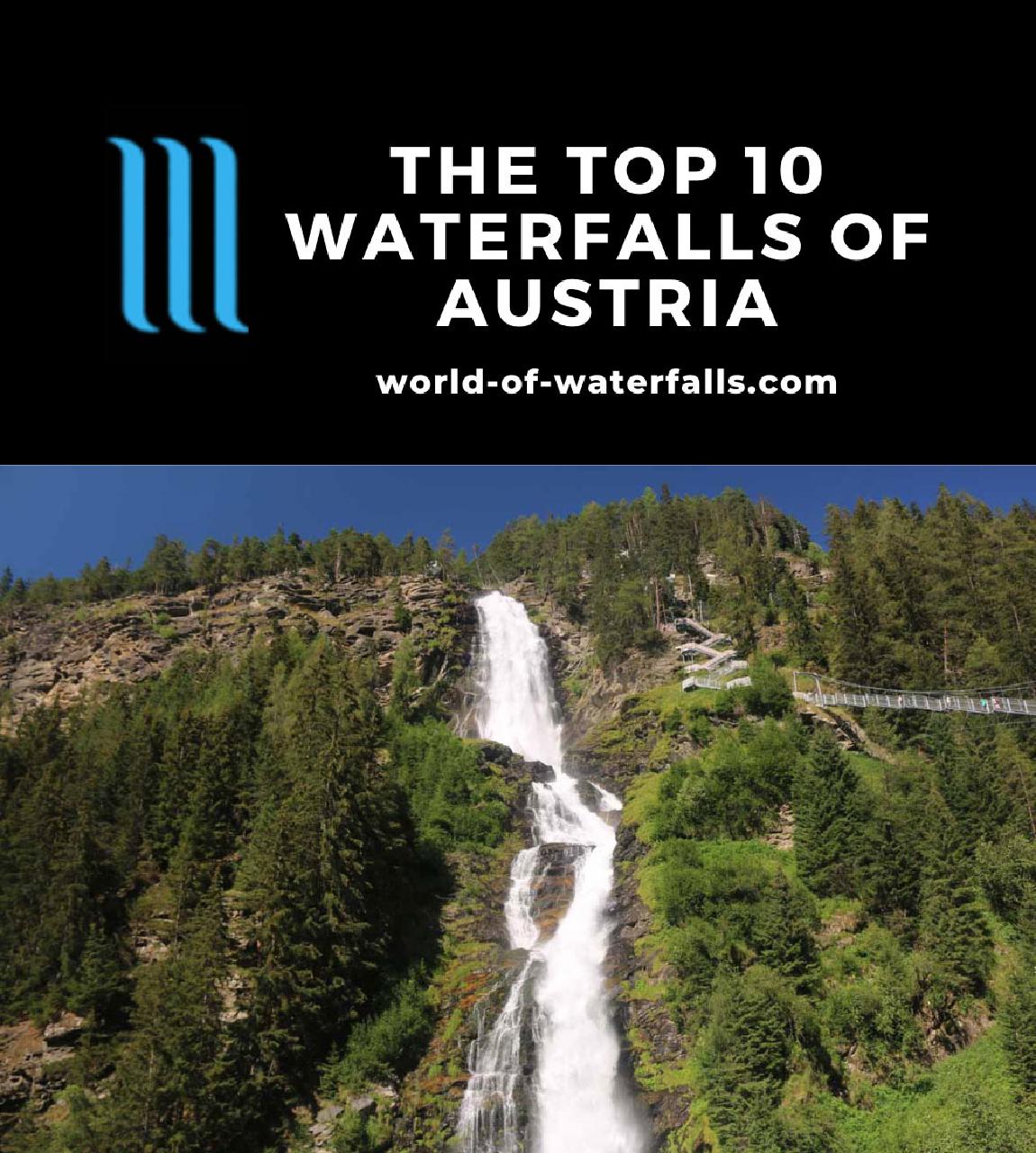 Our survey of waterfalls in Österreich encompassed such a large quantity that even filtering this list down to just ten proved quite the challenge.
Just to give you an idea of the difficulty of this exercise, you can see our Waterfalls in Austria page, which shows all of the waterfalls that we have personally visited in the country. You'll see on that page that many deserving waterfalls didn't make this top 10 list.
Some of the waterfall snubs included Fallbach, Malta Hochalmstrasse Waterfalls, the Umbal Waterfalls, Walcher Waterfall, and Wildenstein Waterfall among others.
And in keeping with the integrity of such lists, we only consider waterfalls based on our own personal experiences. No disingenuous click bait. No bogus evaluations based on internet pictures. Just a good old honest list that reflects our impressions and experiences at the time.
Thus, on this page, we're keeping a living document. We know it can change with more experiences we collect.
In any case, without further ado, we present our current list of favorite Austrian waterfalls in reverse order…
Not to be confused with the larger Bodensee (Lake Constance), this particular lake in Styria provided the foreground to this tall cascading waterfall.
The contrasts didn't just include the lakes either. For I found this experience to be very relaxing and low-key.
The calm lake produced reflections and mirrored the waterfall. Getting up to the waterfall yielded a different perspective over the lake. Even the relative quiet of being on the loop trail further set the mood.
Putting all these things together, this waterfall made a compelling case for its inclusion on our Top 10 Best Austria Waterfalls List.
This entry was really a series of three tall waterfalls at 23m, 21m, and 34m, respectively.
Although it felt like it was off the beaten path (at least as far as foreign tourists were concerned), it surprised me how many Austrian visitors I encountered.
Indeed, these waterfalls were popular. And after encountering each of the waterfalls, I could totally see why.
Not only did I get up close with each of the waterfalls along the steep trail, but I also had teasing glimpses of the lake Ossiachersee – one of Southern Austria's large geothermal lakes.
Thus, I had to put this waterfall trio on our list of best Austrian Waterfalls.
This giant 100m tall and 85m wide waterfall really should have placed higher on this list.
But foul weather and treacherous conditions limited my experience and time spent here.
Indeed, the viewing platform was down, the climb to get a more elevated view was too slippery, and too much mist and rain threatened to break the DSLR camera.
Yet even with such limitations, as you can see from this photo, this waterfall held its own in the beauty department.
Thus, I had to give this waterfall its props despite the shortcomings of my visit.
This waterfall entry really consisted of an upper and lower waterfall (thus I tended to refer to it in the plural).
Collectively, these drops totaled about 76m. And while the lower drop seemed more photo- and family-friendly, the more concealed upper drop revealed a natural bridge.
And just upstream from the upper drop was a cave where most of the Schwarzbach Creek rushed out.
Furthermore, given its close proximity between Salzburg and the Eisriesenwelt Ice Caves, it also seemed to be quite the popular spot.
So taking all these things together, I had to place this waterfall on our Top 10 Best Austria Waterfalls list.
Most of the attractions on the famed Grossglockner High Alpine Road (Großglockner Hochalpenstraße) didn't require us to leave the car.
So that's what made this waterfall stand out to us.
In addition to leaving the car and going on a hike, that allowed the scenery of Heiligenblut and surrounds to sink deeper into my mindset and senses.
And when I finally witnessed this gushing 70m plunging waterfall, it made the experience all the more memorable and special.
Thus, it made perfect sense to include this gusher among the Top 10 Best Austria Waterfalls!
Like What You See So Far?
Although I had to work pretty hard to hike up to this secluded waterfall, it also yielded mindblowing views across the Hintertux Resort area as well as the Hintertux Glacier itself.
I kind of think of this waterfalling excursion as a multi-waterfall hike because I also got to see Kesselfall and other cascades draining the Hintertux Glacier.
While I witnessed some people doing Summer skiing in shorts, I found the hike to be very fulfilling and making the most of this all-season spot.
Therefore, I had no issues with including this waterfall high on our Top 10 List of Best Austria Waterfalls.
This waterfalling entry consisted of at least five signed and a few more unsigned waterfalls.
Despite the bad weather when I did the hike, I savored the experience.
The trail took me in front of, over, and besides each of the signposted waterfalls.
And I was very glad that I went all the way to the top (well past the fifth waterfall) where I witnessed a surprise natural bridge as well as a spring yielding another waterfall just below it.
Even Austrian visitors couldn't be denied a visit as they hiked in large groups as well as went river rafting – bad weather or not.
Over the years, I've learned to treasure places off the beaten tourist path like these. And thus I had to acknowledge such spots a place like this on our Top 10 Best Austria Waterfalls List.
This waterfall possessed a magical convergence of several waterfalls all at the head of the Echerntal Valley.
With some of the side waterfalls dropping a reported 95m at its highest height, as you can see from the photo, you don't see many waterfalls like this.
Sure I had to work a bit to reach this spot with a roughly two-hour or so hike.
And when you consider how thousands of tourists crowd the UNESCO lakeside town of Hallstatt, I found it amazing that I had this waterfall all to myself!
It just goes to show you how waterfalling can reward you in unexpected ways. And such a memorable experience catapulted this waterfall high up on our Top 10 Best Austria Waterfalls List, as a result.
This could very well be Tyrol's largest waterfall as the Horlachbach dropped some 159m into the Ötztal Valley.
With a newly-built trail featuring spiral steps and a bouncy suspension bridge, I also got to experience the falls up close as well as from vantages typically only reserved for birds.
As if that wasn't enough, the top of the waterfall featured a natural bridge. Plus, the views into the valley made me feel like I was on top of the world!
Back at the trailhead, a swimming area and a few cafes ensured there was something to do for those not up for the physical challenge.
Indeed, this waterfall seemed to have everything that a waterfall could ask for. And it just barely missed being the top waterfall on our list of Austrian favorites…
Just beating out the Stuibenfall for the top spot, this series of gushing waterfalls was world class.
This was where the Krimmler Ache had a cumulative drop of 381m. That made this one of Europe's tallest year-round waterfalls and certainly Austria's tallest with such permanence and flow.
A well-developed and well-used hiking trail took me past each of the four (or more) main drops of this waterfall ensemble. And that allowed me to really experience the power and fury of the Krimmler Ache while witnessing bold rainbows to boot!
But driving up the opposite side of the valley yielded the full-context view as you see pictured here.
Indeed, there's a reason why nearly a half-million tourists come to this waterfall every year. That's why we're comfortable with this choice as our favorite of Austria's Waterfalls.
Looking for more of our favorites?
Below are a few more Top 10 lists of the waterfalls we've visited
Visitor Comments:
Got something you'd like to share or say to keep the conversation going? Feel free to leave a comment below...
No users have replied to the content on this page