This Top 10 Best Bali Waterfalls List highlights our personal favorite waterfall experiences in the most-visited province in Indonesia. We also point you the way on how to visit each of these falls. Anyways, the country is full of Nature, and this is especially true of its many jungles and volcanic mountains.
It's no wonder why Bali is a legendary tourist destination on its own (and many visitors don't even realize it's merely one island province in the country of Indonesia!).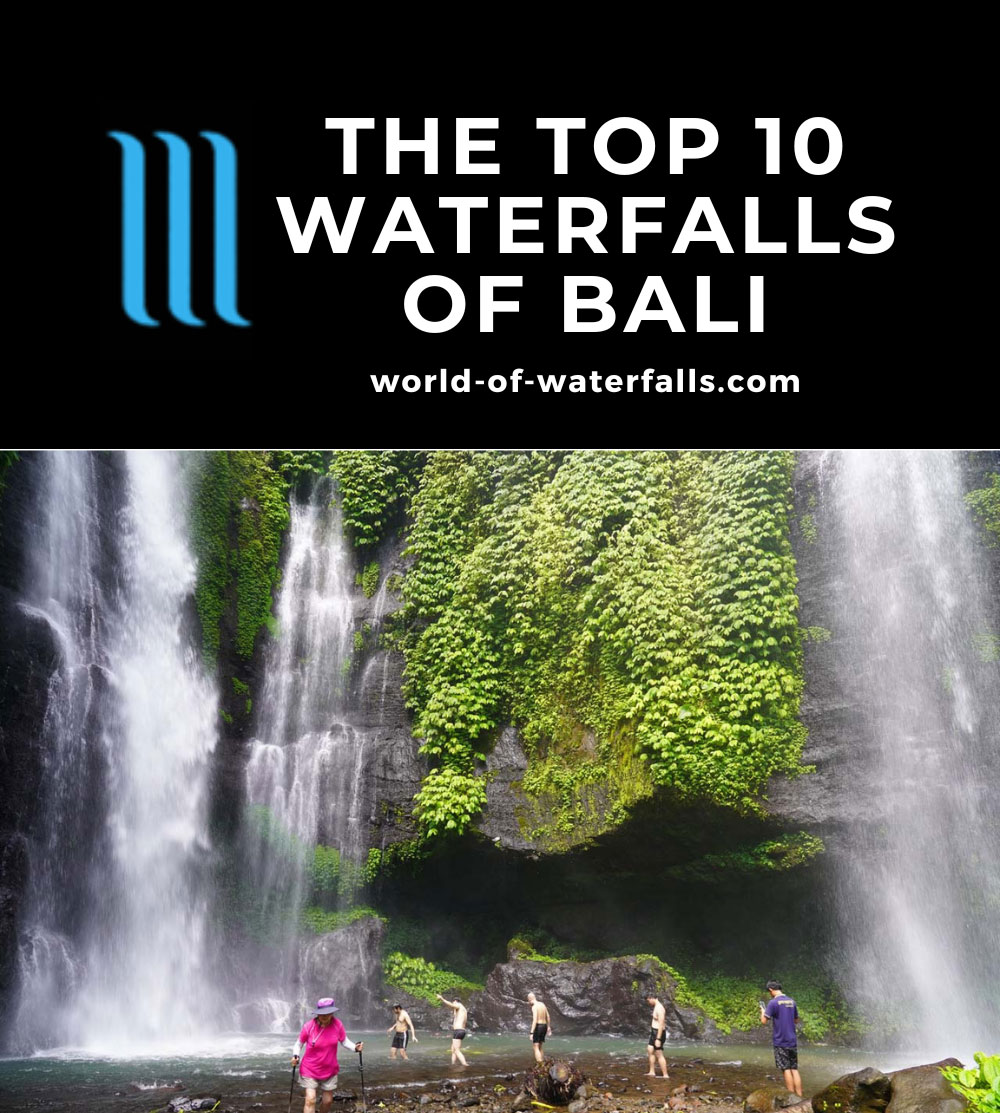 So far, we've explored quite a bit of Bali that pretty much covered a lot of the well-visited spots on the island spanning the South, North, and even parts of the East.
That said, there's a lot more places that we didn't get a chance to see and experience, and I'm keen to explore the more off-the-beaten-path spots let alone the rest of Indonesia.
Yet even among the waterfalls we did visit, there were a few honorable mentions like the tall Leke Leke Waterfall, the classic Tibumana Waterfall, and the radiant Tukad Cepung Waterfall.
So stay tuned for changes to this list as we try to personally experience more of the other Balinese Waterfalls given the opportunity.
In the meantime, if you'd like to see the rest of our survey of Bali Waterfalls, you can check out this page to see our humble sampling so far.
You can check out our other Top 10 Lists so you can see what we put into these kinds of lists. And in case you're curious about all of the Asia Waterfalls we've visited, we have a separate page showcasing all that we've seen in the continent so far.
Nevertheless, we now present our picks for the Top 10 Bali Waterfalls in reverse order…
With this entry, you're really talking about an ensemble of four pretty significant waterfalls though we've only had a chance to experience two of them.
Indeed, it was the Red Coral Waterfall on its own that stood out to us though the Golden Valley Waterfall was no slouch either.
Nevertheless, the Red Coral Waterfall featured about a 30m drop that really stood out to us, but just imagine how much higher this entry can sit on this list if we had a chance to experience the remaining two waterfalls in Munduk Valley!
So stay tuned to see if this ensemble can creep a little higher on our list of the best Bali Waterfalls…
Although this was perhaps the most popular waterfall in Bali due to a combination of its size and its close proximity to the city of Ubud, as you can see, its popularity and infrastructure devoted to it was well deserved.
In fact, we got to experience this high-volume, roughly 25m waterfall from all sorts of positions whether it was from a contextual lookout to its cool and refreshing misty base to even its precarious brink on the other side of the river Tukad Petanu.
Sure there were lots of unnatural things going on around this waterfall like loud music playing from the Omma Bar, lots of Instagram-friendly photo props, and concrete just about everywhere around the river.
But it was quite the introduction to us as far as waterfalls in Bali are concerned, and we had no problems including it on this exclusive list of Bali's best.
This was another one of Bali's most popular waterfalls mostly because of its position on the busy road between Singaraja and the lakeside town of Bedugul in the heart of the island.
However, it also helped that this was a towering waterfall gushing over a 35m cliff with a boulder-fringed misty plunge pool along with a shrine and shelter to take in the scene.
There was also a reasonably short warung-lined walkway that made it very easy to visit though we certainly used these shops as shelter when we were hit by a heavy afternoon rain squall.
What more can you ask for when it comes an impressive waterfall and easy access?
There are also other waterfalls bearing the same name in the vicinity though we're keen to experience those on a future visit.
Nevertheless, given what we did experience, we just had to include this waterfall on our rather exclusive list of the best Bali Waterfalls.
This was really a supplemental waterfall excursion to the Sekumpul Waterfall, which was another one of Bali's most significant waterfalls.
However, I felt this "add-on" stands out enough to be included on this list of the best Bali Waterfalls because nothing quite surprised us in the way this one did.
Indeed, this waterfall concealed most of itself no matter how we glimpsed it regardless of which lookout we saw parts of it from, and it even concealed most of itself throughout the hike to its bottom until we finally got right in front of it.
That was when we realized that there were three big segments to this waterfall, and it was simply too enormous to let it languish as a Sekumpul afterthought.
And so we had to give this waterfall its props by including it among the best waterfalls in Bali!
While the bulk of the attention and the nomenclature of this waterfall was devoted to its two tallest segments, I felt that it was the atmosphere of being surrounded by springs and cascades all in one spot that made this entry stand out!
Indeed, pictures really didn't do this place justice.
I'd say you just had to just be there and experience having a swim or merely standing at the edge of it to truly understand and feel the magnitude of being surrounded by falling water.
One of the more popular waterfalls in North Bali, the only real difficulty of accessing this waterfall was perhaps the somewhat narrow and rough road to get to its trailhead.
But aside from that obstacle, it certainly didn't deter tourists from experiencing this unique place in Bali, and so we had to give props to this place as one of the best Bali waterfalls.
Like What You See So Far?
This waterfall was a little more off-the-beaten-path compared to the rest of the waterfalls on this list, but its main draw was its height.
Said to be the tallest waterfall in Bali (though that's likely disputable), as you can see, it certainly held its own with its towering 50m plunge (or 100m if you believe what others claim).
Perhaps more memorable and impressive was that we were able to experience other waterfalls in the same excursion like the Rajapala ("king") Waterfall (also called Blemantung Waterfall) as well as the Bidadari ("angel") Waterfall.
While we did have to go through a bit of misinformation on the interwebs to earn our visit, it was worth coming back to finally witness this spectacle.
And therefore we had to give this waterfall its props by including it as one of the best waterfalls in Bali that we've personally experienced.
With this waterfall, you're really talking about four waterfalls all in close proximity to each other that can be done in a two-hour excursion.
What you see pictured is the biggest of the ensemble, but each of the other three had its own attributes that collectively made them stand out.
For example, there was a gracefully wide waterfall that was real photo friendly, there was a plunging one that you can go behind, and there was a segmented quartet in an intimate setting.
And of course, you can also interact with this big waterfall pictured above as you can swim in addition to gawking at it.
Add it all up and we were compelled to place this collection of falls high up on our exclusive list of the best Bali Waterfalls.
This gushing 35m waterfall impressed us with its volume that was enough to produce a double rainbow at its base.
Not to be outdone however, the same excursion also let us explore three neighboring waterfalls each of which were swimming holes with pools deep enough for "death wish"-type cliff dives off from concrete "diving boards"!
Indeed, while the main waterfall alone compelled us to include it on our exclusive list of Bali's best, the remaining trio really made our decision to position it higher a no-brainer.
And since it shares its stream with that of the Banyumala Twin Waterfalls, you know you're getting pretty reliable flow for yet another waterfall on Bali's northern slopes.
Therefore, I had to give this waterfall its props with one of the top spots on our Top 10 Best Bali Waterfalls list.
Of all the waterfalls that we've done in Bali, perhaps none made us work as hard as this gushing monster with its 35-40m plunge.
With enough volume to really mist up that wide and secluded cove it was situated in, you can imagine that sense of relief as well as reward that came with our experience.
That said, we had to do a real steep upside-down hike that involved at least 428 steps (meaning we had a real hot and sweaty climb back out of the jungle gorge) to earn our sighting.
But in a place that was all about leaving impressions, everything about our visit had this one doing it in spades!
As a result, it deserved a high position on our exclusive list of the best waterfalls in Bali.
This may come as no surprise given the hype that went into it when we tried to figure out which waterfalls to experience in Bali.
But after having done this ourselves, this towering multi-segment waterfall topped our list as the best waterfall on the island, and it really stood heads and shoulders above the rest.
Also called the Gerombong Waterfall, you're looking at where the Tukad Daya dropped 80m (though some claim that it's upwards of 100m).
Of course what made it stand out over the rest of Bali's waterfalls was that the Tukad Daya river also supported another segment that produced a Hidden Waterfall as well as a handful of companions in a neighboring gorge.
Indeed, we've experienced both waterfalls in a single excursion, but we even added yet another waterfall called the Fiji Waterfall, which impressed us enough to have its own entry on this list!
Add it all up, and this was an unforgettable experience, which really compelled us to declare it as the best waterfall in Bali!
Looking for more of our favorites?
Below are a few more Top 10 lists of the waterfalls we've visited.
Visitor Comments:
Got something you'd like to share or say to keep the conversation going? Feel free to leave a comment below...
No users have replied to the content on this page