The Top 10 Best Canada Waterfalls list showcases our favorite waterfall experiences in our neighboring country to the north. It took a while for us to confidently have such a list of the best Canadian Waterfalls, but after making multiple visits to various parts of this vast country, we finally made it happen.
Oh Canada, indeed!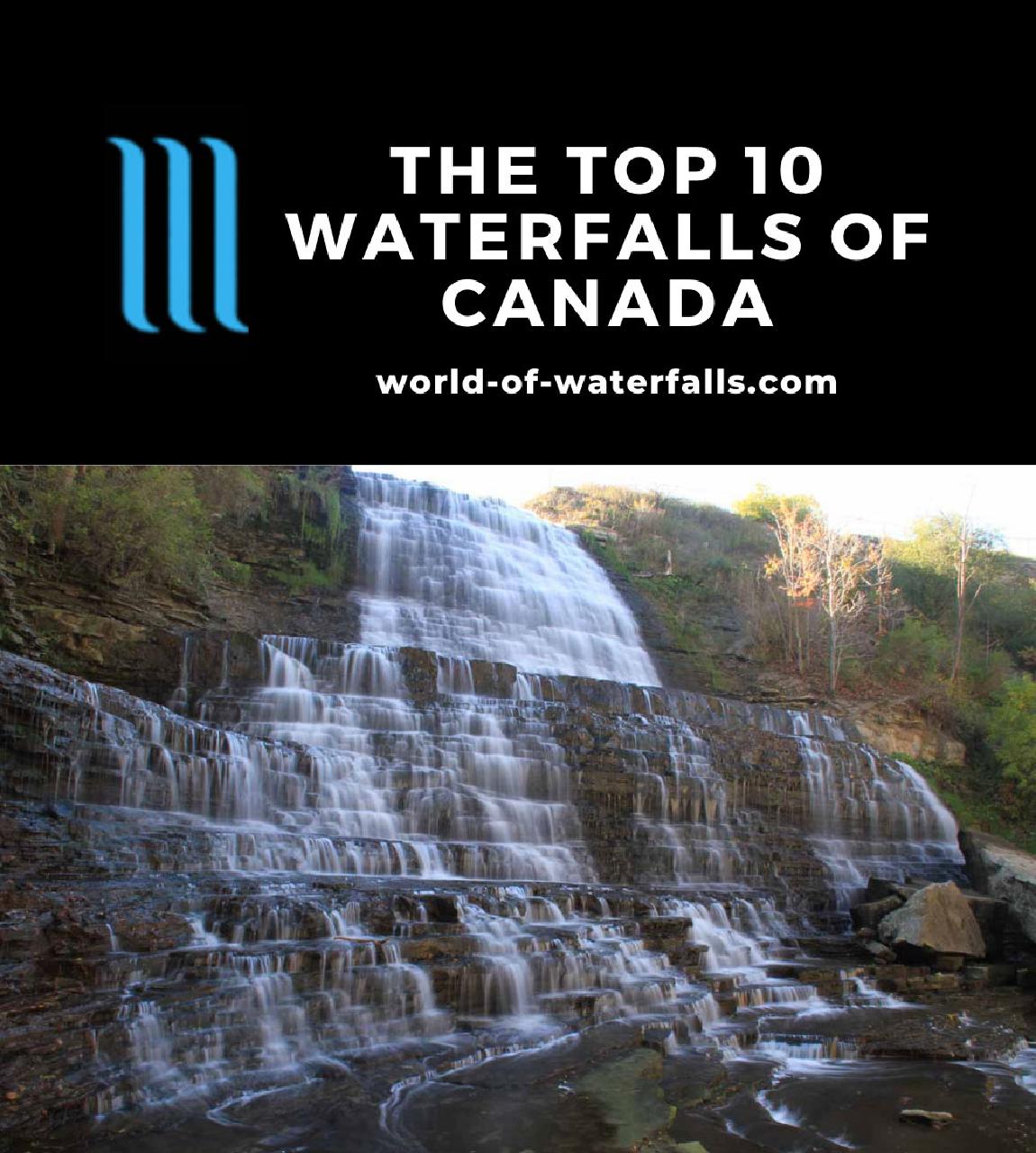 Considering that we only base this list upon our own personal experiences, this list can easily change as we intend to make more visits to our neighbors to the north.
While we still have a ways to go to truly say we've sampled all of the best here, we still feel like we have quite the exclusive list. For example, if you look at our Waterfalls of Canada page, which comprehensively lists all the waterfalls we've seen in Canada so far, you'll see that there were many deserving ones that didn't make this list.
Therefore, we remain on the lookout for more opportunities to add to our Canadian collection while also potentially updating this very competitive list.
So which Canada Waterfalls did we pick as our favorites so far? Read on and find out…
This waterfall that we encountered while driving the Sea to Sky Highway between Vancouver and Whistler was perhaps the tallest along this route.
In fact, it could very well claim the title of the third tallest waterfall in the state of British Columbia. But what this waterfall had over the two taller ones was its accessibility.
Indeed, this place had a lot of people as they made use of the nice restroom facilities, the picnic tables, the grassy area, and the pockets of places suitable for water play.
Oh, and the waterfall itself certainly pleased plenty of eyes to boot!
So for all that this waterfall had going for it, we had no issues picking this falls in a very competitive list to just nudge into our list of favorites in Canada.
Of the waterfalls we've encountered in the Wells-Gray Provincial Park, this one appeared to act as its signature waterfall.
Indeed, we witnessed the Murtle River plunge some 141m in a pair of distinct tiers. That said, we had to exercise plenty of patience as the weather kept making the falls play hide-and-seek with us.
Nevertheless, our persistence paid off and we finally experienced this gem in a part of the province that doesn't seem to get many visitors relatively speaking (though we did see tour buses make stops here).
So after earning our visit with a bit of patience and persistence, we could totally understand how this waterfall gained its notoriety.
And thus, we just had to place it on our list of favorite Canadian waterfalls.
This classical rectangular-shaped plunge waterfall certainly scored points with us given its accessibility, scenery, and flow.
Not even British Columbia's worst wildfire to date during our visit in 2017 diminished the scenic splendor of this satisfying waterfall.
Perhaps its accessibility benefited us so we didn't need to deal with the bad air quality as much. Plus, the strangely dimmed sunlight on the falls further added to the surreal feel of our visit.
Despite the unusual circumstances of our experience, you can clearly see from the photo above that this waterfall definitely belongs on this list of best Canada Waterfalls. I can only imagine how much more magical our visit could have been had we lingered and explored this place a bit more.
With this waterfall, we found its interactivity in addition to its scenic allure made the overall experience.
Not only did we partake in a loop trail that allowed us to witness this 74m waterfall from just about every angle imaginable, but we also noticed abseilers going on an adventurous scramble within the vertical gorge itself!
Our daughter even enjoyed the playground by the visitor center so this place definitely had the family in mind.
On top of that, the changing of the color of the leaves just put this waterfall's awe factor over the top.
So for all these things, we just had to put this waterfall on our list of Canadian favorites.
Of all the waterfalls we encountered in Hamilton (the self-proclaimed "Waterfall Capital of the World"), we found this particular one to have a grace and character that puts it heads and shoulders above the rest in that region.
As you can see the photo above, its photo-friendliness ensured we'd remember this place very well long after our visit ended.
That said, it seemed like the authorities discouraged getting down to the bottom of this beauty for the best experience. But that didn't stop dozens of people from going down anyways.
So with all things considered, this graceful beauty deserved a spot on our list of Top 10 Canada Waterfalls!
Like What You See So Far?
This wide waterfall surprised us with its vigor and size. In fact, we didn't really plan on visiting this waterfall going into our trip.
However, that all changed when we looked closer at the maps and wondered about it given its close proximity to other points of interest in the Canadian Rockies.
Our curiosity definitely paid off as we earned our visit with an upside down hike to get here. But its 30m height and 150m width definitely backed up our mental impressions that we had indeed witnessed a grand waterfall.
Perhaps the only thing holding back this big falls was this hill that stood right in front of its base. Imagine how much more impressive this waterfall would have been without those obstructions!
In any case, we enjoyed this waterfall so much that we had no issues with putting it on our list of favorite Canadian Waterfalls.
We came into this waterfall with some elevated expectations. Despite its relatively quiet location off the northwestern shores of Lake Superior, it certainly didn't disappoint us with its size and flow.
Indeed, its split segmented shape as well as volume on the Kaministiquia River certainly produced enough mist to yield attractive rainbows.
Its 40m drop also made it one of the tallest waterfalls in Ontario (said to be the second highest in the province).
We also had no issue visiting this gem from both sides of the river given its relative ease of accessibility.
So with all things considered, we just had to give this waterfall its props by placing it high up on our Top 10 List of Best Canada Waterfalls.
As the fifth entrant in our list of Top 10 Canada Waterfalls from British Columbia, that just goes to show you the ridiculous richness of this mountainous province.
In the case of this waterfall, we witnessed a majestic 258m tall waterfall in a glaciated valley that teased us with glimpses of the Yoho Glacier itself.
The glacially-floured creek running before the falls further added color to the scene. And the presence of the Whiskey Jack Falls across the valley continued to plant this place firmly in our minds as special.
We actually made two visits to this falls on the same trip – one in bad weather and one in much better weather. Yet even in bad weather, this waterfall still retained its beauty and majesty – a telltale sign that a waterfall is legit when it still looks great even on its worst days!
So for all that this waterfall had going for it, we just had to place it high up on our list of Canadian favorites.
Prior to visiting this waterfall, I kind of thought of it like what a developed version of Kaieteur Falls might look like.
Of course after finally having been to both waterfalls in person, perhaps that comparison might be a little far-fetched.
Nevertheless, this 84m tall, 46m wide waterfall still legitimately sported major dimensions in terms of its size. Plus, its accessibility meant we could experience this waterfall in almost every imaginable way.
Indeed, we got to go across a bridge over its brink (which you can see in the photo above), we got to see it front its front, and we even got to see it from a cable car!
Even the views from the brink of the falls towards the St Lawrence River made the experience magical.
So putting all of these things together, we just had to acknowledge this French-Canadian beauty by placing it high up on our list of Top 10 Best Canada Waterfalls!
As our favorite waterfall in North America let alone one of our favorite waterfalls in the world, should it be surprising that this behemoth tops our list of Canada's best?
Indeed, the panoramic views that the Canadian side of the falls can claim made it easy to appreciate (even if it made us lighter in the wallet).
But we definitely didn't regret taking the time to explore the other side of the falls in New York!
We certainly had no shortage of ways to experience this place. Plus, its role in modern human history ensured that we walked in some pretty hallowed grounds that shaped much of how we live in society today.
Despite its flaws from overdevelopment, high prices, crowds, and overcommercialism, we couldn't deny this place its rightful spot as the top waterfall in Canada.
Looking for more of our favorites?
Below are a few more Top 10 lists of the waterfalls we've visited