This Top 10 Best Colorado Waterfalls List highlights our personal favorite waterfall experiences in the Centennial State while also showing you how to visit each of them. We knew that a state with so many 14,000ft peaks could produce scenery and beauty unlike most places in the United States, but it was only after a recent COVID-19 road trip did we finally sample enough waterfalls in the state to have a credible and useful list like this.
During that trip, we expanded our survey of Colorado Waterfalls to finally cover the majority of the state (geographically speaking, at least). So we found waterfalls in desert-like climates, high up the Continental Divide, within popular ski resorts, and close to the cities in the east.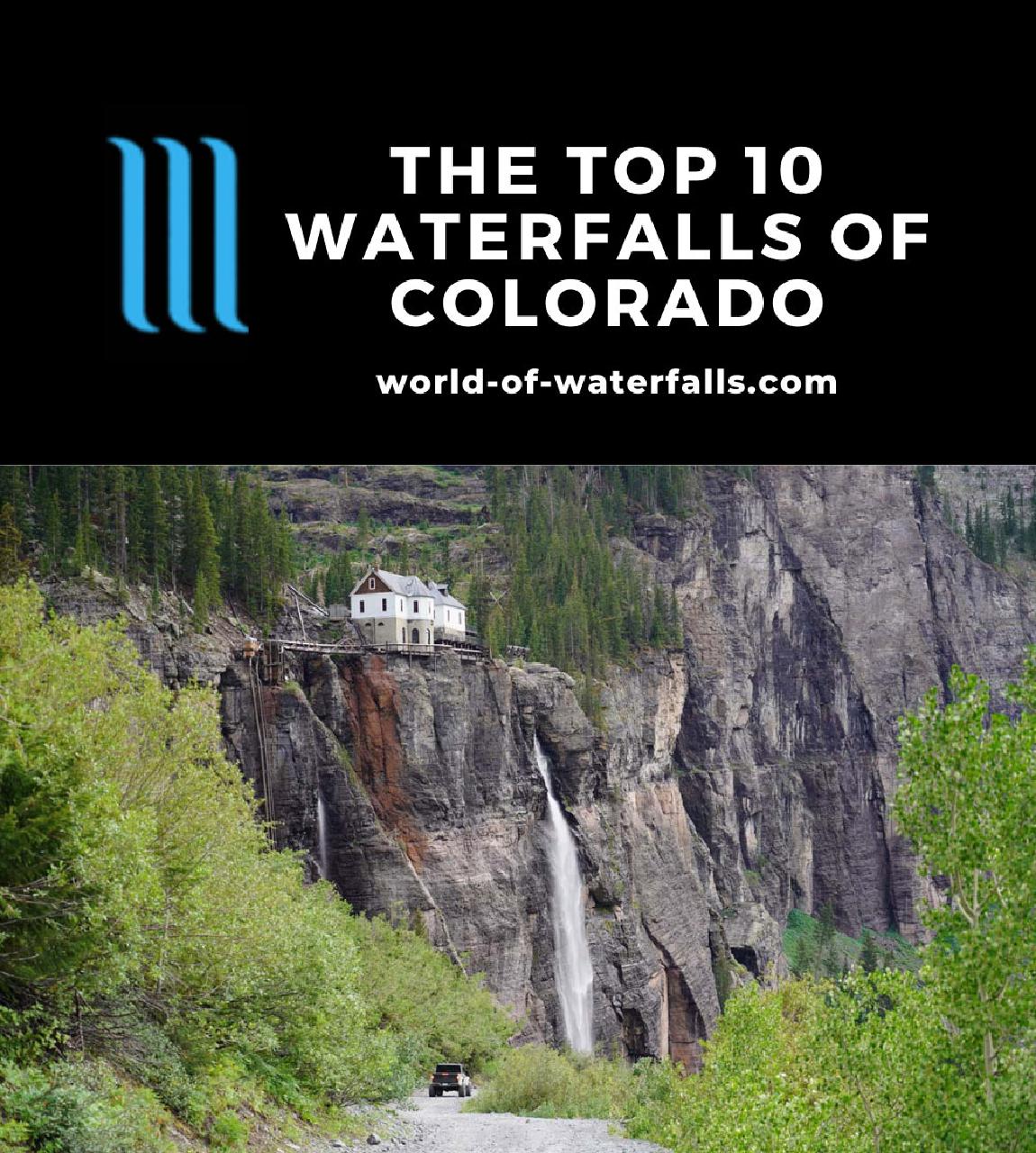 Indeed, you can see this on the waterfall map shown in our comprehensive page of the waterfalls of Colorado. That page will also show you that we have visited quite a number of Colorado Waterfalls so we had to really strain to filter that survey down to a credible list of just 10!
You can check out our other Top 10 Lists just to see what we put into these kinds of lists. And with such strain and effort, there's bound to be snubs, and in this case, we had to leave out Bear Creek Falls and South Fork Mineral Creek Falls among others.
So without further ado, we now present the Top 10 Colorado Waterfalls in reverse order…
Just nudging into our list was this reportedly 70ft waterfall surrounded by tall cliffs and accessible to just about everyone with a newly-built 100-yard path along Boulder Creek.
We witnessed lots of people beating the Summer heat at the base of the falls, which provided for that rare combination of fun and gorgeous scenery to boot.
Nestled within the rugged Boulder Canyon, it's also quite close to the charming university town of Boulder.
So it's understandable why this place is so popular, but as you can see here, there's a good reason for that.
And thus, we had to include it on our list of Colorado's best.
We managed to experience this thin 200ft plus waterfall from both a short walk leading to its base as well as an overlook over the resort town of Ouray.
Indeed, the town itself was known as the Switzerland of America, and this waterfall certainly provided the natural yin to the resorty yang that drew quite a few road-trippers into town.
In addition to its scenic location, we found the reddish cliffs at the falls added a nice contrast to the silvery column of water along with the pine trees in the high elevation of this part of the Southern Rockies.
And further adding to the drama of the scenery here was the Million Dollar Highway, which passed right through the town while more dramatic scenery awaited just to the south of it.
Adding all these things together, we just had to include this waterfall on our list of Colorado's best.
This intimate waterfall featured a three-segment drop that shot over a travertine cliff.
We got to experience it on a loop walk that got us right in front of its base where we could dip our feet in its cool waters while also watching anglers catching fish swimming in the mineral-rich waters.
The loop walk also got allowed us to explore some of the caves that resulted from the travertine while also letting us enjoy the views from the waterfall's top.
And on top of all of that, the experience was fun for the whole family as it was both easy, safe, and interesting.
So you put all these things together, and the case to include this waterfall on our list of Colorado's best becomes quite obvious.
Even though this waterfall was a short 1/2-mile or so hike right from the beautiful town of Telluride, it was still a little bit of an adventure to reach.
The first time I came here, I had to contend with snow and ice, but this waterfall yielded an interesting snow cone that would make Disney's Elsa proud.
The second time I came here, I waited between thunderstorms before making the hike along its narrow drop-off exposed and eroded paths to enjoy standing right in front of as well as going right behind it.
And in both times, the pronounced red cliffs really gave this waterfall character while also contrasting with its plunging 80ft silvery free-falling column.
Add it all up and I had to include this waterfall on our list of the Top 10 Best Colorado Waterfalls.
Of the waterfall entries on this list, this powerful 100ft waterfall deep in the San Juan Mountain Range might have been the most out-of-the-way one that we had to earn our sighting for.
Not only was this place on a high plateau near mountain passes that surpassed 10,000ft in elevation, but it provided us a dramatic example of the geologic forces that could yield such a feature even though its surroundings seemed flat and unlikely to have such a waterfall!
In fact, we made an early-season visit where I had to walk a snow-covered road to this typically-roadside attraction, but the effort was justified as I also witnessed a rainbow in its mist within the depths of the canyon that the creek gushed into.
Indeed, remote waterfalls like this one always have that recharging and back-to-nature effect on us, and we had to give it some love by including it on our list.
Like What You See So Far?
This 181ft multi-step waterfall in Colorado Springs was situated in the so-called "Grandest Mile of Scenery in Colorado".
After flooding caused a change of ownership and a lot of restoration work, I found that the experience certainly came close to living up to its grand slogan.
Indeed, I experienced each tier of the namesake seven waterfalls up close, saw the whole thing from the Eagle's Nest Lookout, hiked beyond the waterfall for more scenery as well as waterfalls and a view of Colorado Springs, and more!
This scenic highlight of Colorado Springs certainly opened my eyes to the nature on offer in the east-facing slopes of the state, and it certainly deserved to stand among the cream of the crop of our favorites in Colorado.
This was another out-of-the-way waterfall in the far north of the state of Colorado by the resort town of Steamboat Springs.
Yet even despite the long drive it took to get here, that didn't stop it from being one of the most popular waterfalls that we've seen in the state.
And upon coming here, we instantly started to see why as scores of people descended the short 1/4-mile trail to Fish Creek right in front of the waterfall to play and get a good look at the falls to boot.
As if that wasn't enough, there was also a quieter 1/4-mile loop trail going to an overlook with a regal view as well as some peace and quiet (relatively speaking) to hear myself think and wonder at the Nature before me.
Indeed, with all that this big 284ft dramatic waterfall had going for it, it was a no-brainer to include it on our list of the Top 10 Best Colorado Waterfalls.
This elusive waterfall took me two tries before I finally got to experience it the way I was supposed to.
As you can see in this photo, it sat in a narrow and forbidding canyon that took quite the adventure to reach, especially since it didn't have a proper trail.
But sometimes the hardships and frustrations make the payoff that much sweeter, and in this case, all the scratches, bruises, wet shoes, and damage to the rental car meant that it came down to my will and judgment to snatch victory from the jaws of defeat.
No wonder why this waterfall was such a locals' secret over the years though it seemed like the cat was already out of the bag when I made my visit as I always saw someone trying to find the falls both times I made my attempts.
Nevertheless, this adventure and the reward that came with it is still stuck in my mind when I think back to the highlights of our 2020 COVID-19 road trip, and the falls most certainly belongs in this list of the Top 10 Best Colorado Waterfalls.
This very popular and well-known waterfall in Telluride was said to be Colorado's highest free-falling waterfall at 365ft.
We got to experience it on a (quite literally) breathtaking trail that passed by two satisfying intermediate waterfalls along with views of the neighboring Ingram Falls on its way up to the waterfall's base.
I also got to climb higher above the end of the trail for even more elevated views of this waterfall while looking right into the town of Telluride way down below.
Even though people with rugged 4wd vehicles can cheat by driving here directly, we found hiking both the trail and the road on the way back allowed this place's scenic beauty (punctuated by this waterfall) to really sink in.
And so it only made sense to put the falls high up on our list of favorite Colorado Waterfalls.
Even though these waterfalls weren't the tallest nor the biggest on this exclusive list, they certainly sat in perhaps the most beautiful spot in the Rocky Mountains – Hanging Lake.
While Bridal Veil Falls spilled right into an impossibly clear and colored lake, the Spouting Rock shot right out of a cliff.
Indeed, the waterfalls can hold their own here, but even they seemed like incidental attractions to the turquoise-blue lakes surrounded by towering scenic cliffs.
We had to earn our visit with a 4-mile round-trip hike and lots of climbing to take it all in, but that further added to the payoff of finally witnessing this miracle of Nature.
It was hard to believe that this place was nearly destroyed during the course of I-70 construction, but fortunately, enough grass-roots support and effort allowed this place to remain for all to enjoy.
And thus, these waterfalls along with the surrounding scenery sit atop this list of the Top 10 Best Colorado Waterfalls.
Looking for more of our favorites?
Below are a few more Top 10 lists of the waterfalls we've visited.
Visitor Comments:
Got something you'd like to share or say to keep the conversation going? Feel free to leave a comment below...
No users have replied to the content on this page