It's about time we curate a list of the Top 10 Best Waterfalls in the Columbia River Gorge that we've personally experienced.
This is especially the case since we've been chasing waterfalls for decades and have come here to both Oregon and Washington multiple times over the years.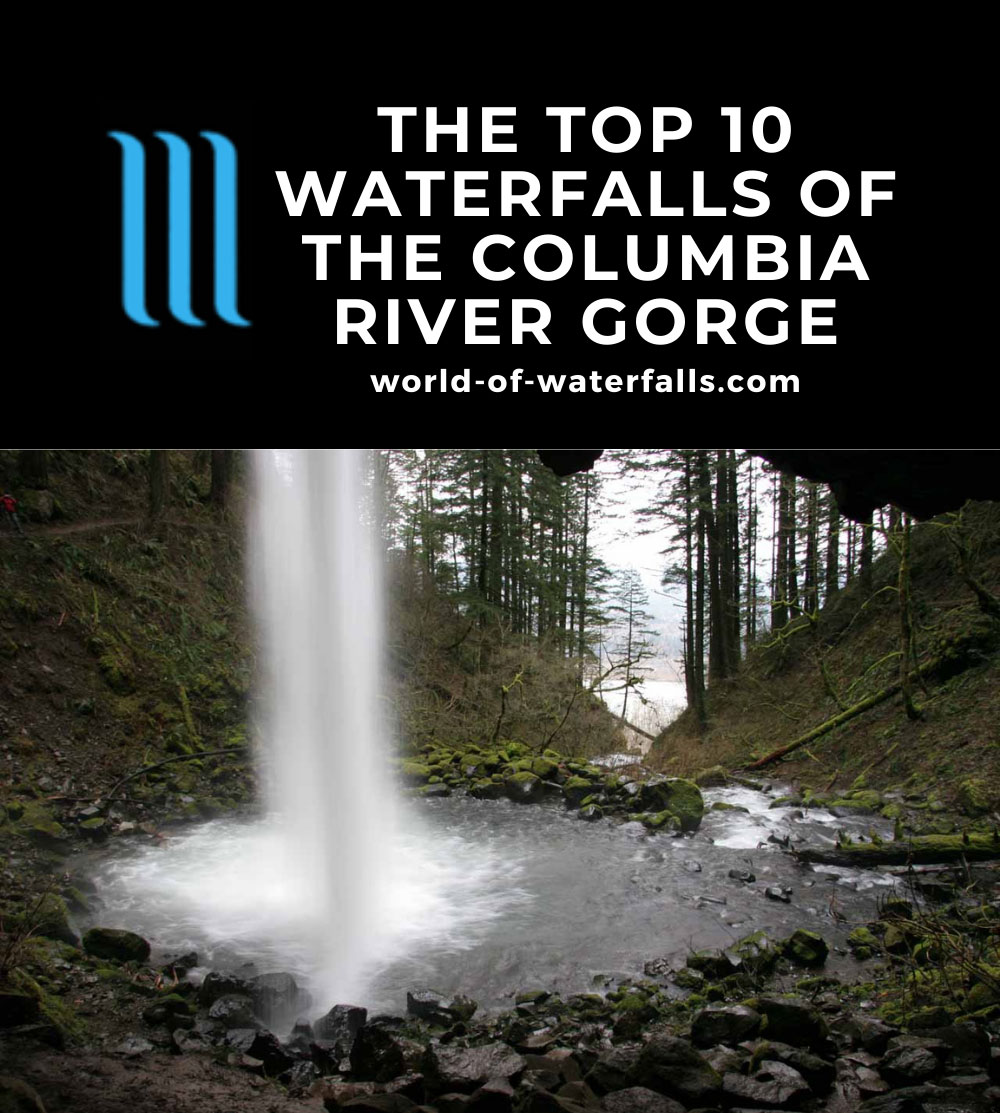 A lot has been happening with the so-called "waterfall corridor" portion of the gorge, where there are literally dozens of waterfalls (many of which are roadside).
More specifically, a lot of work had been going on to re-open the trails after the Eagle Creek Fire in 2017, and there's also a permit system in place since late May 2022 to help protect this special place.
In this list, we went through the painful exercise of picking just 10 of the most impactful waterfalls here, and hopefully, this guide helps you to figure out what you'll want to be targeting on your upcoming visit!
Since this is a rather exclusive list, it's worth mentioning some waterfalls (many of which are well-known and well-visited since they're mostly roadside) that didn't make it, and these include…
So what are the ones that did make this list? Check them out below in reverse order…
This is an almost-roadside waterfall that doesn't see nearly the same amount of visitors as the other convenient waterfalls within the "waterfall corridor" of the Columbia River Gorge.
In fact, you have to drive the I-84 beyond Eagle Creek between Cascade Locks and Hood River, and only eastbound motorists can get to its off-ramp.
The reward for this bit of a detour outside of the main part of the Columbia River Gorge is this tall 227ft waterfall that further demonstrates that you need not be within the busy part to experience quality waterfalls.
And thus, it nudged into this list of the best waterfalls in the Columbia River Gorge.
This is kind of an off-the-beaten-track waterfall as far as the Columbia River Gorge is concerned because it does require a hike to reach, and it's not in the main part of the "waterfall corridor".
In addition to its interest twisting appearance, where an upper drop can only be seen in profile before emerging from its narrow chute as a face-on lower drop, we also got to experience Munra Falls as well as some alcoves along the way.
Access to this place in recent years has been a bit of a hit-and-miss affair because of frequent closures, but when it's accessible, it's definitely worth checking out.
Even though it has been many years since I was last about to experience this waterfall, it still left enough of an impression on me to sit on this exclusive list of the best waterfalls in the Columbia River Gorge.
OK, this waterfall by itself isn't really that big of a deal in my mind, but it's the scenic and atmospheric hike to get to it that really makes the experience.
Indeed, this waterfall is really my excuse to talk about the Eagle Creek hike, which is full of high ledges, no-name or "spontaneous" waterfalls, lots of greenery, and even the option to go father to Tunnel Falls.
This excursion might even place higher on this list had I been able to get to the Tunnel Falls, but for one reason or another (mostly due to fires and trail closures) that it's still on my list of things to do when I return.
The Eagle Creek Gorge itself has seen its share of dramas in addition to wildfires, such as the landslide that made viewing Metlako Falls much more difficult (if not safely feasible anymore).
Nevertheless, the Devil's Punch Bowl Falls is a real popular place for a swim, and the last time I was here literally weeks before the Eagle Creek Fire, it definitely blew up in visitor numbers!
While we're on the topic of convenient Columbia River Gorge Waterfalls, it doesn't get any more convenient than this roadside waterfall with an opportunity for a dip in the warmer months.
For such a convenient waterfall, it's certainly no slouch with its 176ft height.
However, if you're up for getting away from the crowds and going on a short hike, you can ascend up to the Ponytail Falls (or Upper Horsetail Falls), which is almost like a mini-me version of the bigger waterfall.
Moreover, you can go behind the Ponytail Falls, which is something that you can't do for the vast majority of waterfalls in the Columbia River Gorge vicinity.
So given the convenience and the possibility of experiencing another waterfall that's similar yet so different, I felt it deserved as spot on this list of the best Columbia River Gorge Waterfalls.
This nearly 100ft waterfall pretty much became Instafamous in recent years before the Eagle Creek Fire closed off its access.
Given the sensitive habitat and the impacts of the viral visitation numbers, the forest service has shut down access to reach this waterfall until a full assessment and mitigation measures going forward are fleshed out.
In case you're wondering how you'd have to reach this secluded waterfall, you actually have to scramble and wade within Oneonta Creek.
This involves traversing a dangerous log jam while also dealing with deeper parts of the creek where the vertical walls of the gorge would close in.
Nevertheless, on its own merits, this waterfall deserves to be on this list of the best waterfalls of the Columbia River Gorge though we'll have to wait and see how its access situation goes in the future.
Like What You See So Far?
Unlike the plethora of roadside waterfalls that make waterfalling the Columbia River Gorge so easy, visiting this 132ft segmented trio requires a bit of a hike within the upper reaches of the steep Oneonta Gorge.
And as you can see from the photo above, it's a three-segment waterfall (as the name suggests), which makes it pretty unique among the majority of the Columbia River Gorge Waterfalls.
Indeed, the trail climbs steeply and past the famed Lower Oneonta Gorge Falls before going by a few more minor cascades as the trail continues to climb further upstream before finally reaching the precarious falls viewpoint.
As much as I thought this trail was going to be totally done in by the Eagle Creek Fire, the forest service did a remarkable job reopening this place in less than 4 years since that event!
Most of the waterfalling action associated with the Columbia River Gorge occur on the Oregon side (which is the south bank of the river).
However, this attractive 250ft waterfall actually sits towards the Washington State side of the gorge (albeit a bit further north from the river itself) in the Gifford Pinchot National Forest.
The reward for its moderately short day hike is this rather unique-looking dual-drop waterfall where the wider upper drop funnels into a lower drop chute.
In recent years, even this place has blown up on the socials so it's not the once obscure waterfall that it once was when we first came here.
Nevertheless, this place does offer something a bit different, especially considering how you really have to go a bit further away from the usual waterfall stops in the Columbia River Gorge to get here.
Similar to Elowah Falls, this 249ft plunging waterfall flanked by some strong examples of basalt columns is a more convenient waterfall since it's practically roadside.
Well, you can get a closer and more intimate experience with the falls by doing the short walk right to the waterfall's misty base.
Or, you can settle for more contextual views of the falls from a few lookouts by the parking lot.
Nevertheless, you might notice that the trails continue beyond the obvious lookout spots, and they actually loop their way to the Upper Latourell Falls, which itself is an attractively significant two-tiered waterfall though not quite as big as the lower main one we're talking about in this entry.
We've seen this tall plunging waterfall (depending on who you consult, it could be as little as 213ft or as high as 289ft) in both high flow as well as low flow.
In each instance, the surrounding knobby cliffs and open amphitheater make for a pleasant spot to chill out for a bit, especially since it doesn't see nearly as much visitation as the more convenient roadside ones are.
Since it flows on McCord Creek, it's possible to extend the excursion to include the Upper McCord Creek Falls.
This extension not only features a segmented double-barreled appearance, but it also offers teasing glimpses of both Mt Adams and the Columbia River Gorge itself.
It's cliche to put this waterfall on the list because it's super popular, especially since you can easily stop for it right off the I-84 freeway!
However, I've found it worthwhile to go up to and beyond the Benson Bridge to the brink of the waterfall to really get familiar with the scenery here.
Besides, the crowds tend to thin out beyond the bridge.
Nevertheless, this place is crowded for a reason, and so it's a no-brainer why we had to put this waterfall atop the list of the best Columbia River Gorge Waterfalls.
Looking for more of our favorites?
Below are a few more Top 10 lists of the waterfalls we've visited.
Visitor Comments:
Got something you'd like to share or say to keep the conversation going? Feel free to leave a comment below...
No users have replied to the content on this page