This list of the Top 10 Best France Waterfalls highlights the vastly underrated and underappreciated waterfalls throughout France. We also show you how to visit each of them.
In a country that is so well-traveled, it baffled Julie and I so we felt compelled to try to give these French Waterfalls some well-deserved love.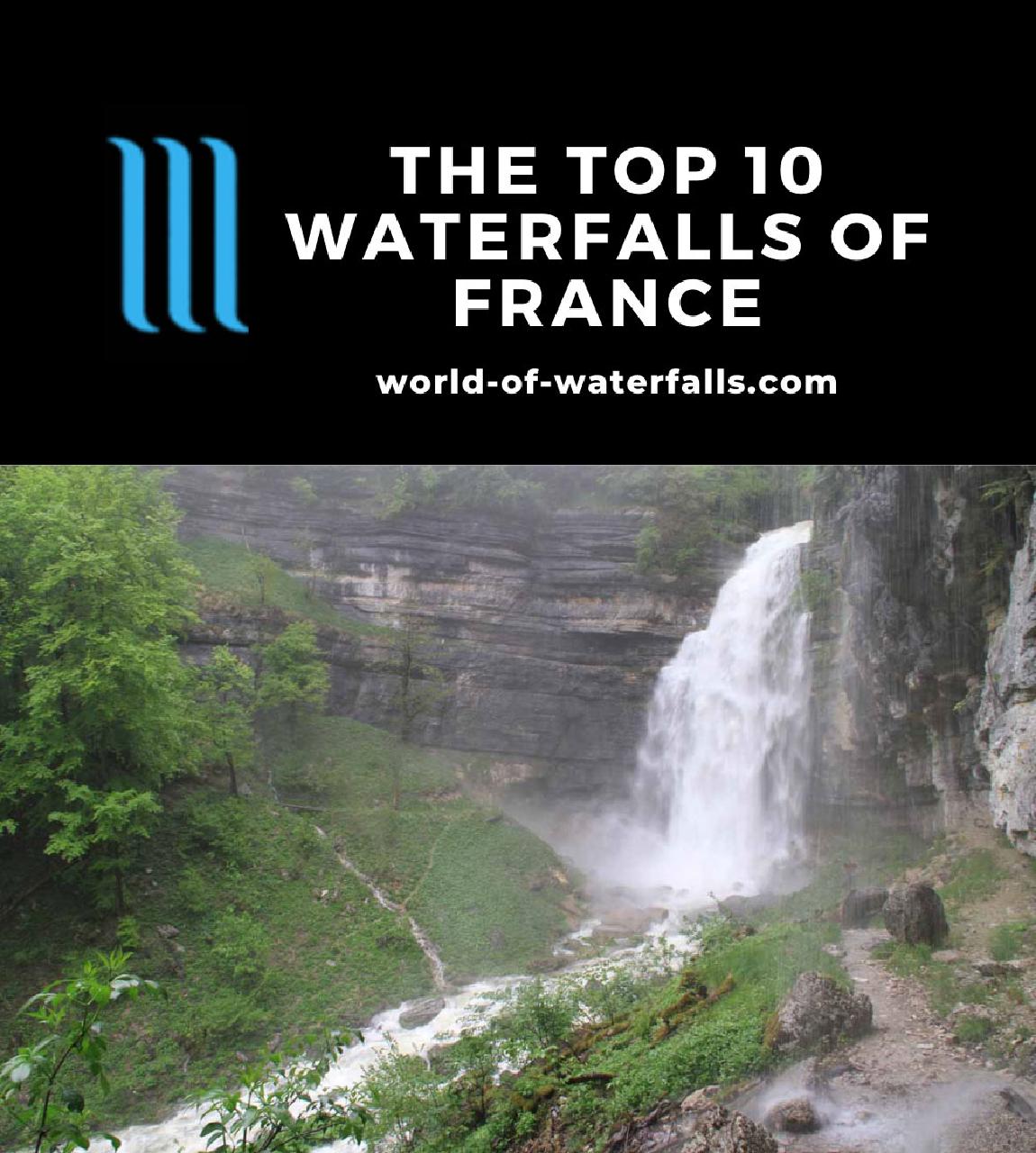 Indeed, while most of the tourist traffic remains confined to the historical relics of the past typically found in urban centers, that gives the intrepid adventurers plenty of room to enjoy the best Nature that France has to offer.
And they can do this before the crush eventually reaches these spots, too!
Typical to the other Top 10 lists that we've put out on this website, we only base this list on our own personal experiences.
Yet even with that stringent criteria, we still had to make some tough decisions on which of the French Waterfalls to leave out of this list. Such snubs included gems like Gimel-les-Cascades as well as Cascade de Courmes.
So for a full survey of the France waterfalls that we've been to (including those that didn't make this list), check out our comprehensive coverage of the waterfalls in France.
In the mean time, to whet your appetite, we present our favorite French waterfalls in reverse order…
This was our waterfalling excuse to experience the grand central massif in the heart of France.
It really felt like we had gone far off the beaten foreign tourist path in this region, but that made the experience all the more authentic and relaxing.
From the town, we were able to hike up to this 30m waterfall on the grand waterfall path or chemin de la grande cascade. Then, we continued onwards beyond the waterfall where we had a sweeping view of the Puy de Sancy massif as well as birdseye views over the town of Mt-Dore itself.
As a result, given all that this waterfall had going for it, we gave it the edge over the other deserving waterfalls in barely making this list.
This waterfall made our Top 10 Best France Waterfalls List mostly because of its color and character.
As you can see from the photo above, when the sun strikes its travertine-like wall, it seemed to bring out the oranges and yellows as well as the moss and algae growing in the moisture.
Plus, our visit couldn't have been any easier as it sat right next to a road in the charming town of Glandieu.
Julie thought of this as one of her favorite waterfalls in the country as she enjoyed the beauty of the waterfall's grace and color as opposed to its size.
And for that, we thought highly enough of it to give it a spot on this Top 10 List of Best France Waterfalls.
With this waterfall experience, we managed to couple it with a little bit of a cave exploration.
Such a combination of cave and waterfall was something we don't see that often. So with this unusual juxtaposition that we fondly remember this experience.
Situated south of Lake Annecy, we also got commanding views towards other mountains fronted by cute villages.
It all further reinforced the good vibes from a magical place where Lake Annecy and its old town center really stole the show on our first trip to France.
So it only made sense that we had to give this waterfall its props by placing it among our list of Top 10 Best France Waterfalls!
This 60m segmented waterfall featured intriguing basalt columns that reminded me of Icelandic waterfalls like Svartifoss and Aldeyjarfoss among others.
Its twin-like characteristic further added intrigue to this unusual waterfall, which underscored the volcanic origins of the bedrock.
During our 2012 visit, the access trail remained a work in progress as the authorities had been putting the finishing touches on it. However, one of the workers we asked was kind enough to let us go on it anyways.
And for that, we owe him a lot of gratitude. For if we didn't have this opportunity, then we wouldn't have included it on our Top 10 Best France Waterfalls List.
The name of this waterfall also pertained to the neighboring town, but it was a far cry from being an urban waterfall.
Situated inland from the famed French Riviera (northeast of the city of Aix-en-Provence), we spent a gorgeous afternoon enjoying this twin waterfall while yielding an afternoon rainbow.
Despite the closure of the trail to its base, it didn't seem to stop anyone from assuming the risk to fully experience the waterfall at its best.
With a 44m drop, this waterfall acted as kind of our waterfalling excuse to explore some off-the-beaten spots in the rolling hills and vineyards of Provence.
Therefore, I had to include this waterfall on our list of Top 10 Best France Waterfalls!
Like What You See So Far?
Although the name doesn't seem to suggest it, this historical stone bridge spanned a turbulent watercourse where a pair of thundering cascades converged and rushed further downstream.
That was where we saw more attractive cascades further adding to this place as a bon-a-fide waterfalling spot.
Even though the cable car didn't operate on our visit back in May 2012, in hindsight, we probably should have done the hour-long hike in each direction to the Gaube Lake. I believe that lake fed the waterfalls around the Bridge of Spain.
Nonetheless, even if the waterfalls weren't considered as the main attractions here, they certainly provided us the perfect excuse to soak in this beautiful part of Southern France.
And for that, I had no qualms about including this on our Top 10 List of Best France Waterfalls.
With this entry to our Top 10 Best France Waterfalls List, we're really talking about multiple waterfalls on a single excursion.
Some of these waterfalls had names to them like Truffiere, L'Eventail, Le Grand Saut, and Saut Girard among others.
And while heavy rain impacted our visit, we still saw and felt enough of this wet and wild place in the Jura Mountains to start seeing waterfalls in our sleep!
That's why we had no trouble carving out a lofty spot on this pretty competitive top 10 list!
This waterfall kind of forced us to make an unexpected stop as we sought to drive past Mt Blanc and Chamonix towards another waterfall near the Swiss border.
With a drop of reportedly nearly 300m, the waterfall stood out on its own merits. However, we also spotted other tall waterfalls in the immediate area (especially across the valley).
Such mindblowing scenery where cute mountain-clinging villages were dwarfed by the majestic mountains themselves.
Even though we could cross the creek and hike right up to the misty base, we found the experience to be more satisfying from closer to the picnic tables and car park, where we witnessed wildflowers in full effect.
And thus given what this waterfall had going for it, we had to make room for our Top 10 Best France Waterfalls List.
One of the more obscure and unsung waterfalls on this list, we managed to do a big detour to a seemingly quieter side of the French Pyrenees Mountains to reach it.
Despite being visible from the nearby spa town of Aulus-les-baines, we certainly had to earn our visit as the trail went relentlessly up.
But after persevering for a couple of hours, we finally witnessed this unusual bulb-shaped 246m waterfall from up close.
Even though we were time constrained to get to Carcassone before dark, I'm sure we could have kept going up to really experience other aspects about this waterfall. Maybe next time.
Nevertheless, what we were able to experience still made us think highly enough of it to almost earn it the top spot on our list of the Top 10 Best France Waterfalls!
Sitting at the head of a glacial cirque bearing the same name as the waterfall itself, the falls possessed a 422m cumulative height of which the most vertical part comprised 281m of it.
With such an imposing wall of granite and snow crusts with ephemeral cascades and waterfalls flanking the main column of water, you could argue that this beautiful spot was world class.
In order to get close to this giant near the forbidding peaks by the Spanish border, we had to go on a bit of a 2.5-hour round-trip hike.
Yet it was only by getting close to the falls could we fully appreciate how imposing the walls of the Gavarnie Cirque were, which further reinforced the sheer size of the main waterfall itself.
And while Julie and I had to exercise patience with Mother Nature to finally experience this wonder, we didn't regret our change of plans one bit. In fact, we loved this waterfall so much that it topped this list of our favorite waterfalls in France!
Looking for more of our favorites?
Below are a few more Top 10 lists of the waterfalls we've visited
Visitor Comments:
Got something you'd like to share or say to keep the conversation going? Feel free to leave a comment below...
No users have replied to the content on this page