Our list of Top 10 Best Germany Waterfalls reflected our deep desire to thoroughly experience the best that the country had to offer. And we're spreading the love by showing you how to visit each of these falls.
We researched real hard on this trip. And it yielded not only the obvious attractions like the castles, the main cities, and the Rhine among others, but we used die wasserfälle as excuses to go to other less touristed spots in search of Nature.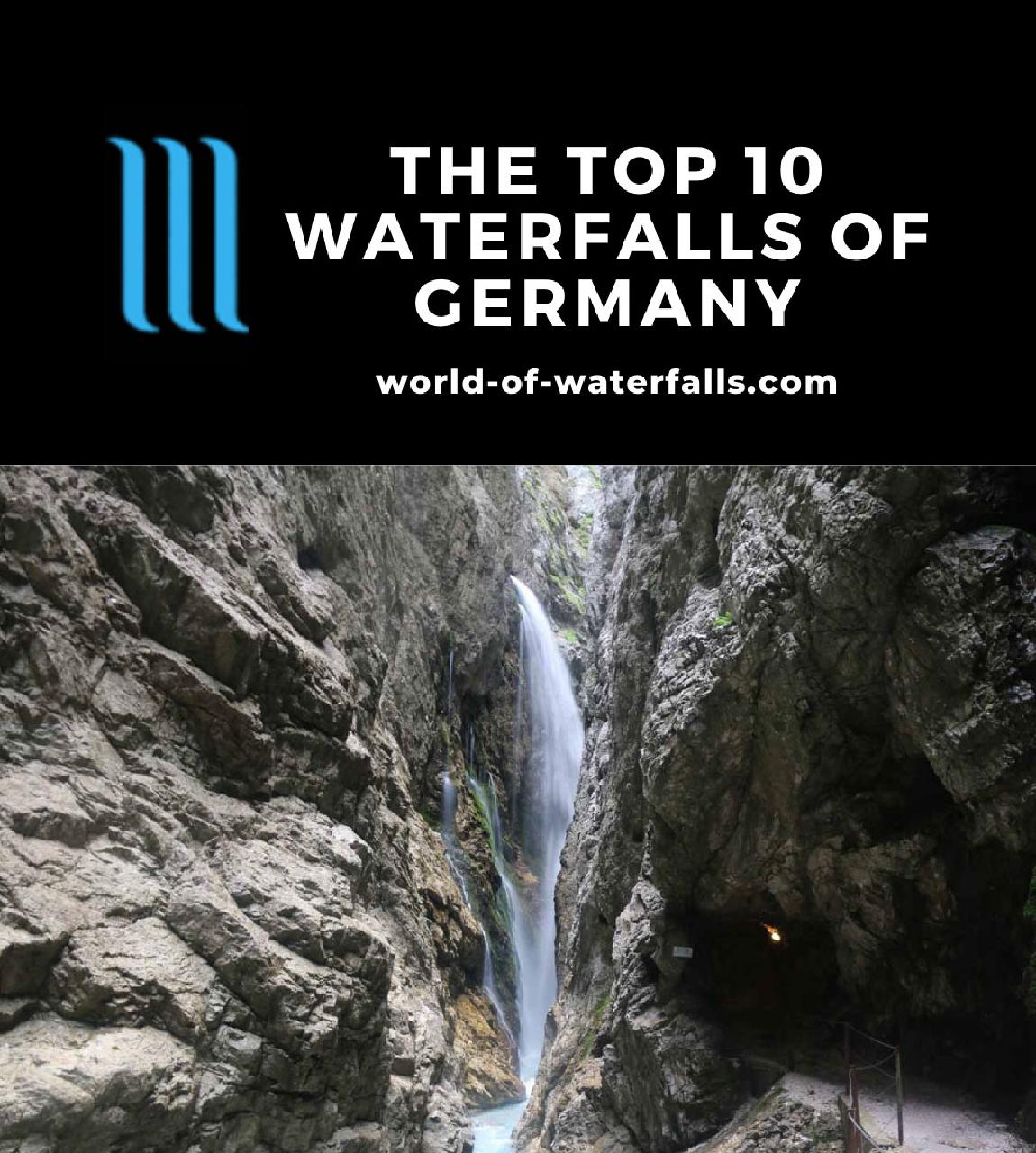 The end result of such diversity in our trip was a fairly big waterfall survey. So you can imagine what a hard time we had trying to filter down such a survey into a list of just ten!
To give you an idea of the size of our survey, you can look at our comprehensive page covering all the waterfalls in Germany that we have been to and written about. This includes waterfalls that didn't make this list.
Since we only make these lists based on our own personal experiences, we know they can change with more experiences we collect. So these living lists can easily look different the next time you may stumble across them.
Nonetheless, we present our current list of favorite German waterfalls in reverse order…
This entry really consisted of a small group of waterfalls.
Pictured above were the two biggest drops, but I also encountered a third waterfall further upstream that allowed me to go behind it.
With family friendly playgrounds and a little animal park, I found this to be a great place for the family to chill out.
Of course, it also provided the perfect waterfalling excuse to experience the scenic Lake Constance (Bodensee) in the far southwest corner of Germany (shared with Austria and Switzerland).
Add it up and this waterfall cluster just managed to make their way into our Top 10 Best Germany Waterfalls.
This waterfall really should have placed a lot higher on our list of Top 10 Best Germany Waterfalls.
After all, it sat by the famous Neuschwanstein Castle while plunging into a deep gorge beneath the Maria's Bridge.
With such a combination of history and Nature, we could easily see how this could have inspired Walt Disney to create the fairy-tale worlds that we all know and love today.
Who knows what else King Ludwig II had in his mind when it came to imagining and commissioning such works?
Unfortunately, the average visitor could only experience this waterfall in a very limited manner. Photo restrictions within the Neuschwanstein Castle itself ensured that we couldn't take home the best views of this waterfall in peace.
Yet even with such restrictions, its position on this list just reflects why people all over the world come here (treating the waterfall as merely a side attraction).
This waterfall entry really consisted of an upper and lower waterfall each at a rather modest 10m height.
Sitting somewhat off-the-beaten-path (especially compared to Bavaria's other main attractions), it felt refreshingly quiet here.
Maybe the rain might have thinned out the number of visitors even more, but we've learned in our travels that you need diversity in everything you do.
And travel was no different.
So for its ability to chill us out and diversify our Bavarian experience, we gave this waterfall its props by including it on our list of Top 10 Germany Waterfalls.
This mossy and weeping 37m waterfall seemed to have something for the whole family.
While the trail alongside the stream yielded opportunities for young ones and the young-at-heart to get wet and cool off, the waterfall itself made it worthwhile for adults.
And when everything was said and done, we enjoyed a nice picnic lunch at the beer garden.
Could any waterfall be more quintessential Germany than this?
Indeed, that's why I had no issues giving this waterfall the nod in placing on our Top 10 Best Germany Waterfalls list.
This very tall waterfall (possibly with a cumulative drop of 300m) backing the alpine town of Hinterstein was easily seen.
However, getting up close to each of its drops required a lot more effort.
That said, the higher I went up the trail, the more regal the views over the valley flanked by jagged snow-crusted peaks.
And being somewhat off-the-beaten path, it felt like how I'd imagine Bavarian Alps scenery was meant to be experienced.
Thus, I felt justified in placing this thin giant among our list of Top 10 Best Germany Waterfalls!
Like What You See So Far?
With this waterfall entry, I tend to think about lost opportunities.
Indeed, while I felt like I had seen perhaps the most dramatic parts of this impressive waterfall, I didn't close the deal by getting all the way up to the creek's source.
Had I persevered through the tiring and steep climb, I should have seen the source. That was where a spring gushed from a hole in the cliff and started its 270m descent over the waterfall series.
So just imagine how much higher this waterfall would have placed had I done that?
Nevertheless, the rest of this waterfall gave me enough to smile about to place it this high on our Top 10 List of Best Germany Waterfalls.
This impressive Black Forest waterfall had a towering 97m drop with a trail from top to bottom that allowed me to take it all in.
I even noticed interesting chairs where you could lay down and stare right up at the waterfall.
I wondered why some of the literature tended to refer to this waterfall as plural (waterfalls or wasserfälle) since I only noticed this doozy of a singular waterfall.
But regardless of how you refer to it, I found it as a pleasant introduction to how magically serene and beautiful waterfalls can be in this part of Southwestern Germany.
And for that, I had no issues with placing this waterfall high up on our list of Top 10 Best Germany Waterfalls.
This waterfall seemed like one of those Black Forest (Schwarzwald) institutions that you have to experience when in Southwestern Germany.
Along with cuckoo clocks and Black Forest cake (Schwarzwaldkuchen), this series of waterfalls seemed to embody the Nature in this nature-rich part of the country.
Said to have a cumulative drop of 163m, I've seen claims that it is the tallest waterfall in Germany.
While I have doubts about that claim, one thing it can hang its hat on is possibly the claim that it could be the tallest permanent waterfall in the country.
Nevertheless, regardless of what kind of superlatives or keyword search terms you want to associate with it, we savored this experience enough to consider this waterfall one of our favorites in Deutschland.
This waterfalling excursion introduced me to the dramatic narrow chasm experience. Such chasms seemed to be prevalent in the mountains of Southern Germany and throughout Austria.
But never in my wildest dreams did I expect to see and feel so many waterfalls channeling through this dramatic and turbulent gorge!
Powered by the melting of snow and ice by the Zugspitze (Germany's highest peak), this adventure required a bit of stamina as well as persistence.
Indeed, I had to go on an uphill hike to even reach the remote gorge entrance. But that made the whole experience so much sweeter, especially when I spotted waterfalls before even reaching the Hell Valley Gorge itself.
So taken all of these things together, I just had to include this series of waterfalls high up on our Top 10 List of Best Germany Waterfalls.
This waterfall was really a multi-waterfall excursion.
While the Rothbach Waterfall (pictured above) backed Obersee in an impossibly beautiful setting, the whole excursion to get there added to the experience.
Indeed, the boat cruise across the larger Lake Königssee (King's Lake) featured two other waterfalls as well as the charming St Bartholomë church and village.
Even though the story of The Sound of Music took place in Salzburg, Austria, many intro scenes were shot right over Königssee.
It just goes to show you how beautiful this place was, and Rothbachfall provided the perfect waterfalling excuse to experience it all firsthand!
That's why I had to place it at the top spot of our list of Best German Waterfalls.
Looking for more of our favorites?
Below are a few more Top 10 lists of the waterfalls we've visited
Visitor Comments:
Got something you'd like to share or say to keep the conversation going? Feel free to leave a comment below...
No users have replied to the content on this page