The Top 10 Best Iceland Waterfalls List showcases our personal favorites from our extensive survey of waterfalls in the land of Fire and Ice. Thus, we show you how to visit each of them.
That said, we had a difficult time even coming up with this list because there are so many high quality waterfalls in the country.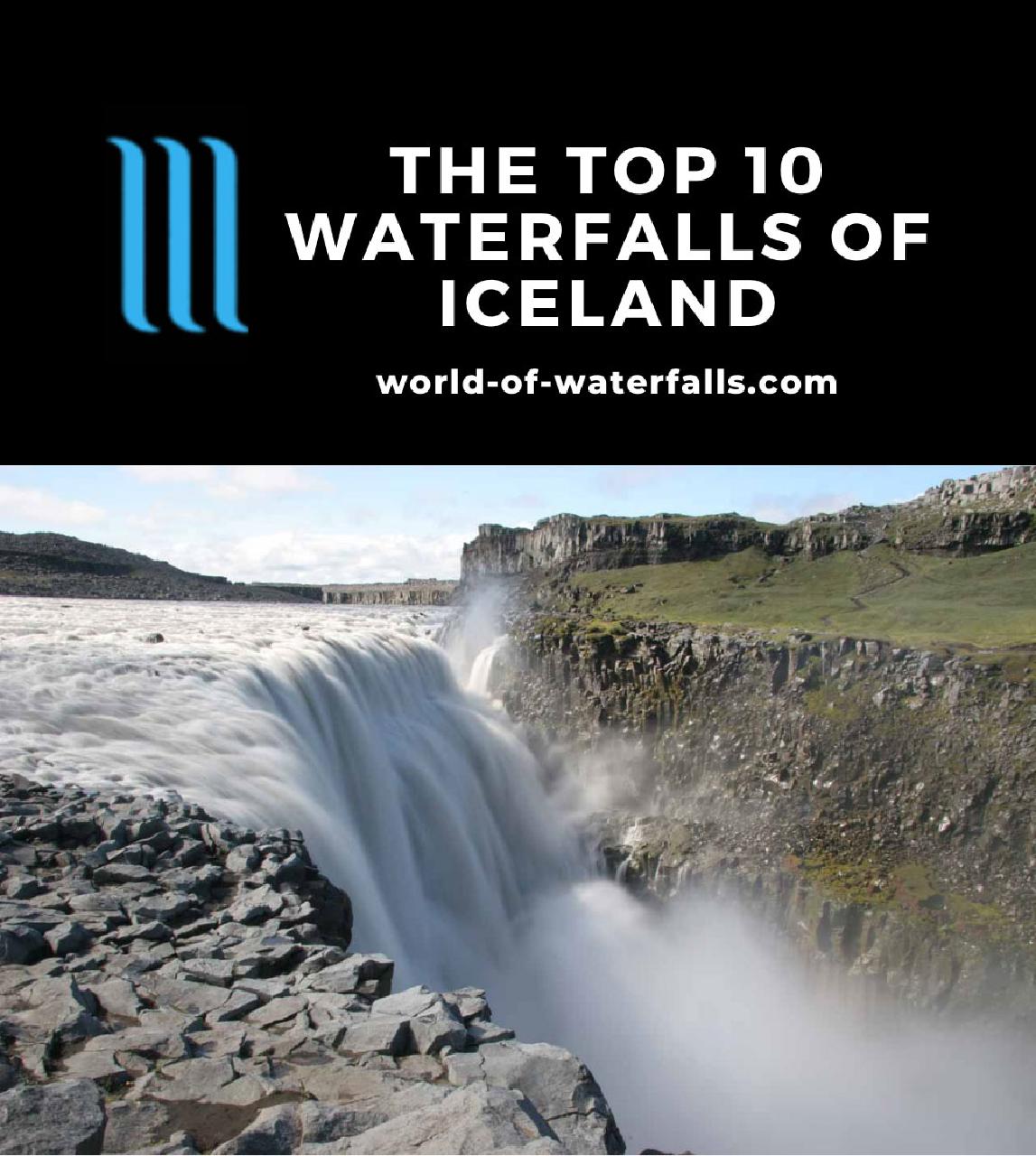 Besides, it's completely subjective and limited to each person's experiences, which further adds to the variability of such a list.
Like with all of our other Top 10 Lists, we based this list on our own personal experiences, which makes it different from most other lists you see in the internet.
Indeed, we've surveyed just about all of the major waterfalls as well as hidden gems, which you can see in this comprehensive Icelandic Waterfalls page.
With such a painful exercise of choosing just ten of the best waterfalls in Iceland, there's bound to be snubs.
Some of them include popular waterfalls like Kirkjufellsfoss, Seljalandsfoss, Gljúfrafoss, Ketubjörg, and Svartifoss.
That just shows you how many high quality Icelandic Waterfalls that exist!
So without further ado, we present the Top 10 Best Iceland Waterfalls in reverse order…
Just barely making it onto our Top 10 Best Iceland Waterfalls List, this extensive series of springs emerging from old lava tubes that stretched as far as the eye could see made this one of the more unique waterfalls we've seen in Iceland.
While we've been flip-flopping between this waterfall and the Seljalandsfoss–Gljúfrabúi combo, we gave this one the edge because of a combination of its 900m length, the colorful blue water (courtesy of the Langjökull Glacier), and its one-of-a-kind characteristic.
Plus, a visit to this waterfall would typically be paired with experiencing the curious Barnafoss, which features a natural bridge as well as turbulence on the Hvítá River.
And true to its name (which literally means "lava waterfalls"), we even got to check out parts of its namesake lava field called Hallmundarhraun for a closeup look at the geology that gave rise to this quirky entrant to this competitive list of Iceland's best.
This popular wide river waterfall on the Skjálfandafljót played a role in Icelandic history.
During that time, the law speaker (named Þorgeir) for the alþing (assembly) in the year 1000 had to make a nontrivial decision whether to make Iceland Christian or not.
At a time when you either converted or faced death, the decision was made to make the country Christian and Þorgeir tossed his Norse deity idols into the waterfall.
Besides history, this waterfall also holds its own in scenic allure, which you can experience from both sides of the river while getting up close to this horseshoe-shaped multi-segmented wonder.
It's definitely a not-to-be-missed attraction.
There's just something to be said about seeing Iceland's tallest waterfall (196m) [or former tallest based on the discovery of a waterfall revealed by the recession of the Morsárjökull Glacier].
Sure we had to deviate from the tourist routes to reach the trailhead. Then, we had to earn ourselves a good view with an adventurous hike. Finally, we had to fight the butterflies in our stomachs to stand closer to the cliff's edge for the best views.
Indeed, we had to persevere on this excursion, but it rewarded us richly with some of the country's rawest and most stunning scenery within a day trip from Reykjavík.
In addition to the falls, we even got to hike through a natural double arch, watch birds gracefully flying and diving before the falls, and look forward to stunning views of Hvalfjörður on the return hike.
Indeed, this waterfall gave us the whole experience, which in turn gives it the edge over others that had similar scenic ratings.
This former 3rd highest waterfall in Iceland at 118m loomed high above the powder-blue lake Lagarfljót near Egilsstaðir.
In addition to its size, its underlying cliffs had interesting red stripes. This hinted at an interesting history of violent geological events that can still occur to this day.
Then, we savored the atmospheric all uphill hike along a deep gorge. Along the way, we witnessed Litlanesfoss. This bonus waterfall featured basalt columns in much the same way that Svartifoss and Stuðlafoss in Stuðlagil Canyon did.
Indeed, this worthwhile excursion gave us views, exercise, a geology lesson, and a reason to spend a little more time in the country's east.
This relatively unknown wild waterfall in the remote Eastern Highlands really surprised us with its sheer power as the glacial river Jökulsá í Fljótsdal thundered some 20m.
As if that wasn't enough, our visit to this waterfall also encompassed a series of other waterfalls on the neighboring Laugará River, which included a basalt waterfall of its own called Stuðlafoss.
While we had to earn our visit with a bit of an upside-down cross-country-like hike that involved some degree of route-finding, we also got to pick sweet wild strawberries as well as have a chance at soaking at a geothermally heated pool at Laugarfell.
And we didn't even get to finish the Waterfall Circle on our visit which would have encompassed another thundering waterfall on the Jökulsá í Fljótsdal in Kirkjufoss.
Imagine how much higher this entrant would climb on our Top 10 Iceland Waterfalls List had the whole loop been completed!
Like What You See So Far?
Given the wild and remote nature of the Westfjords, this waterfall caught us by surprise with its unusual shape and gaudy size.
Its 100m cumulative drop actually consists of multiple stages (each with a name). A well-established trail allowed us to walk to each one of them as we'd eventually make it up to the base of the uppermost and highest tier.
And as you can see from this photo, this waterfall definitely made it easy to take good photos, but that wasn't all.
When we turned around and started heading back down, we suddenly saw an expansive panorama of the fjord before us. This view persisted for most of the descent back to the trailhead.
So given all of these things, Julie and I feel it was definitely worth going out of the way to see this one!
Said to be Iceland's 2nd highest waterfall, we happened to see it accompanied by a companion waterfall called Granni (Neighbor). Both waterfalls featured similarly-sized drops so they almost seemed like twins.
Nestled within a deep and rugged gorge in the desolate Þjórsárdalur Valley, we happened to catch this waterfall on a beautiful sunny day when the rainbow accompanying it wowed us!
In fact, I swore that we probably caught sight of this waterfall under nearly perfect conditions, which further added to our overall impression of this place.
And while getting here required a bit of some rough unsealed driving, we did notice some passenger cars that did manage to make it to the trailhead.
So given the rewards that this waterfall yielded, the trouble it took to get here was well worth it! It most certainly deserved a high spot on this Top 10 Best Iceland Waterfalls List.
The classic rectangular shape and accessibility made this waterfall an instant favorite.
In fact, it also happened to be Julie's favorite waterfall among those that we visited during our trip to Iceland.
And she wasn't alone as it was certainly one of the country's most popular waterfalls. After all, it received nearly consistent foot traffic among people going to and from its base given that you couldn't miss it as you drive by from the Ring Road.
In addition to experiencing this waterfall from its misty base, we got commanding views from its precarious top.
I even took it one step further and went upstream from the falls where I encountered countless more waterfalls along the Skogá River.
This monster is said to be Europe's most powerful waterfall.
The wild glacial meltwaters of Jökulsá á Fjöllum have carved the massive canyon Jökulsárgljúfur within which we had witnessed this 44m waterfall as well as three other big ones (Selfoss, Hafragilsfoss, and Réttarfoss).
And we couldn't understate the power of this waterfall as we literally felt like the ground beneath us had trembled near the falls!
Indeed, we were both awestruck as well as fearful of the falls' awesome might from both sides of the river, and its remoteness was fitting of the country's raw beauty.
Easily Iceland's most famous waterfall, this 32m waterfall plunges in two stages at nearly right angles to each other.
This unusual characteristic of the falls made it both unique and memorable, and from most of the vantage points, it really looked as if the Hvitá River plunged into an abyss.
We were fortunate to see this waterfall multiple times on our Iceland trips, and that included a partially sunny afternoon, where we saw arcing rainbows form in the wafting mist.
Due to its popularity, expect to share this waterfall with hordes of tourists as well as some persistent midges.
We certainly did!
Looking for more of our favorites?
Below are a few more Top 10 lists of the waterfalls we've visited.
Visitor Comments:
Got something you'd like to share or say to keep the conversation going? Feel free to leave a comment below...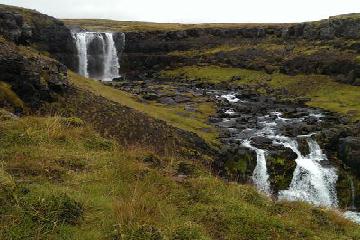 Icelandic Waterfalls
July 2, 2015 10:05 pm
-
Some of my favorite waterfalls in Iceland are (afaik) unnamed falls that one can just randomly see from the side of the road. I'm afraid that, as is the case throughout Iceland, my point-and-click didn't do justice to this two-tier fall, but you get the idea. You can find it (and better photos!) via Google… ...Read More
Top Ten Waterfalls, Iceland
November 11, 2008 11:24 pm
-
10. Hafragilsfoss, NE Iceland 9. Yst i-Rjukandi Falls, East 8. Selfoss, NE 7. Fagrifoss, SE 6. Seljalandsfoss, South 5. Skogafoss, South 4. Godafoss, North 3. Dettifoss, NE 2. Haifoss (three falls), SE 1. Gullfoss, SW Visited Aug. 2006 ...Read More