This Top 10 Best Italy Waterfalls list pays homage to the Italian Waterfalls that we've personally visited and provided write-ups for. You'd figure that in a country as well-touristed as Italy, that its waterfalls might get a little more fanfare than it currently does. Maybe this list might help with that in a small way because we share how you can visit each of these falls.
Sadly, from what we've seen, Italian Waterfalls remain overlooked, which I think shortchanges all that this boot-shaped peninsula has to offer.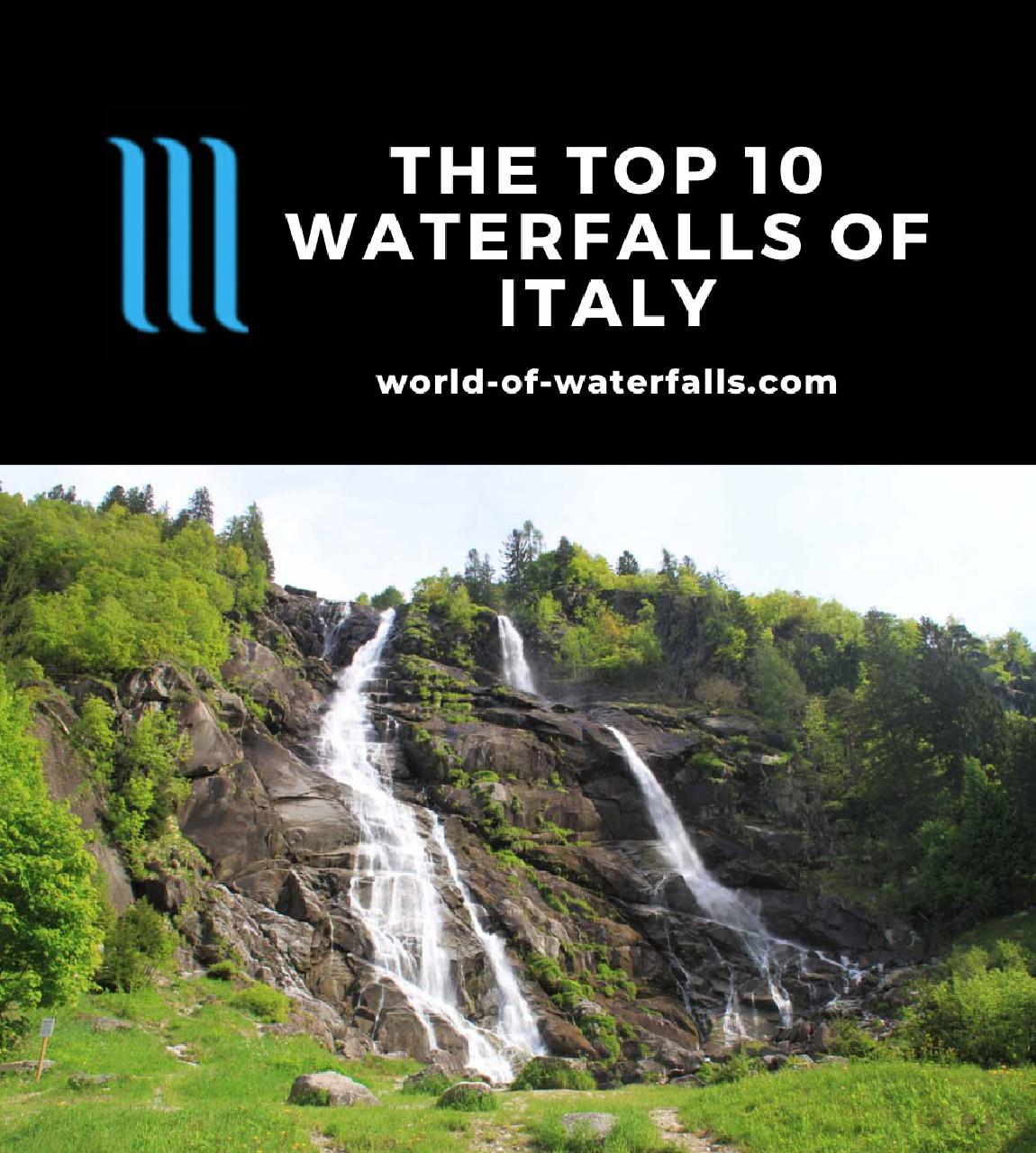 Like all of our other Top 10 lists that we've put out on this website, we only base this list on our own personal experiences.
While I personally feel this list can certainly use some improvement with more visits to the country, we've got a page devoted to all the Italian Waterfalls that we've been to so far. This includes those that didn't make this top 10 list.
Speaking of waterfalls that might have been Top 10 Italy Waterfalls snubs (which goes to show you how competitive this list is), some of the honorable mentions include the Cascata delle Marmore.
Nevertheless, without further ado, we present our favorite Italian waterfalls in reverse order…
Of the waterfalls in this list, this could very well be the widest of the bunch.
It certainly felt well off the beaten tourist path as it sat more to the eastern side of the country nearly a couple hours drive from the more famous Toscana Region.
While the industrial complex near this waterfall made us think twice about getting in the water, we couldn't deny the natural beauty of this place despite the pollution and unsightly development nearby.
Until a better waterfall comes along in our travels, this one just barely backs into this list of Italian favorites.
This series of waterfalls provided the perfect excuse to experience the heart of the Italian Dolomites with their signature finger-like massifs.
Julie, Tahia, and I all saw this waterfall from the narrow road near the town of Colfosco, where the mountains dwarfed the flowing cascade.
However, since the waterfall flowed in one of the creases within these Dolomites, I had to go on a hike to get close enough to really appreciate it.
It was only by getting close enough to the waterfall did I finally feel the waterfall's spray as well as get panoramic views of the Dolomites all around me.
And that was when I finally understood the magic of the Italian Dolomites, which eluded us when we first came to the Alto Adige Region five years prior.
So we had to place it on this list of Italian favorites to acknowledge such magical scenery wrapped up in a waterfalling excursion!
This was really a series of a handful of waterfalls, which we experienced by going on a hike that took in all of them.
Situated in the northeast of Italy, where it seemed like German was more widely spoken than Italian, we went on a trail that seemed more Austrian than Italian. That said, we witnessed waterfalls flanked by boulders, backed by picturesque mountains, and channeled into gorges narrow enough to waft up mist.
Indeed, we couldn't tell if it was raining or if the waterfalls produced the rain when we were there.
It all just added to the adventure in this far-flung part of Northern Italy. Thus, it further proved that waterfalling off-the-beaten path yielded surprises that you simply don't get by sticking to the usual tourist routes.
So we had to include this waterfall ensemble on our list of Top 10 Best Italy Waterfalls.
This particular waterfall nearly eluded us when poor GPS directions took us to the Rifugio Segavecchia.
Luckily for us, the friendly folks at that mountain hut set me straight by directing me to Madonna dell'Acero. The sanctuary there served as the trailhead to this elusive waterfall.
The reward for such trouble?
I managed to experience at least three notable waterfalls all on a quiet and naturesque trail where refreshing signs implored visitors to "rispetta la natura".
That set the tone for the kind of place that seemed all too rare in the Italian Peninsula – where nature rather than man was the rule and not the exception. And it was enough of a positive experience to place this waterfall on our list of Italian favorites.
On our first trip to the Dolomites, Julie and I went looking for the signature mountains of which the region was famous for.
But instead, we managed to find tall waterfalls such as this one.
That said, the hike we did that took in at least two giant waterfalls (the tallest one at 85m tall) certainly made us earn it.
However, going as high as we did, we managed to get sweeping panoramas of the landscape below, which included some of the Dolomite peaks off in the distance.
Such images were etched firmly in our memories, and thus for the overall experience, I had no issues with putting this waterfall series high up on our list of Top 10 Best Italy Waterfalls.
Like What You See So Far?
This was our first waterfall that Julie and I had visited in Italy. And we definitely had to go on quite a detour to reach it!
Indeed, we went into the quiet Abruzzo Region to earn this visit. Naturally, we had this place all to ourselves though one local we encountered wondered what we were doing here.
In addition to this estimated 200m tall waterfall, we also had a commanding view of the Valle di Sangro and viaduct.
For such a rare and unusual experience in a country as well-visited as Italy, the non-touristy experience here definitely made this place very memorable.
And for that, I had no issues placing this beauty on our Top 10 List of Best Italy Waterfalls.
This double-barreled waterfall in the scenic Val Genova was as easy as they come.
The only work we needed to do involved driving a single-lane road in the valley to get here.
But other than that, we hardly needed any physical exertion since this waterfall sat right next to both the road and the Fiume Sarca di Val Genova (the main river running through the valley).
With an overall height of a reported 130m, we certainly did have to crank our necks to look at its top.
So given all that this waterfall had going for it, I had no issues with placing it as high as I did on this list of Italian favorites.
This waterfall once stood at the top of our list of Top 10 Best Italy Waterfalls until a few of them leap-frogged this one, which you'll see below.
Anyways, back then, I personally had a difficult time trying to identify a single waterfall that stood out above the rest because so many of the waterfalls had similar qualities about them.
Heck, it really did seem like an injustice to single one out.
Nevertheless, this waterfall had quite a few things going for it.
For starters, it towered at 98m in cumulative height. It also allowed us to hike up to a viewpoint almost right at its brink.
From such a lofty vantage point, we got to see the whole context of the valley. We also got to see Swiss-like chalets clinging to steep mountain slopes.
Indeed, we wondered if we were still in Italy or in Austria.
Well, whatever the case, we had a nice and relaxing experience, where once again Italy surprised us with its diversity and Nature. So for all these things, I had no issue with placing this gorgeous waterfall near the top of this list.
When it comes to this series of thermal waterfalls and hot springs, it's hard to beat this one residing in the south of the famed Toscana Region near the border with the Lazio Region.
What was once a rather hidden and "secret" hot springs spot is now no longer the case though it still seemed to retain a bit less of a party atmosphere during our off-season visit in November.
In addition to pretty warm waters that we could soak in as well as some white mud that Julie and Tahia had fun putting on their faces (ala Iceland's Blue Lagoon), this place was also nice to look at and photograph.
Indeed, it featured a huge travertine cliff formation known as the Balena Bianca (White Whale), which itself featured stalactite-like spires as well as terraces of its own.
There were also waterfall tiers fronting the White Whale formation that further added that scenic allure that makes it easy to snap photos when you're not soaking in the green sulfur-laced warm waters.
Add it all up, and this was certainly a waterfall that we enthusiastically had to include among this top 10 list of Italian favorites.
This may not be the biggest nor tallest waterfall in Italy, but it certainly had what Julie calls the "WoW Factor".
After all, you're talking about a multi-tiered series of terraced cascades, where each of the terraces had natural travertine dams to form thermal pools that were perfect for soaking.
It seemed like the higher up the waterfall you were at, the warmer the water became, especially around the namesake mill where the waterfall's tallest drop was also located.
And if the water up there was a little too intense, you could go further down to the lower terraces and pools where the water temperatures were a little cooler.
It's been said that the Roman god Saturnus, who was tired of people having wars with each other, created this place with a thunderbolt to pacify them, and I'd say it's still doing that to this day!
In addition to all the scenic allure and the overall bathing experience, the most impressive thing was that it was technically free to visit (barring other costs like parking, lockers, and transport costs to get here, of course)!
Sure we were late to the party about Saturnia's most famous waterfall (as we only became aware upon it going viral on the socials a few years after our first visit to Italy), and it can resemble more of a party scene than a natural attraction.
Nevertheless, this place definitely deserved the attention it gets, and we just had to put it at the very top of our list of Italy's best waterfalls.
Looking for more of our favorites?
Below are a few more Top 10 lists of the waterfalls we've visited
Visitor Comments:
Got something you'd like to share or say to keep the conversation going? Feel free to leave a comment below...
No users have replied to the content on this page