I had been meaning to put together a Top 10 Best Japan Waterfalls List (let alone show you how to visit each of them), especially after making a few visits here (having seen about 2/3rd of the country as of 2023).
So this challenging task was long overdue and always due for updates with each visit!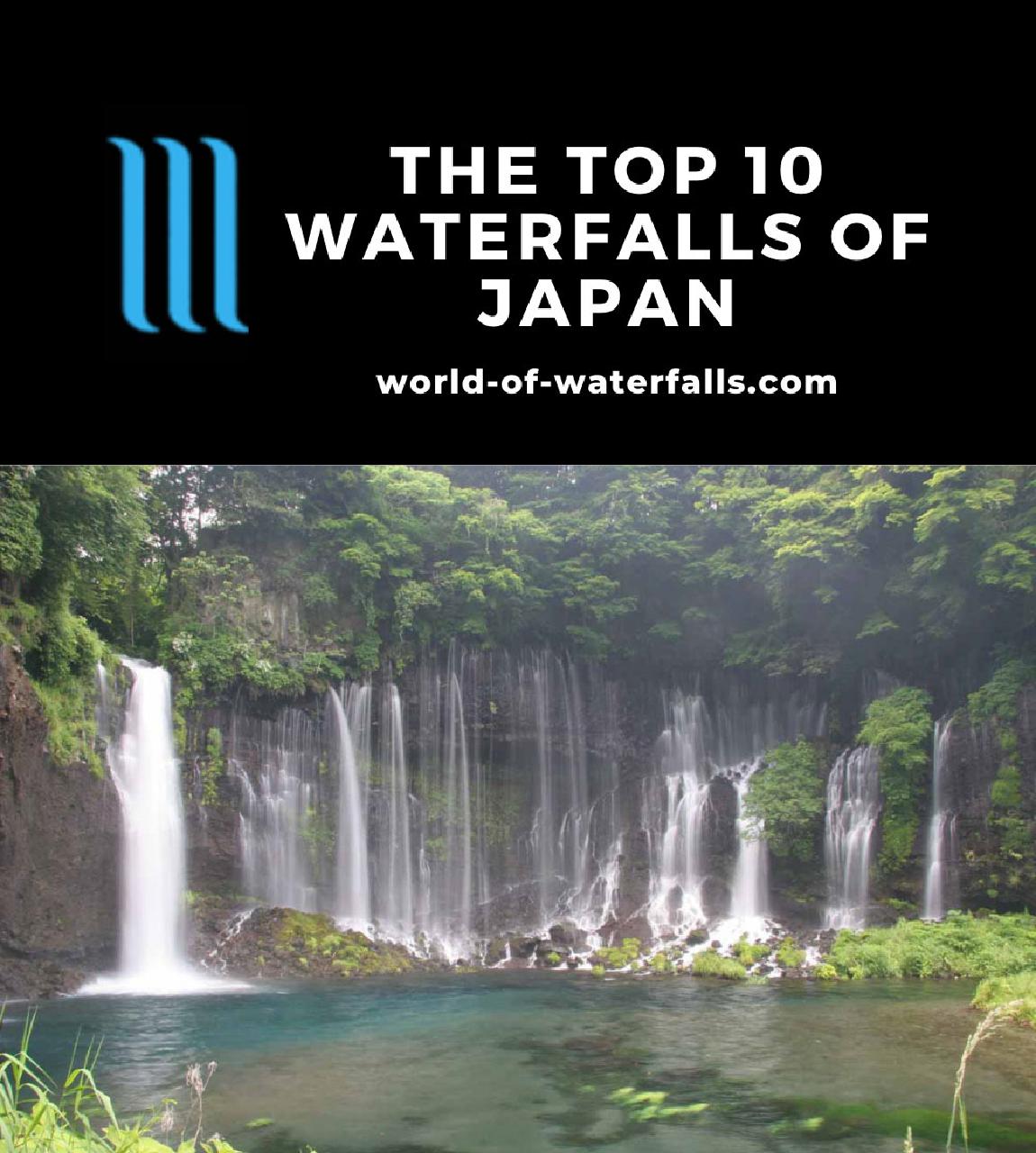 But considering that we only base this list upon our own personal experiences, I feel like we have such a large library of experiences to yield something both to be proud of as well as respectable that this has now become quite the difficult task.
And while we still have yet to explore the far west and southwestern part of the country, you'll see that Japanese Waterfalls certainly delivered on quality and there's bound to be snubs.
You can see this for yourself by looking at the ratings of each of the individual waterfalls mentioned here.
Case in point, we had to leave out plenty of very deserving waterfalls. Among the snubs included Shomyo-daki, Minoo-taki, Hirayu Otaki, Naena-no-taki, Yonako Waterfalls, Hagoromo-no-taki, Shoji-ga-taki, Amedaki, Kamuiwakka-no-taki, and so many more!
Just to give you an idea of the diversity and quantity of waterfalls in this beautiful country, we even have a page dedicated to Japan's Waterfalls showcasing all the ones we've visited so far!
So without further ado, we present our favorite waterfalls from Japan in reverse order…
My parents and I went out of our way to visit this waterfall well north of Tokyo towards the northern border of Ibaraki-ken (by the infamous Fukushima-ken).
However, we went on quite the public transport adventure after outsmarting ourselves and taking the wrong train resulting in missing a rare connection in Mito.
All that trouble came from me wanting to avoid driving in the Tokyo metropolis so that meant we had to use the extensive rail system and local buses to get here.
Nonetheless, as you can see from the photo, this huge 120m tall, 73m wide waterfall was certainly worth the trouble.
I only wished that we had more time to spend here since our public transportation misadventure meant that this ended up being an all-day affair.
So for all the memories of our experience to get here as well as the scenic allure of the waterfall itself, it just barely made it onto this highly competitive list of our favorites in Japan.
This waterfall quite literally stood on the doorstep of the wild Shiretoko Peninsula in the far northeast of Hokkaido Island.
As a huge fan-type waterfall throwing up a lot of mist, we had a hard time trying to photograph it up close. But at least we had no problems experiencing it since it stood next to the road.
Yet even despite its distant location from the larger "cities" of Sapporo and Asahikawa, this waterfall still remained quite the popular stop – and justifiably so!
Indeed, even after a second visit some 14 years later, this waterfall is standing the test of time (and against some really stiff competition) to remain on our list of Japanese favorites.
We had to endure some not-so-great weather when we showed up to Shirogane Onsen, but the weather was kind to us as it calmed down just enough for us to really experience this pretty unique spot.
Indeed, this was where springs emerged from a cliff that spilled right onto the powder blue Biei River.
And it was all visible from a bridge overlooking the river with gorgeous mountain peaks in the background!
As if that wasn't enough, it's also possible to enjoy the sights here, then check out the famous Blue Pond further downriver, and even go for a soak within the Shirogane Onsen Village for a real back-to-nature experience that was every bit the kind of combo that you can only get in Japan.
Having this waterfall make this list bumped out the nearby Hagoromo Falls (that formerly held this spot), but it goes to show you just how competitive and extensive of a survey we have among Japan's best waterfalls to even have to make this decision!
This waterfall was on our Top 10 Best Japan Waterfalls list when we first put it out in 2009 (though it was affected by a trail closure to its bottom), but then it became a snub after our 2016 visit to Japan.
Now after finally coming back and having a chance to fully experience this place, we've put this gusher back on our very competitive list.
It definitely helped that we also had our own wheels to come here so we didn't have to contend with a rather inconvenience bus schedule (another lesson learned from our first visit).
Indeed, using Sendai as our base for this part of the Toshoku Region of Northern Japan, it was the perfect contrast to the lively city that has since recovered from the big tsunami that really hit the city in 2011.
In addition to being able to experience this falls in multiple ways, there's also a nice shrine or temple to really get that holy mysticism vibe along with all the negative ions.
How often can you take a foot spa bath while staring at a waterfall laced with sulphur making its underlying bedrock yellow?
Well, such a unique experience made this impressive waterfall all the more memorable, and it certainly helped that it was pretty big as well!
As if that wasn't enough, getting here involves driving the Hakusan-Shirakawago White Road, which featured a cliff-hugging vistas and additional waterfalls.
Then, we had to go on an upside-down hike into the gorge alongside the Jadanigawa River featuring even more waterfalls as well as the chance to see sinter cones.
Indeed, we made sure to visit this waterfall on our Summer 2023 trip when we missed coming here on our October 2016 visit to Shirakawago, and I'm so glad that we did it as you can see with its placement on our list of Top 10 Japan Waterfalls.
Like What You See So Far?
To what length are you willing to go in order to witness this uniquely-shaped waterfall deep in the mountains by the border of the Yamagata Prefecture and the Fukushima Prefecture?
Indeed, we had to endure a scary single-lane cliff-hugging road as well as an uphill hike with some sketchy eroded parts to an overlook where the view is not guaranteed due to the weather.
In fact, we actually had to visit this place twice in order to finally have success at witnessing the falls.
Of course, in order to get the full experience, I had to scramble down a steep slope in order to access the Otakizawa Stream, and then I had to wade upstream to the base of the massive fan-shaped waterfall.
This waterfall really took on a different experience from its base as opposed to its lookout, and the underlying yellowish rocks further added to its scenic allure.
Then, when the hike was done, we also managed to bathe in the hot waters of the Namekawa Onsen, which was an establishment well over 200 years old!
Sometimes it's the uncertainty of outcome that makes the reward of experiencing a place like this all the more sweeter, and in this case, it certainly belongs on our competitive Top 10 List of Best Japan Waterfalls.
Affectionately referred to as the "husband and wife waterfall," this pairing immediately made a deep impression to Julie and I on our first visit, and it retained its allure when Mom and I came here 14 years later.
After all, with this waterfall pairing, it's not often that you get a grand scene of two waterfalls tumbling side by side while split by a giant rock.
Backed by snowy mountains hinting at the wildness of Daisetsuzan's rugged backcountry, it further added to the dramatic scene.
While tour buses do come here, a lot of them miss out on the best views by not taking the trail behind the car park and shops.
Indeed, you really need to experience this place in all its grandeur as such tall and permanent waterfall pairings don't come like this often.
Thus, we just had to include this Japanese married couple high up on our pretty exclusive list of Japan's Best Waterfalls.
We went on a short bus ride from the World Heritage sites of Nikko to reach this towering 97m waterfall draining Chuzenji-ko.
So we found it natural to combine our touring of temples and pagodas with a natural wonder like this.
Indeed, this part of Japan definitely ooh'ed and aah'ed us with its grandeur and its settings.
We even had a chance to experience this falls in other ways including a top-down view taking in both the falls and its sourcing lake all downslope of the imposing Mt Nantai.
And as you can in the photo, a bright rainbow arcing across the waterfall's base further blessed our magical visit the first time around (though it still retained its charm on our second visit)!
Thus, we had no problems putting this basalt plunger high up on our list of Top 10 Best Japan Waterfalls!
As the tallest permanent vertical waterfall in Japan at 133m, it also seemed to possess a sense of mysticism with its uniquely holy settings in the Kii Mountains (part of the Kumano Mountains).
Indeed, such a juxtaposition of temples and gorgeous scenery compelled us to consider this our favorite Japanese waterfall at one point in the history of our Top 10 Best Japan Waterfalls List.
Even when we came back a second time to test our impressions from our magical (but rushed) first visit, it was every bit as impressive as on our virgin visit.
How many other waterfalls let you see it with a pagoda as well as from within a genuine old temple?
In addition to the mystical and nature vibes, the subtropical settings and laid back atmosphere on this side of the Kii-hanto made it easy for us to forget that we hadn't even left the main island of Honshu!
Sure we were rushed on our visit to this falls (no thanks to the coordination or lack-thereof between the transit and boat schedules), but we learned from that experience the second time around.
Nevertheless, this place left such a grand impression on us that we had to place it high up on our Top 10 Japan Waterfalls List with this spiritual experience.
When Julie and I went on another public transport adventure to reach this unusual waterfall on our first trip to Japan back in 2009, it made the middle of our Top 10 Best Japan Waterfalls List when we first published it after returning home.
Not only did its wide series of springs make it so overwhelming that it was difficult take it all in with just photos and videos, but there was even a companion waterfall called the Otodome Falls further upstream.
However, it wasn't until we returned to this waterfall 14 years after our cloudy and rushed first visit when we realized that we could even see this waterfall together with the famous Mt Fuji!
Sure this place had really changed over the years (the lookouts and shops are all rearranged it seems and it has really blown up in popularity), but it definitely does deserve the increased attention.
At the end of the day, taking all the things we liked about this wide white curtain of a waterfall, we had to bump up its status from the middle-of-the-pack of our exclusive list of favorites to the very top.
Indeed, the more I think back to this waterfall, the stronger my conviction is that it just edges out both the Kegon Falls and the Nachi Falls as our favorite one in Japan, and it'll be a tall order to dethrone it in our minds!
Looking for more of our favorites?
Below are a few more Top 10 lists of the waterfalls we've visited
Visitor Comments:
Got something you'd like to share or say to keep the conversation going? Feel free to leave a comment below...
No users have replied to the content on this page