This Top 10 Best Korea Waterfalls List highlights our personal favorite waterfall experiences in the Korea Peninsula as well as its offshore islands (namely Jeju Island). We also point you the way on how to visit each of these falls. Anyways, for the record we've only done the South Korea part of the peninsula as we're holding out hope that we might finally be able to tour North Korea independently.
Anyways, pursuing waterfalls in Korea is something that has been quite overlooked, and we hope that by showcasing our favorite ones that more people open their minds to more experiences outside of the limited stuff you see on the socials.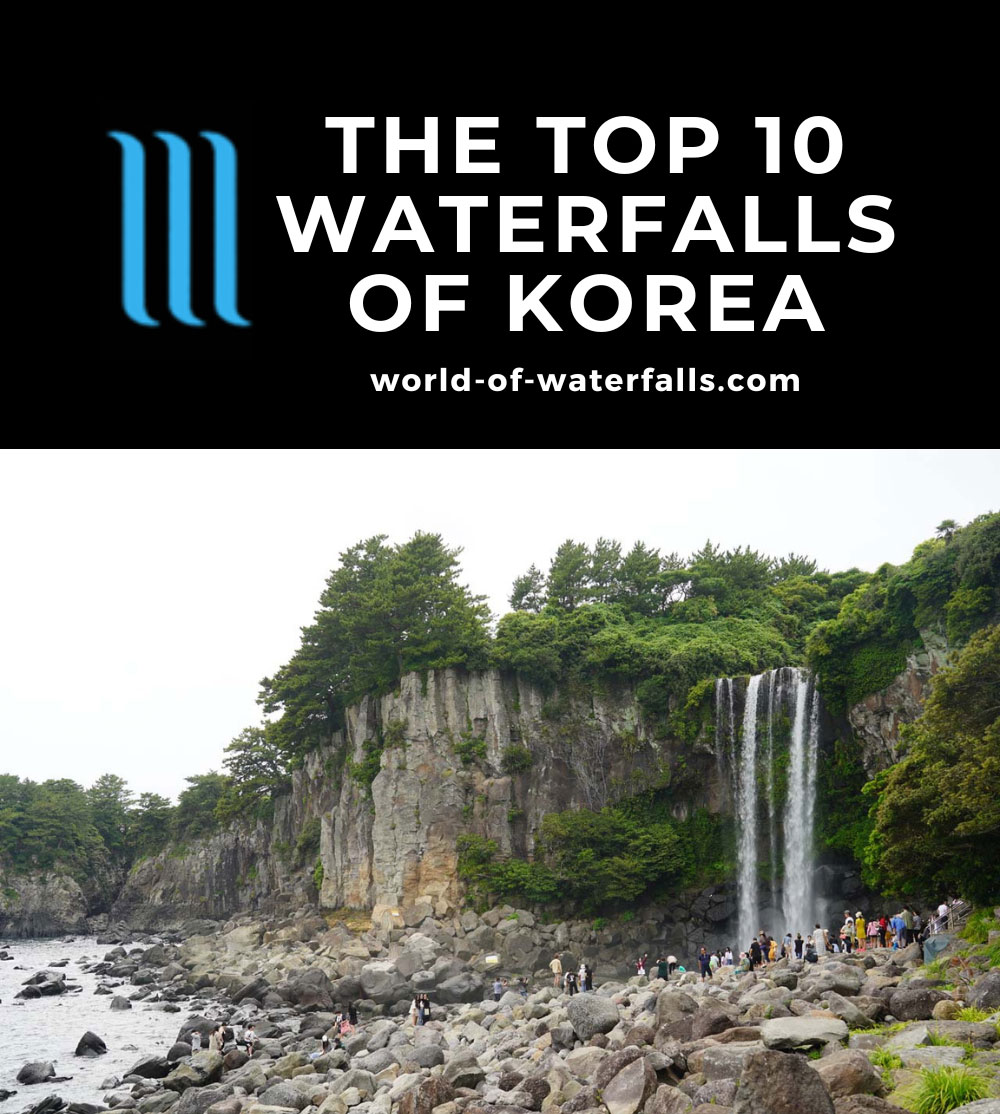 So far, we've explored quite a bit of South Korea, and this includes both the well-visited spots (especially Jeju Island) as well as throughout the Korean Peninsula that I've noticed most tourists aren't aware of.
That said, there's a lot more places that we didn't get a chance to see and experience (and some that I'd like to do over again due to the conditions), and thus I'm keen to explore these places as well as new spots on a return visit.
Yet even among the waterfalls we did visit, there were a few honorable mentions that didn't make this list like Wonang Falls, Paraeso Falls, Sambuyeon Falls, and Guryong Falls.
So stay tuned for changes to this list as we try to personally experience more of the other Korean Waterfalls if given the opportunity.
In the meantime, if you'd like to see the rest of our survey of Korea Waterfalls, you can check out this page to see our humble sampling so far.
You can check out our other Top 10 Lists so you can see what we put into these kinds of lists. And in case you're curious about all of the Asia Waterfalls we've visited, we have a separate page showcasing all that we've seen in the continent so far.
Nevertheless, we now present our picks for the Top 10 Korea Waterfalls in reverse order…
It was a very competitive race to see which waterfall out of at least 5 (see the honorable mentions above) that would crack this list of Top Korean Waterfalls, but I ultimately decided on this waterfall due to what it had going for it.
For starters, it was situated in the deep Simpo Gorge (though I've also seen it called the Tongri Gorge), which was called Korea's version of the Grand Canyon (though it's got nothing on the real deal in Northern Arizona).
Next, it's possible to combine a visit of the falls with the Yeoraesa Temple (though that temple was closed during our visit in early June 2023).
Plus, the underlying grayish cliffs giving this 30-50m tall falls (depending on who you believe) a tinge of purple further gives this place color, especially when the sun's out and the water can be clear enough to be a light shade of green or even sky blue!
Yeah, it might be a controversial call to put this waterfall in the 10th spot of our list of the best Korea Waterfalls, especially since I'm sure some might argue with me concerning the honorable mentions, but until we come back to Korea and get more impressions, we're sticking by this decision…
We actually kind of went out of our way to visit this waterfall that kind of sat right in the middle of the places where we stayed at in Seoul, Gangneung, Danyang, and Daejeon, but we were quite glad that we did the detour.
As you can see from the photo above, this 20m waterfall dropped in multiple tiers, including the last two drops broken up by an intriguing rock shelf with a deep cut behind it.
It could also be experienced from both sides of its stream thanks to a well-developed walking path that passed by old pavilions as well as picnic grounds to make it a family-friendly excursion.
Did I also mention that this place seemed to be a favorite film location for several K-dramas including Damo and Alchemy of Souls (something that a worker at one of the cafes here reminded us of).
Anyways, it was quite the nice getaway, particularly since you can get close to the waterfall and its plunge pool, which comes in handy during those hot and muggy Summer months, and hence we had no problems including it on this exclusive list of Korea's best.
Not to be confused with another similarly-spelled waterfall later on in this list (only differing by a single letter in its Romanized spelling), this was one of the easiest as well as most popular waterfalls on Jeju Island.
It's also one of the wider waterfalls to be found in Korea, and as you can see from the photo above, that was certainly the case on my rain-soaked visit when the Summer Monsoons of Jeju Island came early in June 2023.
In any case, this family-friendly stroll allowed me to see lots of Jeju Statues, a shrine, lots of intermediate natural- and man-made cascades, and even the chance at seeing a face in the rock walls behind the waterfall itself.
Apparently, they also light up these falls at night, which makes it somewhat rare in that a waterfall can be visited even when it gets dark!
Anyways, I'd say that there aren't too many bad-weather places that you can enjoy on Jeju Island, but this waterfall certainly was easy enough to enjoy seeing where "the sky is connected to the land" rain or shine.
So I just had to include this waterfall on our rather exclusive list of the best Korea Waterfalls.
I had a bit of a bitter memory with this waterfall because it was the place where I had idiotically lost my GoPro HERO 9 unit along with the Enduro-battery and 256GB memory that was inside it.
However, that doesn't take away from the fact that this 50m tall waterfall was situated in a peaceful forest setting despite being pretty close to Chuncheon, which was one of Korea's larger cities.
The family also got to enjoy an easy and relaxing stroll that encompassed intermediate waterfalls, a curious rock-cairn fountain, and a decorative pavilion near a campground along with cafes to boot.
I tend to find that places like these that don't see many foreign tourists gave us the opportunity to better enjoy a place much like how the locals could do it, and it's all these things that make us find love in each other as well as the moment (just like a bridge states "I Love You" in Korean and in English on each of its sides).
Indeed, we had to give this waterfall its props by including it among the best waterfalls in Korea!
Unlike most of the waterfalls on the Korean Peninsula, this waterfall was much wider than it was tall as it spanned the Hantangang River (the very river that they made the Hantangang Geopark for).
That's why they called this the "Korean Niagara Falls" even though its size doesn't quite match up with the famous one in North America.
Nevertheless, this waterfall was beautiful in its own right, and I was able to experience it easily from both sides thanks to a bridge spanning the river upstream of the falls.
I also got to enjoy a peacefully, quiet visit, which further added to the charm of being here in Nature despite being pretty close to the North Korean border.
Indeed, due to its unique traits, ease of access, and lack of the tourist crush, I had no qualms about considering it one of the best Korea waterfalls.
Like What You See So Far?
This waterfall excursion was really three waterfalls in one (though that first waterfall only flows after heavy rains), but it also featured views of Mt Hallasan, the East China Sea, and the Seonimgyo Gorge below.
The word "cheonjeyeon" (천제연) means "Pool of God", and the plunge pools of each of these waterfalls had a nice deep blue color to them.
It's also one of the easier waterfalls to visit as there are mostly flat, developed paths hooking up the northern entrance on the east side of the spring-fed stream, the Jungmun Tourist Complex on the west side of the Seonimgyo Bridge, and all the sights (including the waterfalls) throughout.
By the way, don't confuse this waterfall with another one earlier on in this list (even though their Romanized spellings differ by a single letter).
Nevertheless, we had to give this family-friendly waterfall excursion its props by including it as one of the best waterfalls in Korea that we've personally experienced.
With this towering 60m waterfall, I had to earn my visit with quite the uphill hike from the Ssangyesa Temple (one of the head Korean Buddhist temples in Jirisan National Park).
In a place known for harboring people who escape to these mountains to seek enlightenment (Jirisan is also known as "Wisdom Mountain"), this excursion had quite the mix of religious and Nature vibes.
Indeed, my visit started off with monks chanting within the main halls of the Ssangyesa Temple complex (essentially filling the silence with these resonating mantras) and ended with a secluded lookout after having passed the Guksaam Temple and the Burilam Hermitage along the way.
And did I mention that we just so happened to stumble upon the famous Hwagae Market along a road that harbors the largest cherry blossom bloom in Korea?
Add it all up and I was compelled to place this waterfall experience high up on our exclusive list of the best Korea Waterfalls.
This plunging waterfall surrounded by basalt columns was perhaps the most impressive of the waterfalls within a couple hour's drive of Seoul.
However, I was also able to appreciate the falls from a long suspension bridge over the gorge, from an overhanging lookout, and other viewpoints both on the rim of the gorge as well as down in the gorge itself.
This place was so alluring (and popular among Korean visitors) that I even got acquainted with a Korean movie producer and accompanying film crew filming him for some promo piece.
Like with how sometimes people working in Hollywood tends to film nice on-location spots back at home, the same thing is happening with this waterfall, which further compels me to give this place its props as one of the Top 10 Best Korea Waterfalls.
With this towering waterfall plunging among the granite peaks that Seoraksan National Park is known for, it was also a cheeky way of including two other nice waterfalls in Yukdam Falls and Biryong Falls in this entry.
Not only that, but there was also an important Buddhist temple before starting the waterfall hike called the Seoraksan Sinheungsa Temple, where I witnessed a large bronze "unification" Buddha long with the scenic temple complex fronting Seoraksan's signature granite peaks.
Meanwhile, the waterfalls themselves had me going over suspension bridges, catwalks over and alongside intermediate cascades, and a 900-step stairmaster to get above the trees for that ultimate reward of a giant waterfall high in the sky.
Indeed, if there was one waterfalling excursion that lets you get the best of what Seoraksan National Park has to offer, then it would be this one, and that's why I had to place this experience high up on our list of the best waterfalls in Korea.
It may be cliche to declare this seaside waterfall as the top waterfall in Korea, but if you ignore the overexposure on the socials and evaluate this waterfall by itself, it really is deserving of the attention that it gets.
Indeed, with this 23m tall waterfall, it's really about its sea-facing location with plenty of scrambling space on its rocky shores to get a view however you like (especially important because you will be sharing this place with dozens of people).
In addition to the waterfall's scenery, we were also able to extend a visit with a history lesson (e.g. a museum commemorating the legend of Seobok as well as a memorial for victims of the Jeju 4.3 Incident) and hiking the other way towards the Sojeongbang Waterfall.
Add it all up, and this place certainly met the hype (not always an easy thing to do) and thus was deserving of the top spot as the best waterfall in Korea!
Looking for more of our favorites?
Below are a few more Top 10 lists of the waterfalls we've visited.
Visitor Comments:
Got something you'd like to share or say to keep the conversation going? Feel free to leave a comment below...
No users have replied to the content on this page