Top 10 Lists
The Top 10 Lists page is where we show you the various "best of" lists that we've maintained over the years. After all, we often get asked which waterfalls are our favorites or which waterfalls are recommended.
So to answer such questions, we've provided these lists so that you can get our answers for every situation and region that we could think of (and that we feel we're qualified enough to have such a list based on our own personal experiences).
Therefore, these are genuine, living lists and they can change over time depending on how we've experienced each waterfall.
Top 10 Lists that include waterfalls in the USA and Canada (alphabetical order):
Top 10 Lists of Waterfalls around the World (alphabetical order):
Are you looking for waterfalls in any of these regions or have a waterfall you'd like to share?
Browse through the various Destinations, check out Itineraries, read our Travel Journals, or make yourself heard!
User Replies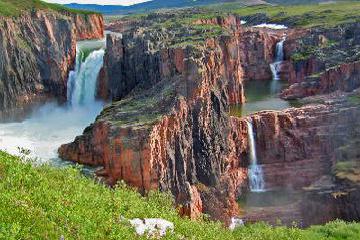 Top 10 Canadian Waterfalls
January 27, 2014 7:43 pm
-
10. Kakabeka Falls, Ontario -Kakabeka is the largest waterfalls in Northern Ontario, and is protected by a lovely provincial park. Offers great lookouts, easy access, and is visually captivating. 9. Wilberforce Falls, Nunavut - One of the only major waterfalls north of the Arctic Circle, a series of cascades results in a natural masterpiece. 8.… ...Read More
My Top Ten
July 8, 2010 12:05 pm
-
Here are my top ten waterfalls of the world: 1. Havasu Falls, USA 2. Plitvice, Croatia 3. Godafoss, Iceland 4. Purakaunui Falls, New Zealand 5. Lätefoss, Norway 6. Gullfoss, Iceland 7. Mooney Falls, USA 8. Skogafoss, Iceland 9. Hraunfossar, Iceland 10. Bowen Falls, New Zealand I`ve visited Nr. 3 to 6 and 8 to 10.… ...Read More
Share your thoughts about what you've read on this page
You must be logged in to submit content. Refresh this page after you've logged in.