This Top 10 Best New England Waterfalls List covers our favorite waterfall experiences in the Northeastern United States, which includes information where we show you how to visit each of them.
Indeed, New England Waterfalls seem to have a character all their own, which is why we've devoted such a list to this region. In addition to residing in some remarkably Naturesque forests (where we just so happened to catch them at or near the peak of the Fall colors), there existed a certain colonial charm not commonly found in other parts of the country.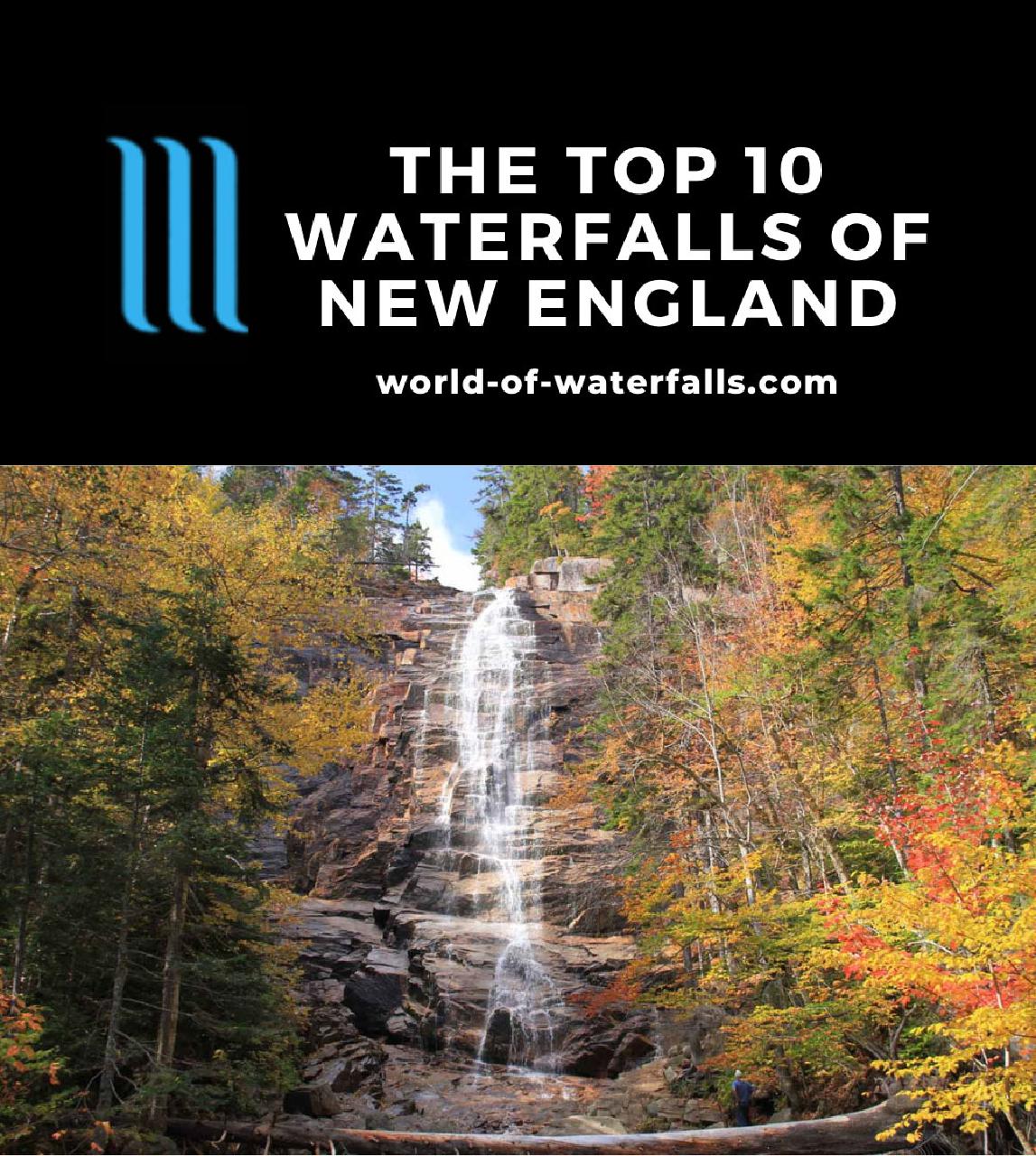 So with this in mind, Julie and I felt like we had to somehow pay homage to the best New England Waterfalls. After all, they didn't seem to get the love in other parts of this website.
By the way, we've obeyed the common definition of New England as basically the states residing east of New York. So that includes Connecticut, Maine, Massachusetts, New Hampshire, Rhode Island, and Vermont.
Like I've said before on the other top 10 lists that we keep, we tend to have a difficult time to come up with just ten waterfalls. Certainly, we know some very deserving waterfalls omitted from this list. Still, we had to keep it at ten so lists like this don't get too ridiculously long.
In any case, we've also limited our list to just the New England Waterfalls that we've personally visited.
Hopefully, Julie and I will have an opportunity to come back to this charming corner of the country. That way, we can further augment and/or solidify the choices in here while also getting that dose of colonial charm all over again.
So without further ado, here are the Top 10 New England Waterfalls in reverse order…
This was one of those border waterfalls between Connecticut and Massachusetts.
We actually had to hike from one state to the other in order to descend down to this attractive falls. But as you can see from the photo, this two-tiered 50ft falls was definitely worth the effort. Besides, it was tripod-friendly to boot.
This waterfall also seemed a bit off the beaten path. Hiding within an old growth forest, I experienced a peace and tranquility uncommon in places as understated like this.
So it made total sense to include this falls on our list of top New England Waterfalls.
This waterfall feature an attractive cascade fronting a large family-friendly picnic area complete with covered bridge and a large lawn. So we spent a perfect lazy afternoon just spending time with loved ones.
It also allowed us to go on a little more of an adventure climbing higher on the developed trail to check out the waterfall's other tiers.
It all culminated in an impressive vertical drop at the top of its series of plunges.
So adding up all these things that the falls had going for it, Julie and I had to nudge this falls onto our list of Top 10 New England Waterfalls.
Of all the similarly-rated waterfalls in the New England area, this thin cascade stood over the other contenders that just got left off the list. As you can see in the photo, the immersion of Fall colors flanking it definitely helped its cause.
Of all the waterfalls that we had visited in New England, this was by far the easiest to visit.
Speaking of convenience, we had to share the falls with dozens of other people along a high speed highway.
But taking the good with the bad, it somehow wouldn't feel right if we had left this falls off the list. So here we go with it making this list of our top New England Waterfalls.
This waterfall happened to be one of two waterfalls in the state of Vermont with the same name. But this waterfall's size as well as its character made us enjoy our experience here.
And given its somewhat close proximity to the Canadian border, we even shared a moment at the falls with some Quebecois French Canadians.
The view you see in this photo of the entirety of the 125ft falls was pretty much look-but-don't-touch. In order to get even closer to the falls, we would need to make a very steep and dangerous scramble.
So we resisted the temptation and contented ourselves with the views despite the somewhat distant experience. Nonetheless, we felt it still belonged on this list.
Of all the waterfalls on our list of top NE waterfalls, this one perhaps required the greatest sense of adventure.
Not only did I have to find my way through parts of the Appalachian Trail, but even finding the trailhead in a remote part of Maine could be an adventure on its own as well.
But the benefit for all the trouble? Two fair-sized waterfalls as well as a handful of smaller ones in between.
On top of all that, there was the solitude of just being in Nature well off the beaten track to other attractions in the state of Maine.
While the photo you see here was great for photographs, one of the other waterfalls could be more of a swimming hole on a hot day.
It was a mild Autumn day when I showed up so the Autumn foliage definitely added to the overall experience.
Sum it all up and I just had to make room for this falls on this list.
Like What You See So Far?
Julie and I remembered this waterfall for being one of those that we squeezed in late in the day just before the sun had set.
Even with our late start, we couldn't believe how many people still checked out the falls. And after doing the trail that took us to its brink as well as its base, we saw for ourselves how this 64ft falls impressed us with its flow as well as its juxtaposition with beautiful Fall colors.
It was actually a good thing that we got the late start so I could take long exposed photos of it with the even lighting. Thus, its photogenic nature definitely helped its case to sit on this list of top New England waterfalls.
Even though this waterfall, which was steeped in Native American legend, was modest in size at about 80ft, the pictures simply didn't do it justice.
When Julie, Tahia, and I saw this falls in person, we were simply pleasantly surprised at its flow, its character, the color and clarity of the plunge pool, and the Fall colors surrounding it.
Of course with the strong flow of the falls, we had to keep an eye out on our daughter to keep her from getting close to the water.
We happened to visit the falls from the Massachusetts approach, which turned out to be harder than the flatter New York approach. That didn't take away from the experience, however.
Add it all up, and we were simply immersed in Nature, which is how waterfalling should be. Thus it deserves a spot on our NE list.
This waterfall was one of the more photogenic waterfalls we've encountered in New England. As you can see from the photo, it possessed a lot of character, especially when photographed in long exposure.
And while we could only look-but-not-touch this waterfall, we couldn't deny its size and its position. After all, we relished the surrounding brilliant Fall colors even if our late visit resulted in long shadows covering the entire gorge.
We could only imagine how much more colorful the scene would've been had we showed up a few hours earlier. But that doesn't take away from the fact that we thought highly enough of this falls to place it pretty high up on our list.
This very tall waterfall (said to be between 125ft to 200ft) was definitely our favorite waterfall in the state of New Hampshire. The state itself was no slouch in terms of its collection of waterfalls within its state boundary.
But dimensions aside, the Fall colors stood out to Julie and I as you can see in the photo.
Plus, we managed to see a few other waterfalls further down in the gorge on a harder trail than the default direct trail.
That just added to the experience since we had to earn it with a bit of a hike.
But that all just made our experience that much more rewarding, and it embodied the best of Nature in the New England area.
It was a long drive along the Old Canada Road going from Maine all the way up into Quebec, but fittingly, there was this waterfall to help break it up.
In addition to its fortunate position in the heart of seemingly remote woodlands, we also benefited from the juxtaposition of Autumn colors with this gushing 90ft falls. The natural surroundings also yielded surprise wildlife sightings along with a healthy dose of tranquility.
Speaking of its flow, it lasted the whole year. So with all that it had going for it, we felt this waterfall epitomized the best of the the New England area let alone the state of Maine.
It was a tremendous send-off as we left the USA for Canada on our New England trip. And boy did it set the bar high for those Eastern Canada Waterfalls to live up to.
Hence, Julie and I had no problems putting this one at the top spot.
Looking for more of our favorites?
Below are a few more Top 10 lists of the waterfalls we've visited.
Visitor Comments:
Got something you'd like to share or say to keep the conversation going? Feel free to leave a comment below...
No users have replied to the content on this page