It's not easy to put together a Top 10 Best Norway Waterfalls List (let alone show you how to visit them) because it's completely subjective and limited to each person's experience with the falls being named.
We based this list on our own personal experiences, which makes it different from most other lists you see in the internet.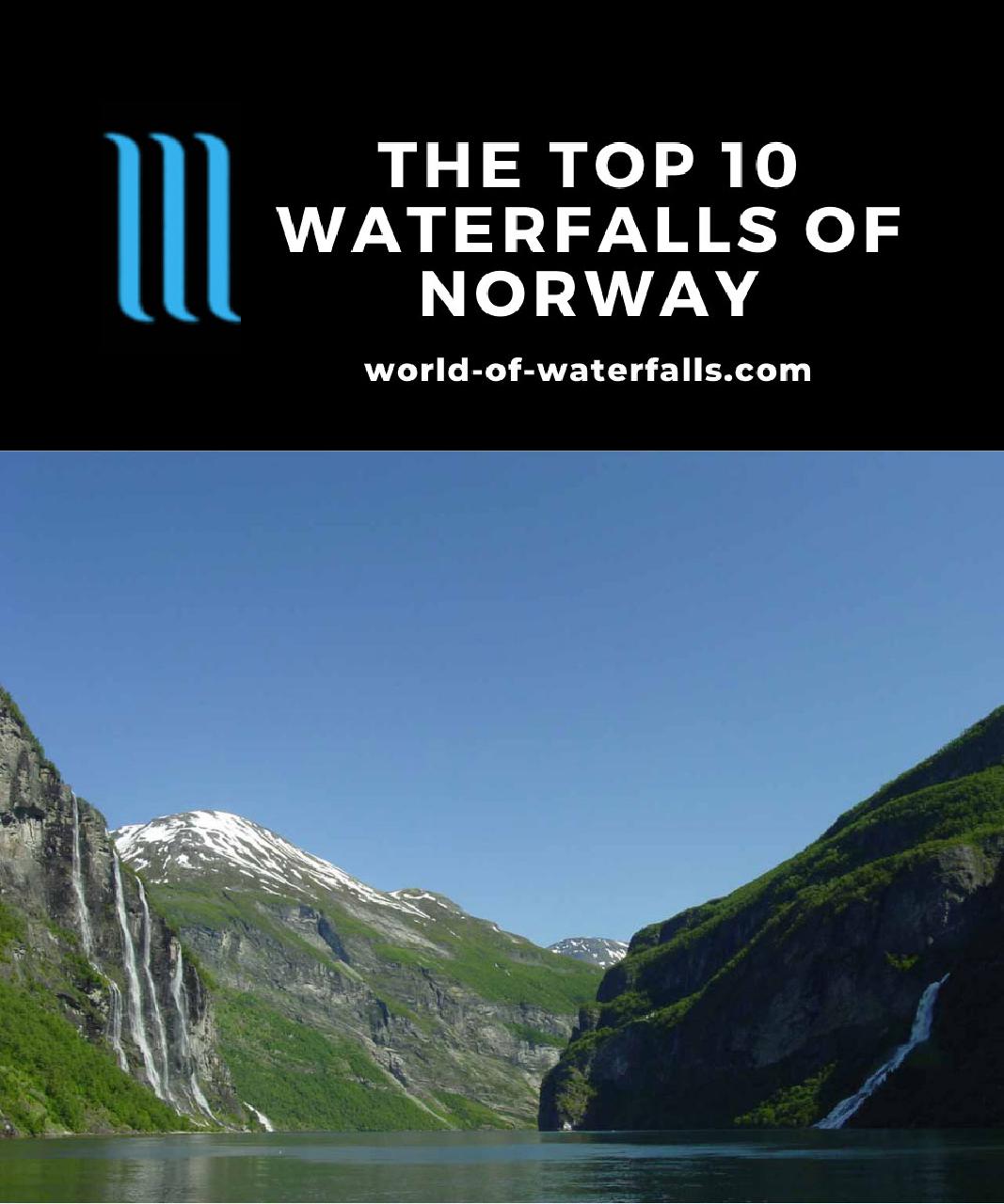 Even with that said, picking just 10 waterfalls out of the plethora of superb waterfalls that could easily get on any other country's Top 10 List really says something about the quality of waterfalls found in this Scandinavian country!
Indeed, we struggled mightily to whittle down the countless neck-breaking Norwegian Waterfalls to this list of the best in Norway. So we really had to strain to pick the ones that stood out the most, but you're welcome to check out a separate page focusing on our extensive Norwegian Waterfall Survey.
To further illustrate the quality and competitiveness of this Best Norway Waterfalls list, we had to leave out well-known waterfalls like Stigfossen in the Trollstigen, Vinnufossen, Kjosfossen in the Flam Valley, Ramnefjellsfossen, the Stalheimsfossen and Sivlefossen pairing, and more!
Anyways, despite our struggles, you can see by the presence of this list that we managed to complete this painful exercise (albeit controversially). So without further ado, we present our list of the ten best Norway's Waterfalls in reverse order…
Waterfalls such as this are usually reserved for the dramatic scenery of the fjords and mountains of Western Norway.
However, we made a long detour (through Hell, I might add) to the eastern side of the country to witness this thick and picturesque 90m waterfall.
Oh yeah, we should also mention that this was the tallest in the Sør-Trøndelag county just a few hours from the charming city of Trondheim.
It was also situated within reach of the charming UNESCO World Heritage historical town of Røros, which was something a bit out-of-the-way of most tourist itineraries.
When Julie and I first saw this waterfall, it possessed sheer power and volume, which made it a memorable sight as not too many waterfalls this tall can flow with such power. When I came back 14 years later in the mid-Summer, it didn't have quite the same vigor, but it still flowed nicely.
And so this waterfall just barely squeezed into the last spot on our list of the Top 10 Best Norway Waterfalls.
Also just barely squeezing into this super competitive list was this power twin waterfall tumbling forcefully into the waterfall-rich Odda Valley.
Someone said to us that this waterfall pair is a miracle in and of itself because it just happened to have two drainages eroding at nearly the same rate with their brinks at the same elevation!
It's probably one of Norway's most visited waterfalls because it's easily integrated into one of the Norway in a Nutshell tours, especially since it's roadside.
Of course, I could also make the argument that visiting this waterfall also meant visiting other nearby waterfalls on the same road through the valley like Vidfoss, Strondsfossen, and Tjørnadalsfossen among others!
So given its fame, this waterfall certainly deserved to be on our list of Norway's best!
By itself this waterfall may seem like an ordinary set of segmented waterfalls.
However, when you consider that it sat in arguably Norway's most beautiful fjord and it was accompanied by numerous other major waterfalls including Friaren, Ljosurfossen, Bringefossen, and more, then it becomes understandable why this waterfall deservedly would stand on this list over other similarly rated waterfalls.
Impressed by the scenery as well as the waterfalls on our fjord tour, we can see by the quantity of people crowding the boat sharing the experience with us that plenty of people felt the magic and beauty of this fjord and its falls.
Oh yeah, the fjord's inclusion as a UNESCO World Heritage Site didn't hurt its case to sit on this Top 10 list, either!
Quite possibly Norway's most famous waterfall, it was an exercise-in-compromise as it was allowed to flow freely during the summer tourist season.
Fortunately for us, Julie and I happened to be here when the authorities allowed it to flow for the Summer tourist season. That resulted in a multitude of segmented waterfalls all converging at the head of the steep gorge of Måbødal Valley (Måbødalen).
Indeed, we found this falls to be both breathtaking and unusual at the same time.
And our experience was varied as we experienced this waterfall in a couple of ways – a top-down view from the Fossli Hotel, then an in-your-face view from one of the lower overlooks.
Catch the falls in the right light (like we did) and rainbows will form among the convergence of mist.
We had a hard time figuring out how to include this 280m plush gem of a waterfall into our top 10 list. After all, the Åmotan area featured two other deserving and outstanding waterfalls in Svøufossen and Reppdalsfossen)!
In fact, we would be nuts not to visit the other two waterfalls in addition to this one. So this rare convergence of these three waterfalls, each of which sat on their respective rivers put on a show unlike any other we've seen in Norway (let alone the world).
Conceivably, we could have encountered more waterfalls in the area that we didn't have the time to explore nor know about.
In any case, such dilemmas could only exist in a place as magical as Norway. So putting this waterfall on our list of Norway's best was kind of like including all three in this one entry!
Indeed, it's beauty saturation at its best!
Like What You See So Far?
This gorgeous two-tiered waterfall made up the fourth and uppermost of the beautiful waterfalls of the Husedal Valley (Husedalen).
Of course I singled out this waterfall as my subtle way of making this a four-in-one waterfall entry. After all, I think it's worth doing the entire hike up the valley to take in the other three major waterfalls (Tveitafossen, Nyastølsfossen, and Nykkjesøyfossen) just to get to this "sweet" waterfall.
Besides, on its own, this one has got unique shape and power. Even getting up to this waterfall so tantalizingly close to the vast, skyscraping, and snowy Hardanger Plateau (Hardangervidda) made me feel like I had experienced some otherworldly beauty.
This gorgeous yet powerful 90m waterfall in Rogaland County was easily one of Norway's best.
Allowed to flow freely as an unregulated waterfall, we definitely had to watch our step in order to peer over a sheer cliff. Yet you can see from this picture that the view simply blew our minds.
We also happened to time our visit for perfect conditions as the sunny skies and afternoon lighting yielded a bold bright arcing rainbow. That said, conditions vary in the fjords so when we came back 16 years later, we also had to deal with mist blocking the views.
Nevertheless, we thought this was probably the finest waterfall in some of the country's wildest scenery in the southern sections of its world famous fjords.
And for that reason, we just had to give this waterfall its props on this Top 10 Norway Waterfalls List.
This waterfall plunged 275m making it the tallest unregulated singular free-leaping waterfall left in Norway.
Situated in the Utladal Valley (Utladalen), which itself had walls draped with numerous waterfalls (including at least two other major ones – Hjellefossen and Avdalsfossen), it took Julie and I about 3 hours to make the out-and-back hike to the bottom of this natural beauty.
I also came back 16 years after that first visit and experienced the view from the top of this waterfall in a longer and even more brutal ascent making me appreciate the legitimacy of its height figure!
By the way, I had read that Utladalen featured the largest concentration of unregulated and wild waterfalls in the country.
And even though we only saw a handful of such waterfalls (including the three mentioned earlier), we savored the effort to come out this way as it left a big impression on us and easily made the top 10 list of Norway Waterfalls.
This towering 655m waterfall could've easily disappeared like some of the other of Norway's tallest waterfalls.
However, with a little compromise, the hydropower authorities have allowed it to flow during the Summer tourist season. So we felt lucky to have timed our visit for such an occasion!
And boy did this waterfall leave an impression on us! It reminded us of some of the towering waterfalls to be found in Yosemite Valley.
However, if left unregulated, this waterfall could have easily flowed year-round; something most of Yosemite's waterfalls can't even claim.
In any case, this exercise in compromise was a good thing though sometimes we wonder what might have been had it still been allowed to be one of the tallest and most majestic year-round waterfalls in the world (potentially earning this waterfall a #1 spot instead of #2)!
We struggled to identify a standout waterfall in Norway as so many of them were big and beautiful.
In fact, all of the waterfalls on this list possessed ratings of at least a 4 out of 5, which demonstrates the level of quality of the Norwegian waterfalls.
In any case, we ended up picking this falls to top this list because it towered over the Åkrafjord at 612m, its unregulated flow made it wide and thunderous, and it scenically dropped into the fjord viewable from many positions.
Indeed, this waterfall just edged out Mardalsfossen for the top spot just based on the fact that it was wild and free.
Let's hope it can remain that way as many others of this size have disappeared in the country due to hydroelectricity.
Looking for more of our favorites?
Below are a few more Top 10 lists of the waterfalls we've visited.
Visitor Comments:
Got something you'd like to share or say to keep the conversation going? Feel free to leave a comment below...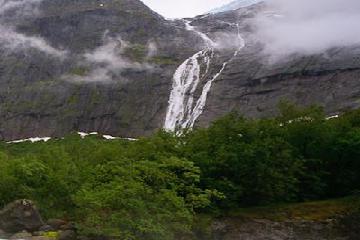 How about Tjotafossen in Briksdal?
July 1, 2015 5:59 pm
-
As you head up the glorious Olden Lake past a dozen vey high waterfalls, the sublime view of the Melkvoll Glacier comes into view with the 1019 foot Volefossen. You approach this sublime area thinking there could be nothing finer, but WAIT!!! Following the trail up to Briksdal, you find the 2420 foot Tjotafossen just… ...Read More
Missing the Nyastølfoss on your Top 10!
October 12, 2008 6:15 pm
-
I vistited the Kinso River on the 8th of June 2008 - and it was GREAT! The Nyastølfoss must stand on the list! ...Read More