The Top 10 Best Oregon Waterfalls List is where we highlight our favorite waterfalls in the Beaver State and show you how to visit them. After visiting well over 40 waterfalls on at least four separate visits in the state, we were long overdue to come out with this list of the best waterfalls in the state.
And while we recognize that plenty of Oregon Waterfalls reside in the convenient Columbia River Gorge, we also picked waterfalls in other parts of the state.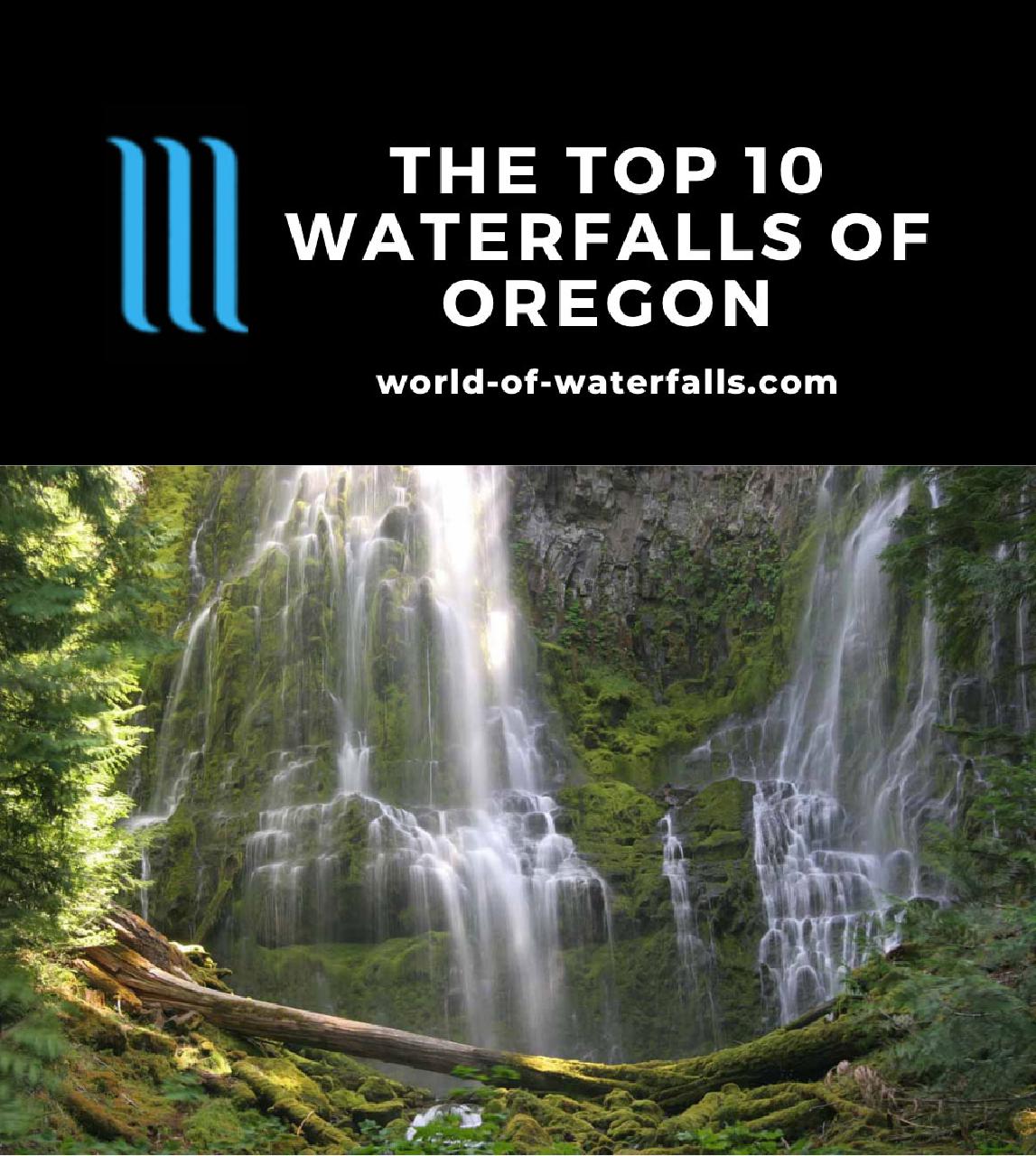 True to form with our other top 10 lists, we only consider waterfalls that we've personally visited. So this list can change as we continue to make more visits to the Beaver State.
With a state that gets a healthy dose of rainfall, we strained hard to come up with a short list like this. Therefore, we had to leave out a lot of deserving waterfalls such as Lower Oneonta Falls, Mill Creek Falls and Barr Creek Falls, Horsetail Falls, White River Falls, and Watson Falls among others. From looking at the scenic ratings of these snubs to our Top 10 Best Oregon Waterfalls List, that gives you an idea of the quality of waterfalls you can find here.
Speaking of which, if you'd like to see the rest of the waterfalls in the state of Oregon, we have a separate page hooking you up with a comprehensive listing of the state's waterfalls that we've visited and provided write-ups for.
So given all that, we now present the Top 10 Oregon Waterfalls in reverse order…
Just barely squeezing into this list, this classically rectangular waterfall made us experience the volcanic terrain of the east side of the conical Mt Hood.
Sporting sizable dimensions of 100ft tall and a width of 40ft, it certainly held its own amongst other waterfalls that made this list.
I had to earn my visit with a hike that also included a rockfall traverse (evidence of Nature's ever-changing ways here).
However, that gave me the opportunity to notice the basalt walls, the mossy trees, and overall the chance to really let Nature sink into me.
So with the overall experience that came with this excursion, it had the slight edge over others that just got left off this list.
Also barely squeezing into this list, this 177ft waterfall had the slight advantage in that we recognized it as the signature waterfall of Silver Falls State Park.
Considering that compact state park harbored nine other significant similarly-sized waterfalls along the Trail of Ten Falls, Julie and I experienced it all here.
In fact, most of the park's waterfalls let us go behind them, including this one!
Furthermore, this waterfall also featured a classic rectangular shape, sharing this characteristic with a handful of other neighboring ones as well.
As the lowest entrant from the famed Columbia River Gorge, I definitely had to earn my visits with a bit of a rugged hike to get here.
Of course, I benefited each time I did this because I left the auto-touring visitors content with the many convenient waterfalls along the Old Columbia River Highway.
So once again, I got to experience Nature sinking into me while also spotting other waterfalls along the way.
Aside from the experience, however, this 132ft waterfall also featured three segmented drops side-by-side each other (as you can see in the photo).
So that made this waterfall pretty unique among the rest that sit on this list, let alone the rest of Oregon.
And thus, it deserves to be on this list of our favorites in the state.
It actually took Julie and I two tries to visit this graceful waterfall.
The first time, a late Winter storm producing snow threatened to strand us in this part of Central Oregon. So we had to retreat to the Oregon Coast.
When we returned later that Summer, we found ourselves hiking through an interesting lava field before entering a classic Cascades temperate forest with ferns and mossy trees.
In addition to this nearly 200ft waterfall, we also spotted a neighboring "upper" waterfall that seemed to support a plunge pool without a visible output stream. On the hot day we made our visit, this pool definitely felt refreshing.
In any case, the grace and beauty of this waterfall while also residing in a quieter part of the state compelled me to include it on this top 10 list of best Oregon Waterfalls.
When it comes to classically-shaped waterfalls, it doesn't get more textbook than this 97ft waterfall sitting in the drier rainshadow of the Cascades Range near Bend in Central Oregon.
That said, it's also wildly popular given its close proximity to the city as well as its ease of access.
Indeed, we managed to experience this waterfall from a lookout by the parking lot as well as overlooks on the rim of its gorge.
I also did a little exploring and found a use-trail that went to its bottom where I could somewhat get behind it (though the spray there was intense during my visit).
Moreover, this year-round performer can also be visited in all seasons though you're likely going to have to contend with snow in Winter and Spring.
Nevertheless, Julie insisted that this waterfall sit our list of Oregon's best, and I'd have to agree with her with this one.
Like What You See So Far?
Another one of several Columbia River Gorge entrants to this list, this 213-289ft waterfall (I've seen both figures) featured a classic plunging drop.
As you can see pictured here, we've seen it gushing and throwing lots of mist.
We've also seen it in lighter Summer flow allowing us to notice a small cave nearby as well as imposing overhanging chunks of hard rock giving this waterfall its plunging characteristic.
And although this waterfall certainly stands on its own with its gaudy size, I also climbed up past its top on a separate trail to Upper McCord Creek Falls.
That yielded a scary cliff-ledge section with a top-down view of the main waterfall below as well as teasing views of Mt Adams. Of course, the additional upper waterfall served as extra motivation to linger around the John B. Yeon Scenic Corridor even longer.
I think of this waterfall like a twin to the prior entrant on this list. This one featured a classic 249ft plunge amidst some very pronounced basalt columns.
We also found this waterfall to be much easier to visit, which made it more popular.
In addition to seeing it from near the parking lot for Guy W. Talbot State Park, we also could have extended this excursion with a hike to one of the upper waterfalls away from the crowds.
Nonetheless, as you can see from the photo, this waterfall stands on its own in terms of the wow factor, and thus we had no problems placing it this high up on our top 10 list of best Oregon Waterfalls.
This 120ft waterfall eluded me on our first two attempts due to storm damage.
So I had to wait nearly eight years later before I finally had a chance to visit this gem of Southern Oregon.
As you can see from the photo, the pronounced basalt columns stood out as the signature feature of this teasing twisting waterfall. The dark plunge pool also made it inviting even if we couldn't make it down there.
Indeed, we could never really get a full view of its entirety though I have seen younger souls go off trail to get all the way to the bottom.
Still, just the teasing experience this waterfall yielded compelled me to chuck it high up on this list of our favorites in Oregon.
This towering 286ft waterfall could very well be the largest in Southern Oregon.
In a region that features the sapphire blue Crater Lake not far from here, each time I've been here in the Summer, it had very healthy flow. So you know it performs all year long, and thus we could have experienced it with the seasons.
In addition to the shapely volcanic peaks and basalt cliffs surrounding the area, I also managed to extend my visit beyond the roadside to the Diamond Creek Falls.
Indeed, waterfalls like this further show that Oregon's waterfalls extend well beyond the Columbia River Gorge. Thus, I had to give it props with a high placing on our list of Top 10 Best Oregon Waterfalls.
As you can see from this photograph, you will definitely share this iconic waterfall with many other people.
Yet on its own merits, it plunges 620ft in two separate drops traversed by the Benson Bridge.
It is without a doubt a major attraction and symbol of the natural beauty of Oregon. So indeed, there is a reason why this waterfall is as popular as it is.
Any wonder why it sits at the top of our list of Top 10 Best Oregon Waterfalls?
Looking for more of our favorites?
Below are a few more Top 10 lists of the waterfalls we've visited.
Visitor Comments:
Got something you'd like to share or say to keep the conversation going? Feel free to leave a comment below...
Closed :(
February 10, 2020 5:31 pm
-
Unfortunately no.6 and no. 8 (lower Oneonta and triple) have been closed indefinitely due to the 2017 eagle creek fire. ...Read More