This Top 10 Best Puerto Rico Waterfalls List highlights our personal favorite waterfall experiences from this vibrant island in the Caribbean. Naturally, we also want to share such experiences so we'll show you how to visit each of these falls in this write-up.
In any case, Puerto Rico's waterfalls (many of which have swimming holes or charcos) are one of the primary ways to beat the island's heat and humidity, especially if the beaches are really crowded.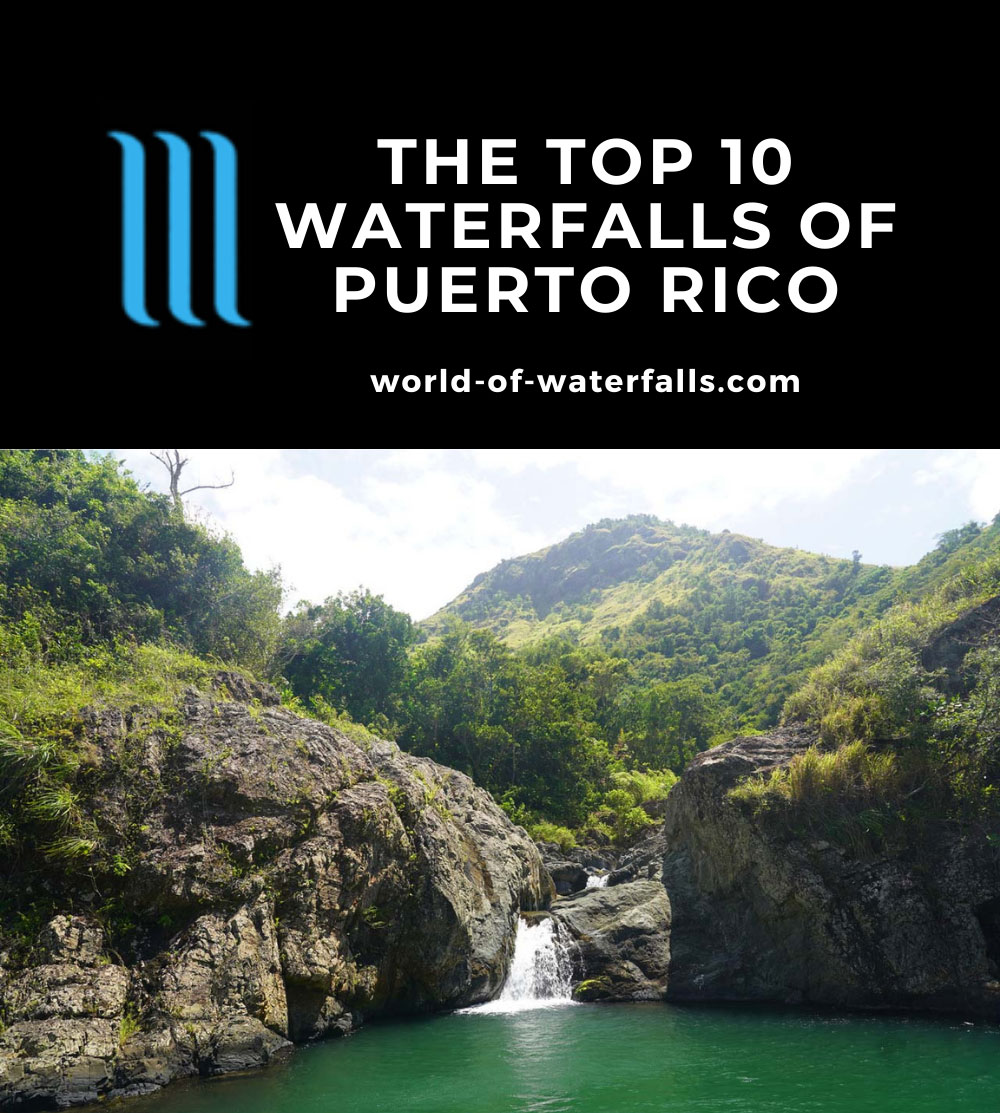 While the capital city of San Juan draws the vast majority of the tourists in this US Territory, we've traveled around the island to experience its more authentic side while chasing waterfalls.
And of the ones we've personally experienced, we pick just 10 of the best waterfalls in Puerto Rico so you can plan out which ones are the most beautiful and worthwhile spots that you'd like to incorporate on your trip!
You can check out our other Top 10 Lists so you can see what we put into these kinds of lists. And in case you're curious about all of the Puerto Rico Waterfalls we've visited so far, we have a separate page showcasing the full list.
So we now present the Top 10 Best Waterfalls of Puerto Rico based on our own personal experiences, and we reveal them in reverse order…
This waterfall could have been coupled with a visit to the nearby La Mina Falls in the lush El Yunque Rainforest situated in the east of the island.
Unfortunately, Hurricane Maria had other plans, and we were unable to do the rainforest's most popular hike (even though our visit in April 2022 was nearly 4 years after the destructive storm).
Nevertheless, it was pretty easy to visit this roadside waterfall once we've secured the reservation to enter the main part of El Yunque, where we could even scramble up to a rock outcrop to the waterfall's wall for a photo op as well as a closer look!
We thought enough of this experience, especially since the Juan Diego Falls was nearby, which nudged it just into this pretty exclusive list.
This waterfall was one of the few "free" waterfalls that you can visit, but there are two very different ways to experience it since it has two tiers.
The upper drop is an easy roadside stop, which can take as little as a few minutes to pull over, scramble to its base, take a photo, and then leave.
However, the lower drop is much taller and more secluded, but it requires a bit of a steep scramble through a thick jungle slope.
If it wasn't for the litter all around the scrambling path and the waterfall's plunge pool, it certainly would have placed higher on this list.
But even with its flaws, we thought highly enough of this falls to sit on our list of the best Puerto Rico Waterfalls.
Las delicias is Spanish for "delights", and with this intimate pair of waterfalls, it was certainly a delightful treat.
Located just east of the town of Jayuya, it was also not far from the culturally important La Piedra Escrita (the written rock; known for Taino petroglyphs).
While the lower waterfall is easy to reach, the even more secluded upper waterfall requires a bit of a slippery scramble alongside the lower one to reach.
Even though this waterfall may be considered to be roadside, it's real easy to miss, especially when you consider how narrow and twisty the mountain roads of Central Puerto Rico are!
It doesn't get much easier than swimming at or just gawking at this roadside waterfall in the heart of Puerto Rico.
The only catch is that there's limited parking so it might not be easy to stop for it if it's busy.
Moreover, the curvy, mountainous PR-149 Road can also induce motion sickness while at the same time, it can be stressful for the driver who is not used to such narrow and winding roads (with the odd pothole thrown in there).
However, as you can see from the photo above, this is one of the taller waterfalls on the island, and its convenience certainly makes it very popular (as evidenced by the thousands of TripAdvisor reviews).
Therefore, we just had to give this waterfall props by placing it on our exclusive list of the best waterfalls in Puerto Rico.
This was one of our most enjoyable waterfall experiences, and it was largely because we had it all to ourselves so it was serene for the whole family.
Even though accessing this waterfall wasn't difficult for us, it still felt like it was off-the-beaten-path perhaps because it was a little out of the way near the mountain town of Maricao.
We basically had to park the rental car before the road became 4wd, then we walked the rest of that road through 2 river crossings before wading upstream on the river past the actual trailhead.
In addition to its seclusion, this waterfall also featured a large swimming hole as well as some hidden tiers so it's actually more than meets the eye!
And as a result, we had to acknowledge our positive experience with a place on our list of the best Puerto Rico waterfalls.
Like What You See So Far?
Most visitors to Cañon de San Cristóbal settle for a visit to La Niebla Waterfall (one of the island's tallest), especially if they come on their own.
However, I found that it was worth hiring a guide to go even deeper into Puerto Rico's deepest canyon to hit up two more waterfalls and swimming holes (or charco).
Now many places (not just in Puerto Rico but all around the Spanish-speaking parts of the world) have spots named charco azul, which essentially translates as "blue pool", but the one in this entry sits beneath a tall waterfall surrounded by vertical walls all around.
Heck, there was even a tight squeeze hidden cave for a mindblowing profile view of the falls into the blue pool below.
In fact, if it wasn't for time constraints, I could have extended this excursion into an intense all-day adventure featuring more waterfalls and swimming holes.
Now, this adventure does require a good bit of fitness due to its jungle environs, but I enjoyed my time so much that I had to acknowledge it with a spot in the upper half of this exclusive list of the best waterfalls in Puerto Rico.
It might seem cliché to include this waterfall on our list of favorites in Puerto Rico largely due to its popularity, but there are good reasons that people gravitate to this place, despite being all the way in the western side of the island.
First, this is actually two main waterfalls, and the one pictured above is the larger lower one.
That lower waterfall is great for families, especially with kids, as it's only a few minutes walk to the deep and calm pools backed by what I think is one of the largest waterfalls in Puerto Rico.
There's also an upper waterfall, which requires a fairly short hike, which is just long enough to make it feel like it's more for adults, especially since there's a rope swing during my visit.
On top of all that, the owners did a great job keeping the place clean and prohibiting loud music so it still retained its tranquil ambience, and the parcha mojito they served at the cantina here was probably the best one we've had on our trip largely because they used real passion fruit!
Indeed, as much as you're not likely going to have this place to yourself, it still ranks high on our list of best Puerto Rico Waterfalls!
This unusual waterfall that has a shape that reminds me of a tuning fork was probably my sleeper favorite as it sits off the beaten path more towards the western side of the Ruta Panorámica.
The owners did a great job of signposting this place both guiding me to the trailhead as well as keeping me on track to the base of the waterfall.
Speaking of the trail, there were actually two steel-cable-aided descents that I got to choose from on the way down, where one of them was a harrowing, nearly vertical drop alongside the waterfall itself!
Fortunately, I didn't have to do that on my visit, but I'm sure adrenaline junkies would totally go for it.
In any case, this waterfall was one of the taller ones I've seen in Puerto Rico while its base was in a nearly-enclosed three-sided steep-walled enclave.
It definitely had an off-the-beaten-path feel to it, which is why I put this waterfall high up on this list of the best Puerto Rico Waterfalls.
This was one of the more difficult waterfalling excursions that I've done during our trip to Puerto Rico.
However, the reward for the effort is one of Puerto Rico's more impressive waterfalls as well as a guitar-shaped swimming hole with its own waterfall.
Indeed, accessing these spots involve descending (and ascending on the way back) a very steep road that only 4wd vehicles should even bother trying out (kind of reminiscent of the Waipi'o Valley Road on the Big Island).
Then, it involved a rather rough scramble that involved plenty of river crossings, lots of bouldering, and some mild bushwhacking as there really isn't a trail (though the observant might locate some of the spots that received the most use).
That last climb on the way back up the steep 4wd will certainly leave your legs (especially the calves) sore!
Sometimes the most worthwhile spots have to be earned, and these waterfalls were definitely no exception to that principle, and thus deserves a high spot on this list of the best Puerto Rico Waterfalls.
This is probably the biggest waterfall in the vicinity of the charming San Juan, which is Puerto Rico's capital city (though it's technically in the neighboring suburb and municipality of Bayamón).
As you can see from the photo above, it featured a large waterfall curtain wall that dwarfed people doing the slippery scramble to its base for that cold (i.e. "refreshing") shower.
There were also intermediate waterfalls along the way, including one fronting the main waterfall while backing a murky pool that gave this charco its name.
I went on a tour from San Juan, and I was glad I did as it included learning a bit about Puerto Rican history, learning about Taino culture, getting a commanding vista towards San Juan, and getting lots of help navigating some of the trickier parts of the hike.
I'd have to say that I probably got about as full of an experience you can ask for with this place (during semana santa no less)!
Indeed, picking a waterfall to crown our list of the best waterfalls in Puerto Rico wasn't easy, and it was the overall experience that compelled me to just edge it out over the rest of a very competitive field!
Looking for more of our favorites?
Below are a few more Top 10 lists of the waterfalls we've visited.
Visitor Comments:
Got something you'd like to share or say to keep the conversation going? Feel free to leave a comment below...
No users have replied to the content on this page