The Top 10 Best Waterfalls of the South List is our way to honor the waterfalls that Julie and I had the fortune of experiencing, which shattered our pre-conceived expectations of the kind of waterfalls to be seen down here. Indeed, you truly can't appreciate or make judgments about something until you've actually seen it in person, and this was most definitely the case here in the Southeastern United States. Moreover, anyone can put together a list, but not everyone can show you how to visit each of the entries on that list!
By the way, the waterfalls under consideration for this list pretty much belong to the Southern Appalachian range further south of New York and Pennsylvania as well as the midwestern states of Ohio, Indiana, Illinois, and Missouri. So for the purposes of this discussion, we're defining the South as the states of Virginia, West Virginia, Kentucky, North Carolina, South Carolina, Georgia, Tennessee, Florida, Alabama, Mississippi, Louisiana, and Arkansas.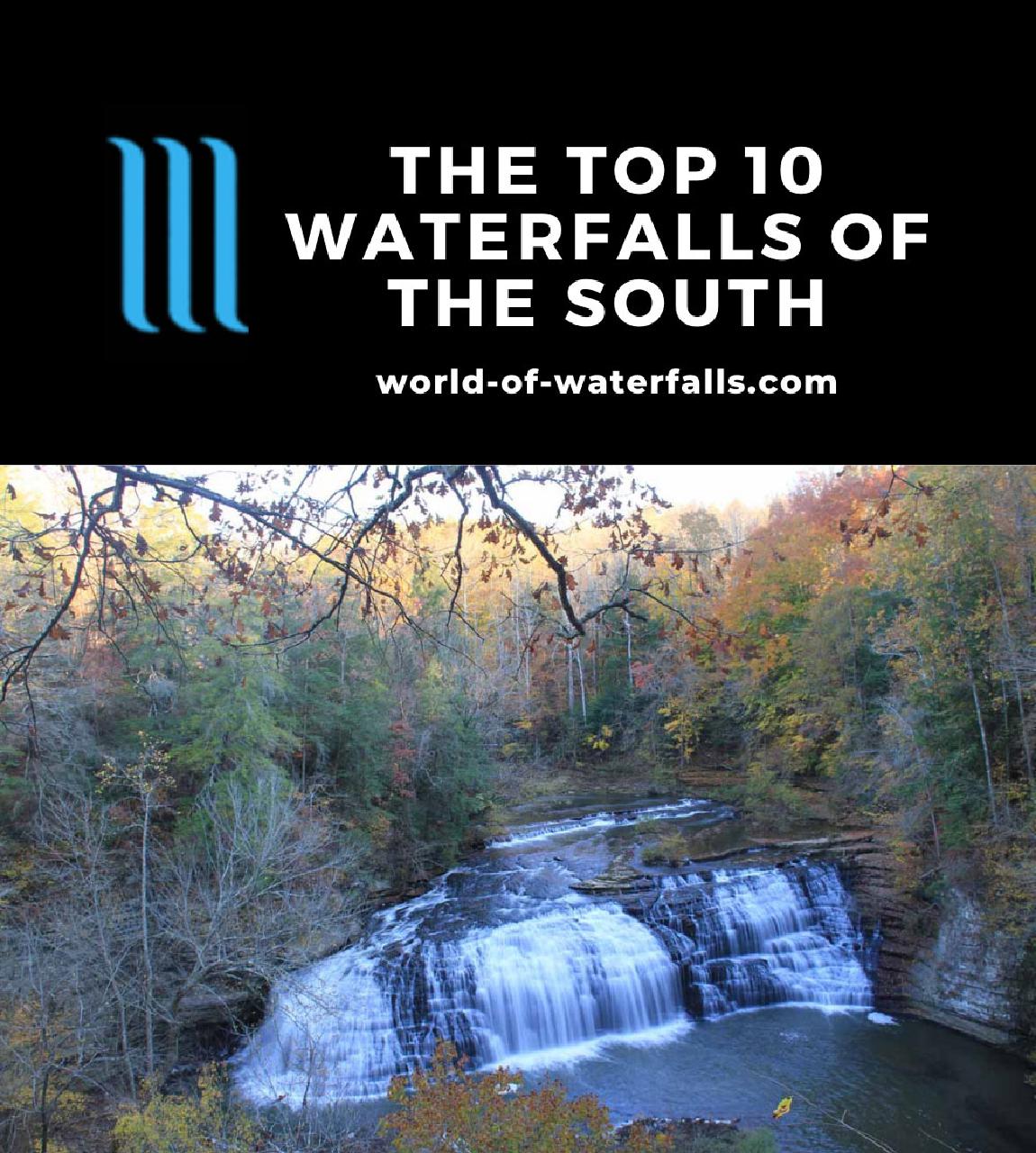 Indeed, we're covering a lot of real-estate with this list, but Julie and I feel that we have an extensive enough survey of this vast swath of the country in order to justify having a list like this. And speaking of credibility, like with our other top 10 lists, we're restricting it to only the waterfalls that we've personally visited. So I'm sure there were and will be deserving waterfalls that we've visited that should've been on this list as well as others that we hadn't gotten to yet that might also deserve a spot on this list. In other words, this list is by no means etched in stone and we'll be sure to update it if we're fortunate enough to come back and see more of what this part of the country has to offer.
So without further ado, here are the Top 10 Waterfalls of the South in reverse order…
This 186ft plunging waterfall possessed a classic columnar shape, and it definitely surprised Julie and I given the calibur of Nature that was seen in the far north of Georgia.
There was a certain haunting quality about the falls because it seemed to be associated with a tragic Cherokee legend about forbidden love. There was also a tragic flood that took place here after a dam break in 1977 as well.
But despite the history and the legends, there was no denying the sheer beauty as well as the tranquility of this place, and thus we had to make room for the falls on this list of Top 10 Waterfalls of the South.
This was sort of the little brother to another waterfall on this list in Upper Whitewater Falls as it sat on the other side of the state border in South Carolina.
But as you can see from the photo here, this 200ft falls was certainly no slouch itself. On top of that, we found ourselves in some great Nature though we had to get past the uninviting Duke Energy infrastructure.
I guess it was because of that, Julie and I found ourselves almost completely alone during our visit, which was rare for a waterfall of this calibur.
So taking the good with the bad, there was no denying the waterfall's beauty as well as its surrounding Nature, and so we just had to put this falls on this list of Top 10 Waterfalls of the South.
This was one of the more unusual waterfalls of this list of the Top 10 Waterfalls of the South because there were converging segments of impressively-sized waterfalls weaving through a dense forested area.
We just so happened to have been here as the foliage was beginning to change color, which further amplified the scenic allure.
Indeed as you can see from the photo, the many people checking out this 153ft falls were easily dwarfed, yet the place possessed a certain otherworldly beauty in this part of the Appalachians.
Certainly the waterfall's popularity was understandable as it was within a day trip from Atlanta, but after having seen this falls for ourselves, that popularity was definitely justified.
Julie and I thought of this waterfall as perhaps the most impressive one in the DuPont State Forest, which was a place that we tend to associate with the Hunger Games movies.
Further adding to the allure of this trapezoidal 125ft falls were an explosion of Fall colors at or near peak as well as a covered bridge backing it.
On top of all that, there were a few nearby impressive waterfalls that each can hold their own like Triple Falls and Hooker Falls among others.
Indeed, this was the highlight of a part of Western North Carolina that seemed to exhibit some of the best of Nature in the Southern States.
Thus, we had pay homage to the Nature here by making room for the falls on this list.
This waterfall was said to be one of the highest free-leaping waterfalls east of the Mississippi at 256ft.
And being situated in a semi-circular bowl topped with trees that were starting to turn color really was what propelled this waterfall onto our list of the Top 10 Waterfalls of the South.
Julie and I were not only able to experience the falls from across the deep gorge, but we also hiked into the gorge itself to experience its sheer magnitude from the bottom.
Perhaps the only thing holding back this falls from placing higher on our list was that we happened to see it in somewhat low volume, but it was still substantial enough to be photogenic as you can see from the photo.
Maybe on a future visit, we might see it with more volume and more Fall colors so that it can climb higher on this list!
Like What You See So Far?
This high volume 125ft waterfall was one of the better performers of our Southern States tour.
Not only did it put out so much spray that it produced its pronounced namesake rainbows, but there was an explosion of Autumn colors surrounding the falls itself.
And in addition to the mosaic of colors, there were also a handful of other attractive waterfalls like Drift Falls, Turtleback Falls, and Stairway Falls.
There used to be a very short path to get to this attraction from the main road, but on our visit, we had to go on a little bit of a hike, which allowed the surrounding Nature to sink into us.
Thus, all these things put together earned this waterfall a spot on this list.
This 441ft waterfall could very well be the most impressive one in the state of North Carolina.
Julie and I were here at nearly the right conditions as we had great afternoon light, wonderful weather, good flow, and some Fall colors were starting to show around it.
Perhaps the only thing that could've been better would have been even more pronounced Fall colors, but that's really being nit picky.
Being on the Whitewater River, it definitely had year-round flow, and we didn't even break a sweat checking out this sublime piece of Nature.
So taking all these things together, this waterfall had to stand very high on our list of the best of the South.
This was really a collection of three big waterfalls on the Falling Water River, and each of the waterfalls were impressive in their own right (that photo at the very top of this page was of one of them).
But as you can see from the neighboring photo here, the best and biggest of these falls possessed an unusual shape as well as a tremendous display of Autumn colors.
Indeed, Julie and I were entranced by the falling leaves dancing in the sky around the 136ft Big Falls, and we were even able to stand in front of the waterfall's split drop, which added to our perception that it had an unusual shape (almost Union Falls-like in Yellowstone's backcountry).
So putting all these factors together, we just had to give this waterfall its props, and it definitely added to our feeling that the Volunteer State possessed a certain quality of waterfalls that few other states could rival.
Of all the waterfalls that we had visited in the South, this was the only one that was underground.
Indeed, going into our visit to the South, this was a highly anticipated attraction that we had targeted, but after seeing it for ourselves, it didn't disappoint.
And in addition to its 145ft plunge surrounded by changing artificial colors that brought life to this scenic wonder, we also partook in a cave tour that featured eccentric formations, reflective ponds, and a moody atmosphere.
While we have mixed feelings about the degree of human intervention to commercialize the cave system encompassing the falls, there's also no denying the benefit of allowing such a wonder to be accessible to people living in or visiting the Chattanooga area without an risking life and limb spelunking.
Certainly our list of the Southern Waterfalls wouldn't be complete without having this falls sitting in it.
They call this the "Niagara of the South" and while it doesn't quite sport the volume nor the size of its famous counterpart to the north, this one does have moonbows, Fall colors, and a naturesque appeal to it.
And for those reasons, Julie and I tend to think of this as a more pleasurable experience since those are the very things that waterfalling is all about!
As you can see from the photo, we were here right at the peak season, and we had rainbows further adding to its scenic appeal.
So if you take all these things together, there's a reason why we put this waterfall at the top of this list, and no list of the Southern Waterfalls would be complete without it!
Looking for more of our favorites?
Below are a few more Top 10 lists of the waterfalls we've visited.
Visitor Comments:
Got something you'd like to share or say to keep the conversation going? Feel free to leave a comment below...
No users have replied to the content on this page