This Top 10 Best Sweden Waterfalls List highlights our personal favorite waterfall experiences in one of the most livable countries in the world. We also show you how to visit each of these falls. Anyways, the country is full of Nature, and this is especially true of its vast forests and many lakes (I tend to think of it like a larger version of Minnesota).
Heck, even urban centers like Stockholm have natural spaces. Of course, the north of the country gets locked in ice and snow, which then produces breathtaking waterfalls in the Summer months.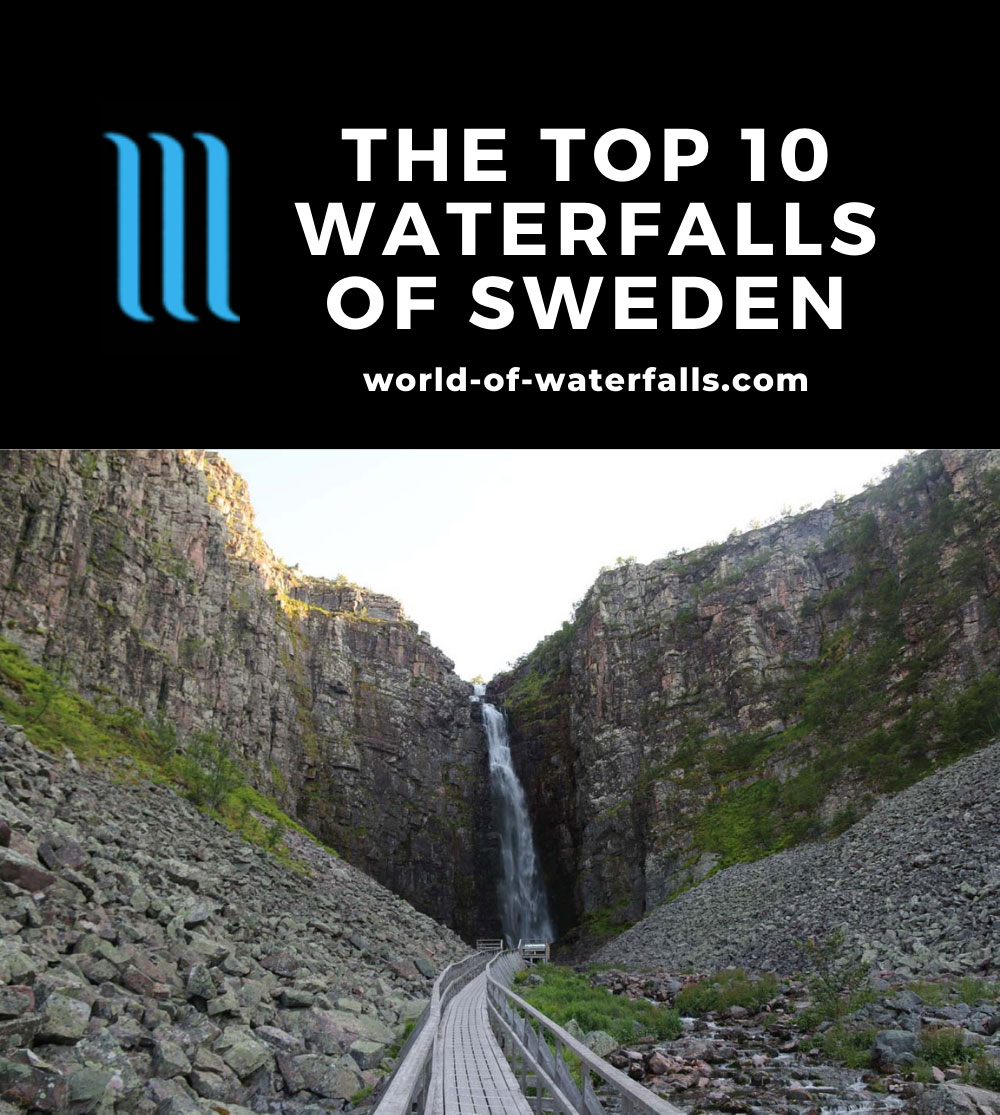 So far, we've explored quite a bit of Sweden during an epic Scandinavia trip that explored north of the Arctic Circle as well as the southern end of the country across its Friendship Bridge with Denmark. Yet even with that much time spent here, there were still lots more that we didn't get to experience, which means this is a living list, and we're keen to update it.
You can check out our other Top 10 Lists so you can see what we put into these kinds of lists. In case you're curious about all of the Sweden Waterfalls we've visited, we have a separate page showcasing all that we've seen so far.
Nevertheless, we now present the Top 10 Sweden Waterfalls that we've seen so far in reverse order…
This countryside waterfall roughly half-way between Stockholm and Gothenburg left an impression on us as it was our very first Swedish Waterfall.
Its understated and serene location was easy for us to experience as there was an easy walking trail that took us to a lookout within its gorge.
Meanwhile, we walked a looping road that took us around the gorge itself so we could see this waterfall from all kinds of angles.
Finally, there's a craftwork shop here as well as some kid-friendly apparati nearby so it was quite the place to chill out for the whole family.
Although our visit to this waterfall happened to be under low flow, it featured at least three drops, and it spilled right into the attractive Lake Lygnern.
Visiting was also very easy, and we got to enjoy our morning visit as we had it all to ourselves.
Considering that this was probably the closest waterfall to the city of Göteborg (Gothenburg), which was Sweden's second largest city, that's really saying something about the proximity of Nature to Sweden's urban centers.
And for that, I felt compelled to include this attractive waterfall on our list of Sweden's best.
This intimate waterfall required a 4km round-trip hike to experience, but it sat in a pretty quiet part of Central Sweden a little over an hours drive south of Östersund.
It featured a 70m cumulative drop on the Fettjeån River so it had a healthy flow fitting of the effort it took to get there.
The back-to-nature experience here really seemed appropriate for a place that seemed mostly off the beaten path though I had a feeling that the neighboring town of Klövsjö was more of a skiing area.
Indeed, I really liked the relative quiet and peaceful hike to reach the falls, and sometimes it's the subtle beauty leading up to the destination that makes the waterfalling experience.
That was certainly the case here, so I had to include it on our list of Sweden's best.
This was one of three large waterfalls west of Östersund and east of the Norwegian city of Trondheim.
I feel like we didn't properly experience this waterfall because we didn't descend all the way to its base for a proper viewing experience.
So considering the non-optimal viewing as well as the hydroelectric developments around it, that's indicative of this waterfall's quality despite the shortcomings of our visit.
Perhaps on a future trip to Sweden, we'll come back here and give it a higher score with a proper experience and atone for our oversight.
Although this modestly-sized 30m waterfall dropped into a narrow gorge making it tricky to view given all the swirling mist around it, I felt it deserved to rank high on this list due to its beautiful surroundings.
For starters, the drive through the tundra-like terrain between Narvik and Björkliden was as scenic as they come featuring lakes and waterfalls.
Speaking of lakes, this waterfall flowed right into the vast lake Torneträsk, where looking across its expanse was the legendary mountain gate called Lapporten.
Moreover, this was an easy waterfall to experience as it tumbled pretty much underneath the E10.
It was the kind of experience that felt appropriately Northern Swedish, where the Sami influence can be felt, and given all these things going for it, I had to give this waterfall its props on this Top 10 Best Sweden Waterfalls list.
Like What You See So Far?
This powerful 46m waterfall more than held its own on this list regarding is flow and size, but it was also shared between both Norway and Sweden.
In fact, its history inextricably tied the two Scandinavian countries even pre-dating the last war that Sweden was involved in, which was between Norway and Sweden in the early part of the 19th century.
Indeed, we were able to experience this waterfall from inside both countries, and its impressive flow kind of eased us into other majestic waterfalls that we'd eventually witness as we crossed from Sweden into the mountainous Norway.
So given its heritage as well as its might, we had to give this transnational waterfall its props by including it as one of Sweden's best waterfalls that we've personally experienced.
Certainly one of the most forceful of the waterfalls on this list of Sweden's best, this was also another one of three large waterfalls west of Östersund and east of the Norwegian city of Trondheim.
Situated next to a popular camping site alongside the Indalsälva River, this waterfall also was featured as the legendary Glupafallet in the story "Ronja the Robber's Daughter" by Astrid Lindgren (author of "Pippi Longstocking").
It sported impressive dimensions of 14m high and 50m wide, but I suspect that we could only see half of the entire width of its drop as it seemed like there was another segment facing away from the official lookout.
Indeed, power was the operative word with this waterfall, and we had to place it high up on this list of Sweden's best waterfalls.
This towering 93m waterfall (of which 70m was considered to be in freefall) was also proclaimed to be the tallest year-round waterfall in Sweden.
Situated in the Fulufjället National Park in a fairly out-of-the-way part of Western Sweden, it was still popular with the international crowd.
Even though I had to earn my visit with a 4km loop hike to get right to the bottom of this waterfall, it felt like a fitting reward as I meandered among scenic forests and even reflective lakes and ponds along the way.
Indeed, I had to give this waterfall its props with one of the top spots on our Top 10 Best Sweden Waterfalls list.
This could very well be the most dramatic waterfall in Sweden as it plunged 43m right into the head of a narrow canyon.
The canyon itself was 15-60m wide and about 800m in length, which made it the longest "living" (i.e. there's still water flowing through it) canyon in Sweden.
Indeed, this waterfall certainly was the first in Sweden to leave a lasting impression during our epic Scandinavia trip.
And the short walking paths to the lookouts throughout the head of the canyon made it easy to experience this wonder as a family (though the mosquitos ensured we couldn't stay put in any one spot for long).
Thus, I had to place this falls high up on our list of best Swedish Waterfalls.
Proclaimed to be the largest waterfall in Sweden, as you can see from the photo above, it was also quite the rainbow producer!
Sandwiched between two large lakes – draining Tännsjön and emptying into Våmviken – its impressive power was pretty much guaranteed to put on a show.
Trails allowed us to experience this big wall of water from its brink, from almost right in front of it, and further downstream for a more contextual perspective.
In my mind, this waterfall exemplified how this lake-rich Scandinavian country does waterfalls when at their best, and thus I just had to place this at the top of our list of Sweden's Best Waterfalls.
Looking for more of our favorites?
Below are a few more Top 10 lists of the waterfalls we've visited.
Visitor Comments:
Got something you'd like to share or say to keep the conversation going? Feel free to leave a comment below...
No users have replied to the content on this page