The Top 10 Best Switzerland Waterfalls List was where Julie and I had to really work hard to come up with a legitimate list given the concentration of some of Europe's finest waterfalls, especially within the famous Swiss Alps. Further adding to the usefulness of this list, we also show you how to visit each entry on this list.
We're well aware of the fact that we still have more Swiss Waterfalls to check out on our bucket list despite the handful of times we've crossed into its borders to go chase waterfalls.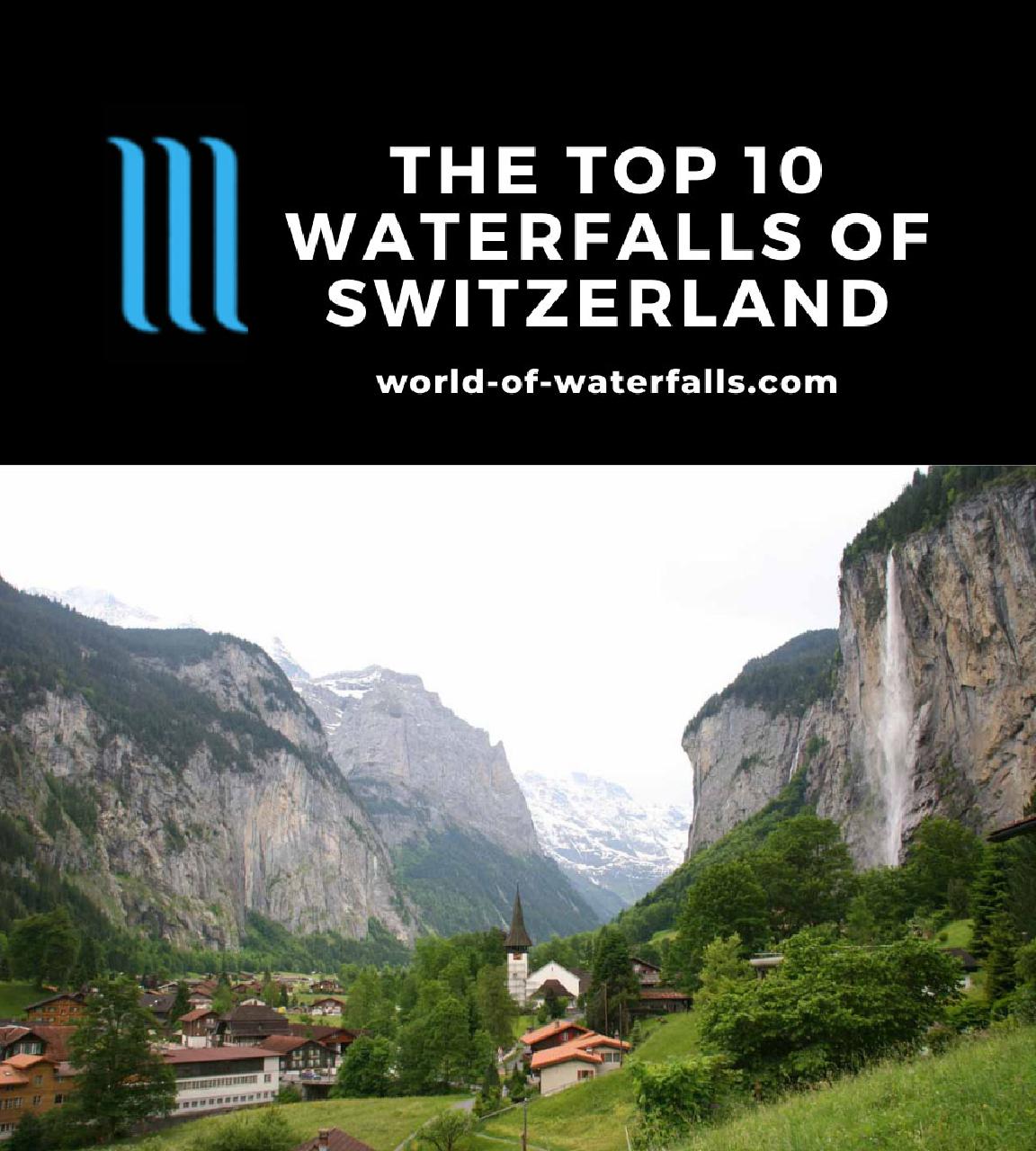 Since we only make these lists based on our own personal experiences, we know they can change with more experiences that we collect. Therefore, these living lists can easily look different the next time you may stumble across them.
In any case, we had a lot of fun reliving our Swiss experiences given the surreal scenery that I'd argue is some of the best Nature in Europe. Case in point, in addition to this top 10 list, you can also check out our full survey of waterfalls in Switzerland, including those that didn't make this list.
So without further ado, we present our favorite Swiss waterfalls in reverse order…
This surprising transnational waterfall between Switzerland and France introduced us to the rain-making Jura Mountains.
While it lacked the size of the other waterfalls that made this list, it still had a 27m drop in a well-forested setting.
Even the boat ride we took across Doubs Lake, which featured some history, a small cave, and naturesque beauty, relaxed us despite the lousy weather during our visit.
Thus, we gave the nod to this waterfall as it barely squeezed into the last spot of our Top 10 Best Switzerland Waterfalls List.
Sandwiched between two other big waterfalls that also happen to grace this list, this one seemed more like a decoration piece that really made the Lauterbrunnen Valley seem magical.
Although it flowed lightly compared to the more major waterfalls in the valley, it tended to bend and sway with the wind.
In some cases, it even blew back up making the waterfall seemingly disappear before completing its downward journey!
While we noticed how easy we could have overlooked this waterfall, Julie and I were glad to have spent time walking through parts of the magical Lauterbrunnen Valley to better experience this beauty.
And for that, we thought highly enough of it to give it a spot on this Top 10 List of Best Switzerland Waterfalls.
This unexpected waterfall in Valle Maggia within the Italian part of Southern Switzerland seemed to have the family in mind.
It had a swimming pool, picnic tables, and we accessed it easily on a short walk.
We didn't even anticipate visiting this waterfall. But we couldn't pass it by once we laid eyes on it.
Thus, for its ability to make us pull over, we had to add this one to our list of Top 10 Best Switzerland Waterfalls!
This waterfall gave us the perfect excuse to experience the scenic Lake Brienz (Brienzersee) while also checking out a historical hotel.
It also let us go behind its base as well as walk alongside its lower cascades (if we chose to forego the funicular ride to and from the lakeshore).
Like other waterfalls nestled deep within the Swiss Alps, places like these may seem like a dime-a-dozen. Yet on their own, I'd argue they each have a beauty that deserve much more attention and praise.
Nonetheless, we're doing our part to praise what we think are the best of what this country has to offer. And it made lots of sense to include this beauty on our list of Top 10 Best Switzerland Waterfalls List!
Of the waterfalls on this page, this one forced us to really experience it as opposed to admire it from afar.
Indeed, the meltwaters beneath the famous Swiss peaks of Eiger, Mönch, and Jungfrau channeled their way into narrow chasms and slots on the turbulent and loud Trümmelbach.
In fact, these slot canyons squeezed so tightly that you couldn't even see this waterfall from Lauterbrunnen Valley!
And thus we experienced what felt like a subterranean series of ten waterfalls each possessing different characters but all producing deafening roars that reverberated throughout the chasm!
Such an experience also would have helped if the weather didn't turn in our favor.
So add it all up and I felt it was a no-brainer to include this unique Swiss experience to our list of Top 10 Best Switzerland Waterfalls!
Like What You See So Far?
For the longest time (since the early 2000s), literature about this waterfall eluded us because due to a mislabeling on a Webshots Screensaver.
Our breakthrough didn't come until we finally managed to hone in on the Valle Maggia, where the description about a waterfall there seemed plausible as the one we had tried to identify all this time.
Our time finally came during an Italy trip in 2013 where we went into the Italian part of the Swiss Alps and finally saw this place with our own eyes.
Further adding to the experience, we also checked out the charming little stone village right next to this 80m waterfall.
Maybe next time I might attempt to go higher up the opposite side of the valley (an unsanctioned scramble) to reproduce the webshots image etched in our minds. But until then, this waterfall satisfied us enough to place it midway on our Top 10 List of Best Switzerland Waterfalls.
Yet another impressive waterfall within the impossibly beautiful Lauterbrunnen Valley, this reportedly 417m tall waterfall dropped right into the valley's southern end close to the cable car leading up to Schilthorn by Stechelberg.
Timing may have favored us when we saw it during our June 2010 visit as it possessed a pleasing width and flow that rivaled any of the other waterfalls we've exhibited on this page. However, we're also aware that its flow can diminish significantly as its feeding snow pack depletes.
Nonetheless, we've experienced this towering waterfall from a cable car, from its base, and even framed with the quieter side of Lauterbrunnen Valley.
And no matter how we sliced and diced our waterfalling experience here, it would feel like a injustice to not include this waterfall on our list of Top 10 Best Switzerland Waterfalls. And so here it is…
Typically, we should have had a pretty easy experience with this waterfall aided by a funicular ride.
However, on the day we visited this intriguing 250m waterfall, the winds swirled and howled, and it closed down the easy way to experience it.
Little did I realize that upon taking a trail to get up to the top of the funicular track that I'd stumble across some signage linking this waterfall with Sherlock Holmes!
Fictional characters aside, as you can see from the photo above, this gushing waterfall held its own in terms of beauty. It even seemed to feature some kind of natural arch or hole where parts of the Reichenbach Creek rushed through it.
Indeed, considering everything that this attractive waterfall had going for it, we had no issues placing it high on our list of Top 10 Best Switzerland Waterfalls.
Possibly the lone natural waterfall left standing on the famous Rhine River, we certainly found no shortage of ways to enjoy this powerful rush of water.
Indeed, we experienced two castles flanked on either side of the falls, climbed up an island right above the middle of the torrent, and we even spotted a rare natural arch to boot!
It could very well be one of the most famous urban waterfalls in the world (not named Niagara Falls) so we found it quite easy to experience the falls without needing our own set of wheels.
And while we tend to associate the Rhine River with the romantic parts of Western Germany, this Swiss behemoth definitely left enough of an impression that we had to place it on our top 10 list of Swiss favorites.
Of all the waterfalls on this list, perhaps none embodied the quintessential beauty of the Swiss Alps and Lauterbrunnen Valley better than this one!
Serving as the backdrop to the picturesque namesake town, we also managed to take a short trail into an overhanging cliff ledge right behind the 297m waterfall itself!
And with such a prominent location framing the U-shaped Lauterbrunnen Valley, this waterfall managed to show up in so many of our photos that involved other waterfalls let alone other parts of this magical place.
I guess it only made sense that it had to feature so prominently in our photo albums as well as in our memories.
Indeed, how could we not let this waterfall top our Top 10 List of Best Switzerland Waterfalls?
Looking for more of our favorites?
Below are a few more Top 10 lists of the waterfalls we've visited
Visitor Comments:
Got something you'd like to share or say to keep the conversation going? Feel free to leave a comment below...
No users have replied to the content on this page