It's not easy to put together a Top 10 Best Taiwan Waterfalls List (let alone show you how to visit each of them) because it's completely subjective and limited to each person's experience with the mentioned waterfalls.
And in the case of this tiny island republic of China, it packed quite a punch with the sheer quantity and diversity of natural attractions, especially its waterfalls!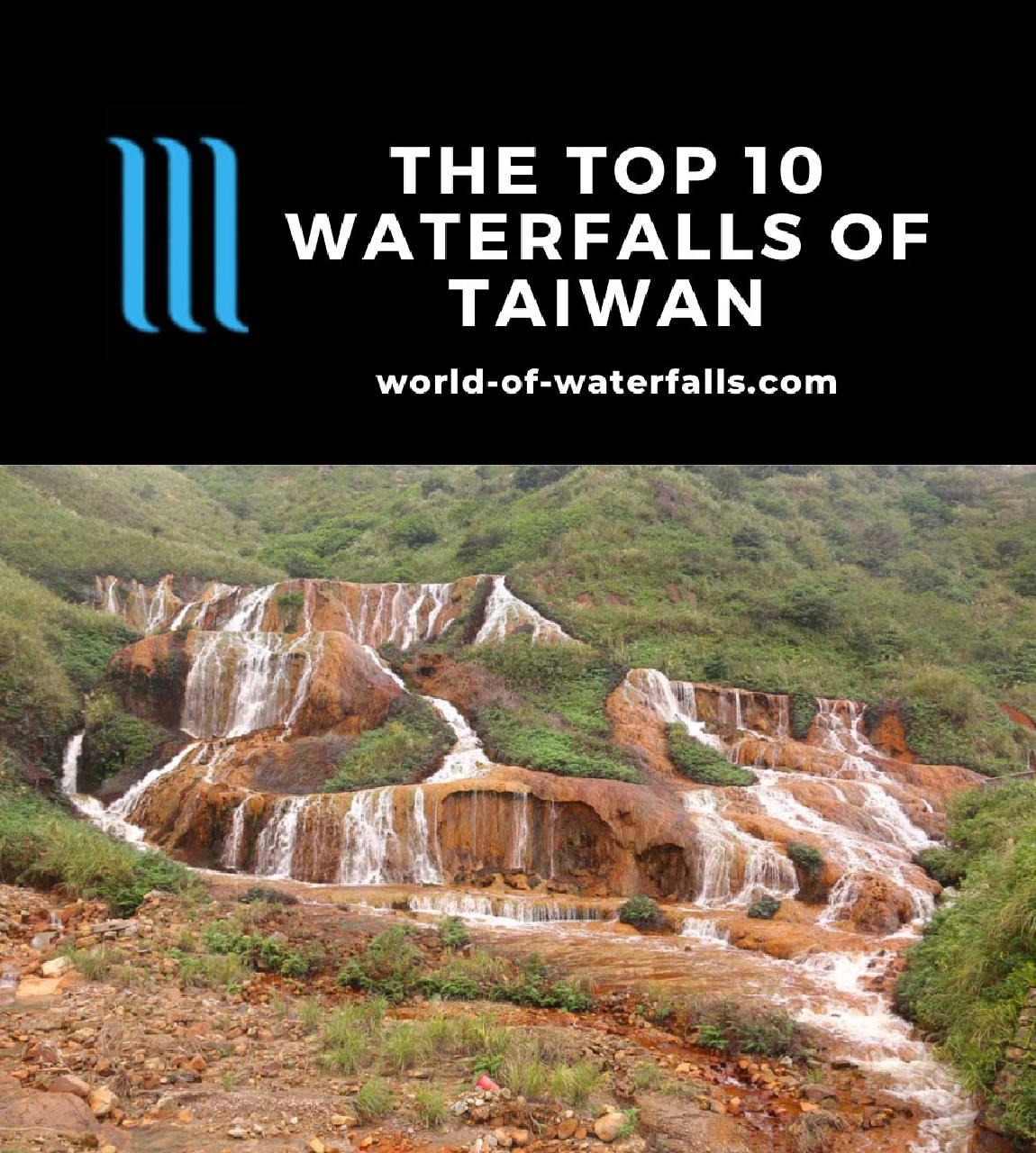 Since we only make these lists based on our own personal experiences, I had quite a struggle filtering down this list to just ten of our favorites!
Case in point, we had to make some tough decisions, which left out some deserving waterfalls such as the Fenghuang Waterfall and Dajin Waterfall among others.
Just to give you an idea of how extensive our survey of waterfalls in the country is, we have a page dedicated to a comprehensive listing of all of Taiwan's Waterfalls that we've personally visited and provided write-ups for.
In any case, since we actively update this page with each new visit, it will inevitably change as we continue to visit more waterfalls with the potential to shake things up.
So without further ado, we present our favorite Taiwanese waterfalls in reverse order…
This waterfall on the wild east coast of Taiwan seemed like one of the more obscure ones.
Not only did this place seem to lack road signs leading the way nor even a complete trail, but Mom and I even had to climb a short dam wall as well as do some stream scrambling. In the end, we were the only people enjoying this secluded spot as we had it to ourselves!
Indeed, it seemed to drop into a shadowy cove surrounded on three sides by nearly vertical walls. Its micro-climate seemed so different from the rest of the canyon that we even felt noticeably cooler air contrasting the otherwise sticky and muggy tropical air everywhere else.
We tend to favor hidden gems that most tourists don't get to see, and this waterfall certainly fit that mold. Thus, we had to include it on our list of Taiwanese favorites.
This waterfall yielded Mom and I a rather unexpected experience.
Indeed, since we didn't know about a shuttle bus that could have cut down the 8km walk that we wound up doing, that kind of forced us to immerse ourselves and really let the Nature here sink in.
In addition to the atmospheric walk through a temperate forest with tunnels, suspension bridges, ancient giant trees, a Heaven's Eye Rock, and even a garden, this impressive sat next to a deep alcove while plunging into a calm, reflective pool.
With an island as densely populated as Taiwan, we've learned to really appreciate opportunities to get back to Nature like in this excursion!
In fact, one could argue that if we didn't make this mistake of missing out on the shuttle bus, this waterfall might not have made our Top 10 List of Best Taiwan Waterfalls, especially considering how competitive this list is!
This unusually colorful and wide waterfall had a somewhat personal connection to my Mom's side of the family and myself.
For my Mom has siblings and long passed relatives who worked the gold and later coal mines either as their own businesses or for the Japanese government during the occupation.
Her home town of Keelung was just a few minutes from here. So of all the waterfalls on this list, this one felt strangely like a homecoming.
Nonetheless, speaking about gold, this waterfall literally translates as the "golden waterfall". Whether it got its name from this area's gold mining history or from the color of its underlying bedrock, we couldn't deny this place's sheer beauty.
And so it deserves to grace our list of Top 10 Best Taiwan Waterfalls!
This waterfall entry really consisted of three waterfalls, where each one seemed to get taller the higher up the trail we went!
Just to give you an idea of the sizes of these waterfalls, the uppermost one had a drop of about 25-30m while the middle one dropped around 20-25m.
Add to these waterfalls the lush mountains, the presence of a Catholic Church, and some nearby hot springs in the city of Jiaoxi, and we could totally understand why this place was so popular!
So given all these factors, we had no issues placing this waterfall trio on our list of Taiwanese favorites.
Located in the mountains just south of the international airport, this attractive 50m waterfall had quite a bit going for it.
Mom and I not only witnessed it from the overlooks for that panoramic and contextual view, but we also ventured to its rockfall-prone base where we felt its spray.
We also could have done the Xiaowulai Sky Walk, which would have allowed us to look down through the glass floor over the top of this waterfall.
Regardless of how we managed to experience this waterfall, both Mom and I left with all smiles. And for that, it earned its way onto the mid-point of our Top 10 List of Best Taiwan Waterfalls.
Like What You See So Far?
The larger cousin of the previous entry on this list, this cliff diver made its presence known as it sat right across the valley from the Wulai Tourist Town.
Yet despite its roadside (or village-side) convenience, this waterfall revealed more of itself when we went up a cable car and saw even more cascades and hidden tiers above the immediate cliffs.
Plus, the regal views from the cable car station at the top made us really appreciate the verticality of the Wulai Valley, which itself seemed to have a bit of indigenous heritage as well.
So taking all these things together, we just had to give this waterfall its props by including it on our list of Top 10 Taiwan Waterfalls.
This entry on our Top 10 List of Best Taiwan Waterfalls also featured more than one waterfall.
Indeed, we witnessed three of them on this steamy hike. The first one was perhaps the easiest of them all to witness and reach. The second one had the smallest drop, but lots of people enjoyed its cool plunge pool. Finally, the uppermost one had a tall two-tiered drop and was certainly the highlight.
This place also surprised Mom and myself with the amount of foreign tourists that we encountered. Apparently places like this in Southern Taiwan weren't as unknown as we had thought.
But when you look at the photo above, you can easily see why. Thus, we had to make room for this refreshing waterfall on our list of Taiwanese favorites.
This waterfall had to be the most famous one in Taiwan.
With a classical block shape of 20m in height and 40m in width, it threw up enough mist to yield a bright morning rainbow.
The loop trail taking in the whole experience also allowed us to experience the "Eyeglasses" Waterfall as a waterfalling bonus!
Indeed with the tourism infrastructure along with the fanfare that Mom and I knew about well before making our visit, it all further reinforced our perception of this place as a major tourist attraction.
Strangely, we took one of Mom's older brothers to this place and his delight at seeing it showed what he had been missing out on despite living and working in the vicinity his entire life!
I'm often wary of hyped up waterfalls, but I'd have to say that this one certainly met those lofty expectations. Thus, I had to place it on our list of favorite Taiwanese Waterfalls.
Mom and I remember this waterfall fondly because it was one of the most comfortable hikes we did in Taiwan during our 2016 trip.
Of course, it also helped that it had a giant 116m drop. Our hike also feature another waterfall called the second Chinglong Waterfall.
Situated above the inversion layer at 1600m high, we didn't drench ourselves with sweat from the tropical steamy climate. And you could say that we did the perfect pre-breakfast hike that anyone could ask for!
Add it all up and this highlight of the Shanlinhsi Nature Park made it high up on our Top 10 List of Best Taiwan Waterfalls as a "dark horse".
It was a tight race to the top of our list of Top 10 Best Taiwan Waterfalls.
However, this one deep in the southern part of the island just inched to the pinnacle of this list by the thinnest of margins.
Not only did it feature a pleasingly tall and wide 40m drop, but it threw up enough mist to offset the steamy tropical heat somewhat while producing rainbows! Other weekenders that managed to make it here also wasted no time to bask in the waterfall's spray.
Despite the single-lane road and sweat-drenching uphill hiking to make it up to this Taiwanese gem of a waterfall, Mom and I definitely had to earn it with this one. But that made the experience all the more sweeter.
And thus, I had to give this giant beauty the nod as my personal favorite of all the Taiwan Waterfalls!
Looking for more of our favorites?
Below are a few more Top 10 lists of the waterfalls we've visited
Visitor Comments:
Got something you'd like to share or say to keep the conversation going? Feel free to leave a comment below...
No users have replied to the content on this page