Due to numerous inquiries, we've decided to showcase the tallest waterfalls that we've personally visited in our travels.
A critical definition to make clear on this page is that "tallest" refers to the highest vertical drop of the waterfall. By "vertical drop," we mean the waterfall section in question must either be free leaping or have a slope steep enough to be considered vertical beyond a reasonable doubt.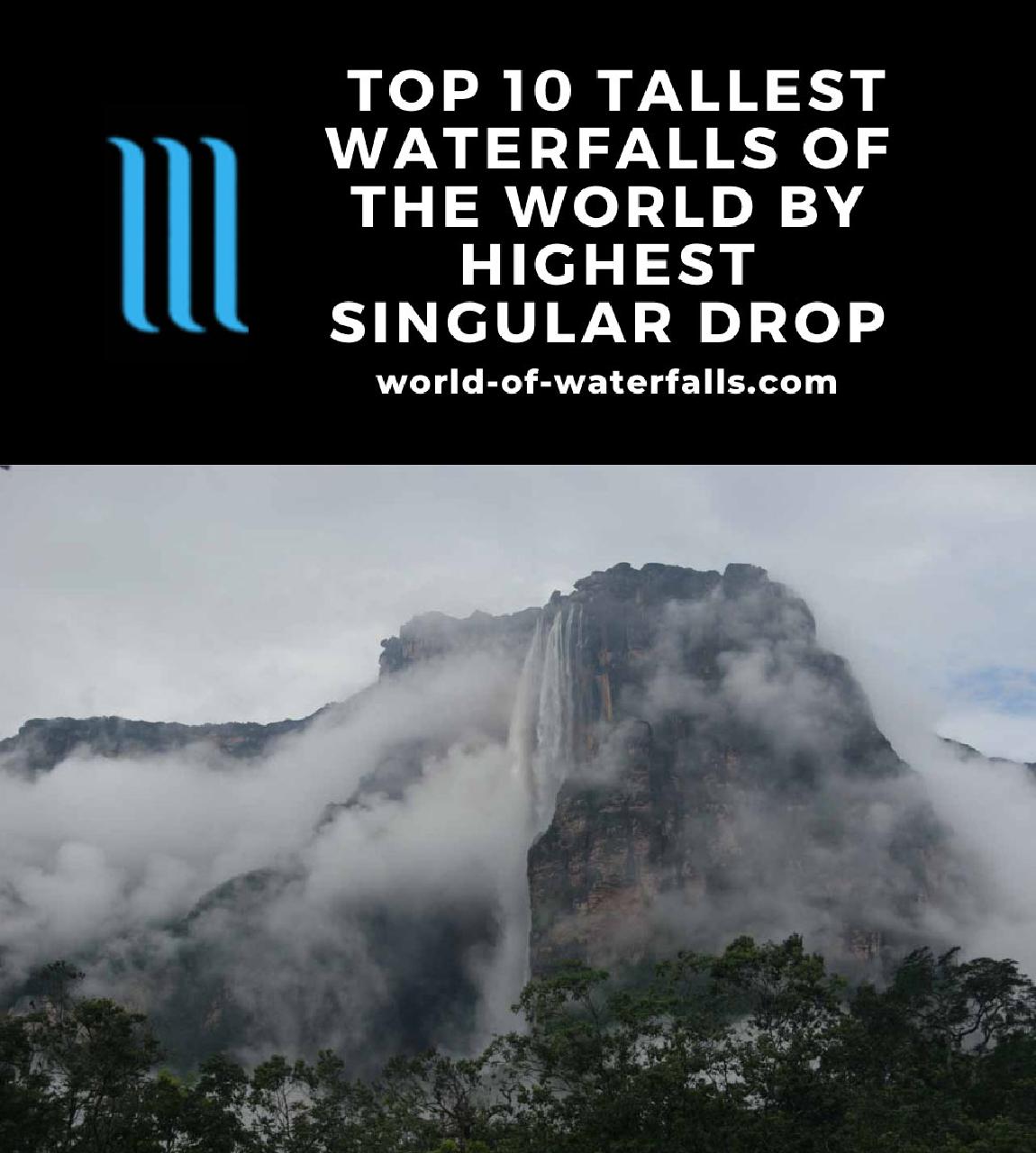 We have a separate list for waterfalls with the tallest cumulative drop in elevation.
While I've been critical of any World's Tallest list because there's no consensus as to how waterfalls are defined (i.e. when a waterfall begins and ends, how long it must flow to count, etc.) and even fewer have been accurately measured (with the clinometer and rangefinder combo along with some trigonometry), the criteria of highest leap is actually a bit easier to define and evaluate.
Plus, to narrow down this list a bit more, we've added an additional criteria that the waterfall must flow reliably and with appreciable volume on average for at least 6 months out of the year, year after year. Hopefully, this eliminates some of those seasonal waterfalls that some might say do not count as legitimate waterfalls worth giving special attention to.
And once again, we're limiting this list to just the ones we've seen. The result is our list in reverse order…
Just barely hanging on in this list (for reasons you'll see later in this page), it's arguably Australia's tallest permanent waterfall with a free-leap of around 268m (879ft). No question it's the prized attraction of Girringun National Park in Queensland. It's also part of some of the oldest rainforest on the continent, which has earned the park UNESCO World Heritage status. Even though it's about a half-day trip from Ingham, it's one of the country's more accessible waterfalls and certainly a must-see waterfall if you're in the area.
Plunging some 509m (1,644ft; corroborated in Topo! Hawaii
) in cumulative height, its upper tier has a drop of roughly 273m (898ft; as inspected in Topo! Hawaii
). But lots of controversy and misinformation surrounds this waterfall since it sits on the remote north shore of Moloka'i (see the gory details later in this page). But one thing's for certain, this beauty has legitimate volume and perhaps is the tallest permanent waterfall left on the islands.
Possibly the prized waterfall within the Utladal Valley (Utladalen), which itself is part of Jotunheimen National Park in Norway, this 275m monster is regarded as the tallest singular free-leaping waterfall left in the country that has managed to escape regulation. In fact, Utladalen has the highest concentration of unregulated waterfalls in the country and this waterfall is merely one of them.
This waterfall commands attention in the Cirque du Gavarnie, which we think has to be one of the most picturesque spots in all of Europe. However, given the fickle weather of the Pyrenees during our visit, it took us a second try before Mother Nature finally revealed the cirque to us. The falls is said to be 423m tall, making it one of the tallest in all of Europe. Of this overall height, it's said that its main drop is 281m tall, thereby qualifying it on this list.
This free-falling waterfall ostensibly makes its presence known in the lovely Lauterbrunnen Valley. Its height at 297m has been measured by the Swiss who are known for being precise. And when the wind blows, you might wonder what has happened to the rest of its drop as the plume scatters in the wind often times making the waterfall seemingly disappear before hitting the ground during its freefall. In any case, even the position we're giving this waterfall might be surrounded in controversy as it's been said that this shouldn't even be considered the tallest waterfall in the valley. But we're sticking with our assessment, and we get into our reasoning later in this page.
Like What You See So Far?
I'm grudgingly putting this waterfall this high on the list because the only number I've seen regarding its height is an unofficial 335m. Boastful claims and signs at the falls say this is the 4th highest waterfall in the world, but they don't even back it up with numbers themselves or point to any authorities vouching for those measurements. So based on our field observations, we can envision this falls being close to its unofficial height, but without the science to back it up, it's really a WAG (wild ass guess). So we'll stick with the falls occupying this spot for now until proven otherwise.
After a bit of a mental struggle about the verticality of this waterfall, we've decided to put this waterfall on the list. Like other waterfalls in the Lauterbrunnen Valley, it's tall and singular. Plus, the Swiss are known for being very precise so we'll take their figure of 417m for now though I'm sure it could use a little independent measurement by us when we get around to it. Next time!
Already one of the tallest waterfalls in North America at 2,425ft, if you break down its components, you'll see that its uppermost leap is 1,430ft (436m) while its middle cascades and lower falls measure in at 675ft and 320ft, respectively. To get a closer look at the long leaping upper tier, there's a trail leaving the Sunnyside Campground eventually reaching the top of the entire falls in a steep and very hot and sunny 3.5 miles. If you're up for it, this is a great way to see what a waterfall with this tall of leap looks like up close!
With the lower drop of this mammoth 771m waterfall measuring at around 541m, that puts it as one of the taller vertical drops in the world! Statistically stacking up to some of the other acknowledged waterfalls in the world, it's certainly something the Chachas people are proud of amongst its ancient archaeological ruins. To get a closer look at the lower tier of the falls (even getting right down to its base), you'll have to leave from the humble Cocachimba and hike nearly 3 hours one-way. Keep an eye out for ancient sea fossils on this route!
Perhaps it shouldn't be surprising that this waterfall not only is the consensus tallest one on earth in terms of cumulative height, but it's also got the tallest vertical drop on earth as well! Indeed, of the cumulative height of 979m (3,212ft), it's got an 807m (2,648ft) vertical drop, which on its own even surpasses many other "world's tallest" waterfalls' cumulative heights. So I guess this falls makes a very compelling claim to being earth's tallest regardless of what types of definitions of "tallest" you throw at it.
Looking for more of our favorites?
Below are a few more Top 10 lists of the waterfalls we've visited.
Now for some gory details...
Finally, we acknowledge that putting out a list like this opens the door for debate about which waterfalls belong and don't belong.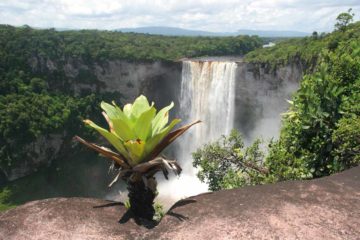 Again, it all depends on who you talk to and what his/her criteria is so we realize that there is no definitive list of world's tallest.
Anyways, just to answer some nagging concerns about some notable omissions (especially if you're wondering why we didn't religiously follow the World Waterfall Database list), let's get to it…
First off, we didn't get nitpicky about whether the waterfalls in question was a singular drop or had multiple drops in which one of its leaps happened to be very tall. Thus, we kept waterfalls like Angel Falls, Catarata Gocta, and Yosemite Falls.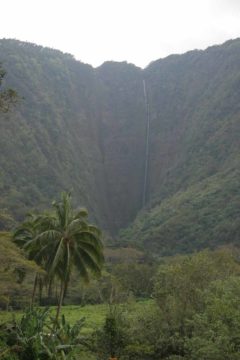 Meanwhile, waterfalls like Kaieteur Falls, Feigefossen, and Jog Falls (though Jog Falls also suffers from a longevity issue due to hydroelectricity) got pushed out.
We also left out Horsetail Falls leaping off El Capitan in Yosemite as well as Hi'ilawe Falls because they doesn't last long enough to count (i.e. they go dry too quickly), in our opinion.
Next, to follow up on the point we're making about Staubbach Falls, the signage in the Swiss literature claim that taller freefalls occur at Murrenbach Falls at 417m and at Seerenbach Falls at 305m on its middle (2nd) tier.
Even though the Swiss tried to explain that Murrenbach Falls should meet the steepness requirement for vertical waterfalls (by the way, there's no consensus to determine how steep a waterfall must be in order to count as a vertical drop), our observations from a cable car and from the Lauterbrunnen Valley floor itself caused us to disagree with this assessment.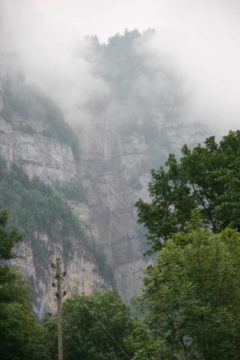 That said, Julie and I aren't going get to nit-picky about whether or not it's close enough to being vertical so we've included it in this list.
As for Seerenbach Falls, we don't think it passes the longevity test.
We showed up to this waterfall in mid-June of 2010, which was the month of the highest snowmelt and the year of unusually heavier-than-normal rains throughout Europe, and this waterfall still had very wimpy flow that probably wouldn't last much longer into the Summer.
Whether its drainage had been altered or diverted is still unknown to us, but in any case, we wouldn't consider this a major waterfall due to its lack of volume or lack of reliability in its flow.
As a result, we kept this off the list, too.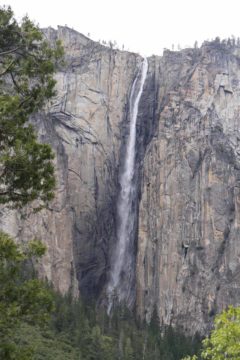 Recently, we left Ribbon Falls off the list because it doesn't fit the additional criteria that it must flow reliably and with appreciable volume on average for at least half the year every year.
We know Ribbon Falls comes up just short of this criteria as we know it's definitely flowing its best between March through May and possibly through June in a high snowpack year.
It's usually dry in Summer (except ephemeral thunderstorms) and frozen in Winter.
Nonetheless, when it's flowing, Ribbon Falls is impressive as it's said to be 1,612ft (491m) tall, which would've put it high on this list.
We also recently took out Mardalsfossen because it now doesn't fulfill the 6-month longevity and volume criteria we've recently imposed.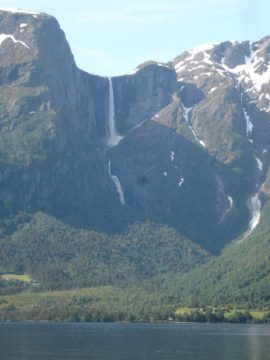 That's because it's regulated and only allowed to flow ostensibly from June 20 to August 20 (i.e. the Summer tourist season).
Even though we were fortunate to see it flow in late June or early July of 2005, it can only be reliably seen for 2 months out of the year.
Nonetheless, when it does flow, it's still impressive as it's said to have a cumulative height at around 656m, and its tallest of its two leaps is roughly 297m (though some have reported its tallest leap is 358m but one needs to be careful about the middle cascades between the two main leaps).
Those figures would've put this waterfall on this list as well as the other Top 10 Tallest Waterfalls list we're maintaining.
Finally, one waterfall that can make a strong case for being on this list is France's Cascade d'Arpenaz.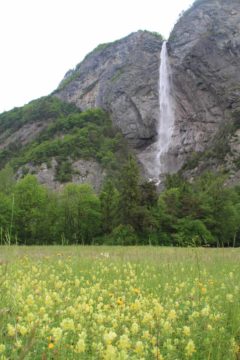 It's said to be flowing year-round, but its height figure has been uncertain to us.
After digging around, we saw on some French tourist site that it's said to be 270m tall, which would bump Wallaman Falls off this list.
Until we can measure it or at least have some sense of credibility to its measurement, we'd rather go with a waterfall that is a little more well-researched like Wallaman. So that's why this one's not on this list – yet!
I'm sure there are others that you could argue should belong on this list, but we'll leave them up for debate, which you can get into by leaving a comment on the form below…
If you're curious about the tallest waterfalls we've been to based on the overall cumulative height, click here.