This Top 10 List of the Best Thailand Waterfalls page is where we share our favorite waterfall experiences throughout the country. It took us a while to realize that we had enough of a collection of waterfalls in Thailand to come up with such a list of ten personal favorites, but that gives you an indication of how extensive our waterfalling chase has been so far.
Indeed, when we finally had some time to reflect on our past travels, that was when we realized the treasure trove of memories that we had been sitting on for quite some time!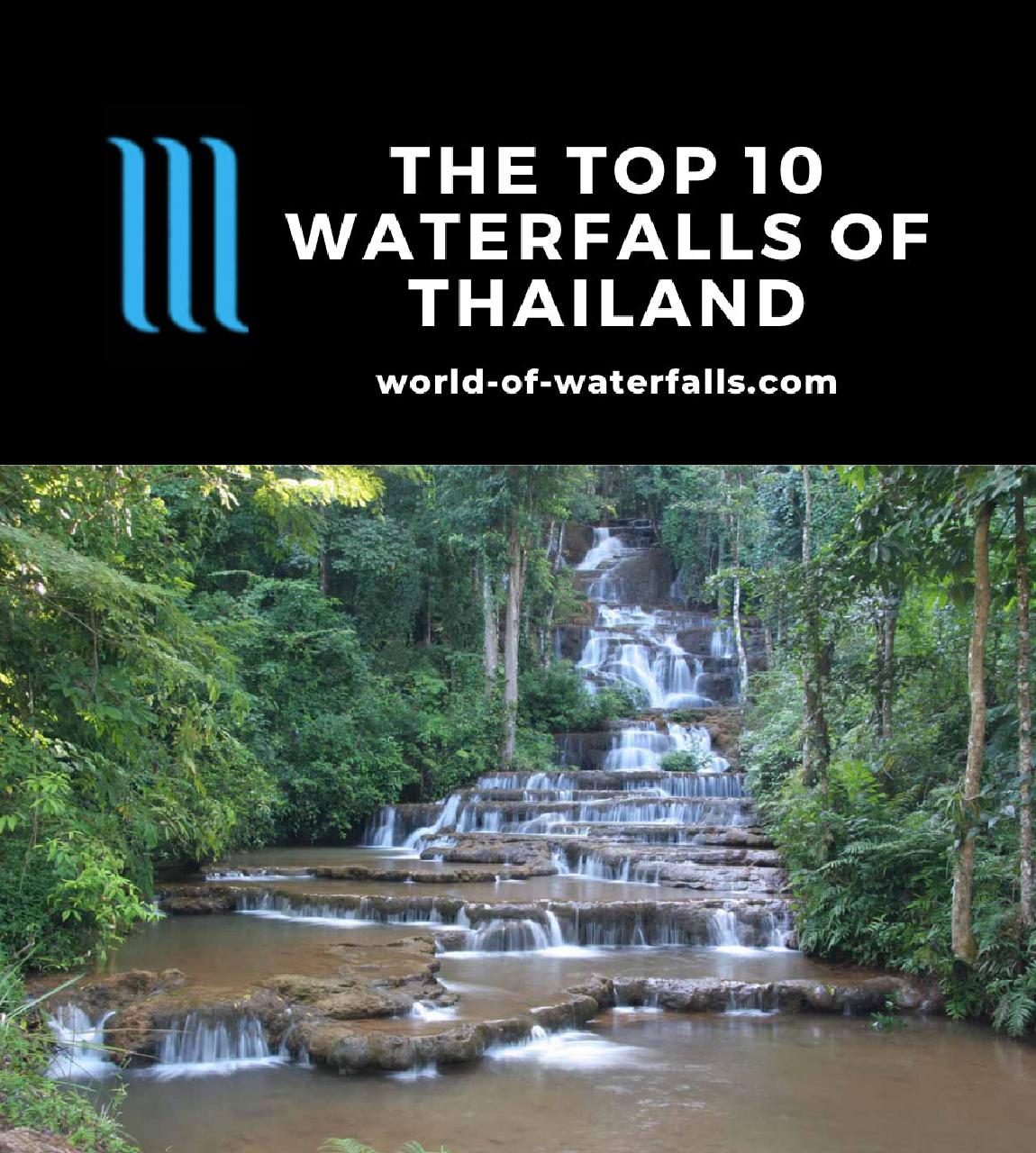 Julie and I still have fond memories of this popular Southeastern Asian destination.
Yet even though we experienced the good vibes from the friendliness of the people, the benign weather, the temples, or the authentic Thai cuisine, it surprised us to see just how underappreciated the country's waterfalls were.
Hopefully, this page can help alleviate some of that lack of love for the waterfalls in Thailand. They certainly deserve more of it. That said, we do have a comprehensive listing of Thailand's waterfalls, which includes many more that didn't make this list.
So without further ado, here is our list of Top 10 Best Thailand Waterfalls in reverse order…
I tend to this of this waterfall as the best that Khao Yai National Park has to offer. However, I felt that its access left quite a bit on the table, so to speak.
I've seen reports that it drops a cumulative height of 150m. However, the main trail access only yielded perhaps the top 30m or so (though some reports have claimed it was more like 50m).
Even though we've tried to see if we could hire a guide to get the most comprehensive view of all, we could only experience the same fraction that everyone else here got to do.
I can only imagine how much higher this waterfall would have sat on this list. And in spite of such shortcomings, it still had just enough umpf to squeeze into our list of Top 10 Best Thailand Waterfalls.
This very pleasing stair-stepping waterfall pleased both the eyes as well as the camera lens.
As you can see from the picture above, it had just the right texture and jungle setting for that picture-perfect post card moment.
It also didn't hurt that we didn't need to spend too much time on an easy trail through a campground and picnic area to reach it.
In fact, it was merely one of a few stops we made on the Death Highway between Mae Sot and the remote Umphang Wildlife Sanctuary.
So with all these things working in its favor, we just had to give this waterfall its props with a placing on our list of favorite Thai Waterfalls.
This waterfall really consisted of several waterfalls. Most of them offered the potential for a swim among the travertine dams and pools to cool off from the steamy jungle environment.
We even spotted schools of fish in many of the plunge pools of some of this waterfall cluster.
Plus, some of the upper waterfalls offered a little chance for reflection and contemplation as the crowds thinned out. Even the last waterfall was said to resemble Erawan himself.
Such a dynamic experience in a single waterfalling excursion (including the street market at the trailhead) meant that anyone could have something to look forward to here.
Of course, we tried to experience it all in a single afternoon. And we not only got the full experience, but we also came back with happy memories plus a little humidity relief.
So for all that this place brought us, we had to include it in our list of favorites in Thailand.
This waterfall sat at the base of Thailand's highest peak – Doi Inthanon.
Benefiting from collecting runoff from several streams and gullies down the mountain, this waterfall gushed over a 25-30m drop before cascading further downstream with opportunities to cool off.
We joked with our guide about this falls since he considered it "small" though he had his reasons since he favored another waterfall that featured prominently on this list.
Nevertheless, we liked this waterfall enough sit on our list of Top 10 Thailand Waterfalls. Read on to see which waterfall our guide liked most on this list.
Further up Doi Inthanon from the previous entry in this top 10 list, this towering waterfall (which also had a sidekick) surrounded itself with purple blooms as well as blue skies during our visit.
For a waterfall nestled on Thailand's highest peak, it felt strangely quiet in this little corner of the mountain.
That unexpected surprise meant we got to bask a bit in the glory of the scenery before us without too much worries about crowds during holiday season.
And thus, we felt comfortable with this choice at around the half-way point of our top 10 countdown of our favorite waterfalls in Thailand.
Like What You See So Far?
This popular tall waterfall introduced us to the many waterfalls of Northern Thailand. And of the ones we've experienced north of the city of Chiang Mai, this waterfall impressed us the most.
In addition to its reportedly 60m height, we witnessed a pleasing rainbow at its base as well as the Ob Noi Waterfall along its trail.
Further to the west of this attraction, we also checked out the popular thermal springs at Pong Dueat.
Thus, for the overall experience and the scenic attributes of the waterfall itself, we had to put it on our list of favorites from Thailand.
Of all the waterfalls we had visited on this list, this one appeared to have the least hype and fanfare.
Indeed, the Kamphaeng Phet region of Thailand felt off the beaten path, especially since it sat well north of Bangkok and well south of Chiang Mai.
But that made for quite the peaceful experience at this very accessible waterfall. So much so that we shared the falls with many orange-robed monks during our visit.
Further adding to the 100m tall, 40m wide waterfall's qualities, we also experienced the Kamphaeng Phet Historical Park not far from here, which featured ruins and relics that have aged in a way that felt very authentic and atmospheric.
So adding this unsung waterfall was the least we could do to acknowledge the memories of this place during our epic trip to Thailand, and thus we had place it high up on our Top 10 List of Best Thailand Waterfalls.
Of the waterfalls on this list, this one seemed to gush the most as it threw spray all over its trail and made for quite a muddy experience.
That kind of tells you the kind of volume that this falls possessed!
Such conditions along with the gorgeous weather we experienced during our visit meant we also got to witness a bold rainbow. That further added color to an already colorful scene.
Further adding to all the positive attributes this waterfall had going for it, we found this to be very accessible and thus very popular!
So we had no problems putting this waterfall high up on this list of our favorite Thailand Waterfalls.
It was a very tight race to the top of our list of Top 10 Best Thailand Waterfalls.
And as you can see from this photo, this shapely triangular waterfall impressed us with its size as well as its grace and texture.
We joked around with our guide when he thought most of the waterfalls he took us to in the Chiang Mai Province were "small". But after seeing this waterfall (which was his favorite, by the way), we finally saw his point-of-view.
Indeed, we could have easily considered this as our favorite waterfall in the country. So which one could have possibly edged this beauty into the second spot?
This was said to be Thailand's largest waterfall. And as you can see from the photo, it really consisted of a cluster of many waterfalls in one spot.
Sitting in the remote Umphang Wildlife Sanctuary, we really had to work to reach this place. Yet that didn't stop many other Thais who shared this place with us as it seemed like the whole country was here during our visit!
In addition to its beauty, we also found many of the travertine pools beneath some of the smaller waterfalls attracted many more domestic holiday makers to cool off and bathe in its mineral rich waters.
Indeed, it seemed like this place had it all – the fun factor, the scenic allure, and the Nature. And so hands down we had to consider this our favorite waterfall in the country thereby topping our Top 10 List of Best Thailand Waterfalls!
Looking for more of our favorites?
Below are a few more Top 10 lists of the waterfalls we've visited
Visitor Comments:
Got something you'd like to share or say to keep the conversation going? Feel free to leave a comment below...
No users have replied to the content on this page