This Top 10 Best Utah Waterfalls List highlights our personal favorite waterfall experiences in the Beehive State while showing you how to visit each of these falls. Shocking both Julie and I, we had never realized that the state of Utah could have enough waterfalls to even come up with a respectable and useful list like this.
Yet after visiting the state countless times over the years, we feel like we can finally put out such a list. And if you check out our other Top 10 Lists, you'll see that we put a lot into these kinds of lists.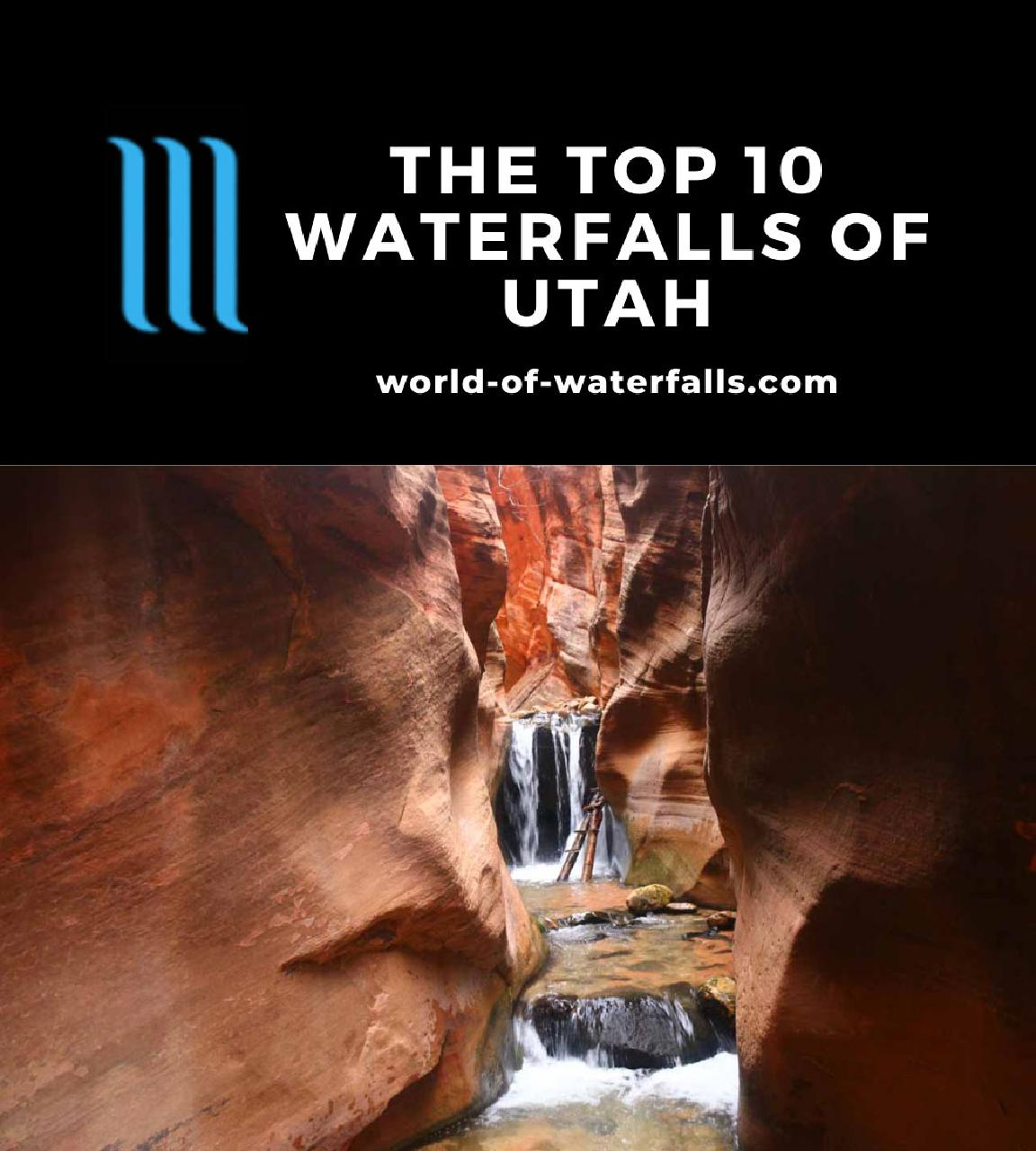 While a good many of them are concentrated in the Salt Lake City vicinity, we've seen our share in the state's south as well. You can see this concentration in the waterfall map shown in our comprehensive page of the waterfalls of Utah.
So without further ado, we now present the Top 10 Utah Waterfalls in reverse order…
Including this waterfall (more like a series of small waterfalls) on our list comes with mixed feelings.
On the one hand, I know Kanarra Creek suffers from water quality issues due to people scrambling to avoid inevitably getting wet. This exposes water pipes meant for the town of Kanarraville. And I'm quite certain that the popularity of this place didn't do them any favors.
On the flip side, I couldn't deny the beauty of this place that felt more like an intimate version of the Zion Narrows with trickier obstacles to get past.
In any case, I opted to objectively call a spade a spade, and thus include this series of waterfalls on our list of Utah's best.
Unlike the previous entry, this waterfall didn't require a strenuous adventure.
Indeed, the whole family did the short hike to reach this 50ft waterfall, which seemed conducive for playing and cooling off.
We didn't keep going up the canyon beyond the falls, but on the return hike, we got teasing panoramas of Utah Lake and Pleasant Grove in the distance.
So given these factors, we felt justified to include this waterfall on our list of Utah's best.
This 40ft rectangular waterfall required quite the adventure the reach.
Not only did I have to endure a fairly relentlessly uphill hike, but the trail became rougher the further up I went alongside North Holmes Creek.
In fact, when the creek ran high, I found myself clinging onto ledges, stream scrambling, and ducking under low-lying overhangs.
The final stream crossing to get in front of the falls was the trickiest and most intimidating in high water (as I had experienced it). That one involved a rope and some nifty boulder hopping to try to stay dry. Many others just allowed their feet to get wet.
Then again, when I came back in mid-Summer and did the hike with lower creek flow, it was far easier.
Of course, North Holmes Creek also harbored many other waterfalls en route so I think of this excursion as a multi-waterfall hike as opposed to a singular one. This included a short detour to the Adams Canyon Lower Falls.
Therefore, given all these things, I had to put this waterfall on our list of Utah's best.
Normally, I don't favor artificial waterfalls, but I had to make an exception for this waterfall.
As you can see from the photo, this waterfall stood out to us because of the sandstone formations backing the otherwise dry and desolate scenery of Spanish Valley.
I actually had to choose hard between this one and the smaller-but-more-natural Left Hand Falls for the waterfall near Moab to stand on this list.
However, I ultimately picked this bigger one for the overall experience. But it's still something I flip-flop over.
Quite possibly the most unusual waterfall on this list, we quickly learned how this waterfall got its name after finally reaching it.
Indeed, the Mill D South Fork Creek tumbled over a rocky slope with a hole (or natural bridge) that the creek dropped into before spilling out the side.
In order to get a closer look at that donut hole (as you see pictured above), I had to scramble up wet boulders and steep slopes so it was best to use water shoes like Chacos. I definitely wouldn't consider getting up there when Mill D South Fork is running high.
The adventure to reach the falls seemed right considering Big Cottonwood Canyon seemed to be the most scenic of the canyons in the Wasatch Mountains.
So given this unique aspect of the waterfall as well as the grand surroundings, I had to give this waterfall its props by including it on our list.
Like What You See So Far?
This rather obscure and overlooked waterfall tended to elude all but the most determined visitors.
Case in point, I actually didn't witness this falls until my third attempt. A deer thwarted my first attempt, then Mom and I got lost on my second attempt. So indeed, this waterfall haunted me over the years.
And while this 88ft waterfall lacked the splendor of its lower neighbor further downstream, I definitely felt the wild and unforgiving sandstone wilderness on this excursion.
Indeed, it involved friction pitch scrambles and a small bit of route-finding as it was quite easy to get lost here.
Nevertheless, each time we've done this hike, we usually had it to ourselves. So for such an experience, this waterfall certainly belongs on our list of Utah's best waterfalls.
I definitely had to earn my visit of this waterfall.
While the modest hiking distance of about 4.4 miles round trip didn't seem like much, it had other aspects that conspired to consume more time than expected.
Indeed, not only did I have to endure a relentlessly uphill hike from the trailhead near Alpine, but I also had to do some route-finding and scrambling. The trail started to disappear the closer to the waterfall I went.
After some perseverance, I finally managed to scramble alongside and stand before this impressively gushing waterfall. Only then did all the trouble to get here finally reward me.
Such special moments and experiences are what waterfalling can do to you. On the one hand, it can frustrate you. But on the other hand, the successes become that much sweeter.
Thus, I had to include this waterfall on our list of the top 10 best Utah Waterfalls.
Even though I probably mistimed my first visit to this waterfall (as I had to face to sun to see it) and its vigor was diminished on my second visit on a mid-Summer morning, I still considered it as one of my favorites in the Beehive State.
In addition to the 200ft main drop you see pictured here, I noticed other cascades and feeder waterfalls further upstream. That suggested that this waterfall could very well be bigger than I thought.
Adding to the overall experience, the scenic hike to even reach the falls featured gorgeous valleys and snow-speckled mountains seemingly typical of the Mt Timpanogos Wilderness.
There were multiple ways to reach this waterfall though the ones from the Sundance Resort were not public, and the chairlift didn't reduce the distance by much (though it was mostly downhill).
Nevertheless, add it all up and I had to place this waterfall high up the list as one of my favorites in Utah.
This 607ft multi-step waterfall in Provo Canyon was easily the biggest and most impressive one in the Salt Lake City and Provo vicinity.
Just to give you an idea of the size of this waterfall, take a look at the people standing at the very bottom as well as the base of the second plunge (if you look real closely) in the photograph!
Even though this was a roadside waterfall for all intents and purposes, we could have extended our visit with a bit of an uphill climb to reach the base of that second drop.
But regardless of how one can experience this giant, it definitely stood up there among the cream of the crop of our Utah Waterfalls favorites.
Ever since Julie and I first visited this waterfall with a couple of friends back in 2001, every time we've returned, the falls has never disappointed us.
The colorful algae clinging to the wet sandstone along with the waterfall's 126ft year-round flow further attested to the miracle of desert oases like this in an otherwise desolate and unforgiving sandstone wilderness.
Even the Native American pictographs seen along the six-mile round-trip hike further added to the intrigue of this place that seemed to have it all.
So given all that, we still consider this as our favorite waterfall in the state, and it tops this list of Top 10 Best Utah Waterfalls.
Looking for more of our favorites?
Below are a few more Top 10 lists of the waterfalls we've visited.
Visitor Comments:
Got something you'd like to share or say to keep the conversation going? Feel free to leave a comment below...
No users have replied to the content on this page