Our list of the Top 10 Best Wyoming Waterfalls is our way to feature the waterfalls we liked in the Equality State, which also featured the world's first national park. Further adding to the usefulness of this list, we also show you how to visit each entry on this list.
Speaking of Yellowstone National Park, this is an all-inclusive list so we're showcasing the best that we've personally visited in the state even if this list can be dominated by the waterfalls resident in that special corner of the state.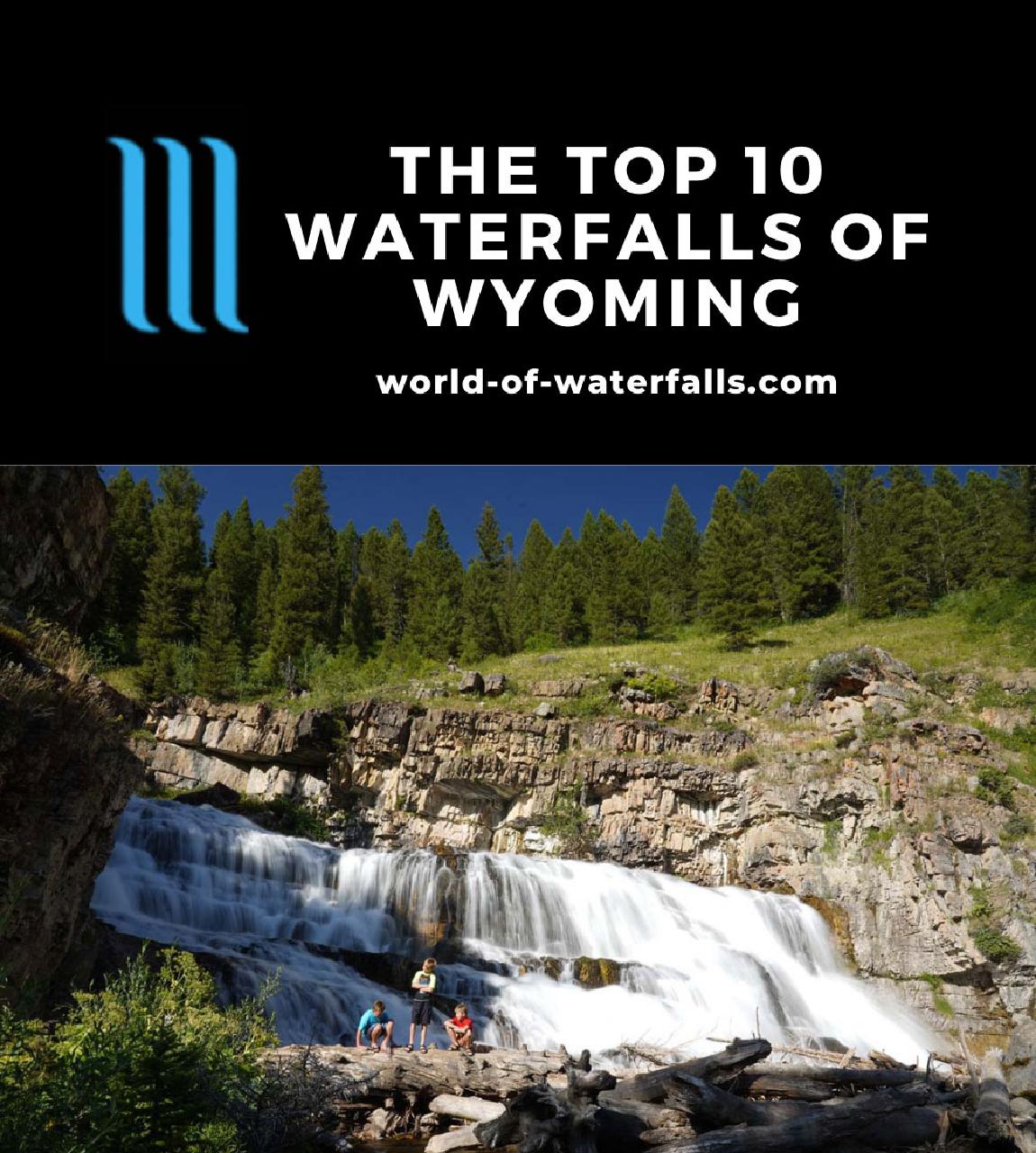 Indeed, after having finally surveyed most of this state (geographically speaking, at least), we really got to experience the rural charm that made the state of Wyoming a road-tripper's favorite. And thus, the waterfalls that we got to experience certainly exceeded our expectations and still possessed some of those rare places on earth that have the scenery, the interactivity, and the relative peace-and-quiet that can only be had in America's least populated state.
Nevertheless, just picking 10 waterfalls worthy of being on this really competitive list was a difficult task. Case in point, deserving waterfalls like Shell Falls and Bucking Mule Falls had to be left of this list. We even had to exclude some Yellowstone favorites like Tower Fall and Fairy Falls among others.
Just to give you an idea of how extensive of a survey we have, there's a page devoted to Wyoming Waterfalls, where you can see the rest of the state's waterfalls that we've been to.
So which ones did make this list? Read on and find out!
This series of disjoint cascades way out in the Wind River Range by Lander was a combination of play waterfall with a lot of scenery to boot.
As you can see in the photo, it was hard to get that all-encompassing view showcasing all of its drops in one frame, but I've found it didn't matter as there were several swimming holes that the family could spend all day playing at.
While the hiking to get up the waterfalls wasn't easy, especially given how dry it was here, cooling off in these remote cascades made me forget about all those inconveniences.
In fact, I even saw kids doing a real fun-looking natural water slide, which further illustrates just how rare of a place this was.
So it barely nudged its way into this list of the Best Wyoming Waterfalls even edging out some Yellowstone favorites!
This was another gem of a swimming hole situated in a remote and idyllic wilderness setting surrounded by the beautiful scenery of the Gros Ventre Mountains.
What's even more amazing was that this place was about an hour's drive from the popular town of Jackson though lots of people head north of there into the Grand Tetons instead of further south to experience gems like this one.
In addition to geologic features like The Open Door, there's even a hidden-in-plain-sight natural hot spring by the waterfall. And if that's not enough, there's a more developed hot spring pool further upstream of this falls.
Indeed, it makes sense why this place is not as well-known, but from the amount of people I saw camping nearby as well as the amount of people playing in the water in August 2020, it seemed like this place wasn't as obscure as I would have thought.
Nevertheless, there aren't many places left like this, and it's for that reason that this waterfall deserves to be on our list of the Top 10 Best Wyoming Waterfalls.
Upon looking at the waterfalls on this page, it seemed like this list was an ode to unsung waterfalls in the state of Wyoming.
And well, this waterfall certainly fit that bill because it required a 9.2-mile hike to reach, with a precariously sleep and narrow descent and a taxing uphill on the return hike.
Nevertheless, sometimes you need to have the struggle and persistence in order for the reward to pay off, and that's why this waterfall made the list of the best waterfalls in Wyoming.
As the first Yellowstone National Park entry on this page, I definitely appreciated the fewer people doing this excursion, which certainly made it easier to socially distance while also enjoying the serenity of the experience.
And isn't that what such special places are all about in the first place?
This pleasing 70ft waterfall has grown on me over the years, especially since it's one of the rare geothermal waterfalls thanks to the Little Firehole River feeding it with hot springs at the very top of the falls.
Speaking of geothermal features, experiencing this waterfall also involved walking through the Biscuit Basin, which itself featured deep blue pools like the Sapphire Pool and the spasming Jewel Geyser among others.
Heck, even by the parking lot, there was a fun little wading spot where our daughter enjoyed chucking rocks across the Firehole River!
And we even used the trailhead to hike back into the Upper Geyser Basin for a much quieter hike to the Morning Glory Pool.
As a result, when I keep revisiting lists like this, I keep finding reasons to bump this waterfall up, and I guess that's how you know you've got one of the best waterfalls in Wyoming let alone Yellowstone National Park.
The Bechler Backcountry had some of the wildest and most remote stretches of wilderness within the boundaries of Yellowstone National Park.
Yet most of the waterfalls in the "Cascade Corner" were quite difficult to reach.
So it was with this underdog waterfall that we finally found a legitimate reason to explore the western side of Bechler coming in from Idaho, and that's where we were pleasantly surprised with its size let alone the tranquility you get from being here.
The falls was so-named because there used to be an alcove or overhang next to the left side of the falls before it collapsed.
Nevertheless, it didn't change the general characteristic of this falls, and it was the perfect tease for deeper adventures into Yellowstone's Cascade Corner, which is something I still dream of doing.
So add it all up, and we just had to put this waterfall on our top 10 list of the best Wyoming Waterfalls (let alone one of Yellowstone's best as well)!
Like What You See So Far?
Of all the waterfalls that we've visited in the state of Wyoming, this one very well could be my favorite swimming hole of them all.
Not only did this place feature a tall 70-100ft waterfall shooting out of a tight V-shaped canyon, but its large plunge pool was simply way too inviting to ignore.
I'm not the only person who thinks so as it seemed like the secret is already out about this place.
That said, the catch is that it's a bit out-of-the-way as it's a solid three-hour drive east of Yellowstone to get here, and it's nearly a four-hour drive west of the Devil's Tower.
There's also a steep trail to get down into the canyon itself (and a long climb back out), but I'd argue it's these obstacles that keep special places like this from getting overrun.
In any case, I just had to make room for this remote swimming hole on this list of the Top 10 Best Wyoming Waterfalls.
It took me three tries over a span of 16 years before I finally got to realize the full scenic potential of this waterfall. And over that time, this had been one of those waterfalls that haunted and taunted me.
As yet another Bechler Backcountry entrant into this list of Wyoming's best waterfalls, I definitely had to weigh that risk versus reward factor before finally planning for it and committing to that plan.
Indeed, there was a deep and swift river crossing followed by some rough bushwhacking without a trail, and then I had to deal with annoying deer flies and mosquitoes while being cognizant of the dropoffs.
Yet as you can see from the photo, I can finally justify putting this waterfall high up on this list after languishing towards the end of it when all I had to show for it was the view from the end of the official trail.
I'll let you decide whether the risk for the view is for you or not, but it's certainly hard to turn down.
This gushing 110ft waterfall was just upstream from the more famous Lower Falls and quite easy to view, but it was its sheer power and size that justified its position high up on this competitive list of the best Wyoming Waterfalls.
Flowing on the famed Yellowstone River, it was guaranteed to flow with every bit the same force that resulted in the Grand Canyon of the Yellowstone River further downstream.
Plus, the Chittenden Bridge was a nice photo subject with the waterfall as seen from Uncle Tom's Point.
However, we also experienced an unusual angled profile view where we also got to witness a double rainbow with a little less people to boot!
This 250ft waterfall deep in the Bechler Backcountry had to have been one of the most unique experiences ever!
Born out of a "union" of Mountain Ash Creek and some unnamed creek, we easily could have called this the state of Wyoming's most beautiful waterfall and placing it #1 on this list.
In addition to the visual splendor of this unusually-shaped waterfall, I also extended the long day hike to include the Ousel Pool.
That allowed me to swim and relax in the geothermally-heated lukewarm water underneath a secondary waterfall before making the long hike back out.
Oh, it was a real neck-and-neck race to the top of this list of the best Wyoming Waterfalls. So which waterfall just edged this one out?
As the signature waterfall in Yellowstone National Park at the head of the Grand Canyon of the Yellowstone River, should it be surprising that it also tops the list of the best Wyoming Waterfalls?
Indeed, it just barely beat out Union Falls for the top spot on this competitive list as there was no denying the sheer beauty and magnitude of this 308ft waterfall.
This waterfall had the accessibility and numerous overlooks to really get to experience it in almost every way imaginable (except from its brink, which has never been open in all the times we've been here).
And this also included getting a closer look at the bottom of Uncle Tom's Trail to really get a sense of this waterfall's sheer power and size.
So you add all these things together, there's a reason why this waterfall and associated canyon was so famous and well-publicized.
As you can see from the photo above, this waterfall's scenic allure transcends the state's borders and is quite the world-class attraction.
Looking for more of our favorites?
Below are a few more Top 10 lists of the waterfalls we've visited.
Visitor Comments:
Got something you'd like to share or say to keep the conversation going? Feel free to leave a comment below...
No users have replied to the content on this page