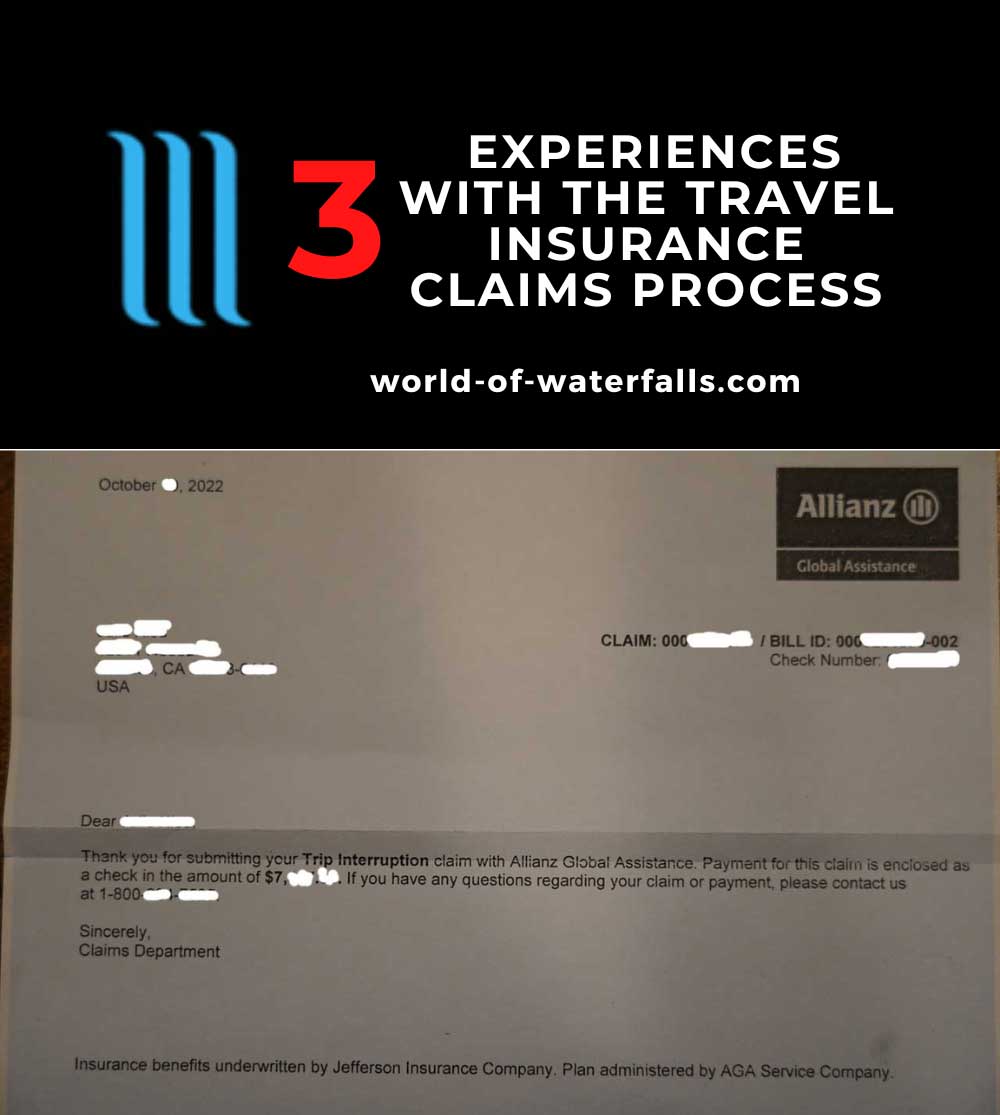 Going through the Travel Insurance Claims Process experience is really the one way to truly tell how good a travel insurance company is (and whether they were worth the added expense on a trip).
A sour experience probably makes you think ill of the company you thought you had paid for their services (perhaps second guessing why you paid them money in the first place).
However, a positive experience likely makes you think better of the travel insurance company, which might lead to repeat business on your next trip.
Now how the company treats your individual case is merely one factor in the overall claims process experience.
The other key aspect is how you file your particular claim and follow through.
Granted, it may be a great relief to get back the expenses paid for unrealized trip services or emergency services due to unforeseen events.
However, this is one of those things where it's better to not have to file a claim in the first place (something that will be very obvious why later in this write-up)!
Anyways, we've had both successful and unsuccessful claims experiences, and we'll share some examples of our adventures.
That way, you'll have a better idea of what is involved in the travel insurance claims process as well as what it takes to succeed getting reimbursed for unforeseen expenses…
Example 1: Filing A Successful Small Claim (Online)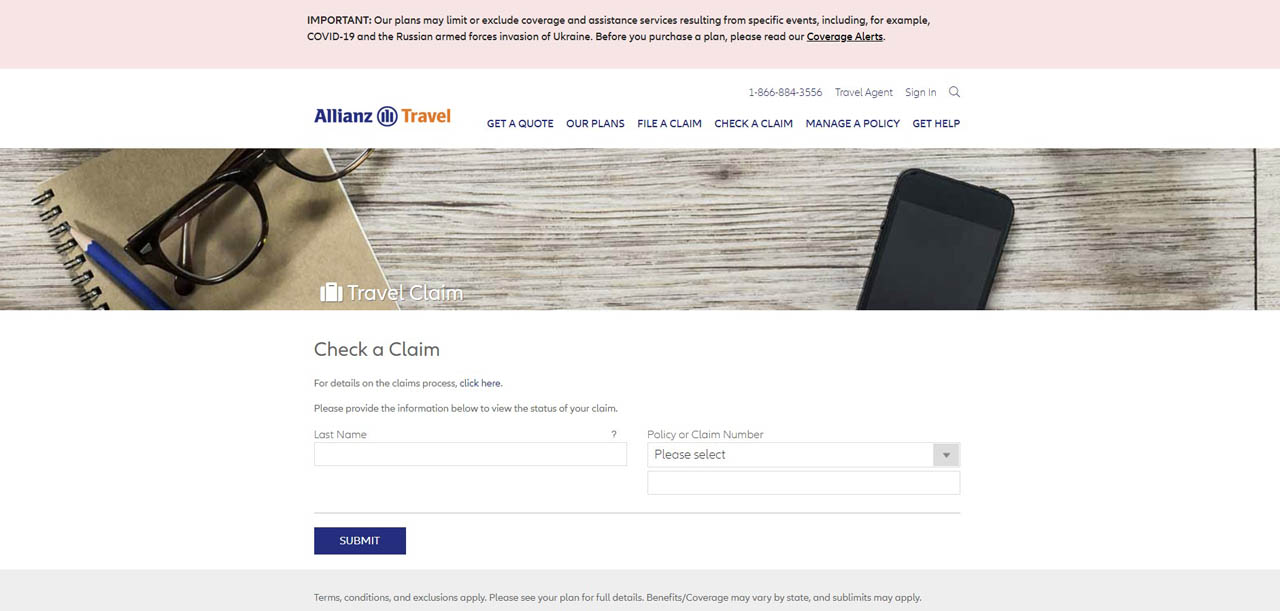 The Scenario
Our first time filing a successful travel insurance claim was after a Qantas-induced delay where we had to fly from Los Angeles (LAX) to Darwin (DRW) in the Top End of Australia in 2022.
There were no direct flights between LAX and DRW, and we ultimately made things work by booking round trip tickets from Los Angeles to Sydney (SYD), then doing a circuit that ultimately started in Darwin and ended back in Sydney.
Therefore, that first leg involved flying to Sydney from Los Angeles, and then catching a connecting flight from Sydney to Darwin.
Unfortunately, our LAX to SYD flight was delayed over 3 hours, which caused us to miss the connecting flight from SYD to DRW (not to mention our bags weren't checked through and we had queues for customs and passport control).
The next listed flight from SYD to DRW that we were aware of was not until 11pm (it was about 8am having just missed our original flight when we arrived).
Luckily for us, there was one unlisted flight (because it was international as opposed to domestic) that went from Sydney to London, but it connected in Darwin.
This flight was scheduled to leave at 4:15pm, and Qantas eventually put us on this flight.
In any case, as a result of that delay (which was still over 8 hours from our originally scheduled flight), we had to pay extra for airport food while waiting for our new flight to Darwin.
When we landed at the Darwin airport (at about 8pm), we also had to pay for a pair of taxis to our accommodation because the rental car offices were already closed for the day.
The Claims Process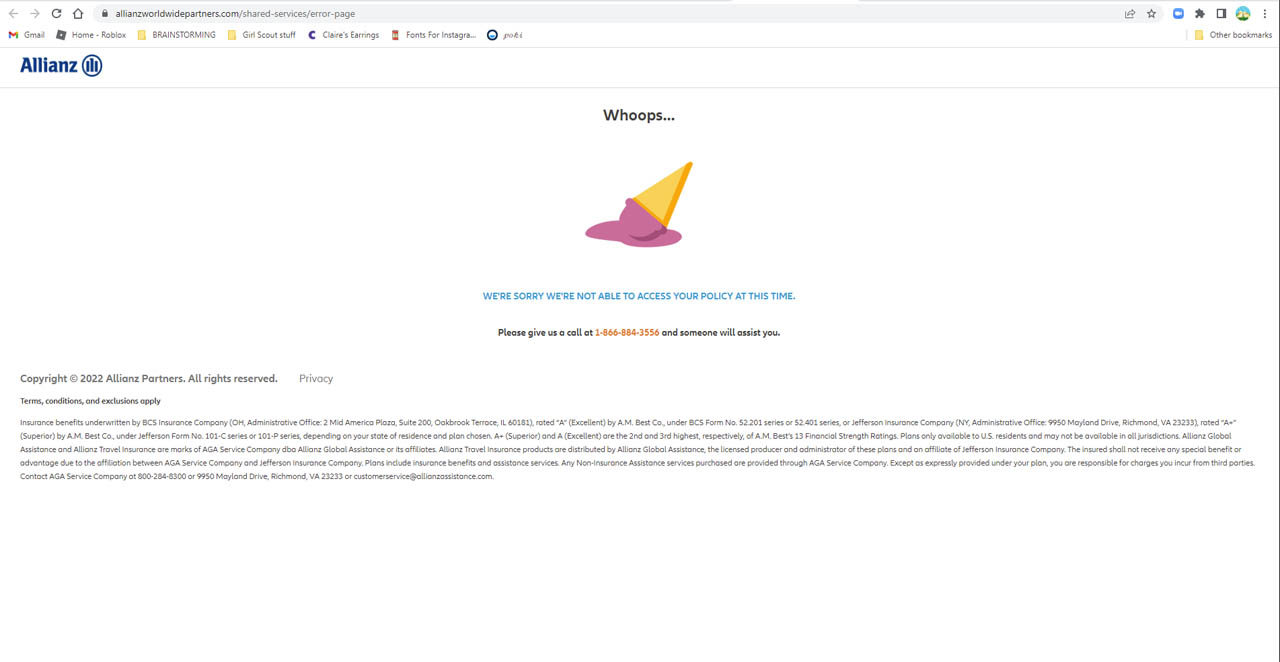 When we finally arrived at our Darwin accommodation, we used the WiFi to file an online claim through Allianz since we paid for their OneTrip Prime policy before our trip (which covered our expenses resulting from travel delays of over 5 hours).
Filing this claim was tricky because the system kept routing us to the Australian version of the website instead of the US-based one (likely due to the WiFi network location).
Plus during the course of going through their questionnaire, there were some intermittent system errors that caused me to have to keep trying until I got through to actually submitting the claim with the necessary documentation.
Speaking of documentation, in addition to providing info on our Allianz Travel Policy Cover Sheet, we provided the following…
receipts for our airport food purchases
receipts for our taxi rides (2 people per vehicle; 4 people total)
baggage claim tickets (should be boarding passes to prove that our flights were delayed/missed and new ones fulfilled)
itinerary confirmations (to further prove the original schedule)
Once the claim was submitted successfully (again, it took me a few frustrating tries to get to that point), we were given a claims number, which we could use to look up the claims status online.
That was a very helpful feature (as we'd know pretty quickly if more documentation would be needed to resolve the claim).
Eventually, after about 3-4 weeks, I found out online that the claim was successful, and the claim amount was direct deposited to my bank account (which I had provided as part of the process to file the claim).
Example 2: Filing A Successful Big Claim (The Old Fashioned Way)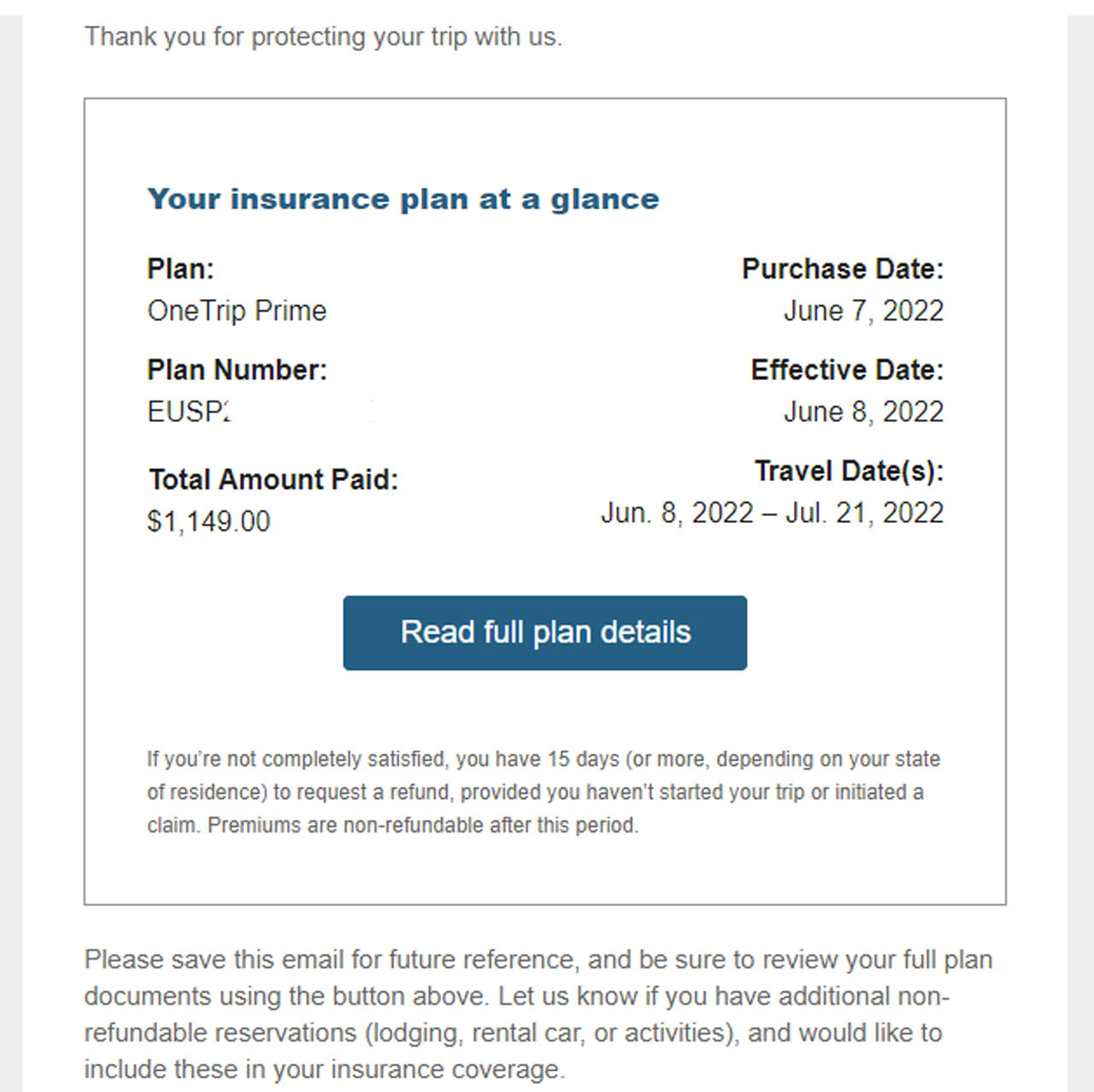 The Scenario
Our first time filing a successful large claim took place after we had learned about my brother's death, which occurred while we were in Cairns, Australia on the same trip as in Example 1 above.
As you can imagine, in addition to the emotional trauma that the event had caused, we had to assess the consequences of what happened.
The first thing we did when we got to our accommodation after hearing the news was to call Allianz to get some guidance on what our next steps should be.
The person that picked up our call wasn't able to look up our policy because he said the system was down so he provided us some general information about what was covered and what wasn't.
Although he didn't know the details of our policy due to the outage, he led us to believe that a trip interruption due to a death in the family wasn't covered.
That said, we didn't have the full policy printed out (only the cover sheet since it was 40 pages long) so we couldn't challenge this assertion at the time.
So we eventually decided to just do what we needed to do given the sudden change of plans, and then try to research more and file the claim when we would get home.
Next, we had to act quickly to book the resulting changes (once we figured out how to make the logistics work) as clearly the trip could no longer go on as originally planned.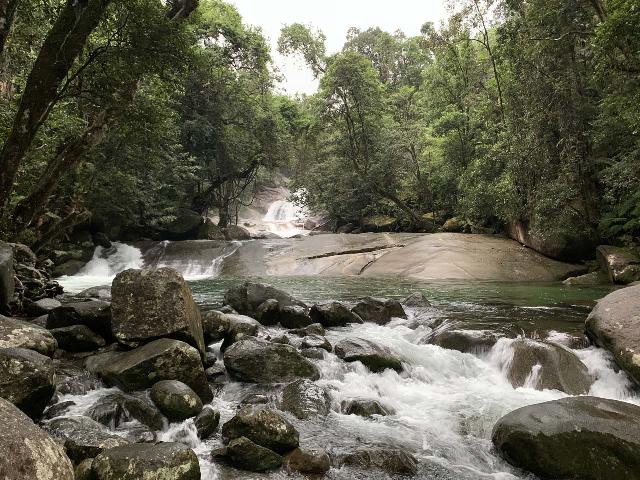 Among the changes that had to be made included the following:
Booking a last-minute flight for Mom from Cairns to LAX via Melbourne (MEL)
Booking three flights from Brisbane (BNE) to LAX (after fulfilling our Queensland stays)
Cancelling all of our New South Wales stays
Re-booking/cancelling accommodations that Mom had made that could no longer be fulfilled
Informing the Rental Car Agency of our intention to drop off in Brisbane Airport instead of Sydney Airport
So the end result was that Mom flew home the next day, and we traveled as a party of 3 for a little over a week returning home from Brisbane nearly 2 weeks early.
Regarding the stays, my wife (who made the bookings) had the foresight and the experience to use Booking.com and only sought out accommodations with free cancellation (as long as they happened enough hours before the start of the stay).
So we were able to cancel all of our New South Wales stays with neither hassle nor additional costs except for one accommodation in Tenterfield, where we had to appeal to the owner (and they were sympathetic enough to refund us).
For the rest of the stays in Queensland, we had to complete the stays for those that couldn't be refunded (a major reason why we opted to leave in Brisbane instead of Cairns like we did for Mom).
Moreover, for the bookings that Mom made with points, we were lucky that we were able to cancel those, which we then promptly re-booked ourselves.
There were some accommodations where we had booked two rooms for the night since we had been a party of 4, and for those, we had to swallow the added expenses (so we didn't submit those for travel insurance claims).
Regarding the re-booked flights, Qantas charged hefty change fees, which were as if we paid for completely new tickets even though we had already secured a way home at the orignal date.
Therefore, given all the turmoil, the biggest expenses were the Qantas change fees, and that was what we had targeted for a travel insurance claim, which we only attempted to do once we got home.
The Claims Process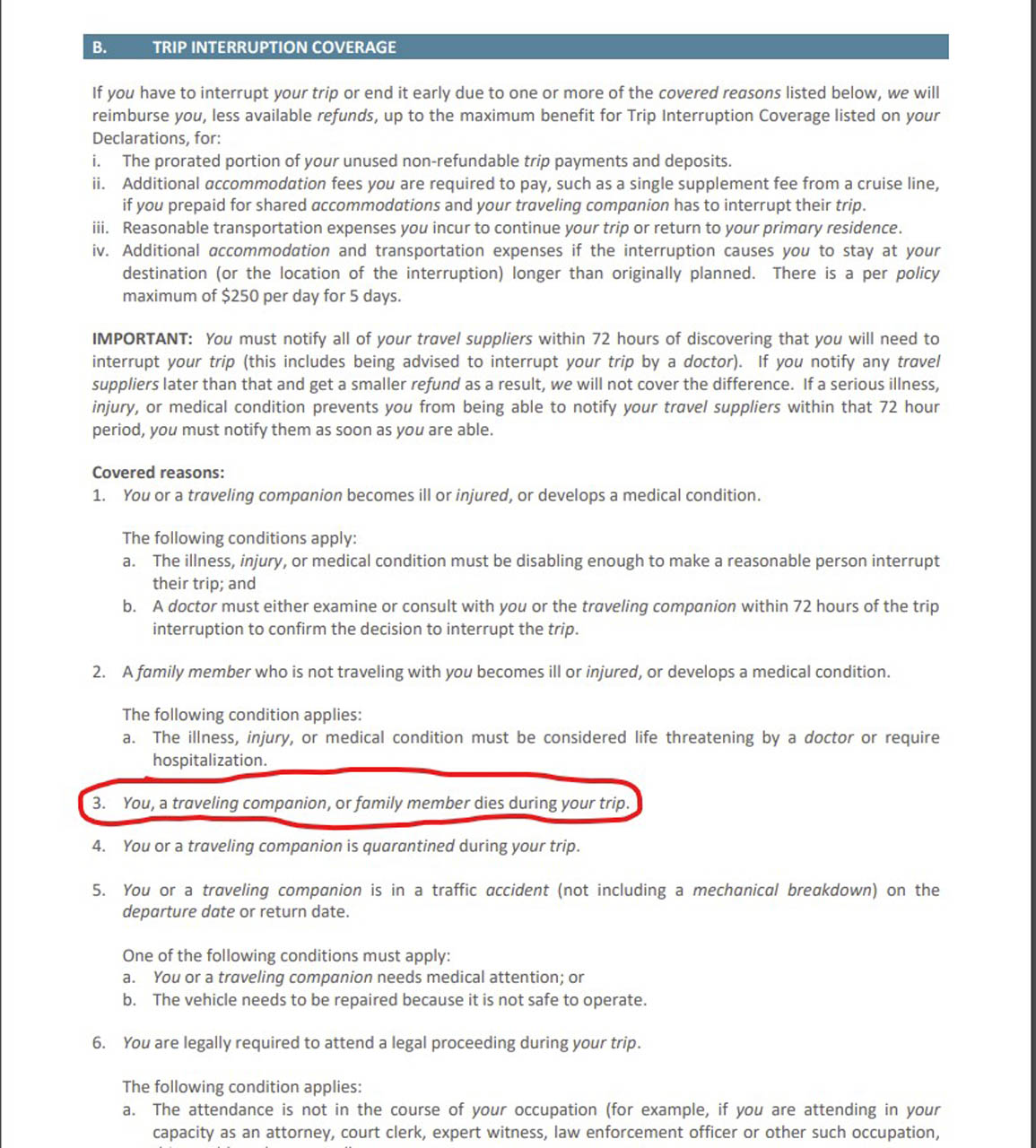 Because we had filed an earlier claim for the trip delay on our abridged trip (see example 1), we learned the hard way that we couldn't submit this second claim online.
It was simply a limitation in the Allianz claims system that prevented having multiple claims online for the same trip.
Therefore, my wife contacted Allianz directly and was directed to send an email to some address with the request to open a new claim.
Well, weeks later after not hearing back from them, my wife made a follow-up call, and we learned from the second person who answered the phone that the prior email address where we tried to open another claim was incorrect.
So we ended up doing the same thing but sending that request to a different email address, and eventually we got confirmation of a new claim number that we could refer to regarding its status.
Like with example 1, we had to briefly tell Allianz what happened (my brother died and we had to cut our trip short), and then we had to submit supporting documentation as directed…
Allianz Travel Policy (all 40 pages of the PDF we were given, which included trip interruption coverages)
The updated Qantas e-ticket itinerary for each passenger
My brother's funeral announcement (while waiting for the Death Certificate)
Letters from the cemetery confirming my brother's death and each passenger's relationship to him (while awaiting for the Death Certificate)
My brother's Death Certificate (took over 2 months before that became available)
Keep in mind that all of this went on during funeral preparations while also trying to heal from the event, which as you can imagine is not easy.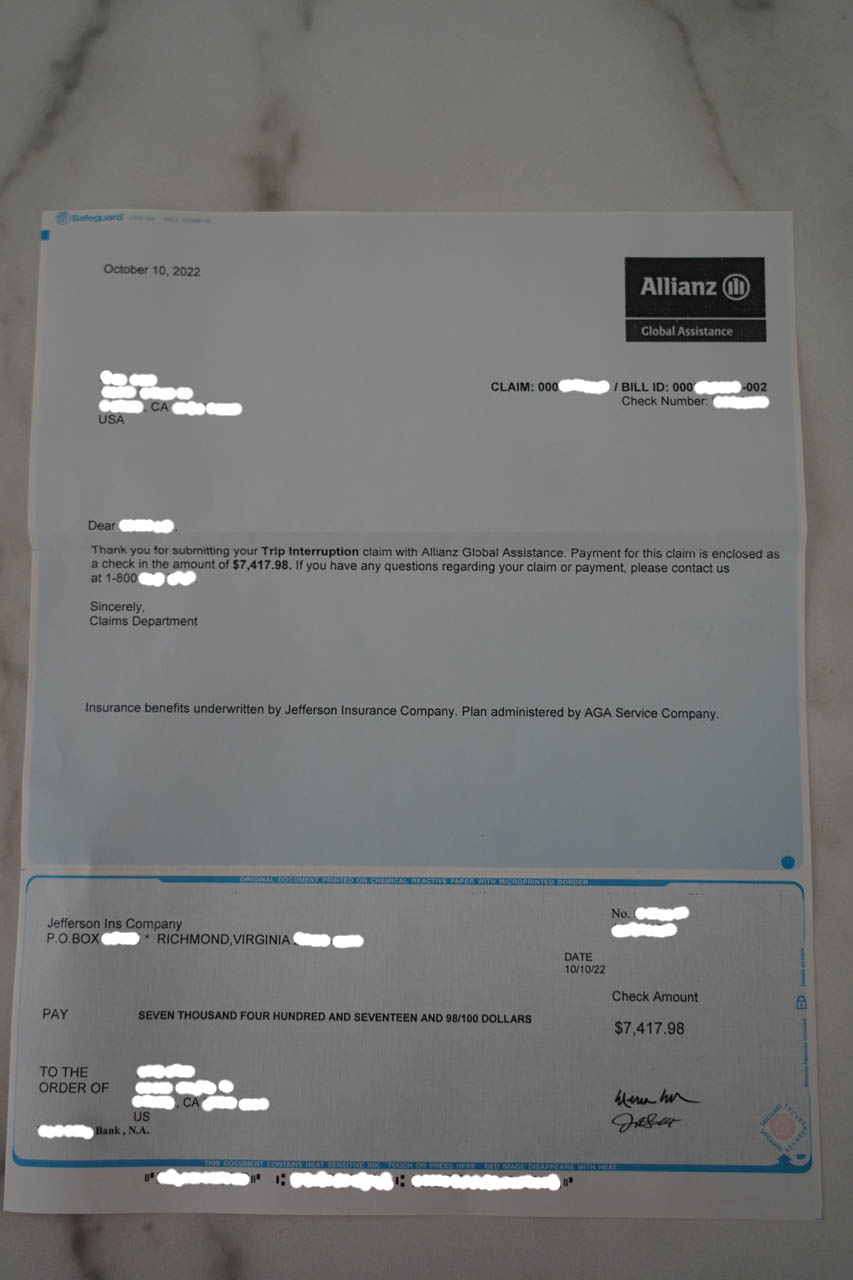 Once all the documentation was submitted (the Death Certificate was the last artifact), we were then told that our claim was in a queue and it would likely take another 6-8 weeks before our claim would be resolved.
The backlog was likely due to a chaotic Summer period exacerbated by a combination of COVID-19-related complications and staffing shortages throughout the travel industry.
By about the 6-week period, my wife made a follow-up call and learned that we "should have a claim resolution by the end of the week."
However, that week came and went, which prompted another follow-up call with Allianz, where we happened to get a hold of a claims adjustor who finally reviewed our claim.
After another week had passed, we finally received the Travel Insurance Claim Check in the mail (for the full requested amount) and deposited it, which thereby closed this case.
Example 3: Our Unsuccessful Claim Experience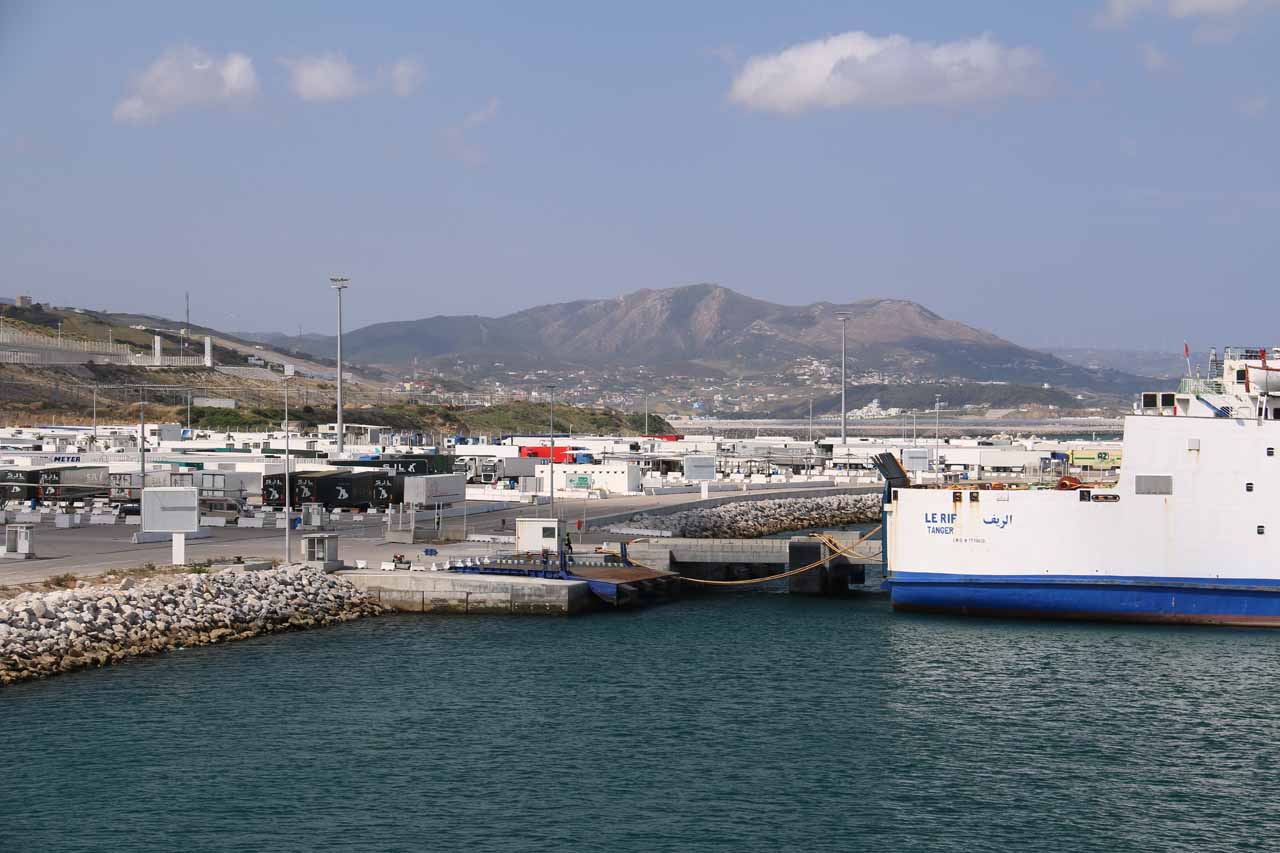 The Scenario
Our first attempt at submitting for a trip insurance claim happened after a trip where we spent two weeks in Morocco and five weeks in Spain in 2015.
When we concluded our custom tour of Morocco, we then caught a ferry from Tangier-MED in Morocco to Algeciras in Spain.
Unfortunately, that ferry ride was well over an hour delayed so when we arrived at the rental car office in Algeciras (which was Europcar by way of Auto Europe), we found out that the office was closed for siesta.
To make matters worse, the office wouldn't re-open until Monday, which was two days later since we were here on a Saturday.
After making a phone call to Auto Europe, we eventually were booked a taxi to pick up the rental car in an alternate office in Malaga, Spain.
That taxi ride costed about 110 euro out of pocket, but at least we were able to collect the car and complete the Spain part of the trip without suffering any more losses in terms of unrealized stays.
The rest of the trip went by without any further issues necessitating travel insurance involvement, and it was only when we got home when we started to file a claim with TravelGuard (our carrier for that trip).
The Claims Process
When we returned home from our Morocco/Spain trip, we proceeded to fill out the TravelGuard claims form to establish the claim.
Somewhere during the questionnaire, we had to furnish documentation.
Unfortunately, through the sea of receipts and paperwork that we had collected on this trip, we were unable to find the pass for our ferry ride (that was ultimately the cause of the delay and the claim).
The taxi receipt was also a handwritten carbon copy, which apparently made it difficult to tell what the service was for, and it only revealed the amount spent, which was 110 euro (about $150 USD as of 2015).
Therefore, the claim eventually went unresolved and the time-out period for the claim ultimately elapsed.
As a result, we were never able to get reimbursed for the taxi cost.
Key Takeaways From Our Experiences
With hindsight being 20/20, we learned some valuable lessons in order to maximize the likelihood of collecting on a travel insurance claim.
These lessons are summarized below:
Lesson 1: Don't Always Go For The Cheapest Travel Insurance Plan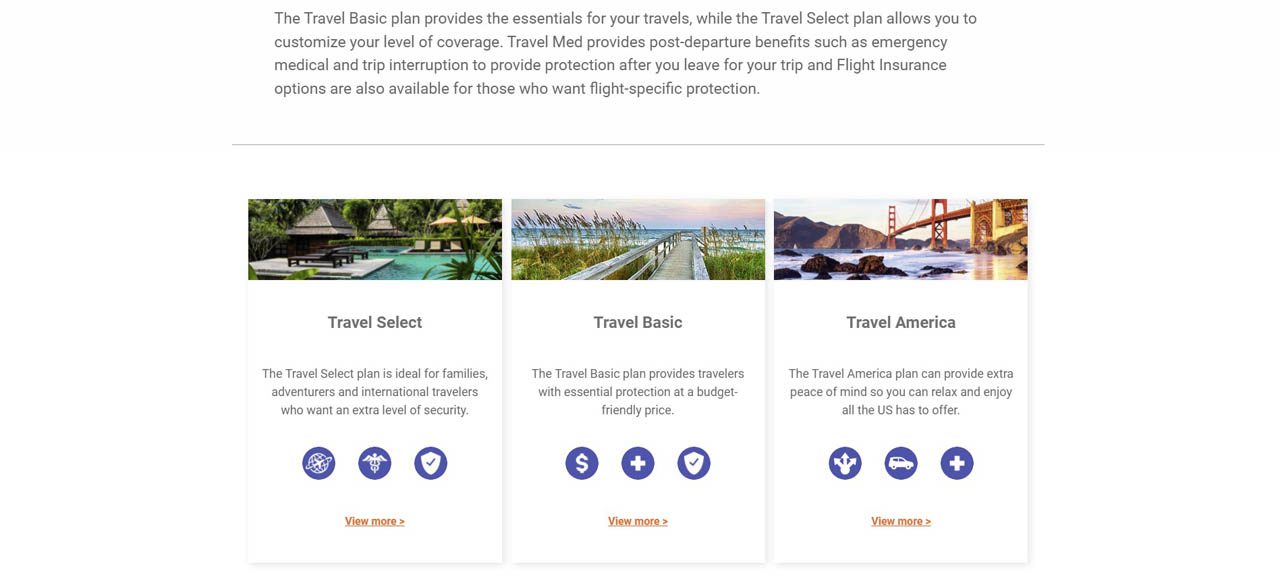 In our experiences, most travel insurance companies like TravelGuard, Travelex, World Nomads, and Allianz have multiple pricing tiers, where the cheapest plans cover the fewest scenarios while the pricier ones cover more.
The most expensive plan that I'm aware of would be the so-called "cancel for any reason" plan, which isn't always offered depending on the company.
Generally, the more expensive the plan, the more scenarios the insurance will cover, and the larger the amount they're willing reimburse you for.
In our trip interruption scenario (example 2), the cheapest plan might not have covered a death in the family, but fortunately, we had booked a more expensive coverage that did cover us for that kind of event.
Remember, you get travel insurance to protect yourself financially against unforeseen circumstances so that you can travel with piece of mind.
But if you're pinching pennies and always worrying about what can go wrong to the point that you can't enjoy your travels, then what's the point of doing the trip?
Of course, what plan you get depends on your risk tolerance and comfort level, and in our particular case, we tend to lean either in the middle or a bit above it (since we do engage in waterfall hikes).
Lesson 2: Take Pictures Of Your Boarding Passes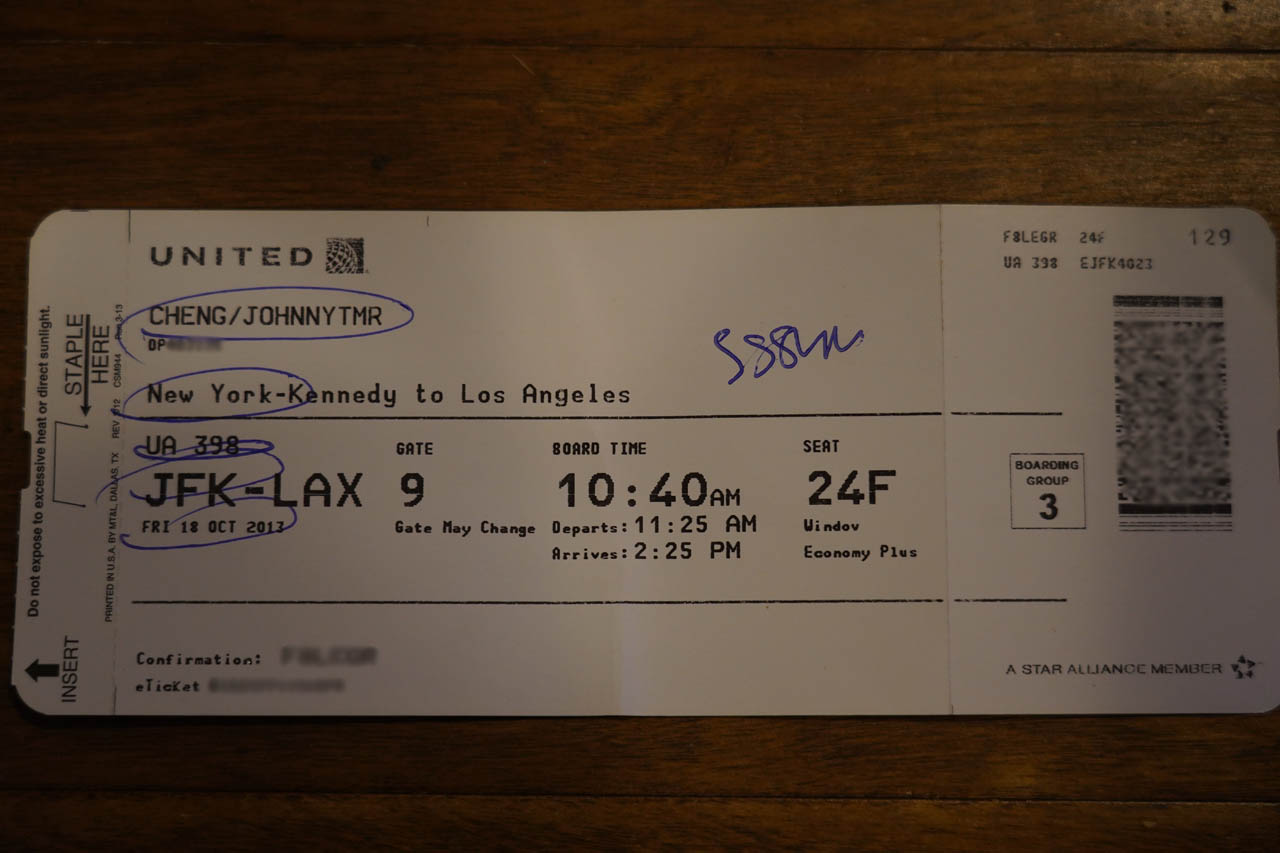 Over the years that we've been traveling, we've found out the hard way that your original boarding passes may not be in your possession when you most need it (e.g. when you're filing a travel insurance claim).
Case in point, when we have a missed connecting flight, the airline might ask us to trade in our original boarding passes for the new boarding passes.
We've even had one case where the Australian Border Patrol took our boarding pass after arriving in Darwin airport (because it was a stop on a longer international flight to London from Sydney).
Well, I've seen travel insurance claims questionnaires asking for flight information that must include the passenger's name, flight time, flight number, route, and even seat number.
And, without the original boarding pass, it might be more difficult to prove that your original flight was delayed, which caused you to miss your connecting flight.
In our case, we actually had to rely on a combination of an airline confirmation itinerary (provided at the time of booking) along with our baggage claim tickets for our checked baggage.
I'd imagine it depends on how sympathetic the claims adjustor is to accept such information, but imagine how much easier it would be had you still maintained the original boarding pass.
That's where it would be best to take pictures of the boarding passes in the event you're asked to surrender them.
Besides, you have to provide the insurance company a digital copy of your receipts and boarding passes if you still possessed the original passes anyway, so you mind as well make it a habit to just take pictures as documentation.
By the way, taking pictures of your passes not only applies for airlines, but it's also useful for other types of passes like trains, ferries, buses, etc. that you could be seeking reimbursement for.
Lesson 3: Don't Procrastinate To File Your Claim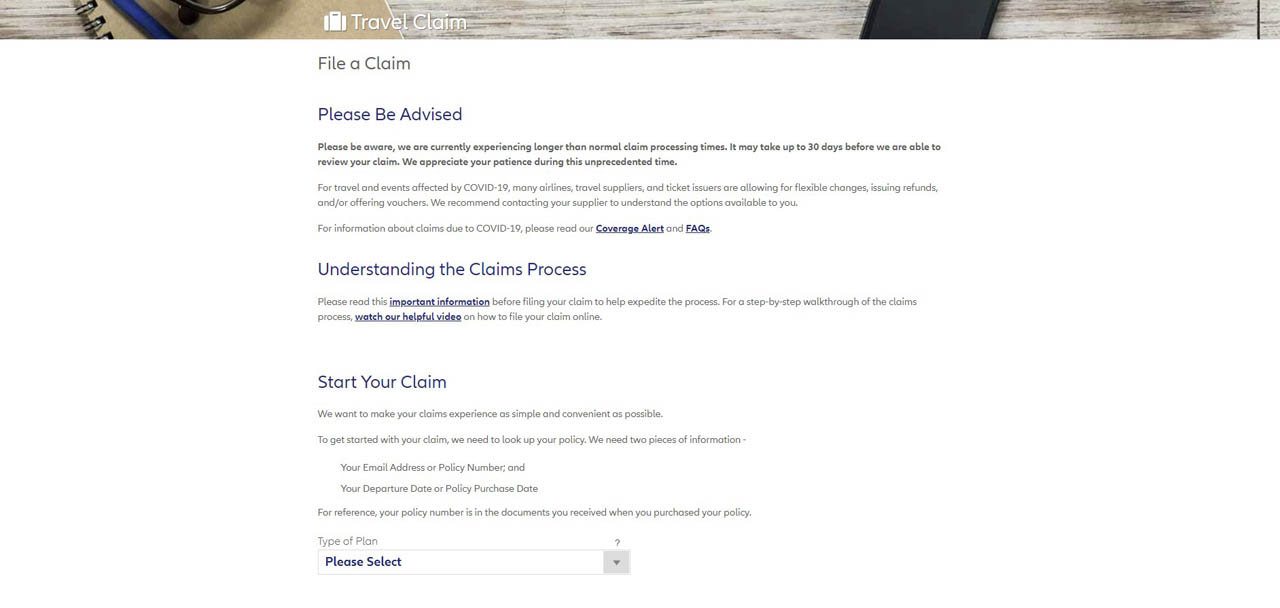 Travel Insurance claims usually have a time limit (typically 90 days) from the time the policy was bought, where you'll need to open a claim and submit supporting documentation before the expiration of your policy.
Therefore, it's in your best interest to submit a claim and provide what's asked for as soon as you can after having experienced an unforeseen circumstance costing you money that's also covered by your trip insurance.
If it's a relatively simple claim (like the travel delay one we had gone through in example 1), then you might be able to file the claim online while providing documentation during the trip when it's still fresh in your mind.
However, if you wait until the end of your trip (especially long trips), then you might find it difficult to sort things out, especially as things tend to get pretty chaotic upon returning home.
Looking back on example 3, it's hard not to see why not filing the claim sooner rather than later could have changed our failed outcome.
Lesson 4: Follow Up On Your Claims Proactively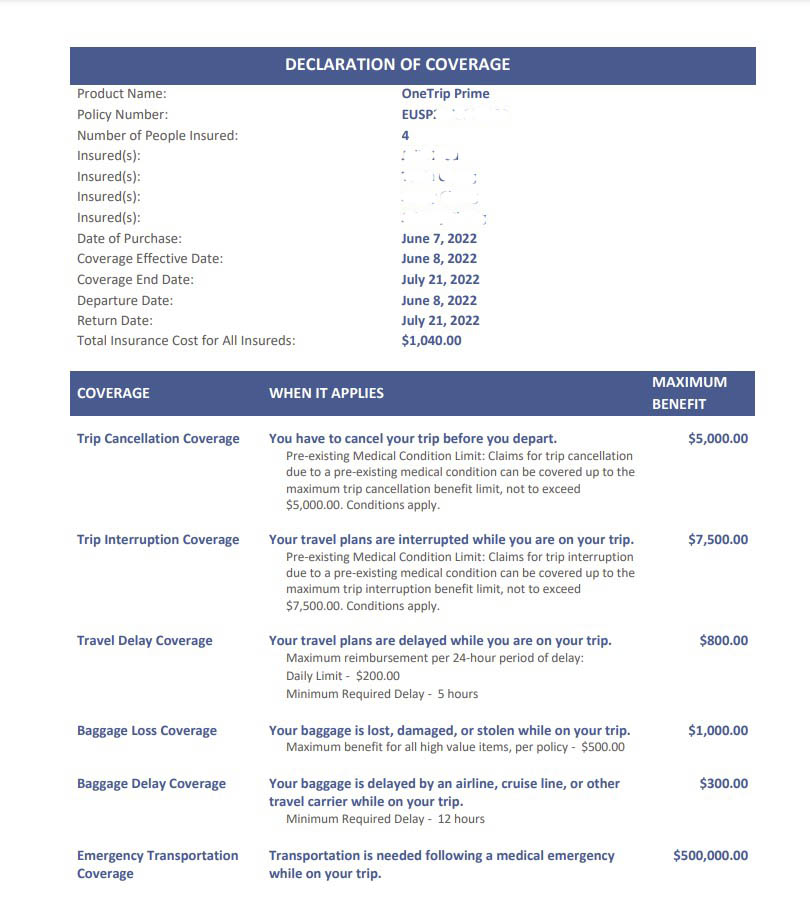 You know the saying, "The squeaky wheel gets the grease"?
Well, this is certainly true when it comes to trying to get a travel insurance claim to be found in your favor.
Looking back at example 3 above, our failure to be proactive about following up was a major reason why that claim attempt was unsuccessful.
However, if you look at example 2 above, it was a major claim that required us to be persistent about following up in order to be successful.
In our minds, you'd think that travel insurance companies should do their jobs and process the claim after doing everything you've been instructed to do.
Unfortunately, real life often doesn't work that way as there could be a huge backlog of claims cases from other customers to be resolved, or the travel insurance company itself may be short staffed or don't have enough well-trained employees.
Granted this takes a bit of time and effort, and depending on how busy your day is or how mentally (or emotionally) draining your unforeseen incident was, the claims process itself could be difficult to go through.
I think this is why not all travel insurance claims are successful, and it's also why the claims process can be time consuming as well as not as much of a slam dunk as one might be led to believe.
Final Thoughts / Conclusion
By sharing our experiences with the travel insurance claims process, I hope we've imparted to you that paying for the service and filing a claim doesn't necessarily mean that you'll get reimbursed.
Indeed, you still need to be diligent about how you file the claim, how well you keep your documentation, not procrastinate, and put effort and time into following up.
While it was a great relief for us to get back the expenses paid for our unforeseen (tragic in one instance) events that have impacted our trips, this is something where I'd much rather not have to file for a claim in the first place!
Nevertheless, we know life isn't perfect, and travel is life accelerated (to paraphrase a Rick Steves quote).
Hopefully, by sharing our real-life examples, you've found this write-up to be a realistic and useful reference for your particular situation.
Finally, if you have questions, please leave a reply to this post below and let us know what's on your mind.
All of the information provided about travel insurance is a brief summary only based on our own experiences. It does not include all terms, conditions, limitations, exclusions and termination provisions of the travel insurance plans described. Coverage may not be available for residents of all countries, states or provinces. Please carefully read your policy wording for a full description of coverage.
Visitor Comments:
Got something you'd like to share or say to keep the conversation going? Feel free to leave a comment below...
No users have replied to the content on this page