The World of Waterfalls has been to this waterfall, which you can read about here.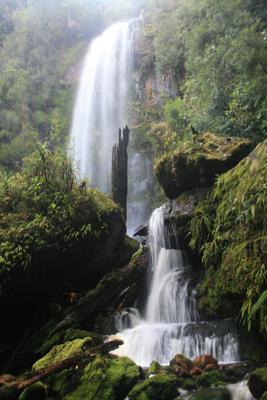 I saw your writeup on Adamsons Falls from a while back, and being quite partial to an adventure myself I decided to go check it out. The track in is still rough, although it didn't seem too hard to follow for most of it. There had been a lot of rain leading up to the day of our walk so the falls were really pumping well and made for a spectacular sight.
We weren't satisfied yet, though. We were hoping to find the track to Creekton Falls to make a nice circuit. We crossed the creek below the main tier of Adamsons Falls, and soon located some ribbons tied to trees marking out the route to Creekton Falls. The ribbons really were a godsend, but going was still very hard and very rough, as there was basically no track underfoot. Up and down gullies we went, travelling along the base of a cliffline, before finally reaching a junction after what seemed like forever (but was really about an hour and a half). The junction had some very cute old signs. One pointed to Adamsons Falls back the way we had one pointed down a different route to Duckhole Lake (which was where we were going to head after visiting Creekton Falls) and one pointed up to Creekton Falls itself.
The last little stint of trail really was rough, but luckily it was short, and it was barely 50 metres of walking until Creekton Falls were reached. As soon as we arrived I new that the effort had been worth it. The falls were quite tall at about 30 metres, however that was far from all they had going for them. The rainforest encased around it was beautiful, and there were several lower cascades that made for equally beautiful photographic subjects.
We had lunch here, then started on the walk back. This time we took a different route, choosing to head down to Duckhole Lake rather then returning the same way. I for one certainly did not regret this decision. The track was still rough, especially at the start where there were some very steep and slippery sections, but as it progressed it became a bit more tame and surprisingly easy to follow (though probably still a bit harder then the track in to Adamsons Falls). The highlight of the walk back was undoubtably a small cascade right by the track which made for a great spot to tip the toes in and stop for a rest.
After about 1.5 hours of hiking from Creekton Falls we finally reached Duckhole Lake, a small but very pretty lake, and from here it was only about a 20 minute walk to the end of the track. All up the circuit took a bit over 5 hours with a car shuffle between the Adamsons Falls and Creekton Falls/Duckhole Lake trailheads. Without the car shuffle there would have been an additional three kilometre walk along roads between the tracks.
While it certainly is not an easy track to navigate, the Adamsons Falls and Creekton Falls walk is one of the most rewarding walks I've been lucky enough to do, and is certainly worth the effort if you have the time and ability.