The World of Waterfalls has been to this waterfall, which you can read about here.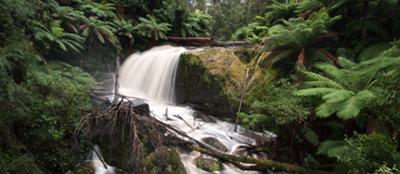 I recently, on the spur of the moment, packed up the car one morning with my photo gear and hit the road to Noojee and surrounding areas with the intention of photographing Toorongo and Amphitheatre falls and the Toorongo river.
After recent rains, I was not dissapointed. Normally I'd wade into the flow to get those intereswting angles that people love so much, but this time had to resign myself to "boulder-hopping" lest I become part of the scenery.
The shoot was followed with a leisurely drive back to the eastern suburbs through Yarra Junction, Monbulk and down Mount Dandenong.